Green Bay Packers:

John Schneider
February, 20, 2014
Feb 20
7:00
PM ET
INDIANAPOLIS -- You'll never see a picture of a shirtless Ted Thompson wearing a championship belt, but the
Green Bay Packers
' general manager might do well to emulate his counterpart with the
Seattle Seahawks
, John Schneider.
And we're not talking about questionable fashion decisions.
[+] Enlarge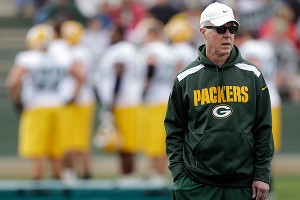 AP Photo/Morry GashPackers GM Ted Thompson had a big hand in winning a Super Bowl, but he could still learn a thing or two from his protege and Seahawks counterpart John Schneider.
For five years in Green Bay, Thompson listened to Schneider's opinions about all things personnel -- free agency, the draft, trades, waiver claims ... you name it. Not that Thompson, conservative by nature, always acted on Schneider's suggestions, but it was the protege's job to offer opinions and suggestions from his office down the hall at Lambeau Field.
Now, they sit more than 1,900 miles apart, competitors, not colleagues. Yet as Thompson faces one of the most important offseasons since he took over the Packers' personnel department in 2005, there are things he could learn from the man who put together a Super Bowl-winning roster.
Not that Thompson doesn't know how to do that; he built much of the roster that won Super Bowl XVL. But since the Packers' last championship, they have won just one playoff game -- against the
Minnesota Vikings
, who were forced to start backup quarterback
Joe Webb
at the last minute.
If there's a common denominator in their playoff exits, it's that their defenses failed them.
With
salary-cap space to use
and holes to be filled, Thompson might want to examine how Schneider built the Seahawks' top-ranked defense.
Although Packers quarterback
Aaron Rodgers
said shortly after the Super Bowl that it would be unrealistic to expect the Packers -- or any other NFL team -- to
play at the same level as the Seahawks
did last season and in their 43-8 destruction of the
Denver Broncos
in Super Bowl XLVIII, there are some things Thompson might be able to do to help bridge the gap between the Seahawks' dominating defense and the Packers' half-broken unit that slipped to 25
th
last season.
"If you're able to acquire players that can run fast and are big and are good-looking, then you've got a shot," Schneider said Thursday at the NFL scouting combine.
The Schneider formula for acquiring speed and size on defense goes like this:
Thompson has tried to employ some of those strategies. He used his first six draft picks in 2012 on defensive players with only minimal success. He signed safety
Morgan Burnett
to a four-year, $24.75 million contract last offseason only to see Burnett fail to come up with a single interception last season. But he hasn't touched free agency in any significant way since 2006, when he signed
Charles Woodson
and
Ryan Pickett
.
With the 21
st
pick in this year's draft, Thompson could be looking at defensive players again. Given the copycat nature of the NFL, it's worth wondering if another team, say the Packers, could duplicate what Schneider and Seahawks coach Pete Carroll have done on that side of the ball.
"It wouldn't be very hard, I don't think," Schneider said. "Just [get] more speed. It's just about having guys that are willing to teach and play young players, and [the Packers] have that. They have a young team. They have good teachers."
Packers coach Mike McCarthy said last week defensive coordinator Dom Capers' unit "is going to change some" and that he would "set the vision for the defense and Dom Capers and the defensive staff will carry it out."
To do so, Thompson might have to take more aggressive measures to rebuild a defense that in the Super Bowl season of 2010 ranked fifth in the NFL and ranked second in 2009.
February, 10, 2014
Feb 10
8:00
AM ET
A roundup of what's happening on the Green Bay Packers' beat.
GREEN BAY, Wis. -- Packers coach Mike McCarthy completed his coaching staff last Friday, when he announced the hiring of four new coaches and gave different responsibilities to five others previously on his staff.
It brought the total number of assistant coaches working under McCarthy to 21 -- one more than the Packers had last season.
Only three NFL head coaches currently have more assistants than McCarthy does.
Philadelphia Eagles
coach Chip Kelly and
Seattle Seahawks
coach Pete Carroll each have 23 assistant coaches -- tops in the NFL. It's interesting that the two biggest staffs both were assembled by recent former college coaches.
Arizona Cardinals
coach Bruce Arians is next with 22 assistants. Three other teams -- the
Buffalo Bills
,
Baltimore Ravens
and
Kansas City Chiefs
-- match the Packers with 21.
In the NFC North, the Packers have two more assistants than the
Chicago Bears
, three more than the
Detroit Lions
and four more than the
Minnesota Vikings
.
The NFL average for assistant coaches is 19.1 per team. The AFC average is 18.9, while the NFC average is 19.3.
The numbers were based on coaching staff directories listed on each team's website.
While there could be a few additions to coaching staffs over the next few weeks, most of the coaching changes have been made, which makes it interesting to note that
Pittsburgh Steelers
coach Mike Tomlin currently has the smallest staff with just 14 assistants. The Steelers list only one strength and conditioning coach, while many teams have two or three, and only list one special teams coach while many teams have two or three. Other teams will small staffs include the
New England Patriots
and
Atlanta Falcons
, each with 16 assistants.
In case you missed it on ESPN.com
:
Best of the rest
:
In the Green Bay Press-Gazette, Mike Vandermause suggested that Seahawks general manager John Schneider, a former Packers scout, might be the best choice to replace Ted Thompson whenever he decides to retire from his GM job.
In the Milwaukee Journal Sentinel, Tom Silverstein wrote that the Thompson's draft-and-develop philosophy has put the Packers in good salary-cap shape.
February, 4, 2014
Feb 4
6:15
PM ET
GREEN BAY, Wis. -- Like everyone else,
Green Bay Packers
quarterback
Aaron Rodgers
watched the
Seattle Seahawks
' defense dominate the
Denver Broncos
in Super Bowl XVLIII.
Rodgers
Given the copy-cat nature of the NFL, it's worth wondering if the Packers -- and other teams -- will try to emulate what Seahawks general manager John Schneider did with his defense. He found tall cornerbacks, hard-hitting safeties, a defensive line that can pass rush without the aid of many blitzes and linebackers who can run.
Rodgers, who studies defenses for a living, isn't sure that anyone will be able to replicate what the Seahawks do.
While acknowledging the Packers need to make improvements on both sides of the ball, including to their 25th-ranked defense from a year ago, Rodgers did not sound like he expected the Packers to resemble the Seahawks' defense any time soon.
"With all due respect, I don't think it's possible to play at that kind of level for many other teams in this league, if any," Rodgers said Tuesday on his ESPN 540 Milwaukee radio show. "That's a talented group that's one of the top that's been around the league for a long time. I don't think that should be our goal.
"We do need to improve on both sides of the ball, but that team has a unique mixture of secondary talent that's as good a group in the league as you can see and then a front seven that really plays well together. It should maybe be the standards we're going for, but it might be a little unrealistic to think of any defense being as good as that for the next couple years."
Among the topics Rodgers addressed on his final radio show of the season were:
On being presented with the Bart Starr Award in New York last week: "That for me was definitely the highlight of the [Super Bowl] weekend, getting to see Bart and [his wife] Cherry. ... The biggest thrill for me was getting to see Bart and his wife. Bart is just such a class individual. I was really honored to receive that award and be able to spend some time with him. He looked great, and it was fun to get to chat with him and just listen to him talk. He's such a man of wisdom and just honored to receive that award."
On what's next for the Packers: "I think that's going to be our biggest task, is to get refocused this year on what's really important, come together, make the necessary sacrifices as a team to achieve the goal that we all want, and that's to be playing, not attending the Super Bowl. It's going to be an exciting offseason. This is one of the more exciting days, yesterday on Monday, because it's kind of the start of the new season. The Seahawks are the champs, and now everybody's back on the same level playing field, and it's about what are you going to do from now until the beginning of training camp ... to get yourself ready to make the kind of run we want to make."
On Seahawks cornerback Richard Sherman: "I'm just going to say that I'd love to have Richard Sherman on my team. He's a supremely talented player. He brings a swagger to the field. It's emotional when you're in those moments after you've won a big time game and he made the play of the game, his tip to his teammate for the interception. He's a talented guy. He did a great job in the two weeks between that moment and the Super Bowl of letting people see the kind of person he is."
On a possible return by safety Nick Collins, who apparently wants to try to play again: "That would be incredible. Nick is an unbelievable talent. I believe, personally, and I'm a little biased because we were drafted in the same class and I got to see him play for a number of years, I believe he had Hall of Fame potential without a doubt. The guy could cover more field than, the only I guy I saw that could compare was Sean Taylor with the amount of ground those guys could cover, and [Earl] Thomas does it now for Seattle. There's very few guys that can go sideline to sideline as a deep safety, and Nick could do it. He's a great locker room guy and just a fun guy to be around. It's been great to have him at games the last two years, but I know inside he still has that itch. It's tough when you're told you can't play anymore before you're ready to give that up. I don't know what his medical status is, but Nick is a good friend and an incredible talent."
On the future of tight end Jermichael Finley, who is coming off a neck injury and will be a free agent: "Like anybody that follows him on Twitter [and] has been tracking his progress, it's exciting to see his progress. He's a unique talent; the guy is supremely talented. I loved spending time with him, getting to become better friends with him, spending time on Saturday nights going through game plans, talking about what he likes for the next day as far as route running. That was always fun conversations that I enjoyed our time together. I hope that whether it's with us or with another team that he's going to be able to continue his career, because the NFL is more exciting with him in it, and it would be great to have him back."
February, 3, 2014
Feb 3
8:00
AM ET
A roundup of what's happening on the Green Bay Packers beat.
GREEN BAY, Wis. -- The Packers are one of the possible opponents for the NFL's annual opening game against the reigning Super Bowl champions.
By virtue of winning the NFC North title in 2013, the Packers
play at the NFC West champions
-- which just so happens to be the Super Bowl-winning
Seattle Seahawks
.
Combine the intrigue that is sure to come with the first meeting between the two teams since the infamous "Fail Mary" game of 2012, and it might make for one of the best possible season openers, which is expected to take place on Thursday, Sept. 4.
Of course, the NFL schedule makers have other options for that marquee game, such as a rematch of the NFC Championship Game between the Seahawks and their NFC West-rival
San Francisco 49ers
. However, the 49ers are opening their new stadium in 2014 and therefore may be granted a Week 1 home game at the new Levi's Stadium.
And there's the possibility of a Super Bowl rematch because the
Denver Broncos
also play at Seattle this coming season, although perhaps the NFL wouldn't want a rematch of a 43-8 Super Bowl as its season opener.
Here are Seattle's eight home opponents:
Arizona Cardinals
, San Francisco 49ers,
St. Louis Rams
,
Dallas Cowboys
,
New York Giants
, Green Bay Packers, Denver Broncos, and
Oakland Raiders
.
In case you missed it on ESPN.com
:
Best of the rest
:
At ESPNWisconsin.com, Jason Wilde looked at how Schneider built the Seahawks' defense into a powerhouse and wondered if Packers GM Ted Thompson might follow his former underling's plan to rebuild his struggling defense.
In the Green Bay Press-Gazette, Mike Vandermause profiled Schneider and his ties to the area.
In the Milwaukee Journal Sentinel, Tom Silverstein attended the NFL Honors program and talked to Lacy and Rodgers about what's next for the running back.
January, 31, 2014
Jan 31
4:50
PM ET
GREEN BAY, Wis. -- People in Green Bay and fans of the Packers love to hate the
Seattle Seahawks
after the infamous Fail Mary play in the 2012 meeting between the two teams.
Yet there's a segment of them who likely will be rooting for the Seahawks against the
Denver Broncos
on Sunday in Super Bowl XLVIII. They're the ones who know John Schneider, the Seahawks' 42-year-old general manager whose ties to this city and his old team run deep.
[+] Enlarge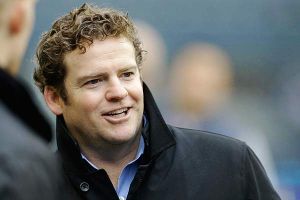 Elaine Thompson/AP PhotoSeattle's John Schneider has so many ties to the Packers that some wonder if the general manager will one day return to Green Bay.
Schneider grew up just a few miles from Lambeau Field in the neighboring town of De Pere, Wis., which is essentially an extension of the Green Bay city limits. He was a high school football standout as a running back at a private, catholic high school that no longer exists. And he began his NFL scouting career as an intern for the Packers under then-general manager Ron Wolf, who only hired Schneider because of his persistence.
While in college, Schneider wrote a letter to Wolf asking for an opportunity as a volunteer scout. Wolf replied with a rejection letter, so Schneider wrote him again. Another rejection letter followed, so Schneider wrote again.
Many years later, Schneider admitted, "I kind of stalked him a little bit."
Finally, Wolf told Schneider he would get in touch with him after the 1992 draft, Wolf's first in Green Bay. Yet Schneider heard nothing. Six weeks went by before a friend convinced Schneider to just call Wolf directly.
So he did.
That led to an internship in Wolf's scouting department for the summer of 1992 to jobs as a pro personnel assistant with the Packers (1993-96) to
Kansas City Chiefs
director of pro personnel (1997-99) to stints with the Seahawks (2000) and
Washington Redskins
(2001) as vice president of player personnel and then back to the Packers (2002-2009) as a one of the top personnel advisers.
Of all the participants in Super Bowl XLVIII, no one has stronger ties to Green Bay and the Packers than Schneider.
"Growing up there and having different people reach out to you, this week has been really neat to get text messages and emails from people back there," Schneider said during a phone interview on Friday from the Seahawks' Super Bowl headquarters in Jersey City, N.J. "It's cool because it's such a small community, but yet you have that strong football foundation."
Schneider's foundation is rooted in Wolf's beliefs. Though he and Seahawks coach Pete Carroll have forged their own identity as one of the most aggressive and compatible coach-GM combinations in the league, Schneider still calls on what he learned from Wolf and current Packers general manager Ted Thompson, another Wolf protégé.
"I think there's a lot of Ron in this just because of the philosophical foundation of how you approach acquisitions," Schneider said. "So I think it's huge."
Together, Schneider and Carroll have formed an unusual approach to signing, drafting and trading for players. In their first season together, they made an astounding 284 player transactions. Schneider also hit on a quarterback, when he drafted
Russell Wilson
in the third round in 2012, something for which Carroll gives full credit to Schneider.
"John and I have joined together aggressively to compete at every single turn, at every opportunity whatever it may be, to see if there's something in there for us," Carroll said during one of his Super Bowl week news conferences. "He's done a great job of having the competitive will to keep pushing and fighting and clawing and scratching to have the opportunity that has sent us down the read early on with the hundreds of guys that came through the program."
Schneider's parents still live in Green Bay. As do some of his best friends, including the one who convinced him to make that call to Wolf. All of them will be at MetLife Stadium for Sunday's game.
There are plenty of people who wonder whether Schneider will be the Packers' next general manager. Thompson turned 61 on Jan. 17 and some within the organization believe he may walk away after his contract expires following the 2015 season.
That's not a topic Schneider is comfortable discussing.
Instead, he'd rather swap stories about his friends who remain back in his hometown and talk about players who have ties to the Packers. He has two of them on his roster, right tackle
Breno Giacomini
and punter
Jon Ryan
. He signed Giacomini off the Packers practice squad in 2010, but he inherited Ryan, who had signed with the Seahawks early in the 2008 season after the Packers cut him.
The person responsible for telling Ryan the Packers planned to release him? That was Schneider.
"This is kind of a funny story," Schneider said. "Jon Ryan's brother after the (NFC Championship) game the other night was like, 'Hey man, 'I'm glad you're doing well now, but I wanted to kick your butt because you cut my brother.'
"Both players, Breno and Jon, have obviously improved since leaving Green Bay."
The same could be said for Schneider.
The only question is, will he ever come back?
January, 27, 2014
Jan 27
8:00
AM ET
A roundup of what's happening on the Green Bay Packers beat.
GREEN BAY, Wis. --
Eddie Lacy
had to wait his turn to get into Sunday's Pro Bowl, but the rookie running back showed his stuff on his very first carry.
Lacy
On his first touch, which came in the third quarter, Lacy powered his way to an 8-yard gain that was reminiscent of many of his runs on the way to a Packers' rookie record of 1,178 yards rushing this past season.
On the game broadcast, NBC analyst Cris Collinsworth compared Lacy's power running style to former
Pittsburgh Steelers
running back Jerome Bettis.
Lacy was the Packers' lone representative in the NFL's annual all-star game and wasn't actually in until
Minnesota Vikings
running back
Adrian Peterson
pulled out because of an injury. Lacy, who was originally the first alternate at running back, carried seven times for 13 yards for Team [Deion] Sanders, which lost 22-21 to a team captained by
Jerry Rice
.
While playing part of the second half, Lacy showed no signs of the ankle injury that slowed him late in the season. And surely to the relief of everyone in the Packers' organization, Lacy did not appear to sustain any injuries.
The game, which underwent a major format change (including the drafting of players rather than dividing them by conference) was slightly more competitive and intense than recent Pro Bowls.
Lacy shared some of his thoughts on the week in Hawaii in a story on
the Packers' team website
.
He said he brought his parents and his older brother with him.
In case you missed it on ESPN.com
:
We continued our position outlook series by analyzing the offensive tackles. The breakdown of the interior linemen will come later on Monday.
As part of the Super Bowl XLVIII events in New York this week, Packers receiver Randall Cobb and former Packers running back Ahman Green will make cameo appearances in the Broadway musical Rock of Ages.
There were a variety of questions answered in the latest mailbag.
Best of the rest
:
In the Green Bay Press-Gazette, Doug Schneider tallied the arrests and ejections at Packers' games this past season and found that there were fewer fans (308) removed by police than in the previous season (344) despite the increase of more than 7,000 to Lambeau Field's capacity.
Mike Vandermause looked at the Ron Wolf general manager tree. Among those who worked under for the former Packers' GM is John Schneider, whose Seattle Seahawks are in the Super Bowl.
In the Milwaukee Journal Sentinel, Tyler Dunne talked to several veteran NFL coaches, including noted defensive guru Dick LeBeau of the Pittsburgh Steelers, who had nothing but good things to say about Packers defensive coordinator Dom Capers.
January, 20, 2014
Jan 20
8:00
AM ET
A roundup of what's happening on the Green Bay Packers' beat.
GREEN BAY, Wis. -- The Packers will play one of the Super Bowl XLVIII participants next season and if the Seattle Seahawks win it all, perhaps it will be in the NFL's opening game.
But there are other Packers connections.
On the Seahawks' side, there's general manager John Schneider, who got his start in the NFL scouting business with the Packers as a 21-year-old intern in 1992. A native of De Pere, Wis., a suburb of Green Bay, Schneider left the Packers in January 2010 to join forces with Seahawks coach Pete Carroll.
The Seattle Times profiled Schneider
and his journey earlier this month.
In Schneider's personnel department, he has former Packers scout Scot McCloughan as a senior personnel executive.
Schneider has two former Packers players on his roster -- tackle Breno Giacomini and punter Jon Ryan.
Three former Packers assistant coaches are on Carroll's staff -- offensive coordinator Darrell Bevell (a Green Bay assistant from 2000-05), receivers coach Kippy Brown (2000) and assistant offensive line coach Pat Ruel (2001-02). Former Packers safety Marquand Manuel (2006) is a defensive assistant for the Seahawks. Former Packers strength and conditioning assistant Mondray Gee (2008-09) has the same job with the Seahawks.
In the front office, Seahawks vice president/general counsel Lance Lopes held a similar position with the Packers from 1993-2000.
On the AFC side, the only former Packers' player on the Broncos' roster is backup linebacker Paris Lenon (2002-05). On the personnel side, the Broncos employ former Packers scout Lenny McGill as their assistant director of college scouting.
In case you missed it on ESPN.com
:
Best of the rest
:
At ESPNWisconsin.com, Jason Wilde profiled Greene and his journey to the coaching ranks.
In the Green Bay Press-Gazette, Pete Dougherty wrote that GM Ted Thompson's usual aversion to free agency may change this year given all the holes on the defense, and Mike Vandermause looked at how kicker Mason Crosby turned things around after his dismal 2012 season.
In the Milwaukee Journal Sentinel, Tyler Dunne wrote that the Packers have a difficult decision to make about the future of their center position.
January, 17, 2014
Jan 17
8:00
AM ET
A roundup of what's happening on the Green Bay Packers' beat.
GREEN BAY, Wis. -- In his first season as the Kanas City Chiefs general manager, former Packers personnel man John Dorsey was named the NFL's executive of the year by the Pro Football Writers of America.
Dorsey, 53, was hired a year ago to help revitalize the Chiefs, who were coming off a 2-14 season, and to work with newly-hired coach Andy Reid on the personnel end of things. The Chiefs went 11-5 and made the playoffs this past season. Dorsey ran the Chiefs' draft and helped engineer the trade that brought quarterback
Alex Smith
over from the 49ers.
He spent more than 20 years with the Packers and was director of football operations, one of the top positions under general manager Ted Thompson, before leaving for the Chiefs.
This past season was Dorsey's first as an NFL general manager.
"I learned that Ted Thompson was right when he told me, 'There are a lot of people who want that job, but when you sit in that seat, you'll realize how hot it is,'" Dorsey said according to
the Kansas City Star
. "Every day is a new challenge ... but it's not a job. It's what you live and dream for and the ultimate goal is to restore the pride of the
Kansas City Chiefs
. Allow those fans who so passionately wanted something ... that's what's neat about it. If you can make the fans proud, that's ultimately the bottom line."
Dorsey isn't the only former Packers' personnel executive in the spotlight this week. John Schneider, who left Green Bay in 2010 to become the
Seattle Seahawks
general manager, has his team in the NFC Championship Game on Sunday.
In case you missed it on ESPN.com
:
Our countdown of the plays that most shaped the Packers' season has reached No. 2. The top play, which should come as no surprise, will be revealed later on Friday.
Our analysis of the Packers' roster from top to bottom continued with the players ranked from 21 to 30. It included one rookie and two former first-round draft picks. We will break into the top 20 later on Friday.
Best of the rest
:
At ESPNWisconsin.com, Jason Wilde wrote that kicker Mason Crosby said he won't try to repeat his 2013 season, which was his most successful. But rather, he will look at 2014 as another fresh start, just like he did last year.
In the Green Bay Press-Gazette, Weston Hodkiewicz wrote that the Packers will have to figure out how much value they place on the fullback position when it comes to deciding whether or not to bring back John Kuhn.
January, 10, 2014
Jan 10
8:00
AM ET
GREEN BAY, Wis. -- Lately, it seems like whenever a team goes looking for a general manager, their eyes turn toward the Packers.
In the last four years, three teams have plucked members of the Packers' personnel staff for GM hires. In 2010, the
Seattle Seahawks
hired John Schneider. In 2012, the
Oakland Raiders
hired Reggie McKenzie. And last year, the
Kansas City Chiefs
hired John Dorsey.
Could there be a fourth this year?
According to ESPN NFL Insider Adam Schefter, Packers senior personnel executive Alonzo Highsmith is
on the radar of two teams
, the
Miami Dolphins
and
Tampa Bay Buccaneers
, looking for new leadership in their scouting departments.
Highsmith is a Florida native and a University of Miami graduate. He has been with the Packers since 1999, when he was hired as an area scout. He was promoted to his current position in May 2012.
According to people around the league, it would not be surprising to see Highsmith or any of the other top-level scouts in the Packers' personnel department eventually get a chance at a general manager job. Director of college scouting Brian Gutekunst and director of pro personnel Eliot Wolf are also viewed as eventual GM candidates.
In case you missed it on ESPN.com
:
Best of the rest
:
In the Green Bay Press-Gazette, Weston Hodkiewicz looked at what the Packers might do with their center position going forward.
In the Milwaukee Journal Sentinel, Tyler Dunne wrote that it wasn't the fact that the Packers' safeties failed to intercept one pass this season that bothered position coach Darren Perry, but rather it was the overall quality of play from that position that wasn't good enough.