Green Bay Packers:

Jon Ryan
January, 28, 2015
Jan 28
6:20
PM ET
GREEN BAY, Wis. – It might be more than a week before we know coach
Mike McCarthy
's plan to fix the
Green Bay Packers
' dreadful special-teams unit.
McCarthy would not offer specifics on Wednesday, when he held his season wrap-up news conference, other than to say everything will be scrutinized before any decisions are made.
All the assistant coaches, including embattled special-teams coordinator Shawn Slocum, were given this week off.
"It's important to evaluate," said McCarthy, whose offseason work was delayed by the unexpected death of his younger brother last week. "I obviously haven't had that opportunity. So we'll look at everything. We'll look at every job description, every job responsibility, performance – mine included – and we'll look to make changes."
McCarthy said it usually takes him a week to conduct his end-of-season meetings and evaluations with his coaching staff.
[+] Enlarge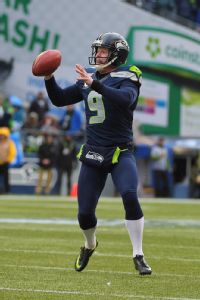 Kirby Lee/USA TODAY SportsJon Ryan's fake-punt touchdown pass in the NFC Championship Game was another special-teams breakdown for the Packers.
There's reason to think McCarthy could keep Slocum, but possibly in another capacity or with other changes to help his special teams, which was
ranked last in the Dallas Morning News' annual rankings
.
McCarthy and Slocum have a long history, having first worked together at the University of Pittsburgh in 1990, and McCarthy has fired only one coordinator in his nine seasons as head coach and none since he parted ways with Bob Sanders, who ran the defense from 2006-08.
Last offseason, the Packers fired special-teams assistant Chad Morton and hired veteran coach Ron Zook to help Slocum. They also assigned another member of the staff, Jason Simmons, to assist with special teams.
A poor season on special teams, which included having seven kicks blocked in the regular season, became worse in the NFC Championship Game loss to the
Seattle Seahawks
. Two plays – the Seahawks' fake field goal in the third quarter and their onside kick in the fourth quarter – turned out to be major turning points.
McCarthy discussed the fake field goal at length on Wednesday but was not asked about the onside kick, which went off the hands of tight end
Brandon Bostick
, who was supposed to block on the play, and was recovered by the Seahawks with 2:07 left in regulation.
At the Super Bowl this week, Seattle punter
Jon Ryan
, who played for the Packers from 2006-07, said the key to pulling off the fake field goal was to dupe linebackers
Brad Jones
and A.J. Hawk. Jones sold out hard for the block, and Hawk was left to decide whether to play Ryan as a ball career or drop into coverage against eligible lineman
Garry Gilliam
, who caught the 19-yard touchdown pass from Ryan with 4:44 left in the third quarter for Seattle's first points of the game.
It appeared to be a case of Seahawks special teams coordinator Brian Schneider outdueling Slocum.
"Fakes are risky," McCarthy said. "And Jon Ryan can run; we know that. I think from the responsibility standpoint, pursuit and so forth, I think it would've been a foot race for the first down. We did not execute our particular responsibilities as best we can, and they had a better play call than what we had called.
"Special teams has been no different than offense and defense," McCarthy added. "It comes down to healthy scheme, knowing your opponent. You're looking for the personnel matchups and ultimately executing the fundamentals. Our special-team errors have been critical more because of the timing of it. It definitely showed up in the Seattle game."
McCarthy said Wednesday that continuity on his coaching staff is important but added that "there's devils involved with that, too. You have to fight to complacency."
"We'll look to adjust or change and whatever we need to if we think it's going to help us be better," McCarthy said.
That process starts now.
January, 28, 2015
Jan 28
8:00
AM ET
A roundup of what's happening on the
Green Bay Packers
beat.
GREEN BAY, Wis. -- Coach Mike McCarthy's season wrap-up press conference, which was postponed last week following the
unexpected death of his younger brother
, will be held on Wednesday at 1 p.m. local time.
At this point, that is the only media availability scheduled for Wednesday.
Previously, the Packers had planned to have all assistant coaches available to reporters after McCarthy's press conference, which had been scheduled for last Wednesday.
There has been an outpouring of support for McCarthy and his family from within the Packers' organization. Among the Packers' contingent that flew to Pittsburgh to be with McCarthy for the memorial service last weekend included team president Mark Murphy, general manager Ted Thompson and many other staff members.
This likely will be the last time McCarthy speaks to reporters until next month's scouting combine in Indianapolis.
In case you missed it from ESPN.com
:
Best of the rest
:
At PackerReport.com, Bill Huber wrote that Seahawks punter Jon Ryan said they targeted Packers linebacker A.J. Hawk on their fake field goal in the NFC title game.
In the Green Bay Press-Gazette, Kendra Meinert wrote that country star Brad Paisley, an admitted Packers fans, said during the NFC title game he thought about trying to push back his concert in Green Bay scheduled for this Thursday to next week in order to be in town to celebrate a Super Bowl victory.
In the Milwaukee Journal Sentinel, Tyler Dunne wrote that the Packers might be wise to hang on to some of their veteran players that in previous years they might have let walk.
January, 19, 2015
Jan 19
8:15
AM ET
GREEN BAY, Wis. -- As bad as it was that the
Green Bay Packers
got burned by the
Seattle Seahawks
' fake field goal in the third quarter of Sunday's NFC Championship Game overtime loss, what's worse is that they never even saw it coming.
Safety
Sean Richardson
, who allowed backup offensive lineman
Garry Gilliam
to get behind him and catch a 19-yard touchdown pass from holder/punter
Jon Ryan
, said he never heard anyone on the field or from the Packers' sideline give the call to be aware of a possible fake.
"We have an alert if we think that they're going to fake it," Richardson said after the game. "We have calls for that."
To Richardson's knowledge, there was no alert call made.
"We were expecting a kick," said Richardson, who led the Packers in special-teams snaps played (321) during the regular season.
It was one of two major special-teams gaffes that proved costly in Sunday's 28-22 loss. The other was
the botched onside kick recovery
with 2:07 remaining, when tight end
Brandon Bostick
blew a blocking assignment and then tried to field the kick, only to have it bounce to the Seahawks.
Given how badly the Seahawks were struggling on offense at the time of the fake, it should not have been out of the question.
"It didn't enter my mind," Richardson said. "I was pretty sure they were going to kick it. Great call. Great play by them."
However, linebacker
A.J. Hawk
said he knew a fake was a possibility.
"It's an option, for sure, especially that deep in their zone," he said. "They definitely executed it."
Special-teams coordinator Shawn Slocum, like all Packers assistant coaches, was off limits to reporters after the game. But he will have to answer to Mike McCarthy about why those two plays happened and perhaps will have to convince the Packers coach not to get rid of him.
"You know, it's a well-orchestrated play," McCarthy said. "It was well executed. They were having trouble, obviously, generating point production. The awareness there and the execution by them, that was obviously a big play. I mean, the big plays on special teams were definitely a factor."
January, 31, 2014
1/31/14
4:50
PM ET
GREEN BAY, Wis. -- People in Green Bay and fans of the Packers love to hate the
Seattle Seahawks
after the infamous Fail Mary play in the 2012 meeting between the two teams.
Yet there's a segment of them who likely will be rooting for the Seahawks against the
Denver Broncos
on Sunday in Super Bowl XLVIII. They're the ones who know John Schneider, the Seahawks' 42-year-old general manager whose ties to this city and his old team run deep.
[+] Enlarge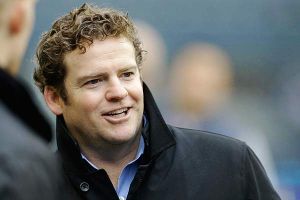 Elaine Thompson/AP PhotoSeattle's John Schneider has so many ties to the Packers that some wonder if the general manager will one day return to Green Bay.
Schneider grew up just a few miles from Lambeau Field in the neighboring town of De Pere, Wis., which is essentially an extension of the Green Bay city limits. He was a high school football standout as a running back at a private, catholic high school that no longer exists. And he began his NFL scouting career as an intern for the Packers under then-general manager Ron Wolf, who only hired Schneider because of his persistence.
While in college, Schneider wrote a letter to Wolf asking for an opportunity as a volunteer scout. Wolf replied with a rejection letter, so Schneider wrote him again. Another rejection letter followed, so Schneider wrote again.
Many years later, Schneider admitted, "I kind of stalked him a little bit."
Finally, Wolf told Schneider he would get in touch with him after the 1992 draft, Wolf's first in Green Bay. Yet Schneider heard nothing. Six weeks went by before a friend convinced Schneider to just call Wolf directly.
So he did.
That led to an internship in Wolf's scouting department for the summer of 1992 to jobs as a pro personnel assistant with the Packers (1993-96) to
Kansas City Chiefs
director of pro personnel (1997-99) to stints with the Seahawks (2000) and
Washington Redskins
(2001) as vice president of player personnel and then back to the Packers (2002-2009) as a one of the top personnel advisers.
Of all the participants in Super Bowl XLVIII, no one has stronger ties to Green Bay and the Packers than Schneider.
"Growing up there and having different people reach out to you, this week has been really neat to get text messages and emails from people back there," Schneider said during a phone interview on Friday from the Seahawks' Super Bowl headquarters in Jersey City, N.J. "It's cool because it's such a small community, but yet you have that strong football foundation."
Schneider's foundation is rooted in Wolf's beliefs. Though he and Seahawks coach Pete Carroll have forged their own identity as one of the most aggressive and compatible coach-GM combinations in the league, Schneider still calls on what he learned from Wolf and current Packers general manager Ted Thompson, another Wolf protégé.
"I think there's a lot of Ron in this just because of the philosophical foundation of how you approach acquisitions," Schneider said. "So I think it's huge."
Together, Schneider and Carroll have formed an unusual approach to signing, drafting and trading for players. In their first season together, they made an astounding 284 player transactions. Schneider also hit on a quarterback, when he drafted
Russell Wilson
in the third round in 2012, something for which Carroll gives full credit to Schneider.
"John and I have joined together aggressively to compete at every single turn, at every opportunity whatever it may be, to see if there's something in there for us," Carroll said during one of his Super Bowl week news conferences. "He's done a great job of having the competitive will to keep pushing and fighting and clawing and scratching to have the opportunity that has sent us down the read early on with the hundreds of guys that came through the program."
Schneider's parents still live in Green Bay. As do some of his best friends, including the one who convinced him to make that call to Wolf. All of them will be at MetLife Stadium for Sunday's game.
There are plenty of people who wonder whether Schneider will be the Packers' next general manager. Thompson turned 61 on Jan. 17 and some within the organization believe he may walk away after his contract expires following the 2015 season.
That's not a topic Schneider is comfortable discussing.
Instead, he'd rather swap stories about his friends who remain back in his hometown and talk about players who have ties to the Packers. He has two of them on his roster, right tackle
Breno Giacomini
and punter
Jon Ryan
. He signed Giacomini off the Packers practice squad in 2010, but he inherited Ryan, who had signed with the Seahawks early in the 2008 season after the Packers cut him.
The person responsible for telling Ryan the Packers planned to release him? That was Schneider.
"This is kind of a funny story," Schneider said. "Jon Ryan's brother after the (NFC Championship) game the other night was like, 'Hey man, 'I'm glad you're doing well now, but I wanted to kick your butt because you cut my brother.'
"Both players, Breno and Jon, have obviously improved since leaving Green Bay."
The same could be said for Schneider.
The only question is, will he ever come back?
January, 20, 2014
1/20/14
8:00
AM ET
A roundup of what's happening on the Green Bay Packers' beat.
GREEN BAY, Wis. -- The Packers will play one of the Super Bowl XLVIII participants next season and if the Seattle Seahawks win it all, perhaps it will be in the NFL's opening game.
But there are other Packers connections.
On the Seahawks' side, there's general manager John Schneider, who got his start in the NFL scouting business with the Packers as a 21-year-old intern in 1992. A native of De Pere, Wis., a suburb of Green Bay, Schneider left the Packers in January 2010 to join forces with Seahawks coach Pete Carroll.
The Seattle Times profiled Schneider
and his journey earlier this month.
In Schneider's personnel department, he has former Packers scout Scot McCloughan as a senior personnel executive.
Schneider has two former Packers players on his roster -- tackle Breno Giacomini and punter Jon Ryan.
Three former Packers assistant coaches are on Carroll's staff -- offensive coordinator Darrell Bevell (a Green Bay assistant from 2000-05), receivers coach Kippy Brown (2000) and assistant offensive line coach Pat Ruel (2001-02). Former Packers safety Marquand Manuel (2006) is a defensive assistant for the Seahawks. Former Packers strength and conditioning assistant Mondray Gee (2008-09) has the same job with the Seahawks.
In the front office, Seahawks vice president/general counsel Lance Lopes held a similar position with the Packers from 1993-2000.
On the AFC side, the only former Packers' player on the Broncos' roster is backup linebacker Paris Lenon (2002-05). On the personnel side, the Broncos employ former Packers scout Lenny McGill as their assistant director of college scouting.
In case you missed it on ESPN.com
:
Best of the rest
:
At ESPNWisconsin.com, Jason Wilde profiled Greene and his journey to the coaching ranks.
In the Green Bay Press-Gazette, Pete Dougherty wrote that GM Ted Thompson's usual aversion to free agency may change this year given all the holes on the defense, and Mike Vandermause looked at how kicker Mason Crosby turned things around after his dismal 2012 season.
In the Milwaukee Journal Sentinel, Tyler Dunne wrote that the Packers have a difficult decision to make about the future of their center position.