December, 17, 2014
Dec 17
7:00
PM ET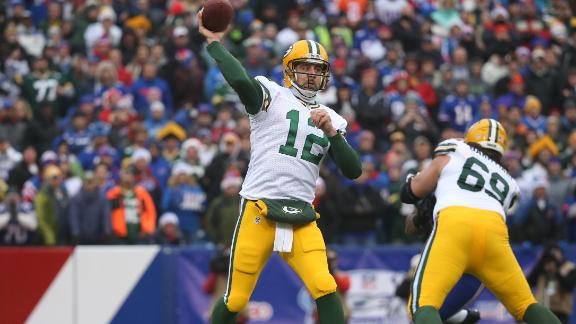 GREEN BAY, Wis. –
Aaron Rodgers
has been with Mike McCarthy from the start. He has seen or heard every one of the
Green Bay Packers
coach's motivational devices.
That includes McCarthy's memorable "we're nobody's underdog" line late in the 2010 season when they were, indeed, decided underdogs going into a game at the
New England Patriots
with
Matt Flynn
as their quarterback because of Rodgers' concussion. And there was the act of getting sized for Super Bowl rings the night
before
the game, although Rodgers said he actually missed the ring-fitting process on the eve of Super Bowl XLV.
If this season's defining moment was
Rodgers' R-E-L-A-X comment
after the 1-2 start, then McCarthy's decision to have
the team elect postseason captains
this week
before
the team has even clinched a spot could be what carries the Packers forward.
"I don't think it's anything other than a mindset for him," Rodgers said Wednesday. "He likes to ooze confidence out of himself. It's a toughness from his Pittsburgh roots, but it's a confidence that he trusts the guys that he's going to get it done."
Rodgers, of course, was picked as one of those captains, joining
Jordy Nelson
,
Julius Peppers
,
Morgan Burnett
,
Randall Cobb
and
Jarrett Bush
.
"I don't think it was necessarily assuming we were going to make the playoffs," Peppers said. "It's just that time of the year. You want guys that's going to emphasize having that sense of urgency and leading that time of the year. It's the playoff time of the year. We're not assuming we've already made it."
The Packers need a victory on Sunday at the
Tampa Bay Buccaneers
plus some help from others
to clinch a spot this weekend
.
This move by McCarthy might not have been about playoff captains as much as it was to refocus the Packers after their five-game winning streak disappeared into the ether with Sunday's loss at the
Buffalo Bills
.
"Clearly, this is an opportunity to give people more credibility, more opportunities to take the platform," McCarthy said. "I think leadership is something every coach is focused on. I've always looked for ways to create opportunities for leadership. You can't assign it. Leadership has to come from the locker room. Credibility has to come from the locker room. That's why the locker room votes on it.
"This is clearly an opportunity identifying these are the six men we want to lead us down the stretch. And with that, those six men have accepted the responsibility."