Green Bay Packers:

Leslie Frazier
November, 21, 2013
11/21/13
10:00
AM ET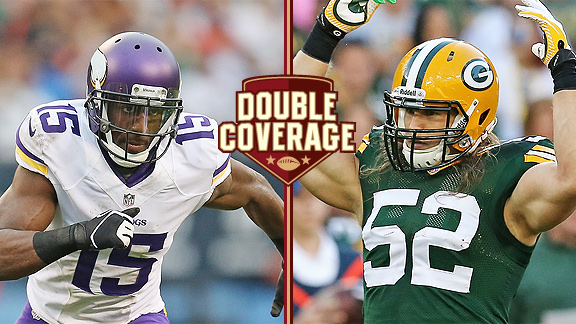 Jonathan Daniel/Getty ImagesIt's been a rough season for Greg Jennings and the Vikings, who hope to split their season series with Clay Matthews' Packers.
A month ago, when the
Green Bay Packers
left Minnesota with a 44-31 victory over the Vikings, all seemed right in their world.
They were 5-2 and in first place in the NFC North.
A week later, their season took an unexpected turn when quarterback
Aaron Rodgers
broke his collarbone. He hasn't played since, and the Packers have lost three in a row.
Meanwhile, the Vikings' slide has continued. They have lost five of their last six and still haven't answered their questions at quarterback.
Packers reporter Rob Demovsky and Vikings reporter Ben Goessling discuss Sunday's rematch at Lambeau Field.
Demovsky:
Ben, when these two teams met last month in Minneapolis, the Vikings had just gone back to quarterback
Christian Ponder
after
Josh Freeman
's disastrous start against the
New York Giants
. Has their quarterback situation -- both short term and long term -- cleared up at all since then? From here, it sure doesn't seem like it has.
Goessling:
It looked like it might have, until last week. Ponder had started every game since then and was having one of his best games of the season Nov. 7 against the
Washington Redskins
when he left with a dislocated shoulder. We've got to grade that one on a curve because of the Redskins' porous defense, but Ponder looked more decisive, a little less skittish in the pocket and more confident while throwing on the run. That lasted through the first half Sunday in Seattle, but the two interceptions Ponder threw in the second half were unconscionable and the Vikings might make another switch at quarterback this week. If I'm them, I would take a look at Freeman and see if he's improved at all with a month to study the offense. The Vikings know what Ponder is at this point, and he's not going to be a franchise-level quarterback. The Vikings continue to say they don't need Freeman to play to evaluate him, but with so little on the line, why not put that $2 million to good use, see if he can give the team a spark and roll the dice on something different?
Speaking of quarterbacks, it seems like
Scott Tolzien
has played well for the most part, but he's been unable to avoid the turnovers that Rodgers simply doesn't commit. Can the Vikings -- a team that has been terrible at generating takeaways -- count on a couple this weekend, or do you see Tolzien excelling against a weak defense?
Demovsky:
After throwing five interceptions the past two weeks, including three Sunday against the Giants, Tolzien knows he absolutely must take care of the ball. The strange thing is, he's been fantastic throwing the deep ball. Some backups get into trouble with interceptions when they're trying to force the ball down the field. That wasn't the case with Tolzien last week. All three interceptions were on short or underneath throws, including the one
Jason Pierre-Paul
returned for a touchdown. Assuming Tolzien does a better job taking care of the ball this week, where he really needs to improve is in the red zone. The Packers have scored just two touchdowns on their past nine trips inside the 20, so along with taking care of the ball, that's where I expect a lot of Tolzien's focus to be this week.
I know I asked you this about
Greg Jennings
before the first meeting, but given the somewhat strange circumstances surrounding him being inactive last week, how do the Vikings feel now about the investment they made in the former Packers receiver this offseason?
Goessling:
You know, when Leslie Frazier talked about Jennings on Monday and said how he couldn't predict for sure whether Jennings would be back against the Packers, it was the first time I wondered about that. It seemed to me Frazier was miffed about the whole situation, whether Jennings decided he couldn't play or whether a valid injury cropped up at the last moment and kept him out of the game. Durability was absolutely a concern with Jennings before the Vikings signed him, and it was a day they were counting on him, with
Jerome Simpson
probably due to sit because of his drunken driving arrest. Whatever caused it, there's no question the Vikings were hoping Jennings could lend some stability to their passing game and help their quarterback, be that Ponder, Freeman,
Matt Cassel
or whomever. They're paying him enough that they have to count on him to make that contract worthwhile.
We've talked before about Jennings' digs at the Packers. What kind of a reception do you expect he'll get on Sunday, and could he be in for a better game with injuries surfacing again for the Packers in the secondary?
Demovsky:
I can't imagine the reception for Jennings will be friendly at Lambeau Field. People here don't take too kindly to those who bash their team or their quarterback. Jennings said some pretty hurtful things this offseason, and regardless of whether he was "just messing around," those words have not been forgotten. I would be willing to bet that every time Jennings touches the ball -- which lately hasn't been much -- he'll get booed. Regarding the Packers' secondary, the fact that it's still having communication breakdowns this late in the season isn't a good sign.
Jennings didn't do much of anything in the first meeting against the Packers, and neither did
Adrian Peterson
. I'm not sure which one was more surprising. But since Peterson carried only 13 times (for 60 yards) against the Packers, he has gotten 25, 20 and 21 carries in the past three games. Is he the Vikings' only hope for success on offense?
Goessling:
Depends on what the Vikings get at quarterback -- which is pretty hard to predict these days. They had planned this year to have more balance on offense, and without it, they've suffered from Peterson having merely a good, not historic, season. He said after Sunday's game that his groin injury was bothering him a lot, and it's the first time in the past two years I've heard Peterson admit an injury was affecting him like that. There were certainly runs where it looked like he just didn't have that top gear like he normally does, and it kept him from breaking a couple. I'm not so sure the best thing wouldn't be to sit him down for a game or two and let him get healthy, rather than having him try to play when he's clearly not 100 percent. The fact the Vikings could be missing center
John Sullivan
because of a concussion doesn't help either. Their best chance to get going on offense would be to feed Peterson, get a lead and try to pressure Tolzien. If Peterson is not at his best, it might not be feasible to lean on him so much.
What about the Packers' running game? It was striking to see
Eddie Lacy
& Co. pound the ball at will against the Vikings in October. Was that legit, or are teams taking that away now because Rodgers is gone?
Demovsky:
That was legit. He leads the NFL in rushing over the past seven games. Less than three weeks ago, the Packers ran for a season-high 199 yards against the Bears. The past two weeks, however, both the Eagles and the Giants have loaded the box to stop the run, and it has worked. There weren't many yards for Lacy to get last week against the Giants, and he averaged only 1.9 yards per carry on 14 attempts. It's like defenses have completely changed the way they're playing the Packers. With Rodgers, they used to dare the Packers to run the ball. Now, they're daring them to throw it by bringing extra defenders up to the line of scrimmage.
October, 25, 2013
10/25/13
12:00
PM ET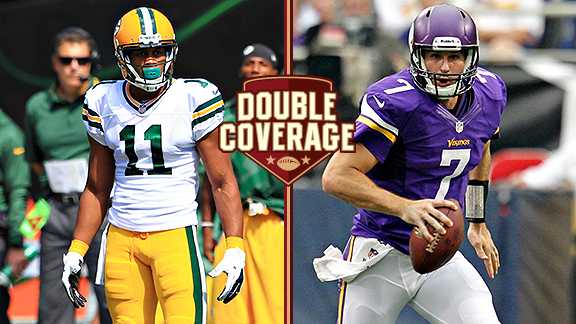 USA TODAY SportsPackers WR Jarrett Boykin came up big as an injury fill-in last Sunday; can Vikings QB Christian Ponder do the same against the Packers?
.
The
Minnesota Vikings
and
Green Bay Packers
will meet for the fourth time in 11 months on Sunday night at Mall of America Field, but things have changed quite a bit for both teams since they faced off in the wild-card round of the NFC playoffs last January.
Christian Ponder
will likely start at quarterback for the Vikings, but it might be a one-week engagement with
Josh Freeman
out because of a concussion.
Greg Jennings
became the latest Packer to switch sides in the rivalry. And
Aaron Rodgers
is relying as much on a nasty offensive line and a productive running game as he is on a receiving corps that's been hit hard by injuries.
As the Packers try to extend their lead in the NFC North and the Vikings try to get their season headed in the right direction following a 1-5 start, ESPN Vikings reporter Ben Goessling and ESPN Packers reporter Rob Demovsky got together to break down the matchup.
Ben Goessling:
Rob, one of these teams has the sixth-ranked rushing game and the third-ranked run defense in the league. And it's not Minnesota. Those two things have been fixtures for the Vikings for years, but they're struggling to open holes for
Adrian Peterson
, who has looked too anxious at times to turn everything into a big gain, and on a few occasions they've been whipped up front by opposing offensive lines. How strange has it been to watch the Packers play so physically, and what kind of an advantage will that create for them on Sunday?
Rob Demovsky:
It's like the Bizarro World around here. The Packers haven't run the ball this well in a decade, not since the days of Ahman Green. And they haven't had this kind of run defense since 2009, when they led the NFL in the category. But it's probably the way they have to win now, considering all the skill-position guys –
Randall Cobb
,
James Jones
,
Jermichael Finley
– they're missing on offense and all the pass-rushers –
Clay Matthews
,
Nick Perry
-- they're missing on defense.
I'm used to seeing the Vikings run the ball like crazy. Are the problems at quarterback the major reason the running game hasn't taken off, or are there other issues at work?
Goessling:
Ah, yes, the old U-71 package with Kevin Barry. And then they got gun-shy in the famous fourth-and-26 game against the Eagles. Sorry, I'm probably hitting some nerves for the Packers fans out there. Moving on …
It's hard to put a finger on exactly what hasn't worked for the Vikings this season, but I'd start with two guys they paid handsomely over the winter -- right tackle
Phil Loadholt
and fullback
Jerome Felton
. Peterson has done his best work running behind those two guys, but Loadholt hasn't been anywhere near the road grader he was last season, and Felton has had trouble as a lead blocker since returning from his three-game suspension at the beginning of the season. It also seems like Pro Bowl left tackle
Matt Kalil
and center
John Sullivan
(who was a Pro Bowl alternate) aren't playing at the same level they were last season. But yes, if the Vikings could throw the ball and make teams pay for putting nine men in the box, they'd have a little more margin for error. That's got to be on the quarterback situation; the Vikings spent plenty of money trying to upgrade their offense over the winter, but without a guy who can make it all go, it's not going to work.
Speaking of the guy who makes it all go for the Packers, am I right in assuming Rodgers is going to be hanging on tightly this week to what Greg Jennings said about him over the summer? Those two can play nice all they want with their comments, but Jennings' earlier remarks would seem like the type that would activate the famous chip on Rodgers' shoulder.
Demovsky:
It was funny, Rodgers talked at length this week about being focused on this game, this team -- and not about what anyone outside the organization (hint: Jennings) had to say. But when someone asked him how he could forget about that, he came back with a classic response. He said that he didn't say anything about forgetting, just focusing. Now, does this rival the intensity behind the 2009 games against the Brett Favre-led Vikings? Not even close. But knowing Rodgers, he'll have a little something extra for this one.
What's the feeling about Jennings' contributions so far? Do the Vikings feel like they're getting their $45 million worth?
Goessling:
Yikes. That does sound like a classic Rodgers response. And with the shape this Vikings secondary is in -- especially without safety
Harrison Smith
-- that might be bad news for defensive coordinator Alan Williams.
Coach Leslie Frazier has raved about what Jennings has meant to their receiving corps, the work he's done to mentor young receivers such as
Cordarrelle Patterson
and the time he's spent with Ponder. He's had moments, such as the short pass he turned into a 70-yard touchdown against the Steelers, when he's looked like the player he was in Green Bay. But it's hard to gauge exactly what he's done, because there's been so much uncertainty at quarterback. He's played with three starters in six games; he had the same number in seven seasons with the Packers. He's also so technical as a route-runner -- and so good in small spaces – that I think he's really at his best when he has a quarterback who understands the details in his game and can use those to exploit a defense.
Maybe Ponder can get closer to that on Sunday. He played one of his best games last December when the Vikings needed to beat the Packers for a playoff berth. Can he recreate that against what looks like a tougher defense, or will he struggle, especially now that it looks like
Casey Hayward
might be back?
Demovsky:
This is a much different defense than Ponder saw last season, even if Hayward doesn't return. The Packers are so much deeper in the secondary now with the emergence of
Davon House
, who had his first career interception Sunday against the Browns, and rookie
Micah Hyde
.
Sam Shields
has become their new shutdown corner, but that's not to say
Tramon Williams
still isn't a factor. He's actually playing some in the slot now, so it's a new role for him. As good as Hayward was last season, I'm not sure he's essential to their pass defense right now. The Packers have only three interceptions on the season, but I wouldn't be surprised if the floodgates open fairly soon.
One of the matchups I'm most interested in is
Jared Allen
against the Packers' new left tackle,
David Bakhtiari
. Bakhtiari has played well, especially for a rookie, but he hasn't yet had to pass-protect with the noise inside of a dome. And you know Allen will have some tricks for the rookie. How much do you think the Vikings will try to key on that matchup?
Goessling:
I'm sure they're hopeful it's a productive one for them. Allen hasn't looked like the same guy this season -- although he still is on pace for double-digit sacks -- and the Vikings have had enough trouble getting to the quarterback that they've had to blitz a little more, which typically isn't a smart strategy against Rodgers. But Allen always seems to do his best work against the Packers, particularly in the Metrodome, and if the Packers leave Bakhtiari alone against Allen, he could have his hands full.
See you on Sunday night, Rob. Soak up those Metrodome memories. With these two teams in this building, something interesting usually happens.
.
October, 24, 2013
10/24/13
6:00
PM ET
GREEN BAY, Wis. -- Is it safe to say the
Green Bay Packers
have finally found their running back?
The last three games suggest as much.
Lacy
Rookie second-round draft pick
Eddie Lacy
leads the NFL with 301 rushing yards in the last three weeks, according to ESPN Stats & Information. Kansas City's
Jamaal Charles
, with 272 yards rushing in that same stretch, ranks second.
Perhaps a greater indication is how opposing defenses have reacted to Lacy.
Three weeks ago, running backs coach
Alex Van Pelt
admitted the Packers had
not seen defenders stacking the box
to stop the Packers' running game even though at that point the Packers ranked ninth in rushing yards per game and second in yards per carry.
In their first two games, they had two 100-yard rushers --
James Starks
with 132 yards in Week 2 against the
Washington Redskins
after Lacy got knocked out with a concussion, and rookie
Johnathan Franklin
with 103 in Week 3 against the
Cincinnati Bengals
with Lacy inactive and Starks out in the first half with a knee injury.
Through three games, the Packers had seen defenses with seven or more defenders in the box on only 19.9 percent of their snaps, according to ESPN Stats & Information.
Slowly but surely, that has begun to change. In the last three games, defenses have loaded the box with seven or more on 28.3 percent of their snaps, including 28.7 percent of the snaps in Sunday's 31-13 win over the
Cleveland Browns
, who regularly brought one of their safeties down to the line of scrimmage.
Finally, the Packers have found a way to stop opponents from playing exclusively Cover-2 defense.
"You've got to run them out of a two-shell, and that's what we've done," Van Pelt said Thursday. "We're there right now. It's coming around."
Of course, an argument could be made that the Browns did that because the Packers were missing two of their top-three receivers,
Randall Cobb
and
James Jones
. And although Lacy rushed for 82 yards, his average of 3.7 yards per carry was his lowest over the last three games.
"Yeah, missing Randall and James, teams aren't quite as two-shell happy," Van Pelt conceded.
Nevertheless, the Packers believe their running game -- ranked sixth in the NFL in yards per game (134.7) and third in yards per carry (4.9) -- is for real. They haven't had a top-10 running game since 2004.
"Coach said he wanted to have a great running game this year, and we stepped up to the challenge," Lacy said. "We just accepted it and went out and played the way we're capable of playing."
More importantly, opponents believe it.
"That hasn't always been the case, but this year for sure they seem to be more committed to running the ball where situations in the past that hasn't always been the case,"
Minnesota Vikings
coach Leslie Frazier said. "You do have to respect their run game a lot more than you have in the past."
While Lacy's production has been impressive, the Packers have to be careful not to overwork the rookie, who already is nearly halfway to his total carries last season at Alabama. Starks is expected to return this week from his knee injury, so that could lighten the load.
October, 23, 2013
10/23/13
12:11
PM ET
GREEN BAY, Wis. --
Minnesota Vikings
coach Leslie Frazier would like to tell
Greg Jennings
that Sunday night's meeting with the receiver's old team, the
Green Bay Packers
, is just another game.
But even Frazier knows that would ring hallow.
It's not quite
Brett Favre
against the Packers circa 2009, but there's likely to be a dose of tension on Sunday at Mall of America Field, especially after Jennings
made critical comments
of
Aaron Rodgers
over the summer when he questioned the Packers quarterback's leadership style.
[+] Enlarge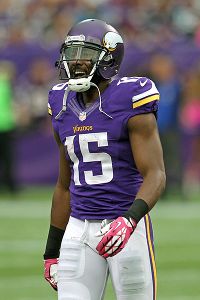 Brace Hemmelgarn/USA TODAY SportsGreg Jennings will be facing the Packers for the first time since leaving Green Bay as a free agent.
"It's hard to tell him not to look at it as just another game on the schedule," Frazier said on a conference call with reporters at Lambeau Field on Wednesday. "He has a lot of fond memories from his time there in Green Bay, so many friends on that football team and in the community as well. But just to concentrate on trying to help us to get a win. If he can do that and just try to focus on that, that would be my advice to him."
Jennings, who spent the first seven seasons of his career in Green Bay, signed a five-year, $45 million contract with the Vikings in March. Through six games, he has played with three different starting quarterbacks --
Christian Ponder
,
Matt Cassel
and now
Josh Freeman
(who will make his second start for the Vikings on Sunday) -- and the Vikings have just one win.
When asked whether Jennings has been frustrated because of the quarterback carousel, Frazier said: "I'd imagine it would be difficult for any receiver. You want to know who your quarterback is so you can get in a rhythm and get comfortable week in and week out. We have had some fluctuation there for sure, starting with the injury with Christian. But he's a pro. He's one of those guys who's overcome a lot in his career and his life, and he's been terrific throughout this entire season."
Jennings has just 24 receptions (which ranks tied for 68th in the NFL) for 327 yards and two touchdowns, and the Vikings rank 24th in the NFL in passing yards per game.
Surely, the Vikings were hoping for Jennings to make a greater impact.
"He has been terrific, man, as a leader and what he does on the field," Frazier said. "But the thing I've appreciated so much -- you know it's been a tough start for our season -- is just how great he's been in the locker room, the way he's been at practice. He's helped me a lot as far as helping our team to stay focused on trying to get things turned around. I knew he was a great player, seeing him every year twice a year, I knew all that, but just to see how he's handled our team in the locker room and on the field and his work ethic, just so happy he's on our football team."
We'll hear from Jennings later on Wednesday. He is scheduled to speak with reporters via conference call at 12:30 p.m. ET.