Green Bay Packers:

Matt Ryan
December, 9, 2014
12/09/14
3:03
AM ET
GREEN BAY, Wis. -- It was supposed to be a building block, that defensive stand the
Green Bay Packers
made at Lambeau Field only eight days earlier against
Tom Brady
and the
New England Patriots
to preserve their best win of the season. Surely, it was going to be what helped defensive coordinator Dom Capers' unit flourish down the stretch.
"And now, it's doomsday," linebacker
Clay Matthews
said, anticipating the line of questions that was coming after the Packers'
43-37 victory
over the
Atlanta Falcons
on Monday night. "Write it. Put it in there so we have something to talk about, so that way we can overcome it and be like, 'I told you so.' Write it."
This story wrote itself.
Just when the Packers thought -- or at least hoped -- their defense had moved past the kind of slapdash performances that have come back to bite them in postseasons past, in walked Falcons quarterback
Matt Ryan
and star receiver
Julio Jones
.
Yes, the Packers got another stellar performance from quarterback
Aaron Rodgers
, who threw three touchdowns without an interception in his 100th career start, and a strong, two-headed rushing attack from
Eddie Lacy
and
James Starks
, who combined to help the Packers to a season-best 179 yards rushing. And at 10-3, they kept their lead in the NFC North and remained tied for the best record in the NFC.
But it was no thanks to a defense that allowed Ryan to throw for 375 yards, most of them to Jones, who caught 11 passes for 259 yards and a touchdown despite being unable to finish the game because of a hip injury.
Never before had the Packers allowed a receiver to pile up that many yards against them. Jones bettered
Calvin Johnson
's 244-yard performance against the Packers in the regular-season finale of 2011. Guess who comes back to Green Bay in three weeks for another Week 17 game? Johnson and the
Detroit Lions
.
Between now and then, the Packers' defense best figure out what went wrong against the Falcons.
"Coming off the field, I think that it's definitely a bitter taste," said Packers safety
Micah Hyde
, who allowed one of Ryan's four touchdown passes. "We definitely don't want to finish like that, but at the same time, those good teams win ugly games. You get a win in the NFL, especially the 10th one, you've got to be happy about that."
Capers relied heavily on zone coverages, and Jones easily found the soft spots. Of his 259 yards, 212 came on throws that traveled more than 10 yards downfield, according to ESPN Stats & Information.
"I just think we did everything on the back end wrong," Hyde said. "We're going to have to watch film to know exactly what they were doing, but they were scheming our zones, scheming our man calls. They were just getting him the ball, and I don't think that we did anything right in the second half."
Jones opened the second half with a 79-yard catch on the first play from scrimmage, wiping out all the positive vibes the Packers had from their 31-7 halftime lead. The Packers knew then this was not going to be another one of those Lambeau Field blowouts.
"We've got to play the whole game," Packers linebacker
Julius Peppers
said. "We can't play one half or three quarters or anything like that. We have to play the whole game out regardless of how big of a lead we have. We've got to finish games."
The defense did just that against the Patriots one game ago, when it sacked Brady on his final third-down play and handed the game over to Rodgers, who secured a victory that made the Packers the popular Super Bowl pick.
And yet now, there are once again questions about whether the Packers have a championship defense to go along with their MVP-caliber quarterback and his array of offensive playmakers.
"We made Matt Ryan look like Matty Ice again out there," Matthews said. "He was fantastic tonight. More power to him, but a lot of that was our doing. We've got to get better, and we will."
June, 9, 2014
6/09/14
12:00
PM ET
GREEN BAY, Wis. -- It is not uncommon for NFL contracts to become outdated in a hurry.
Someone is always signing a new deal or an extension to become the highest-paid this or the highest-paid that.
Rodgers
So when
Colin Kaepernick
signed his contract extension with the
San Francisco 49ers
last week, the initial reports suggested his deal contained more guaranteed money than
Green Bay Packers
quarterback
Aaron Rodgers
, the NFL's highest-paid player.
On paper, Kaepernick signed a six-year, $114 million extension that contained $61 million in guaranteed money. But in this case, the definition of guarantee is a loose one.
As ESPN's John Clayton pointed out
in his weekend Mailbag column
, Kaepernick's deal is much more of a pay-as-you-play contract than the five-year, $110 million extension Rodgers signed on April 26, 2013. Rodgers' deal was loaded with real guarantees.
Rodgers' signing bonus of $35 million followed by a guaranteed roster bonus of $9.5 million that was paid this March and another one worth $9.5 million due next March brought his guaranteed money to $54 million in real dollars.
For those who were outraged that Kaepernick received more guaranteed money, a closer examination of the deal revealed that those were "soft" guarantees. Kaepernick's yearly guarantees don't become such until April 1 before each season, meaning the 49ers can get out from under the deal at any point without paying those so-called guarantees.
So for the time being, even though Kaepernick has the potential to collect more than Rodgers, it's not accurate to call him the higher paid at this point.
Perhaps the best measure when comparing contracts is a three-year window. Looking at it that way, here's a breakdown of the top quarterback contracts by average per year, according to ESPN Stats & Information salary data:
Matt Ryan, Atlanta: $22.9 million
Aaron Rodgers, Green Bay: $22.7 million
Joe Flacco, Baltimore: $20.7 million
Drew Brees, New Orleans: $20.3 million
Peyton Manning, Denver: $19.3 million
Tony Romo, Dallas: $18.0 million
Jay Cutler, Chicago: $18.0 million
Matthew Stafford, Detroit: $17.7 million
Ben Roethlisberger, Pittsburgh: $17.6 million
Eli Manning, New York Giants: $17.0 million
Philip Rivers, San Diego: $16.8 million
Colin Kaepernick, San Francisco: $14.7 million
Three of the quarterbacks on the list -- Ryan, Cutler and Kaepernick -- signed their deals after Rodgers did his 14 months ago. In that time, Rodgers' contract has held up. He remains the highest-paid quarterback with a $22 million-per-year average over the life his deal.
Maybe
Russell Wilson
, the next quarterback likely to cash in, will surpass him. But Kaepernick's deal did not.
May, 5, 2014
5/05/14
8:00
AM ET
GREEN BAY, Wis. -- Since he took over as general manager of the
Green Bay Packers
in 2005, Ted Thompson has drafted 87 players.
Leading up to this year's draft, in which Thompson currently has nine picks, we will look at his best and worst selections in each round.
We'll start at the bottom and work our way up. So far, we've looked at the seventh, sixth, fifth, fourth and third rounds.
Next up is Round 2.
Total players drafted
: 13.
By position
: Receivers 4, running backs 2, cornerbacks 2, defensive ends 2, guards 1, quarterbacks 1, safeties 1.
Best pick
:
Nick Collins
, S.
By age 27, Collins (No. 51 overall, 2005) was already a three-time Pro Bowl selection. But his career was cut down in its prime when he sustained a neck injury against the
Carolina Panthers
in Week 2 of the 2011 season. He has not played since despite his desire to return. The Packers released him the next offseason and have struggled to replace his playmaking ability from the safety position.
Honorable mention:
Greg Jennings
, WR (No. 52, 2006),
Jordy Nelson
, WR (No. 36, 2008),
Randall Cobb
, WR (No. 64, 2011),
Eddie Lacy
, RB (No. 61, 2013).
Worst pick
:
Brian Brohm
, QB.
The third quarterback taken in the draft -- behind
Matt Ryan
and
Joe Flacco
-- Brohm (No. 56, 2008) struggled from the outset and lost the backup quarterback job to another rookie, seventh-round pick
Matt Flynn
. After spending the season as the third-stringer, he failed to even make the team in his second year. The Bills signed him in 2009, and he appeared in three games over two seasons in Buffalo.
Dishonorable mention:
Pat Lee
, CB (No. 60, 2008),
Brandon Jackson
, RB (No. 63, 2007),
Jerel Worthy
, DE (No. 62, 2012),
Terrence Murphy
, WR (No. 58, 2005).
Notes
: Thompson has selected almost as many Pro Bowlers in the second round (three -- Collins, Jennings and Lacy) as he has in the first round (four --
Aaron Rodgers
,
Clay Matthews
,
A.J. Hawk
and
B.J. Raji
). ... Nearly half of his second-round picks (Lacy, Worthy, Cobb, Nelson,
Casey Hayward
and
Mike Neal
) remain on the roster. Two others (Jennings and
Daryn Colledge
) played for other teams last season. ... Murphy's career ended after just three games because of a neck injury.
February, 7, 2014
2/07/14
2:20
PM ET
GREEN BAY, Wis. -- We have a little more clarity in the
Morgan Burnett
-
Tony Gonzalez
situation that arose on Thursday night.
Shortly after the
Green Bay Packers
safety said in an interview
that he never insulted
Gonzalez or trash talked with the
Atlanta Falcons
tight end during last season's game at Lambeau Field, there was speculation that Gonzalez may have meant
Jarrett Bush
rather than Burnett, who almost never covered Gonzalez during the Dec. 8 game.
Thanks to the magic of Twitter, Bush on Friday provided an answer in a series of tweets back and forth with yours truly.
@RobDemovsky @TonyGonzalez88 it started first series 3rd down Rob lol #funfact

— Jarrett Bush (@Jarrettbush) February 7, 2014



@RobDemovsky seriously all competition my man! Doesn't matter who it is! #competition #bigheart
— Jarrett Bush (@Jarrettbush) February 7, 2014
After reviewing the film, it's easy to see what Bush was talking about.
On third-and-5 in the game's opening series, Bush was lined up in press coverage against Gonzalez, who was split out to the right. A few yards down the field, after Falcons quarterback
Matt Ryan
completed a pass to
Roddy White
for a first down, Gonzalez appeared to be frustrated with Bush's tight coverage by throwing his arms up in the air.
While the television coverage followed the ball, a review of the coaches' film on NFL Game Rewind showed that Bush and Gonzalez continued to engage in contact after the play.
Bush also explained that in a Tweet:
@RobDemovsky Naw. I told him he was a flopper, tryin to get a call. And some other words that were exchange. That is undisclosed! #GoPackGo

— Jarrett Bush (@Jarrettbush) February 7, 2014
Late in the game, Bush made two key plays. He broke up a fourth-down pass intended for Gonzalez with 1:55 remaining. On the Falcons' next series, Bush ended the game with an interception with 4 seconds remaining to help preserve the Packers'
22-21 victory
. It was one of Bush's finest performances of the season.
December, 5, 2013
12/05/13
10:00
AM ET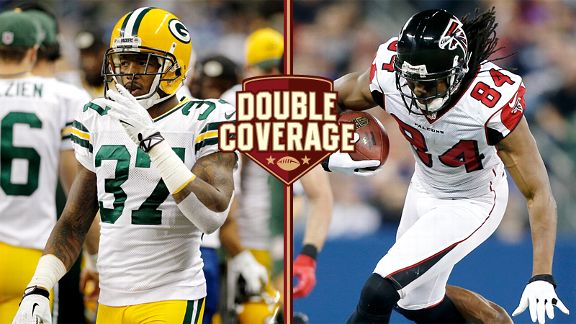 AP PhotoCan Sam Shields and the Packers snap their slump against Roddy White and Atlanta on Sunday?
Last season, the
Atlanta Falcons
were one quarter away from reaching the Super Bowl, and the
Green Bay Packers
reached the divisional round of the playoffs.
Eleven months later, the teams have a combined record of 8-15-1.
That's why the NFL moved the game, which was originally scheduled for prime time on Sunday, to a 1 p.m. ET start.
ESPN Packers reporter Rob Demovsky and ESPN Falcons reporter Vaughn McClure break down the matchup:
Rob Demovsky
: Vaughn, it's hard to believe the Falcons are in playing-out-the-string mode with all of the talent they have on offense. Obviously, injuries have been an issue, especially losing a talented receiver like
Julio Jones
. But unlike the Packers, they didn't lose their quarterback. How come
Matt Ryan
hasn't been able to be a difference-maker?
Vaughn McClure
: Well, it's been hard for Matt Ryan to be himself, playing under duress most of the season. The Falcons have ranked in the top 10 in sacks allowed per pass attempt, but that's only because Ryan has taken shorter drops and delivered the ball quicker. He has still been sacked a career-high 30 times and has been hit countless other times. In the past two games alone -- against the Saints and Bills -- Ryan was sacked 11 times. True, being without Jones hasn't helped Ryan's cause. But also,
Roddy White
hasn't been at full strength all season. Without
Harry Douglas
or
Tony Gonzalez
, Ryan would really be in trouble.
Speaking of quarterbacks, can you explain the different scenarios for the Packers at the position come Sunday, based on
Aaron Rodgers
' injury status?
Demovsky
: Well, it sure looks like Rodgers will be out for at least another week. This was the game he was really targeting to come back for, thinking he could lead them to the playoffs if he got back for the last four games. But his collarbone did not check out well enough Tuesday to be cleared. Even though he plans to practice this week, it doesn't look good for him to play. I was a little surprised that coach Mike McCarthy appears to be going with
Matt Flynn
again. Flynn was completely ineffective in the Thanksgiving debacle at Detroit, and quite frankly, his arm strength does not look good. He didn't have a lot of zip on the ball indoors against the Lions, and it sure won't get any easier to throw in the cold, wintry conditions at Lambeau Field. I wondered if he might go back to
Scott Tolzien
, who looked good in a couple of his appearances but threw too many interceptions.
You mentioned pass protection -- the Packers had issues of their own against the Lions. Flynn was sacked seven times, but on at least a couple of those, he held onto the ball too long. What has been the Falcons' biggest problem in pass protection?
McClure
: The biggest problem has been the offensive line, simply. The guys up front haven't held up their end of the bargain. They've been physically dominated at times, particularly in the loss to the Seahawks. The Falcons lost left tackle
Sam Baker
to season-ending knee surgery, and Baker wasn't the same player he was last season before being placed on injured reserve. Left tackle
Lamar Holmes
, the guy trusted to protect Ryan's blind side, admitted being out of shape at the beginning of the season and is still experiencing growing pains. Center
Peter Konz
, right guard
Garrett Reynolds
, right tackle
Jeremy Trueblood
and Holmes have all been benched at point during the season. Such turnover hasn't helped the group develop any cohesion. And now, it has to face a capable Packers defense.
I know
Clay Matthews
was injured this season, but is he back to the dominant player he was when I covered the NFC North?
Demovsky
: He's starting to look like the player you remember, Vaughn. In his first game back from his broken thumb, he wasn't a factor,because he had to wear that giant club cast. But the next week against the Giants, he was able to play with a much smaller cast. Ever since then, he's been a playmaker again. In the past three games, he has three sacks and a forced fumble. The problem is he's not getting a ton of help. And even when they make big plays like they did against the Lions last week, when they forced four turnovers, the offense can't take advantage of them. Even with Matthews back on the field, the defense has been in a free fall over the past month.
About the only thing the Packers have been able to count on has been their running game, and even that has been a little up and down. But rookie
Eddie Lacy
looks like a force with 806 yards rushing in basically 10 games. I'm sure the Falcons will load up the box to stop him like most teams have tried to do since Rodgers got hurt. Do you think they can stop him?
McClure
: No. Not at all. They struggled to contain speedy backs like Buffalo's
C.J. Spiller
(149 rushing yards) just like they've struggled against powerful backs like Seattle's
Marshawn Lynch
(145 yards). Defensive coordinator Mike Nolan counted 28 missed tackles for his defense over the past two games, which is unacceptable, particularly when they occur in the second level and lead to explosive plays. Although rookie linebacker
Paul Worrilow
has been a tackling machine, he can't do it alone. Like the offensive line, the defense has been dominated physically at times. Lacy's bruising style is the last thing the Falcons want to see. The Falcons are tied for 29th in the NFL in rushing yards allowed per game.