Green Bay Packers:

Michael Hill
June, 30, 2014
Jun 30
8:00
AM ET
GREEN BAY, Wis. -- Between now and when the
Green Bay Packers
report to training camp on July 25, we will spend considerable time looking at the roster from a variety of angles.
In the days leading up to camp, we will break things down by position group. And before that, we will look at several players who need to give the Packers more than they did last year.
But before we do any of that, let's reset the depth chart as it likely stands heading into training camp. This is an unofficial assessment, but it is based on observations during organized team activities and minicamp practices combined with interviews with assistant coaches and scouts.
First up is the offense:
Quarterback
s:
Aaron Rodgers
,
Matt Flynn
,
Scott Tolzien
,
Chase Rettig
.
Notes
: Expect a legitimate battle for the No. 2 job between Flynn and Tolzien in the preseason. Coach Mike McCarthy noted several times how much Tolzien improved thanks to a full offseason with the Packers. The biggest question here is whether the Packers will keep three quarterbacks rather than only two. Rettig looks like a camp arm, at best.
Running backs
:
Eddie Lacy
,
James Starks
,
DuJuan Harris
,
Michael Hill
,
Rajion Neal
,
LaDarius Perkins
.
Notes
: The loss of
Johnathan Franklin
to a
career-ending neck injury
struck a blow to what appeared to be a deep position. But it also sorted out things somewhat, although Harris still needs to show that he can be productive like he was late in the 2012 season. The knee injury that cost him all of last season does not appear to be an issue. Neal and Perkins, a pair of undrafted rookies, both are slashing backs similar to Harris with Perkins (5-foot-7, 195 pounds) also being similar in stature.
Fullbacks
:
John Kuhn
,
Ina Liaina
.
Notes
: There's no reason to think the veteran Kuhn won't be around for another season.
Receivers
: Outside --
Jordy Nelson
,
Jarrett Boykin
,
Davante Adams
,
Jeff Janis
,
Kevin Dorsey
,
Chris Harper
. Slot --
Randall Cobb
,
Jared Abbrederis
,
Myles White
,
Alex Gillett
.
Notes
: Adams, the rookie from Fresno State, may eventually supplant Boykin, but he will have to catch the ball more cleanly than he did in the offseason. He battled drop issues at times during the OTAs and minicamp. Fellow rookie Janis showed up regularly during team periods. Harper was off to a strong start until a hamstring injury knocked him out. In the slot, Abbrederis looks like a natural fit. White bulked up after contributing some as a rookie last season and should not be ignored.
Tight ends
:
Richard Rodgers
,
Andrew Quarless
,
Brandon Bostick
,
Ryan Taylor
,
Jake Stoneburner
,
Colt Lyerla
,
Justin Perillo
.
Notes
: Even if Quarless is healthy for the start of camp, Rodgers might still have the edge for the starting job after a strong offseason. He's more dynamic as a receiver than Quarless, who missed the entire offseason because of an undisclosed injury. Bostick came back late in the offseason from foot surgery. While there are high expectations for Lyerla, the undrafted rookie did not flash often enough during offseason practices.
Tackles
: Right side --
Bryan Bulaga
,
Don Barclay
,
Aaron Adams
,
John Fullington
. Left side --
David Bakhtiari
,
Derek Sherrod
,
Jeremy Vujnovich
.
Notes
: Bulaga practiced with a large brace on his surgically repaired left knee and has something to prove after missing all of last season, but the fact that he's back at right tackle shows how much the Packers believe in Bakhtiari on the left side. Sherrod made it through the full offseason program for the first time, which is something of an accomplishment considering his injury history. But he's running out of time to show he can play like the first-round pick that he was in 2011. Barclay, who started 18 regular-season games the last two seasons, has split his time between right tackle and guard and looks like the No. 6 offensive lineman.
Guard
: Right side --
T.J. Lang
, Barclay,
Lane Taylor
. Left side --
Josh Sitton
, Barclay,
Andrew Tiller
,
Jordan McCray
.
Notes
: Barclay likely would be the top back up at both guard spots, although Taylor worked at right guard with the No. 2 offensive line while Barclay played right tackle or left guard.
Center
:
JC Tretter
,
Garth Gerhart
,
Corey Linsley
.
Notes
: Tretter took all the snaps with the number one offensive line this offseason. It is his job to lose, but his lack of experience makes him something short of a sure thing. Gerhart worked ahead of Linsley, a fifth-round pick, but if anyone is going to challenge Tretter it might be Linsley.
June, 13, 2014
Jun 13
8:00
AM ET
GREEN BAY, Wis. -- If you watched our
NFL Nation Buzz Video from this week
, you heard about how coach Mike McCarthy was encouraged by the fact that the
Green Bay Packers
have several players who have come back strong after significant injuries last season.
Let's take a closer look at the Packers' health situation as they wrap up the third week of organized team activity practices and head into next week's mandatory minicamp.
We'll put the players into three categories -- those who have returned from injuries that prevented them from finishing last season, those who are still out and those who have been injured this offseason.
Let's look at the first category now and the others in a separate posting coming later on Friday.
Returned from injuries
Bulaga
1. Bryan Bulaga
: After missing all of last season with a torn ACL in his left knee -- an injury he sustained last August in the annual Family Night scrimmage – Bulaga is back at right tackle (he was slated to move to left tackle last season) with the number one offensive line. Although he is wearing a large brace on his left knee, he appears to be moving well and taking a full load of snaps in practice. It will be interesting to see whether Bulaga will be limited when the pads go on in training camp. It's an important year because Bulaga has missed all or parts of the last two seasons because of injuries (a hip cost him the final seven games of 2012).
"Bryan Bulaga looks good," McCarthy said. "We're in the OTA practices and I think our pass-under-pressure drill has been good, so we're getting some work there with the sets. So the individual work is what our offensive line coaches do a great job of, so he's getting exactly what he needs. He's stronger. He weighs a little more than he has in the past. So he's having a heck of a spring."
2. DuJuan Harris
: Like Bulaga, Harris missed the entire 2013 season because of a knee injury, but his was not an ACL reconstruction. Harris had a patellar tendon injury that bothered him throughout the offseason and flared up in training camp. Before his injury, McCarthy had planned to use Harris in combination with
Eddie Lacy
as a one-two running back punch. Instead,
James Starks
became Lacy's primary backup and excelled in the role. It's now a crowded backfield with those three plus
Johnathan Franklin
(more on him later today),
Michael Hill
plus undrafted rookies
Rajion Neal
and
LaDarius Perkins
.
"I feel good; I feel ready to go, man," Harris said. "Got to get back in the mental department, but I'll be ready."
3. Casey Hayward:
A hamstring injury that he sustained while working out on his own last July ruined his second season. It recurred two more times and limited him to just three games. The Packers were expecting big things from Hayward after he picked off six passes (most among NFL rookies) in 2012. He has returned to his slot cornerback position this offseason although it may take time for him to get back to where he was in 2012.
"If I can get out there and be 90 percent, which I'm feeling great out there right now, if I can get to training camp and be 100 percent, I'll be fine," Hayward said. "I'll be ready to go."
4. Sam Barrington
: A seventh-round draft pick from South Florida in 2013, Barrington was active for seven of the first eight games and played on special teams until a hamstring injury ended his rookie season. Barrington has tried to work his way back into the rotation at inside linebacker this offseason.
"Sam came in and tried to establish what he can bring to the table before anything he tweaked his [hamstring] a little bit ... and we ended up putting him on IR so there's a lot of still unknowns about him," linebackers coach Winston Moss said. "He's working hard, great attitude, all of our guys are working hard and trying to get the right thing done on a day-to-day basis. The only thing with Sam is you can just continue to give him as much opportunities as possible so that at the end of the day there's going to be an opportunity to evaluate him."
Bostick
5. Brandon Bostick
: The second-year tight end missed the first two weeks of OTAs while waiting for clearance to return from foot surgery. He finally returned this week. Bostick, a former college receiver, showed some signs of playmaking ability late last season after
Jermichael Finley
's season-ending neck injury. He averaged 17.1 yards on seven receptions before landing on injured reserve in December. Bostick had a screw placed in his foot to repair a broken bone.
"I thought Brandon made some real strides by the end of the season," tight ends coach Jerry Fontenot said earlier this offseason. "His effort level was really high. He seemed to have a better understanding of what he was being asked to do. As with everything, great effort can overcome a lot of bad technique. In his case that was happening at a much greater level as his technique improved. Obviously, it's a setback, being not able to practice and getting the timing with the quarterback, getting the timing with the blocking unit up front and getting in protection mode. So he's going to have some hurdles when he gets back and he's able to go full speed just to get his body angles right, his alignment in order and being able to trust his fundamentals again. I think it's going to take some time. The sooner we get him back, the better."
6. Kevin Dorsey
: The seventh-round pick in 2012 missed all of last season because of a toe injury and has returned to a crowded receiver group. The Packers drafted three receivers --
Davante Adams
(second round),
Jared Abbrederis
(fifth round) and
Jeff Janis
(seventh round) -- and return three of their top-four receivers from last season. Dorsey has been able to participate in all of the OTAs so far.
7. Myles White
: After being promoted from the practice squad in Week 7 last season after
Randall Cobb
went on the temporary IR list, the former undrafted rookie played in seven games and caught nine passes for 66 yards before a knee injury ended his season. White said it was a meniscus tear that would not require surgery, and he has shown no signs that it has limited him this offseason.
April, 3, 2014
Apr 3
8:00
AM ET
GREEN BAY, Wis. -- With the bulk of the free-agent work done, it's a good time to recheck the
Green Bay Packers
' depth chart leading up to the May 8-10 NFL draft.
First up, the offense:
Quarterback
:
Aaron Rodgers
,
Scott Tolzien
.
Analysis
: Coach Mike McCarthy said at last week's NFL owners meetings that he not only hopes to bring back
Matt Flynn
but also would to take a fourth, developmental quarterback into training camp.
[+] Enlarge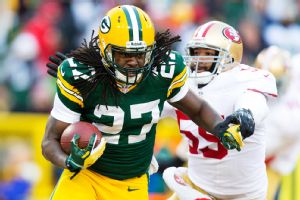 Jeff Hanisch/USA TODAY SportsLed by Eddie Lacy, the running back position is expected to be a key strength for the Packers in 2014.
Running back
:
Eddie Lacy
,
James Starks
,
Johnathan Franklin
,
DuJuan Harris
,
Michael Hill
,
Orwin Smith
,
Ina Liaina
(fullback).
Analysis
: This could be the deepest backfield McCarthy has had in his nine seasons as head coach, and they still may re-sign fullback
John Kuhn
. Starks excelled in a backup role last season behind Lacy, while Franklin showed some signs during a 100-yard game against the
Cincinnati Bengals
in Week 3 before a neck injury ended his rookie season. Harris looks to bounce back after missing all of 2013 because of a knee injury. Hill spent time with both the Packers and Buccaneers last season. Smith was on the practice squad last year. Liaina was signed off the street early in the offseason.
Receiver
:
Randall Cobb
,
Jordy Nelson
,
Jarrett Boykin
,
Myles White
,
Chris Harper
,
Kevin Dorsey
, Sederrick Cunningham,
Alex Gillett
.
Analysis
: Boykin is expected to take over as the No. 3 for
James Jones
, who signed with the
Oakland Raiders
as a free agent. White and Harper both spent time on the roster last season. White could be Cobb's backup as a slot receiver. Harper is an intriguing prospect. He was a fourth-round pick of the
Seattle Seahawks
last year and has good size. Dorsey, a seventh-round pick last season, and Cunningham spent all of 2013 on injured reserve. Gillett spent last season on the practice squad.
Tight ends
:
Andrew Quarless
,
Brandon Bostick
,
Ryan Taylor
,
Jake Stoneburner
,
Raymond Webber
.
Analysis
: There's not an established big-time playmaker to replace
Jermichael Finley
, who remains on the free-agent market but has not been medically cleared following last season's neck injury. Quarless is the starter until someone beats him out. Bostick, a former small-college receiver, is raw but has some playmaking ability. Taylor and Stoneburner played mostly on special teams, while Webber was signed off the street early in the offseason.
Center
:
JC Tretter
,
Garth Gerhart
,
Don Barclay
.
Analysis
: Not one of those players has ever taken a regular-season snap at center. Only Barclay has played in the regular season, and that has been almost exclusively at tackle. But after losing
Evan Dietrich-Smith
to the
Tampa Bay Buccaneers
in free agency, the Packers will see if Barclay can transition to center. There are high hopes for Tretter, a former college tackle who did not play last season as a rookie after sustaining an ankle injury. Gerhart only has practice squad experience.
Guard
:
Josh Sitton
,
T.J. Lang
, Barclay,
Lane Taylor
,
Andrew Tiller
.
Analysis
: The starters are set with Sitton on the left side and Lang on the right. Barclay also could be in the mix for a backup job. Taylor made the team as an undrafted free agent last season but played mostly on special teams. Tiller was on the practice squad last season.
Tackle
:
David Bakhtiari
,
Bryan Bulaga
,
Derek Sherrod
, Barclay,
Aaron Adams
,
Jeremy Vujnovich
.
Analysis
: Bakhtiari, who started every game at left tackle last season as a rookie, will stay in his spot even with the return of Bulaga from the knee injury that kept him out all of last season. Bulaga will go back to the right side. Sherrod returned late last season after missing all of 2012 following the broken leg he sustained on Dec. 18, 2011. He likely will compete with Bakhtiari on the left side. Barclay started all but two games last season at right tackle but the Packers want to upgrade. Adams was on the practice squad last season, while Vujnovich was signed as a street free agent early in the offseason.
March, 31, 2014
Mar 31
8:00
AM ET
GREEN BAY, Wis. -- The
Green Bay Packers
began this offseason with 17 players scheduled for unrestricted free agency.

They have re-signed five of them: outside linebacker/defensive end
Mike Neal
, tight end
Andrew Quarless
, defensive tackle
B.J. Raji
, cornerback
Sam Shields
and running back
James Starks
.
Four of them signed with other teams: center
Evan Dietrich-Smith
(
Tampa Bay Buccaneers
), receiver
James Jones
(
Oakland Raiders
), tackle
Marshall Newhouse
(
Cincinnati Bengals
) and defensive end
C.J. Wilson
(Raiders).
That leaves eight still on the market. Here's an update on where things stand the Packers' remaining free agents:
Kahlil Bell, RB
: With Starks back on a two-year, $3.165 million deal, it's unlikely Bell, a late-season pickup last year, will be re-signed. The Packers already have five halfbacks with NFL experience on the roster --
Eddie Lacy
,
Johnathan Franklin
,
DuJuan Harris
,
Michael Hill
and Starks -- plus practice-squad member
Orwin Smith
.
Jermichael Finley, TE
: There's no guarantee Finley will receive medical clearance to resume his career following last season's neck injury. Finley reportedly failed a physical during a free-agent visit to the
Seattle Seahawks
, and the Packers say they are
still monitoring his condition
. At this point, Finley's career remains on hold.
Matt Flynn, QB
: It's all but a lock that the player who kept last season alive while
Aaron Rodgers
was sidelined with his broken collarbone will return. Coach Mike McCarthy wants Flynn back and would like to
keep three quarterbacks on the roster
this season. Expect Flynn to be re-signed soon.
Robert Francois, LB
: The special-teams player is coming off a torn Achilles tendon. If healed, he could be re-signed for a minimum contract later in free agency.
Johnny Jolly, DT
: Like Finley, Jolly underwent neck fusion surgery. But Jolly's injury was not as severe as Finley's and the fusion took place lower in his neck, which makes it safer for him to resume his career. McCarthy said he
liked how Jolly played last season
, so expect the Packers to bring back Jolly at some point.
John Kuhn, FB
: The Packers remain in talks with the fan favorite who completed a three-year, $7 million contract last season. Kuhn is a valuable special teams player and has been their best pass protector out of the backfield the past several seasons. But it's not a given he will return. And if he does, it likely will be for less money than he received three years ago.
Ryan Pickett, DT
: The plan to move Raji back to nose tackle might make Pickett expendable. Or perhaps his age (34) has already done that. McCarthy was non-committal when asked about Pickett's status last week at the NFL annual meetings.
Seneca Wallace, QB
: McCarthy would like to bring four quarterbacks to training camp, but don't expect the 33-year-old Wallace to be one of them. He couldn't stay healthy when the Packers needed him after Rodgers' injury. Instead, they would like to add another young, developmental prospect.
March, 24, 2014
Mar 24
5:15
PM ET
GREEN BAY, Wis. -- Sometimes, NFL players outperform their contracts.
Without tearing up those deals, there is a way for players who fit that description to earn more money. It's called the NFL's performance-based pay distribution in which each team can allot a total of $3.46 million in additional play to its players.
It typically benefits players in their first NFL contracts or minimum-salaried free-agent signings who become key contributors.
For example,
Green Bay Packers
left tackle
David Bakhtiari
, a fourth-round pick with a base salary of $405,000 last year, will receive an additional $256,882.22 in performance-based pay, according to
documents obtained by ESPN.com
. Bakhtiari started every game last season as a rookie. He received the largest pay increases among Packers' players. According to the NFL, those payments will be made on April 1, 2016.
The smallest distribution to a Packers' player went to backup tackle
Derek Sherrod
, who will receive $2,154.55. He was active for seven games but only took six snaps on offense all season.
Here's a list of the top-10 and bottom-10 performance-based bonuses on the Packers' roster:
Top 10
Bottom 10
March, 21, 2014
Mar 21
8:00
AM ET
GREEN BAY, Wis. -- By re-signing running back
James Starks
to a
two-year contract earlier this week
, the
Green Bay Packers
brought back a capable runner who was good enough to start Super Bowl XLV.
Starks
It also ensured the Packers will have their deepest -- and most talented -- group of running backs perhaps since the combination of
Edgar Bennett
and
Dorsey Levens
shared the backfield in the mid-1990s.
In less than a year, it went from perhaps the thinnest position on offense -- if not the entire roster -- to one that should not be a concern for the foreseeable future.
As things stand today, the Packers have five running backs on their roster with NFL regular-season experience.
Here's a look at each one and what his role could be this season:
Lacy
Eddie Lacy
: The reigning offensive rookie of the year who rushed for a Packers' rookie record 1,178 yards last season, Lacy will be the workhorse back once again. In fact, he could be on the field even more than he was last season, when he played 60.5 percent of the offensive snaps. Packers coach Mike McCarthy said at last month's scouting combine that he wants Lacy to become a three-down back. Last season, he often gave way to fullback
John Kuhn
on third down.
James Starks
: Once viewed as a potential starter, a long injury history reduced him to a complementary role -- one in which he excelled last season. He averaged a career-high 5.5 yards per carry in a role that likely will be repeated this season.
Johnathan Franklin
: Other than a 103-yard performance in Week 3 against the Bengals, a game in which his fourth-quarter fumble was returned for the game-winning touchdown, the fourth-round pick last year did not make much of an impact before he was placed on injured reserve on Nov. 27 because of a neck injury.
DuJuan Harris
: A year ago, Harris was the starter by default, having finished the 2012 season in that capacity. Even after the Packers drafted Lacy and Franklin, McCarthy had big plans for Harris until a knee injury ended his season in training camp. The quick, diminutive runner could be the perfect complementary back to the power running of Lacy and Starks.
Michael Hill
: Spent two weeks on the Packers' roster last season and then was back on the practice squad when the
Tampa Bay Buccaneers
signed him to their roster on Nov. 13. He finished the season with the Bucs but was re-signed by the Packers last month. He carried nine times for 23 yards in Tampa.
February, 26, 2014
Feb 26
8:00
PM ET
GREEN BAY, Wis. -- The
Green Bay Packers
have perhaps their deepest running back group than in any time during coach Mike McCarthy's tenure, but they had room for at least one more.
The Packers on Wednesday re-signed
Michael Hill
, who was with them for parts of last season and was released by the
Tampa Bay Buccaneers
earlier this month.
Hill, a former Division II standout at Missouri Western, first joined the Packers on Sept. 2 as a member of their practice squad after the
San Diego Chargers
released him at the end of the preseason. He was promoted to the roster on Sept. 30 after injuries to
James Starks
and
John Kuhn
. He appeared in two games but was released on Oct. 18. Four days later, the Packers re-signed him to their practice squad.
The Buccaneers signed him off the Packers' practice squad on Nov. 13, and he played in six games with nine carries for 23 years.
The Packers return
Eddie Lacy
, the reigning NFL offensive rookie of the year, plus
DuJuan Harris
and
Johnathan Franklin
. Starks and Kuhn are scheduled to be free agents next month.
They also re-signed safety
Chris Banjo
, an exclusive rights free agent who made the Packers' roster coming out of training camp last season.
November, 24, 2013
11/24/13
8:00
AM ET
GREEN BAY, Wis. -- Emptying out the notebook from the week that was with the
Green Bay Packers
:
Lacy's workload:
Running back
Eddie Lacy
didn't know he was approaching 200 carries for the season, and he certainly didn't know that his total of 157 carries since Week 5 when he returned from his concussion was the highest total in the NFL.
Lacy
All the rookie from Alabama knew was that around this time last year, he was nearing the end of his regular season. Now, he still has six more regular-season games left, beginning with Sunday's game against the
Minnesota Vikings
at Lambeau Field.
"I actually feel good," said Lacy, who has the most rushing yards (645) in the NFL since Week 5. "I'm not hitting the rookie wall I guess is what you all call it. I am noticing that the college football season is pretty much over with, so this is around the time I would start to shut it down, but I feel good."
Lacy had carried 22 times or more in six straight games before being limited to 14 carries (and just 27 yards rushing) in last Sunday's loss to the
New York Giants
.
James Starks
has carried just 19 times in four games since returning from a knee injury, and rookie
Johnathan Franklin
hasn't carried the ball the last four weeks.
"I don't think Eddie's hit the wall," Packers coach Mike McCarthy said this week. "If anything, I'd like to get all three of those backs involved because they've earned it. James Starks has earned the opportunity to carry the ball, but the guy I feel like I neglected with opportunity is Johnathan Franklin because when he was given his opportunity in Cincinnati he responded in a big way. So I feel good about all three of those guys carrying the ball.
"We've gone a different direction in certain concepts and certain things in offense. [Fullback]
John Kuhn
has played more. Those are the things you kind of juggle. The Giants game we were clearly under our total number of plays we've been. We've been up around 70 plays again, we were in the 50s against the Giants. We need more attempts at the plate and hopefully we can get all three of these guys involved more."
Jennings
Boo birds
: Receiver
Greg Jennings
probably would've been booed upon his return to Lambeau Field anyway just for leaving the Packers in free agency and signing with the rival Vikings. But when he criticized quarterback
Aaron Rodgers
and the Packers' organization this offseason, it all but ensured the reception he will receive here Sunday won't be friendly. "Probably so," said Packers cornerback
Tramon Williams
, one of Jennings' long-time former teammates. "Obviously because of some of the things that went on in the offseason that was perceived to be said, but you never can tell. We can always say what we think, but you never can tell until it happens."
Tracking the practice squad
: When the Packers released guard Bryan Collins from the practice squad and signed guard Andrew Tiller to replace him Wednesday, it meant that only one of the original members of this year's group was still on the eight-man unit. Only rookie tackle Aaron Adams has been on the practice squad all season. Five of the original group were promoted to the active roster -- quarterback
Scott Tolzien
, cornerback
James Nixon
, tight end
Jake Stoneburner
, receiver
Myles White
and running back
Michael Hill
(who was later released). Another, receiver Charles Johnson, was signed by the
Cleveland Browns
on Oct. 12.
Tretter's turn
: Offensive linemen
David Bakhtiari
and JC Tretter both were drafted in the fourth round last April. Bakhtiari has started every game as a rookie at left tackle, while Tretter saw the field -- the practice field -- for the first time this week since his May 20 ankle injury. Tretter, a versatile lineman from Cornell, remains on the physically unable to perform list but was cleared to practice this past week, the last possible week for PUP players to return to the field. He has three weeks with which he can practice before the Packers have to decide whether to activate him. Most likely, they will use the three weeks as a developmental period and then place him on season-ending injured reserve. "A lot of people thought the season was over; it was going to be a lost season," Tretter said. "You have to have faith in yourself and set goals for yourself. Sometimes they might not be reachable, but you have to think they are."
Finley chronicles
: Tight end
Jermichael Finley
is documenting his attempted comeback from his spinal cord injury.
In the latest video
, which runs 17 minutes, the most compelling part is when a doctor mentions the possibility of Finley injuring his neck "the next time," Finley, who underwent spinal fusion surgery last week, asks the doctor if there will be a next time and if he will be able to play again. There were no concrete answers.
Playoff predictor
: Much time will be spent in the coming weeks trying to figure out if the Packers will make the playoffs. There's no better way to play that game than by using
ESPN's Playoff Machine
. You can input every possible scenario for every remaining regular-season game. I'll warn you, it's addictive.
October, 23, 2013
10/23/13
8:00
AM ET
A roundup of what's happening on the Green Bay Packers beat.
GREEN BAY, Wis. -- The first time the Packers faced Josh Freeman, they didn't know what to expect.
It was back in 2009, and Freeman was making his first NFL start for an 0-7 Tampa Bay Buccaneers team. In one of the more shocking performances of that season, Freeman led a 38-28 upset by throwing three touchdowns.
It looked like the start of a promising career.
Four years later, the Packers are once again preparing to face Freeman on Sunday night and yet again, they're probably not quite sure what to expect.
This time, Freeman will start for the Minnesota Vikings. It will be just his second start in purple after he was released in an ugly divorce with the Buccaneers. His first start for the Vikings, less than two weeks after he arrived in Minnesota, was a disaster. He threw 30 incompletions in 53 attempts in a 23-7 loss to the previously winless New York Giants on Monday night.
The Vikings probably threw Freeman in too soon, but Vikings coach Leslie Frazier said Tuesday that
he will stick with Freeman
.
Packers defensive coordinator Dom Capers won't have much to go on to prepare for the Vikings with Freeman at the helm. In fact, before Monday night's game against the Giants, he had nothing to go on. Earlier on Monday, Capers said he planned to be glued to the TV.
"I'll be interested watching the game tonight," Capers said Monday. "That will be the only exposure we'll see of Freeman. We'll have to do a good job of seeing -- obviously, we know what they've done every game this season, but they've had different quarterback combinations with [Christian] Ponder and [Matt] Cassel and now Freeman, so it'll be interesting to see how they change their attack tonight with Freeman. He hadn't been with him a long time, so I wouldn't think it would be too complicated."
Elsewhere:
The news on tight end Jermichael Finley's neck injury continued to come back positive. ESPN's Ed Werder reported that Finley will not need surgery and could resume his playing career at a time to be determined later.
Also in our ESPN.com coverage, we looked at some of the issues Finley, his doctors and the Packers doctors will have to consider before deciding whether he should return to the field. We pondered what the conversation might be like if quarterback Aaron Rodgers and Vikings receiver Greg Jennings, the former Packers player who criticized Rodgers this summer, bump into each other on Sunday and analyzed the snap counts from Sunday's win over the Cleveland Browns in our weekly playing-time breakdown. And finally, you can see where the Packers sit in the ESPN Power Rankings.
The Packers made a roster move on Tuesday, when they re-signed running back Michael Hill to the practice squad. Hill had been on the active roster but was released on Friday, when the Packers claimed receiver Chris Harper off waivers. To make room for Hill, the Packers cut practice squad receiver/kick returner Reggie Dunn for the second time this season.
Donald Driver, the Packers' career receiving leader who retired after last season, made an appearance on ABC's "Good Morning America" to promote his new book, "Driven." You can watch an excerpt of that appearance.
At ESPNWisconsin.com, you can listen to Rodgers' weekly radio show from 540 ESPN Milwaukee.
In the Green Bay Press-Gazette, Pete Dougherty had a scouting report on the Vikings.
In the Milwaukee Journal Sentinel, Tom Silverstein talked to a doctor who said he would be surprised if Finley were able to return to the NFL without surgery, and Bob McGinn had a scouting report on the Vikings.
October, 18, 2013
10/18/13
5:25
PM ET
GREEN BAY, Wis. -- The Green Bay Packers have added another young player to their banged-up receiving corps.

The Packers were awarded rookie Chris Harper off waivers Friday, one day
after he was released
by the San Francisco 49ers. The move was first reported by ESPN.com colleague Bill Williamson, who covers the 49ers.
To make room for the 6-1, 229-pound Harper, the Packers released rookie running back Michael Hill, who was promoted from the practice squad Sept. 30.
Harper already has been released by two NFL teams. He was originally a fourth-round draft pick of the Seattle Seahawks in April but was released Aug. 31. Harper signed with the 49ers on Sept. 2 and had been practicing as a hybrid receiver/tight end. However, he was inactive for all six games before he was released.
It's unlikely Harper would play Sunday against the Cleveland Browns.
Harper became the second receiver the Packers added to their roster this week. They promoted rookie Myles White from the practice squad Tuesday after Randall Cobb was placed on injured reserve/designated to return because of his broken fibula. The Packers also listed James Jones (knee) as questionable for Sunday's game against the Browns.
October, 16, 2013
10/16/13
5:55
PM ET
GREEN BAY, Wis. -- By now, it should be clear this is the how the
Green Bay Packers
operate under general manager Ted Thompson and coach Mike McCarthy.
A player gets injured. In this case receiver
Randall Cobb
, who was placed on the temporary injured reserve list with the option to return in eight weeks from a fractured fibula; and tight end
Ryan Taylor
, who underwent arthroscopic knee surgery on Wednesday and will miss several weeks. Now, what do they do?
They promote a pair of rookies, receiver
Myles White
and tight end
Jake Stoneburner
, from the practiced squad. More often than not, that's the way the Packers have handled injuries.
However, the cumulative effect of that is starting to sink in. The Packers will take a roster with 14 rookies on it into Sunday's game against the
Cleveland Browns
. Counting the two rookies they have on injured reserve -- receivers Sederrick Cunningham and
Kevin Dorsey
-- only one NFL team has more rookies in house than the Packers, according to ESPN Stats and Information. The
New England Patriots
top that list with 18, including injured players.
"These guys have gone through camp, they know the system," McCarthy said Wednesday. "This is the way we operate. This is another example of that, and it's important for them to play, compete and have a winning performance on Sunday."
To review, here's a breakdown of the Packers' rookies:
The injury to Taylor caught the Packers off guard. The special teams ace made it through Sunday's 19-17 win over the
Baltimore Ravens
with only minimal knee pain and even went through a weight-lifting session on Tuesday, but an exam showed that he needed to have his knee surgically repaired.
Stoneburner likely will play on special teams. The Packers have three other tight ends --
Jermichael Finley
,
Andrew Quarless
and
Brandon Bostick
-- who likely would play on offense ahead of Stoneburner.
And White won't be asked to replace Cobb, but he might play some if
James Jones
' knee injury keeps him out against the Browns.
Jordy Nelson
and
Jarrett Boykin
would be the top-two receivers if Jones can't play. His status will be determined later in the week.
The Packers began the season as the fifth-youngest team in the NFL,
according to ESPN.com's Mike Sando
, and they've done nothing but add more youth.
"At this point in the season, age shouldn't be a factor," veteran defensive tackle
B.J. Raji
said. "In that situation, you have to be accountable."
Lacy, the Packers' starting running back, said the veterans have helped ease his transition to the NFL.
"I can't speak for the rookies as a whole because everybody takes pressure different," said Lacy, the Packers' leading rusher. "But for me personally the guys are doing a great job of keeping me focused and comfortable and if I have a question, I can ask pretty much everybody and they're going to be willing to help me whether it's something we've went over 1,000 times or something I had to learn that day."
October, 8, 2013
10/08/13
10:30
AM ET
A look at the snap counts from the Green Bay Packers' 22-9 win against the Detroit Lions on Sunday:
Offense (67 total plays)
Quarterback:
Aaron Rodgers
67.
Offensive line:
David Bakhtiari
67,
Don Barclay
67,
Evan Dietrich-Smith
67,
T.J. Lang
67,
Josh Sitton
67.
Receivers:
Randall Cobb
64,
Jordy Nelson
63,
James Jones
61,
Jarrett Boykin
6.
Running backs:
Eddie Lacy
54,
Johnathan Franklin
7.
Tight ends:
Jermichael Finley
45,
Andrew Quarless
27,
Ryan Taylor
8.
Noteworthy:
Franklin did not play another snap on offense after his second-quarter fumble, which was recovered by Rodgers. … Among Taylor's eight snaps was a drop on what might have been a 34-yard touchdown in the second quarter. … Fullback
John Kuhn
, who was active after missing the Week 3 game against at Cincinnati because of a hamstring injury, did not play a single snap on offense and was on the field for only three special teams plays. … For the first time this season, Cobb led the receivers in playing time, likely because he got a handful of snaps out of the backfield (from which he had a 67-yard run in the third quarter).
Defense (67 total plays)
Defensive line:
B.J. Raji
35,
Mike Daniels
30,
Datone Jones
23,
Ryan Pickett
21,
Johnny Jolly
17.
Linebackers:
A.J. Hawk
62,
Mike Neal
45,
Clay Matthews
42,
Nick Perry
39,
Brad Jones
23,
Andy Mulumba
17,
Jamari Lattimore
16,
Robert Francois
12.
Defensive backs:
Morgan Burnett
67,
M.D. Jennings
67,
Sam Shields
67,
Tramon Williams
67,
Davon House
62,
Jerron McMillian
21,
Micah Hyde
4.
Noteworthy:
When Brad Jones left because of a hamstring injury, Hawk took over as the signal caller. He also replaced Jones as the lone inside linebacker in the dime defense and therefore played his highest percentage of snaps (93 percent) of the season. … The high volume of nickel and dime snaps meant more playing time for House as the third corner and less up front for Pickett and Jolly, who typically play more in the base 3-4. … Neal played the majority of his snaps standing up as an outside linebacker and only a few with his hand on the ground as a defensive lineman. … Matthews did not play after breaking his right thumb on the final play of the third quarter. … Lattimore, a core special teams player, saw his first action of the season on defense as the third in line behind Brad Jones and Francois (who left with a season-ending torn Achilles).
Top special teams contributors (26 total plays)
:
Sam Barrington
18, Mulumba 18, Lattimore 18,
Jarrett Bush
17, Taylor 17, Jennings 17,
Tim Masthay
16, Boykin 15, McMillian 14, Francois 13,
Chris Banjo
11, Hyde 11,
Michael Hill
10.
October, 1, 2013
10/01/13
8:30
AM ET
A roundup of what's happening on the Green Bay Packers beat.
The combination of the Packers coming off their bye week and the Detroit Lions coming to town should create positive vibes around Lambeau Field.
What does one have to do with the other?
Well, the Packers have a 6-1 record in games following their bye week during Mike McCarthy's tenure as head coach and the fact that the Lions have not won in the state of Wisconsin since 1991.
While the former might not be much of a topic of conversation this week, the latter always is when the Lions make the short trip to Green Bay.
In fact, ESPN.com colleague Michael Rothstein, who covers the Lions, has plans to take a look at some of Detroit's closest calls during the remarkable streak of 22 straight Packers wins in their home state. He began with
the memorable 45-41 shootout
, known around these parts as the Matt Flynn game, in the 2011 regular-season finale.
Elsewhere: