Green Bay Packers:

Mike Holmgren
November, 21, 2013
11/21/13
8:00
AM ET
A roundup of what's happening on the Green Bay Packers' beat.
GREEN BAY, Wis. -- On Wednesday evening, the Pro Football Hall of Fame announced the
25 semifinalists for the 2014 class
.
Among them was current Packers outside linebackers coach Kevin Greene. He made the first cut for the eighth straight year. The five-time Pro Bowl selection played 15 seasons for four different teams and ranks third on the career sacks list with 160, which is first among linebackers.
But from the Packers' standpoint, Wednesday's announcement may have been more notable for who didn't make the cut. Neither former coach Mike Holmgren nor former general manager Ron Wolf, the men perhaps most responsible for turning around Green Bay's football fortunes in the 1990s, made the list. They were among the
126 preliminary candidates
announced in September.
For Holmgren, who led the Packers to the Super Bowl XXXI title and another appearance in Super Bowl XXXII, it was his first year of eligibility.
Among others with Packers' ties who did not make the cut were receiver Sterling Sharpe, safety LeRoy Butler and the father of current Packers linebacker Clay Matthews.
The list of 25 semifinalists will be reduced to 15 plus two recommendations from the seniors committee, punter Ray Guy and defensive end Claude Humphrey, on Jan. 8. Those who will be enshrined in Canton, Ohio, will be announced on the eve of Super Bowl XLVIII.
In case you missed it on ESPN.com:
Elsewhere:
On ESPNWisconsin.com, Jason Wilde used a screen shot from the TV broadcast to show a play in which Lacy faced eight defenders in the box.
In the Green Bay Press-Gazette, Weston Hodkiewicz wrote that while the Packers believe backup quarterback Scott Tolzien is good enough to lead them to victories, they need help from other areas – like defense and special teams.
In the Milwaukee Journal Sentinel, Tom Silverstein broke down four of the big plays that the Packers' defense gave up in Sunday's loss to the Giants and put the blame on the secondary -- and not on defensive coordinator Dom Capers -- and Tyler Dunne's notebook leads with an item on receiver James Jones, who despite returning to action is still battling his knee injury.
November, 4, 2013
11/04/13
2:45
PM ET
GREEN BAY, Wis. -- Jon Gruden has spent the better part of the past week studying the
Green Bay Packers
in advance of Monday's game against the
Chicago Bears
.

A few hours before the ESPN "Monday Night Football" analyst would head over to Lambeau Field to call the game, he spent some time with me discussing the Packers' 5-2 start to the season.
The former Packers assistant coach (1992-94) offered his thoughts on the play of quarterback
Aaron Rodgers
, the new-found success in the running game with
Eddie Lacy
, the revamped offensive line including rookie left tackle
David Bakhtiari
, the defense's performance without injured outside linebackers
Clay Matthews
and
Nick Perry
, his memories of the Packers-Bears rivalry and more.
Here's Gruden on:
Rodgers' play since losing receivers Randall Cobb, James Jones and tight end Jermichael Finley to injuries: "It's similar, and it's amazing. It's always been the quickest release, pinpoint accuracy but it's the scrambling ability, the decision-making, the mastery of this offense that separates him. But his ability to adjust with a new supporting cast not only at wide receiver but at running back and on the offensive line is quite amazing to me."
Whether the running game is for real: "It is for real and as a matter of fact, it's formidable. Nobody talks about the line here. Where they've made the biggest strides is in their offensive line. They switched both guards [flip-flopping T.J. Lang and Josh Sitton]. They've got a new starter at center [Evan Dietrich-Smith], who's better than the center they had last year [Jeff Saturday], and this left tackle is a pretty good player."
Bakhtiari's play: "He's getting better and better. He's got to eliminate some penalties and some rough edges in his play, but he can move his feet, he can run block. And [right tackle Don] Barclay's a guy that in the running game is a pretty good player. Without Finley, they put [Andrew] Quarless in there and some of these other tight ends that are blocking tight ends, John Kuhn is a good blocking back and the lead dog is a helluva runner, No. 27."
Maintaining the pass rush without Matthews: "The last couple of weeks, no disrespect, but they've sacked Brandon Weeden, a young quarterback, and they've sacked Christian Ponder, who I don't know what they're doing at quarterback. They'll get a chance to see a really good offensive line tonight, but [defensive coordinator] Dom Capers has leaned on an inside pass rush that's different. Mike Daniels is a good inside rusher, and some of the inside blitzes that he's called – A.J. Hawk's got three sacks in one game – but what's good about him is they've got an inside pass rush with Datone Jones, even though his numbers aren't there, he does a great job of creating for these linebackers, and Mike Daniels is a bear to block. So when they get the outside guys back, Perry and Matthews, the outside rush with the inside rush will be very good."
The Packers' weaknesses: "Well, we're still early in the season. Defensively, let's see them go up against a top-flight quarterback with these injuries that they've had. But I don't see a lot of weaknesses, man. Can they pass protect when they have to? If they fall behind and get into predictable passing situations, can the right tackle handle it? I don't know that."
The Packers' chances if they had to play a road playoff game at San Francisco, Seattle or New Orleans: "If they can run it. What happens to them is they've always seen a split-safety look in coverage, and it forces Rodgers to hold the ball a long time to attack those coverages, and the pass rush has eaten him up. They've give up a lot of sacks. Now, they're running the ball against those looks, so now they're seeing an eight-man front or a seven-man box, and they've got one-on-one with these healthy receivers. That's when they're going to be at their best."
His favorite Packers-Bears memory when was an assistant coach: "It was perfectly clear to us, we have to win this game. In 1992, Mike Holmgren made that perfectly clear. I remember I got my first game ball in this series. He gave me a game ball. I came up with one play that actually worked. Halloween night, 1994. It was Brett Favre's 36-yard touchdown run. He called it on third-and-2 in a monsoon, and Favre ran around the right side and picked up a block from Edgar Bennett, and I got a game ball. And I stuck it right in Andy Reid's face."
October, 24, 2013
10/24/13
8:00
AM ET
A roundup of what's happening in the Green Bay Packers beat.
GREEN BAY, Wis. – Barring a meeting in the playoffs (which seems unlikely) or a snag in the plans to start building the Minnesota Vikings' new stadium next season (which is more likely), this will be the Packers' last appearance in the Hubert H. Humphrey Metrodome, known now as Mall of America Field.
And it doesn't sound like many of those on the visiting side are all that broken up about it.
"There's so many good memories, and some tough ones, too," Packers coach Mike McCarthy said. "Very difficult place to play, always has been. I can remember being up there in a playoff game in 2000 and the quarterback not being able to hear the play call over the speakers. Just a lot of things like that. Incredible home-field advantage for the Vikings.
"But it's time."
The Vikings are expected to play the next two seasons at the University of Minnesota while their new stadium is being constructed on the old site.
McCarthy has actually fared better at the Metrodome than his predecessors. He has a 4-3 record there, including 2-3 with Aaron Rodgers as the starting quarterback.
Mike Holmgren lost his first three games there as the Packers coach and finished 2-6. Ray Rhodes lost his only game there in 1999. Mike Sherman went 3-3.
"It's one of the, for sure, one of the three or four loudest places [in the NFL]," Rodgers said. "Obviously, Kansas City and Seattle are very loud for outdoor environments. Detroit is a loud place. Atlanta is a loud place that we played in. It ranks right up there with those, if not more, especially when there's a late third down in a tight game late in the fourth [quarter], it's almost impossible to hear."
Elsewhere:
October, 18, 2013
10/18/13
12:00
PM ET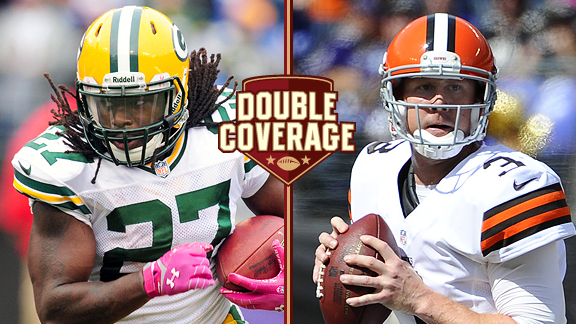 USA TODAY SportsThe Packers may have to rely more on their run game, while Browns QB Brandon Weeden seeks to recover from a forgettable outing.
The
Green Bay Packers
have made it past a difficult stretch in which they played four playoff teams from last season in their first five games.
And they came out of it with a respectable 3-2 record.
The
Cleveland Browns
, despite going from
Brandon Weeden
to
Brian Hoyer
and now back to Weeden at quarterback, also aren't out of anything yet at 3-3.
ESPN.com Packers reporter Rob Demovsky and Browns reporter Pat McManamon break down the matchup:
McManamon:
Rob, what will Green Bay do at receiver with all those injuries, and how much will it affect the offense?
Demovsky:
It's bound to have a significant impact.
Randall Cobb
more or less became the focal point of the passing game last season and if anything, that intensified this season. Sure, he's only a slot receiver and the Packers still have the deep threat of
Jordy Nelson
on the outside. But in this offense, a lot of those quick-hit passes -- especially against teams that blitz -- are directed to the inside. No team used more three-receiver sets than the Packers had until Cobb went down last week against the Ravens. They had used a three-receiver set on 90 percent of their snaps. That number likely will go down beginning this week against the Browns. They might have to rely on their new-found running game more than ever. But with fewer threats in the passing game, teams might be able to load up to stop running back
Eddie Lacy
.
The Browns have offensive issues of their own, Pat. Brandon Weeden's turnovers in the loss to the Lions looked like killers, especially that backhanded, underhand flip. How can they get him to play smarter?
McManamon:
That backhanded, underhand flip will live for a long time in the annals of Cleveland Browns misplays since 1999, Rob. A lengthy list just got longer. As for getting him to play smarter, that's the challenge. And the challenge has gone on for 18 starts. Weeden actually started fairly well as a 29-year-old rookie, but he struggled the end of last season and this season he's played in fits and starts. Which of course won't be good enough against Green Bay. With Brian Hoyer injured, the Browns have few other options -- it's not like
Tom Brady
is on the streets waiting for a job -- so they will stick with Weeden. But you have to wonder whether the Browns aren't coming to the conclusion that what they see is what he'll be when it comes to this 30-year-old quarterback.
Rob, Weeden does not read the rush well and does not move well. The Packers are ninth in the league in sacks. Is that yet another bad recipe for Weeden and the Browns offense?
Demovsky
: It remains to be seen whether they can keep up their sack pace. They did it without
Clay Matthews
last week, getting five sacks at Baltimore, but now they're going to be without another outside rusher,
Nick Perry
. Matthews and Perry each have three sacks on the season, which ties
A.J. Hawk
for the team lead. At some point, those injuries have to slow down their pass rush. The one thing that's helping them is they're playing the run very well, probably the best they have since they led the league in rushing defense in 2009. After shutting down
Ray Rice
last week, they're up to third in the NFL in rushing yards allowed per game (78.2). That's putting teams in a lot of third-and-long situations, which allows defensive coordinator Dom Capers to blitz. That's how Hawk got all three of his sacks against the Ravens.
Perhaps the Browns can help protect Weeden if they run the ball effectively to keep the Packers from rushing like crazy. What are their prospects for doing that?
McManamon:
Running the ball would protect Weeden. But it helps to have a ... well ... a running game. At present, the Browns are in make-do mode with the running game, and as the season continues that will more and more become a problem. Since the trade of
Trent Richardson
the Browns have relied on aging
Willis McGahee
, young
Bobby Rainey
and fullback
Chris Ogbonnaya
. These guys give effort, but there's only so much they can give. McGahee can't run outside, Rainey is inexperienced and Ogbonnaya is what he is. The Browns rank 22nd in the league by running for 86.8 yards per game -- though they are averaging 3.9 yards per carry. If the Browns want to run, they will have to commit to it and pound it out, something I am not sure they can do.
Rob, the Browns have had 19 starting quarterbacks since 1999 -- and it appears next year or soon after that number will hit 20. Do the Packers and their fans realize just how fortunate they have been these many years to have
Brett Favre
and
Aaron Rodgers
?
Demovsky:
They should. There are only a handful of organizations who can say they've had the kind of quarterback transition that the Packers had. The 49ers with
Joe Montana
to
Steve Young
come to mind. Maybe the Colts have that now with
Andrew Luck
following
Peyton Manning
. Not only was Favre a great quarterback, but he was there week in and week out. Rodgers is pretty much the same way. Those guys rarely get injured and when they do, they still play.
Most Packers fans here are still fond of Mike Holmgren, for leading them to the Super Bowl XXXI title. His tenure with as a Browns executive was much shorter. What impact, if any, did he have on the organization?
McManamon
: Let's just say the feelings for Holmgren are a lot warmer in Green Bay -- odd as that sounds -- than in Cleveland. Many fans feel Holmgren's epitaph with the Browns should be "As a president, he was a great coach." A lot of that is frustration at constant losing. Some is frustration at the job title and salary scale Randy Lerner gave Holmgren. More still that Holmgren never took on the coaching duties himself. On balance, Holmgren's tenure was no worse than many, and better than some. He and GM Tom Heckert brought in some good players who are helping the team win now. But with any regime change comes more change, and Joe Banner has gotten rid of some of Holmgren's guys -- notably Richardson. Holmgren's biggest gamble was selecting a quarterback in the first round a year ago who is now 30. But Weeden clearly would have been helped by more continuity in the front office.
.
September, 2, 2013
9/02/13
11:45
AM ET
GREEN BAY, Wis. -- In the NFL, so often coaches and general managers rely on the familiar.
Such is the case with 33-year-old
Seneca Wallace
, who, as
Ed Werder first reported
Monday morning, was signed to be the
Green Bay Packers
' newest backup quarterback.
Take a look at Wallace's career path. In 2003, he was a fourth-round pick of the
Seattle Seahawks
, who at the time had Mike Holmgren as their coach and general manager. Wallace had an unusual career in Seattle, where sometimes he played receiver when he wasn't needed at quarterback. When he did play quarterback, he went 5-9 as a starter, with his most extensive playing time coming in 2008 after
Matt Hasselbeck
sustained a knee injury. Wallace started eight games that season, going 3-5.
In 2010, Wallace was traded to Cleveland, where Holmgren had become the Browns' president only a few months earlier. Wallace started seven games over the next two seasons, but won just one of them.
Wallace hasn't played in an NFL regular-season game since 2011 and his most recent stint with an NFL team was a week-long stay with the
San Francisco 49ers
, which ended last week
in bizarre fashion
, with coach Jim Harbaugh saying Wallace would retire and Wallace later denying that.
Which brings us back to the Packers, whose general manager, Ted Thompson, was Holmgren's top personnel man in Seattle from 2000 to '04. So Thompson not only knows Wallace well but has seen him play in an offense that is similar to what Packers coach Mike McCarthy runs.
Still, familiarity doesn't always breed success. There's been little in Wallace's history to suggest he could keep the Packers afloat in a playoff race if something happened to
Aaron Rodgers
.
Thompson has been in a scramble mode with his backup quarterbacks ever since he signed
Vince Young
on Aug. 5 after
Graham Harrell
and
B.J. Coleman
got off to shaky starts to training camp. Thompson released Harrell on Aug. 24 and Young on Saturday. The Packers briefly had Coleman as the only quarterback behind Rodgers. To make room for Wallace, the Packers released Coleman.
With Wallace, the Packers now expect to have two quarterbacks with ties to the 49ers, their Week 1 opponent. They plan to sign
Scott Tolzien
, who was released by San Francisco last week, to their practice squad.
But for those who think the Packers signed Wallace to help with preparation for the 49ers, it should be noted that he spent only a week there this summer, and as a vested NFL veteran, the Packers would be on the hook for his entire 2013 base salary (likely the league minimum) if he's on the Week 1 roster.
August, 23, 2013
8/23/13
9:15
AM ET
It's not often you get to hear two Super Bowl-winning coaches talk, but on Thursday the past two coaches to lead the
Green Bay Packers
to championships appeared on the same radio show.

It happened on Seattle's KJR 950 AM with former Packers coach Mike Holmgren and current Packers coach Mike McCarthy. And it was almost as if the listeners were given the chance to eavesdrop on their conversation rather than listening to a radio show.
Perhaps most interesting was when the conversation turned to last year's Packers-Seahawks game, which ended with the controversial simultaneous possession touchdown call by the replacement officials that gave Seattle the unlikely victory.
Said Holmgren: "There's not a question in my mind that was as an interception … The thing is, when I watched your press conference the next day, and Mike you're a real gentleman, I would have been fined. There's no question in my mind, I would have been fined. And you handled that about as well as I've seen a coach handle that. Was that difficult?"
Said McCarthy: "Thanks. No question that was difficult, but it was the best thing for our football team, and I never lost sight of that. That was my vision of what I needed to do when I walked into the post-game press conference, and I think it was very apparent what happened. There's good calls in our league and not-so-good calls, and not-so-good calls sometimes go the other way. … You knew there was going to be a storm that was going to follow that situation, and I was just trying to get our football team to move on as quickly as possible."
The entire conversation between Holmgren and McCarthy, who spoke on the eve of Friday's Packers-Seahawks preseason game,
is available here

.