Green Bay Packers:

Mike Sherman
January, 12, 2015
Jan 12
6:45
PM ET
GREEN BAY, Wis. -- If you know Mike McCarthy, you know how fanatical he is about his schedules. Practice schedules. Meeting schedules. Travel schedules. The
Green Bay Packers
coaches spends plenty of time working on them.
So when he said Monday that he will take the Packers to the West Coast on Friday this week -- two days before the NFC Championship Game at the
Seattle Seahawks
-- it was no wonder it caused something of a stir in Lambeau Field media auditorium.
"A lot of typing going on, you see that?" McCarthy said to public relations director Jason Wahlers. "[About the] schedule. Unbelievable. … I didn't think it was impact news."
For McCarthy, it was.
Never in his nine seasons as the Packers head coach has he left more than one day before game, other than for Super Bowl XLV.
"These are things that we've been looking at for quite some time," McCarthy said. "It's our involvement in some of the new sports science themes and all those things. Our training staff, [strength coach] Mark Lovat, and just the fact that we're trying to get better at everything we're doing. This is something we've had planned and had [been] looking [at] in advance."
Earlier this season, the Packers left two hours earlier than usual the day before their Week 16 game at Tampa Bay to help get acclimated with the warmer Florida weather, and that seemed drastic for a team that typically leaves at the same time whether they're flying to Detroit or Dallas.
"This is more about the flight, and all the components that you feel like you can gain by being out there," McCarthy said. "There's a number of different things. I don't want to get into all that."
McCarthy's predecessor, Mike Sherman, began leaving two days early for long trips and liked it so much he started doing for most road games, regardless of the locale.
Under the new practice schedule that McCarthy employed at the start of this season, the Packers do not practice on Fridays but instead hold their final workout of the week on Saturday. That practice will take place in the Seattle area this week.
"We're looking at an indoor facility to do our Saturday work," McCarthy said. "And then we'll be out there and kind of be on a normal schedule on Saturday night and get ready for the noon [Seattle time] game."
July, 30, 2014
7/30/14
4:05
PM ET
GREEN BAY, Wis. – There are certain relationships within an NFL team that cannot be compromised.
At the top of that list are these two: general manager-coach and coach-quarterback.
The
Green Bay Packers
have quarterback
Aaron Rodgers
signed through 2019. On Wednesday they locked up general manager Ted Thompson with a
multi-year contract extension
.
[+] Enlarge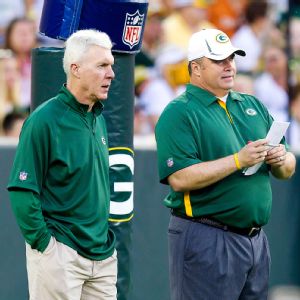 Jeff Hanisch/USA TODAY SportsPackers GM Ted Thompson (left) and head coach Mike McCarthy have an 88-50-1 overall record, including playoffs, since McCarthy's hiring in 2006.
Next up should be the man connected to both of them: coach Mike McCarthy, whose current contract runs through the 2015 season. That was not lost on Thompson, who called it "a big priority" to get McCarthy's deal extended.
"It's been the plan the whole time," Thompson said Wednesday shortly after his extension was announced. "The way the organization is set up – obviously, I'm not giving any trade secrets away – it's the way it's always been done here: The general manager kind of gets put away and then you do the head coach."
All indications are the working environment on the football side of the offices at Lambeau Field is as harmonious as ever. Whatever competitive clashes they might have had in the past, the relationship between McCarthy and Rodgers appears strong. As for the GM and the coach, Thompson says it like this: "We anticipate each other's thoughts often, which might drive both of us crazy sometimes, but I think it's working well and has worked well. Obviously, we see things pretty close."
Anyone who doesn't believe the coach and GM must be of like mind was not around Lambeau Field in 2005, when Thompson and then-coach Mike Sherman barely spoke. Thompson, who was brought in after then-Packers president Bob Harlan stripped Sherman of the GM job, tried in vain to work closely the head coach he inherited. In fact, Sherman could have survived the 4-12 season had he been more receptive to Thompson's arrival rather than shutting him out, according to several members of the organization at the time.
Thompson made it clear when he completed an exhaustive coaching search to hire McCarthy in 2006 that he never intends to go through that again.
At the Packers' annual shareholders meeting in 2013, Thompson told the assembled crowd: "I thank God every day that he's the Green Bay Packers' head coach."
Together, McCarthy and Thompson have an 88-50-1 overall record, including playoffs.
"I think when two people work together for as long as Mike and I have, I think you develop certain understandings of each other," Thompson said Wednesday. "There are certain things you can communicate that are unsaid as opposed to originally when you probably need to spell everything out."
May, 30, 2014
5/30/14
10:00
AM ET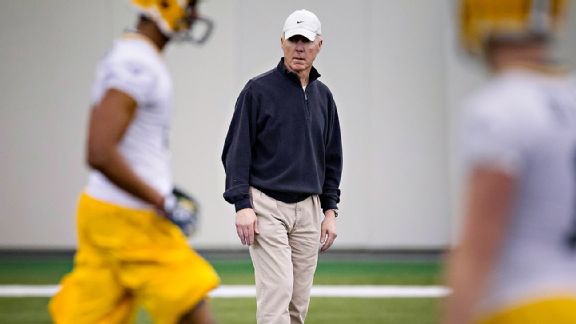 AP Photo/Mike RoemerUnder the direction of general manager Ted Thompson, the Green Bay Packers have maintained stability in the front office.
GREEN BAY, Wis. -- A month ago, Ted Thompson looked –- and sounded –- worn out.
In his annual pre-draft session with reporters, his speech was slower and more deliberate than usual, prompting whispers about his health and questions about how much longer he might continue as the
Green Bay Packers
' general manager.
Even Bob Harlan, the former Packers president and the man who hired Thompson in 2005, noticed a difference.
"I did see him on TV a couple of times where he seemed down, and I don't know if it was just exhaustion from the preparation for [the draft] and all the travel that he goes through because he just grinds all the time," Harlan said. "He's either in that room looking at video, or he's on the road."
At age 61, could Thompson have been showing signs that he was nearing the end of a successful run as general manager that has included one Super Bowl title?
Those close to him did not think so at the time, even when Thompson was forced to miss the NFL annual meetings in March because of an undisclosed personal matter. And they do not think so now, especially after he appeared energized following the draft.
So when Thompson joked a week after the draft
that he's "just getting started
," the Packers should hope there is more than just a shred of truth to his typically dry humor.
In many ways, Thompson is the key to keeping the Packers' successful leadership team intact.
Consider what happened when Thompson's mentor, Ron Wolf, retired in 2001: The Packers had a coach in Mike Sherman they wanted to keep. Harlan feared that if he went outside for a general manager, he might lose Sherman, so he added the GM role to Sherman's responsibilities. Four years later, it had become apparent it was too much for him, prompting Harlan to bring back Thompson, who had followed Mike Holmgren to Seattle and was the Seahawks' director of player personnel. Thompson and Sherman worked together for one season before Thompson fired him and hired coach Mike McCarthy.
All the while, some of quarterback Brett Favre's prime years passed without even reaching another NFC Championship Game during Sherman's tenure (2000-05).
It's not unreasonable to think the same problems could befall McCarthy and quarterback
Aaron Rodgers
if Thompson were to walk away anytime soon.
"That poses a problem; there's no doubt about it," Harlan said. "I guess because I saw it happen twice –- when Ron came in and Lindy [Infante] was here [as the coach] and with Ted, who tried very hard to make it work with Mike Sherman –- I know it can go downhill in a hurry. It is very difficult if the general manager cannot select his own coach."
No doubt, that's why current Packers president Mark Murphy indicated earlier this month that before any contract extension will be done for McCarthy, Thompson's situation will be taken care of first.
Like McCarthy, Thompson has two more years left on a contract he signed after the Packers won Super Bowl XLV. Thompson would not say how much longer he intends to work but added that he "wouldn't anticipate doing anything different."
When Harlan hired Thompson, he received no assurances of how long Thompson would stay on in the role, but Harlan considered Thompson -- who has never been married and does not have children – to be all football, all the time.
"I had watched him for all of those years when he was working for Ron in Green Bay, and his life was just football then as I'm sure it was in Seattle, too," Harlan said. "Ron was 53 when I hired him [in 1991], and I was shocked when he wanted to leave so early, but I understood. Frankly, what I was trying to do was make the move on Ted before it was time for me to go so that I could be sure football was good hands."
And Harlan's last major act as president did just that. Of the 53 players on the Packers' roster for Super Bowl XLV, 49 of them were acquired by Thompson, whose draft-and-develop philosophy has kept the Packers competitive on an annual basis.
If Murphy has a succession plan in mind for the GM job, he has not shared it. Perhaps he could try to lure former Packers scouts-turned-general managers John Schneider or John Dorsey back to town, but it might be tough to get Schneider out of Seattle or Dorsey out of Kansas City, where both have strong support from their owners.
It's possible he could maintain continuity by promoting vice president of player finance Russ Ball or one of Thompson's chief scouts –- Brian Gutekunst, Alonzo Highsmith or Eliot Wolf.
Some believe Murphy might hire a search firm -– as he has done with several other key front-office positions -– to identify candidates.
Or maybe, if the Packers are fortunate, Thompson will keep going strong.
One person close to him said recently that he does not see Thompson leaving anytime soon, unless the Packers win another Super Bowl, and that all the recent talk about him retiring "got him going."
When told of that, Harlan said, "I would think he'd at least go to 65, and then I think probably what he's going to do is become an area scout. He told me a long time ago that someday he might just go back to Texas and just be an area scout.
"Maybe he'd do it for the Packers. I would be surprised if he didn't work until at least 65. His health is good, and this is everything for him."
May, 10, 2014
5/10/14
12:55
AM ET
GREEN BAY, Wis. -- You can't accuse Ted Thompson of failing to give his quarterback enough weapons.
When he selected Fresno State receiver
Davante Adams
in Friday's second round at No. 53 overall, it was the sixth time in his career the
Green Bay Packers
general manager has drafted a receiver in the third round or higher.
No wonder quarterback
Aaron Rodgers
tweeted the following moments after Thompson made the pick:
Love it.

— Aaron Rodgers (@AaronRodgers12) May 10, 2014
Thompson, in his 10th year running the Packers' draft room, has a history of drafting -- and drafting well -- receivers in the second and third rounds. He found
Randall Cobb
(2011),
Jordy Nelson
(2008) and
Greg Jennings
(2006) in the second round. He also took
Terrence Murphy
in Round 2 in 2005, but Murphy's career was cut short months into his rookie year due to a neck injury. And he found
James Jones
, the receiver Adams perhaps best resembles, in the third round in 2007.
When asked about his success with receivers in the second round, Thompson knocked on the wood podium where he stood to address reporters Friday.
"Athletically, they're similar in some respects and different in others," Thompson said. "Again, if you get back to it, their ball skills are all remarkable. Jordy and Randall and, like you said, Greg and those guys. And that's the first and foremost thing we look for. If I was going to get stuck on one thing it would be that. And they're good people. All those guys that you mentioned are good people and good teammates, and that's what this kid's supposed to be too."
In the 12 years before Thompson was hired as general manager, the Packers' previous two general managers (Ron Wolf and Mike Sherman) drafted only five receivers in the third round or higher. One of them, however, was first-round pick
Javon Walker
(2002).
One of Wolf's greatest regrets was not drafting more help for
Brett Favre
.
Thompson, who learned his craft under Wolf, has not simply relied on his standout quarterback to make his receivers better.
Adams caught 131 passes -- the most in the FBS last season -- as a redshirt sophomore and had 24 receiving touchdowns with fellow second-round pick Derek Carr as his quarterback. Adams ranked second in the country in yards after the catch with 888.
Adams was the ninth receiver taken in a year when a record 12 went in the first two rounds. Thompson took him instead of Indiana's Cody Latimer, among others. Latimer went three picks later to the
Denver Broncos
.
"I guess they say it's one of the deepest classes since the draft has been in existence," Adams said. "It's great to be a part of it. There's definitely guys who have gone that are great players and there are guys that are continuing to go now that are great players. So we'll see as everything unfolds how everything ends up. But it's definitely a very deep class with a lot of talent."
January, 7, 2014
1/07/14
8:00
AM ET
A roundup of what's happening on the Green Bay Packers beat.
GREEN BAY, Wis. -- The first day of the Packers' offseason on Monday was spent mostly talking to and writing about players who may or may not return next season.
With 17 unrestricted free agents, there's bound to be significant roster turnover (more on that in the "In case you missed it" section below).
But every offseason there's also the possibility of turnover on the coaching staff and in the personnel department. This season, there are not only questions about the status of defensive coordinator Dom Capers, but also the possibility that coach Mike McCarthy could lose members of his offensive staff.
Multiple reports, including
one from the Milwaukee Journal Sentinel
, indicate that quarterbacks coach Ben McAdoo appears to be a hot candidate for an offensive coordinator job or possibly even a head-coaching position.
One such possibility could come with the
Miami Dolphins
, where coach Joe Philbin parted ways with offensive coordinator Mike Sherman. Philbin, the former Packers offensive coordinator, spent six seasons on the same staff with McAdoo in Green Bay. It was Philbin's departure for Miami in 2012 that opened the door for McAdoo to move from tight ends coach to quarterbacks coach.
Before McAdoo was promoted two years ago, quarterback
Aaron Rodgers
expressed an interest in having a coach who had played the position -- something McAdoo did not do. McCarthy now has a member of his coaching staff who fits that profile. That's running backs coach
Alex Van Pelt
, who spent nine seasons as a quarterback with the
Buffalo Bills
.
In case you missed it on ESPN.com
:
Best of the rest:
The NFL's official transaction wire indicated the Packers signed six of their eight practice squad players to futures contracts for next season. They were: receiver Alex Gillett, running back Orwin Smith, cornerback Antonio Denard, guard Andrew Tiller, center Garth Gerhart and tackle Aaron Adams. It was unclear why receiver Tyrone Walker and guard Lanier Coleman were not immedialy signed.
At ESPNWisconsin.com, Jason Wilde wrote that McAdoo would be a logical choice for Philbin in Miami and that running back DuJuan Harris (who missed the entire season with a knee injury) hopes to return next season and join with Eddie Lacy to provide a 1-2 punch.
In the Green Bay Press-Gazette, Pete Dougherty wrote that although there have been no signs that McCarthy is pondering a change at defensive coordinator, that possibility can't be dismissed.
In the Milwaukee Journal Sentinel, Tyler Dunne and Tom Silverstein came up with a list of things general manager Ted Thompson will have to address in the offseason.
January, 4, 2014
1/04/14
8:00
AM ET
Each week, I will ask for questions via Twitter with the hashtag #PackersMail, then will deliver the answers over the weekend.

November, 1, 2013
11/01/13
8:00
AM ET
A roundup of what's happening on the Green Bay Packers beat.
GREEN BAY, Wis. – Those who have followed the Packers for more than a decade may remember the name Frank Novak. The jovial former special-teams coach served under head coach Mike Sherman from 2000 to 2004, and whenever Novak walked by the assembled media at practice, he always had one word.
"Doubters," Novak would say.
He always had a smile on his face when he said it, but he understood the business well enough to know the role of the media.
Current Packers kicker Mason Crosby, who never worked with Novak, certainly could have wagged his finger and used Novak's favorite phrase on Thursday, when Crosby was named
NFC special teams player of the month
for October. Surely, Crosby knows that plenty of those who stood in front of his locker and asked him about his award had their doubts he would ever reach such heights again after last season's slump.
"My mindset is all about the positive stuff," Crosby said. "I'm not trying to dwell on the negatives. Don't stick it to people who weren't supportive."
Through all of last season's struggles, when he had the lowest field-goal percentage (63.6 percent) in the league, Crosby persevered.
And he might be a better kicker – and person – because of it. It's something he said he and his wife, Molly, talk about often.
"We're able to look back and just be like, 'Man, that was such an amazing blessing in our life and it's something that we can grow on,' and we became closer as a family," Crosby said. "We really saw what was important in our life together, with family and friends. My relationships grew stronger. I really saw some good positives.
"I obviously want to be successful every year in my job and what I do on the field, but there were a lot of really good things. I found a lot in myself that I knew I could just work a little bit harder, put a little bit more into it. The resiliency that I've been able to show, I really am happy. Right now, obviously, I'm happy with how this year is going. I wish the numbers weren't what they were last year, but I'm happy that I went through it and made it through it and can look back and really draw on it to extend my career. That can be something I can really sit on and make sure that I say, 'This was a defining moment, a moment that I can find a lot of positives in, as well.'"
Elsewhere
:
October, 24, 2013
10/24/13
8:00
AM ET
A roundup of what's happening in the Green Bay Packers beat.
GREEN BAY, Wis. – Barring a meeting in the playoffs (which seems unlikely) or a snag in the plans to start building the Minnesota Vikings' new stadium next season (which is more likely), this will be the Packers' last appearance in the Hubert H. Humphrey Metrodome, known now as Mall of America Field.
And it doesn't sound like many of those on the visiting side are all that broken up about it.
"There's so many good memories, and some tough ones, too," Packers coach Mike McCarthy said. "Very difficult place to play, always has been. I can remember being up there in a playoff game in 2000 and the quarterback not being able to hear the play call over the speakers. Just a lot of things like that. Incredible home-field advantage for the Vikings.
"But it's time."
The Vikings are expected to play the next two seasons at the University of Minnesota while their new stadium is being constructed on the old site.
McCarthy has actually fared better at the Metrodome than his predecessors. He has a 4-3 record there, including 2-3 with Aaron Rodgers as the starting quarterback.
Mike Holmgren lost his first three games there as the Packers coach and finished 2-6. Ray Rhodes lost his only game there in 1999. Mike Sherman went 3-3.
"It's one of the, for sure, one of the three or four loudest places [in the NFL]," Rodgers said. "Obviously, Kansas City and Seattle are very loud for outdoor environments. Detroit is a loud place. Atlanta is a loud place that we played in. It ranks right up there with those, if not more, especially when there's a late third down in a tight game late in the fourth [quarter], it's almost impossible to hear."
Elsewhere:
October, 10, 2013
10/10/13
10:45
AM ET
GREEN BAY, Wis. -- When
Aaron Rodgers
steps on to the field at M&T Bank Stadium on Sunday, the memories will come back to him quickly.
And none of them will be good.
Rodgers
That was the site of Rodgers' first extensive NFL action, and it was, by any measure, a disaster.
On Dec. 19, 2005, Rodgers entered the game against the
Baltimore Ravens
late in the fourth quarter with the Packers trailing 34-3. Then-coach Mike Sherman pulled starter
Brett Favre
. Rodgers, who had previously played only in mop-up duty two months earlier against the
New Orleans Saints
, lost a pair of fumbles (one of which was returned for a touchdown) and threw an interception.
Rodgers' final numbers that day -- 8-of-15 passing for 65 yards with no touchdowns and one interception -- added up to a passer rating of 36.8, which remains the second-lowest rating of his career ahead of only the Dec. 12, 2010 game at Detroit that he did not finish because of a concussion.
Yet that game, a 48-3 loss in a 4-12 season that ended with Sherman getting fired, served one important purpose for Rodgers in his development.
"I thought I was a little better than I showed that night," Rodgers recalled this week. "So I was resolute in my determination to get better that offseason."
Rodgers had the entire offseason to think about his performance, and it served as motivation.
"I got to really work on my skills and that was important for me and my development, realizing I didn't want to put another performance like that on the field," Rodgers said.
Over the next two seasons, Rodgers would see significant playing time on only two more occasions -- in 2006 against the
New England Patriots
(a game in which he was only slightly better before breaking his foot) and in 2007 against the
Dallas Cowboys
(where he nearly led the Packers to a comeback victory) -- before he became the starter in 2008.
"Can't say that New England the next year was much better," Rodgers said. "But I know I got better between then and the next season, and luckily I was able to put together a good performance (against the Cowboys) before I took over as the starter."