Green Bay Packers:

Mike Trgovac
March, 6, 2014
Mar 6
11:10
AM ET
GREEN BAY, Wis. -- The official three-day negotiating period before free agents can sign contracts with new teams doesn't begin until Saturday, but the agent for
B.J. Raji
no doubt has spent the last several weeks gauging his client's value on the open market.
The information gathered by
David Dunn
likely wasn't overly positive.
[+] Enlarge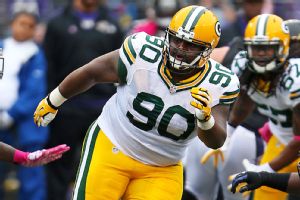 AP Photo/Tom DiPaceB.J. Raji is close to returning to the Packers for the 2014 season.
Why else would Raji return to the
Green Bay Packers
for just a one-year deal, as ESPN NFL Insider Adam Schefter reported on Thursday was
on the verge of being completed
?
According to the Milwaukee Journal Sentinel, the one-year deal would pay Raji about $4 million.
By most accounts, Raji did not play well enough in 2013 to warrant a sizeable contract. He went without a sack for a second straight season, although during that stretch his playing time on third down decreased significantly from early in his career.
Two years after playing 79.1 percent of the defensive snaps, Raji's playing time was reduced to 58.7 percent despite not missing a game.
"I don't label myself as a two-down defensive lineman," Raji said late last season. "I'm just a two-down defensive lineman for us this year."
Raji, 27, never complained about his diminished playing time or how he was used in coordinator Dom Capers' defense, but it was worth wondering if he would have preferred to test his skills in a defense that gives its front players more freedom to rush the passers rather than just eating up blocks, which is what Capers asks his defensive linemen to do the majority of the time.
"He's been a very good leader for us this year," Packers defensive line coach Mike Trgovac said late in the season. "I think he understands the value that he has to us. Now, at the end of the year, who knows?"
While it's a risk for Raji to do just a one-year deal, if he returns to his 2010 form, when he had 7.5 sacks (including the playoffs) then he could be in line for the kind of contract he was hoping for this time around.
Raji's best seasons -- 2009 and 2010 -- came with him playing primarily at nose tackle, a role that
Ryan Pickett
(who also is scheduled to become a free agent) has taken over the last three seasons.
Packers coach Mike McCarthy suggested several times this offseason that there are tweaks coming to Capers' defense. With smaller but athletic defensive linemen like
Mike Daniels
and last year's first-round pick,
Datone Jones
, expected to take on greater roles, perhaps moving the 6-foot-2, 337-pound Raji back to the nose might be in the works.
McCarthy also said at last month's scouting combine that he preferred
Mike Neal
as an inside rusher rather than an outside linebacker, where he played almost exclusively last season. If the plan is to re-sign Neal, who also was in the final year of his contract last season, then it could be another reason to move Raji back inside. However, there was no indication on Thursday that the Packers had even initiated serious talks with Neal.
February, 7, 2014
Feb 7
4:45
PM ET
GREEN BAY, Wis. -- The
Green Bay Packers
have four new members of their coaching staff and five existing coaches with new or expanded roles.
In
addition to hiring
Ron Zook and
Sam Gash
, the Green Bay Packers hired two other new assistant coaches, Luke Getsy and former Packers linebacker
Chris Gizzi
.

Zook, the former Florida and Illinois head coach, will serve as the assistant special teams coach, while Gash will coach running backs.
Getsy will serve as offensive quality control coach, while Gizzi will be a strength and conditioning assistant.
Also, returning assistant coaches
Winston Moss
(assistant head coach/linebackers coach),
Alex Van Pelt
(quarterbacks coach), Scott McCurley (assistant linebackers coach),
Jason Simmons
(defensive/special teams assistant) and John Rushing (defensive quality control coach) all have new duties.
Including special teams coordinator Shawn Slocum, who is returning for his sixth season, the Packers will now have three coaches working directly with special teams. Previously they had two -- Slocum and
Chad Morton
, who was not retained.
"The offseason is progressing with the finalization of adjustments and additions to our coaching staff," Packers coach Mike McCarthy said in a statement announcing the changes. "Every day and every decision has the focus on bringing the Lombardi Trophy back to Green Bay. The evaluation process will continue with a vision to change, adjust or emphasize any aspect of our program to help us reach the attainable goal of another Super Bowl championship."
Here's a breakdown of their new coaches and the old ones with new duties:
Sam Gash, running backs coach
: Coached running backs with the
Detroit Lions
from 2008-12. Replaces Van Pelt, who was promoted to quarterbacks coach after two seasons. Played 12 years in the NFL as a fullback with the
New England Patriots
,
Buffalo Bills
and
Baltimore Ravens
.
Ron Zook, assistant special teams coach
: Returns to the NFL after spending the past two seasons out of coaching. Previously coached special teams for the
Pittsburgh Steelers
(1996-98). Also worked with McCarthy in New Orleans, where he was the Saints defensive coordinator (2000-01) and McCarthy was the offensive coordinator.
Luke Getsy, offensive quality control coach
: A former college quarterback at Akron (2005-06). Previously the receivers coach at Western Michigan.
Chris Gizzi, strength and conditioning assistant
: Played for the Packers in 2000 and 2001 and is perhaps best remembered for leading the Packers out of the tunnel carrying an American Flag in their first game following the 9/11 terrorist attacks. Spent last offseason as an intern with the Packers before working as a strength and conditioning assistant at the University of North Carolina last season.
Winston Moss, assistant head coach/linebackers
: Previously held the same title while coaching inside linebackers. Will add outside linebackers to his duties, inheriting that role from
Kevin Greene
after he resigned last month.
Scott McCurley, assistant linebackers coach
: Has been with the Packers since 2007, including the last five as a defensive quality control coach. Will assist Moss will all linebackers.
John Rushing, defensive quality control
: Served as an offensive and special teams assistant the past two seasons after spending two seasons as the offensive quality control coach.
Jason Simmons, defensive/special teams assistant
: Served as a coaching administrator for the past three seasons.
Alex Van Pelt, quarterbacks coach
: Replaced Ben McAdoo, who became the
New York Giants
offensive coordinator. Previously coached the Packers running backs for two seasons. Former NFL quarterback, served as a quarterbacks coach with the Bills (2008-09) and Buccaneers (2010-11).
Remaining in their current roles on the coaching staff are: Tom Clements (offensive coordinator), Dom Capers (defensive coordinator), Mark Lovat (strength and conditioning coordinator), Shawn Slocum (special teams coordinator),
Edgar Bennett
(receivers),
James Campen
(offensive line), Jerry Fotenot (tight ends),
Joel Hilgenberg
(assistant offensive line),
Darren Perry
(safeties), Mike Trgovac (defensive line), Joe Whitt Jr. (cornerbacks) and Thadeus Jackson (strength and conditioning assistant).
January, 5, 2014
Jan 5
8:00
AM ET
GREEN BAY, Wis. -- Emptying out the notebook from the week that was with the
Green Bay Packers
heading into Sunday's NFC wild-card playoff game against the
San Francisco 49ers
at Lambeau Field:
Cold-weather QB
: Sunday's game may challenge the Ice Bowl for
the coldest game ever played in Green Bay
, but history suggests the weather won't bother Packers quarterback
Aaron Rodgers
. Since he took over as a starter in 2008, he is 12-4 in freezing temperatures (32 degrees or below) and has the highest total QBR (73.7) out of any player who has made at least three starts in such conditions over the that time period.
Run by design
: The Packers shut down the 49ers rushing attack in their Week 1 meeting at Candlestick Park, but don't expect coach
Jim Harbaugh
to shy away from the run just because his team managed only 90 yards on 34 attempts in the opener. According to ESPN Stats & Information, the 49ers ran designed runs on 46.8 percent of their plays this season, the highest total in the NFL. What's more, the 49ers use a wide variety of running plays and formations, including the read-option. "Against this team, you have to let your instincts take over because they give you a lot of different stuff," Packers defensive line coach Mike Trgovac said. "They're a power team, they're an option team, they run misdirections." At times, the 49ers bring in one or two extra offensive linemen.
No line dancing
: The Packers go into the playoffs with the same five starting offensive linemen they opened the season with in San Francisco. Of the five, only right tackle
Don Barclay
missed any starts this season. He missed the Weeks 11-12 games against the
New York Giants
and
Philadelphia Eagles
because of a knee injury. "Any time you have five guys playing together, you don't have to call out every call and you just know what the other guy's doing and you build that cohesiveness with each other, it certainly helps to do that," offensive line coach
James Campen
said.
Punt return possibilities
: As productive as rookie
Micah Hyde
has been as a punt returner (he finished the regular season 5
th
in the NFL with a 12.3-yard average), it's worth wondering if the Packers will go back to
Randall Cobb
in that role now that he has returned from his Oct. 13 fractured tibia. Cobb has two career punt returns for touchdowns. Last year's playoff loss to the 49ers turned on a muffed punt return by
Jeremy Ross
. Hyde's ball security had been perfect until he muffed a punt that the Packers recovered last Sunday against the
Chicago Bears
.
Final numbers:
Despite not having Rodgers at quarterback for seven-plus games because of his collarbone injury, the Packers finished third in the NFL in total yards per game (400.3), seventh in rushing yards (133.5) and sixth in passing yards (266.8). Last season, the Packers were 13
th
, 20
th
and ninth in those respective categories. On defense, they finished 25
th
in yards allowed per game (372.3), 25
th
in rushing yards allowed (125.0) and 24
th
in passing yards allowed (247.3). Last season, they were 11
th
, 17
th
and 11
th
, respectively.
Wild, wild-card games
: The matchup of the Packers (8-7-1) and the 49ers (12-4) is the fifth time in wild-card history that one team has had at least four fewer regular-season wins than its opponent. It may come as a surprise that in the previous four games, the team with the fewer regular-season wins has won every time. It last happened in 2011, when the
Denver Broncos
(8-8) beat the
Pittsburgh Steelers
(12-4).
Home-field history
: The Packers were once unbeatable in home playoff games. From 1939-2001, they were 13-0, the longest postseason home winning streak in NFL history. Since then, they have gone 3-4 in home playoff games (including 2-2 under current coach Mike McCarthy).
December, 20, 2013
12/20/13
7:00
PM ET
GREEN BAY, Wis. -- It happens every so often in the defensive line meeting room.
Ryan Pickett
and
B.J. Raji
will be in the middle of a film session, and they will look over and know exactly what's going through the other's mind.
They know their eyes are supposed to be focused on the opposing team's offense. They know they are there to learn the tendencies of the linemen that will try to block them, the gap the running back prefers to run through, how long the quarterback likes to hold the ball and so on.
Raji
But sometimes they can't help themselves. Their eyes will shift to the defensive linemen on the film, and they'll see them explode off the ball, dart into the backfield and get after the quarterback.
"Sometimes you watch other players and you're like, 'it might be nice to be able to do that,'" Pickett said. "They're able to get up field and people think they're known for pass rushing. We could do the same thing. Our system just doesn't call for that."
Does that explain why Raji has gone 33 games since his last sack, which came in Week 12 of the 2011 season?
He's perhaps the most interesting case study because of his contract situation. The deal that the former first-round draft pick signed when he came out of Boston College in 2009 will expire after this season, making him an unrestricted free agent.
The
Milwaukee Journal Sentinel reported last month
that Raji and his agent,
David Dunn
, have turned down an offer from the Packers worth $8 million per season.
It's a risk, given that Raji doesn't have the numbers -- sacks or tackles -- that jump off the defensive statistics page.
Raji's role also has been reduced. Two years after playing 79.1 percent of the defensive snaps, Raji rarely plays in obvious third-down passing situations, and his playing time has dropped to 57.4 percent this season.
"I don't label myself as a two-down defensive lineman," Raji said. "I'm just a two-down defensive lineman for us this year."
The 27-year-old Raji hasn't complained about his diminished playing time nor has he shown any outward frustration despite the fact that his production has waned at precisely the time NFL players don't want it to -- in a contract year.
"He's been a very good leader for us this year," Packers defensive line coach Mike Trgovac said recently. "I think he understands the value that he has to us. Now, at the end of the year, who knows?"
Raji would not comment on what the future might hold for him.
In Green Bay, he has bounced between nose tackle and the three-technique defensive end spot in Dom Capers' 3-4 defense. When the Packers picked him ninth overall, they envisioned him as the perfect anchor for the defensive line.
"When Dom and coach brought me here, they never ever told me I would lead the league in sacks at [defensive] tackle," Raji said. "They told me they liked my abilities, and they think I can fit in their scheme, so I'm cognizant of that, too.
"It's human nature, particularly when you're a competitor and when you're watching other guys around the league have monstrous years, sometimes you have to bring yourself back to reality and back to originally what the agreement was."
With that agreement about to come to an end, it's worth wondering if Raji would rather see what he could do in a scheme that allows defensive linemen more freedom rather than just eating up linebackers.
It's not as if Raji hasn't made big plays in his career. He had 10.5 sacks in his first three seasons combined, including 6.5 in 2010, when he looked like an emerging playmaker. In the playoffs that season, he made perhaps the biggest play of the NFC championship game when returned an interception for a touchdown against the
Chicago Bears
.
"I like Raji for sure, but he isn't the impact player he was just a few years ago," said former NFL scout Matt Williamson, who now works for ESPN. "Still, he is capable of greatness though and is immensely talented. I think Green Bay wants two giant defensive tackles to act almost like 3-4 nose tackles to just eat up a ton of space in the middle of their 'D.' Raji and Pickett do that well, and those guys don't grow on trees.
"I do think he is a better pass rusher than his number indicate and not playing on passing downs is an issue."
The Packers have just under $10 million in salary-cap space and can still use that for contract extensions before this regular-season ends. The Packers have a long list of players scheduled to be free agents, including the 34-year-old Pickett, and there's no indication they are close to deals with Raji or cornerback
Sam Shields
, perhaps their other top priority.
"I know my value [and] understand where we're at," Raji said. "But right now I'm focused on us and getting these two wins to get into the playoffs. That's how I've always gone about my business. It's taking care of the task at hand. I'm a firm believer of your resume speaking for you, and whatever's going to happen is going to happen."
December, 15, 2013
12/15/13
8:00
AM ET
ARLINGTON, Texas -- Emptying out the notebook from the week that was with the
Green Bay Packers
before Sunday's game at the
Dallas Cowboys
:
Raji
Raji's future
: The Packers will have decisions to make about all three of their starting defensive linemen --
B.J. Raji
,
Ryan Pickett
and
Johnny Jolly
-- because all have contracts that expire after the season. The toughest call might be on Raji. The former first-round pick is going to be looking for big money, but it might be hard to justify that given his production this season. Raji recorded just his third quarterback hit last Sunday and he hasn't had a sack since Week 12 of the 2011 season. "In this defense sometimes it's hard as a D-lineman to be the superstar," Packers defensive line coach Mike Trgovac said. For that reason, Raji might be interested in going to a team with a different scheme.
Richardson's audition:
Expect second-year safety
Sean Richardson
to see significant playing time over the final three weeks of the regular season. Richardson played a career-high 38 snaps on defense in last Sunday's win over the
Atlanta Falcons
after
M.D. Jennings
was benched. The 6-foot-2, 216-pound Richardson had played only 22 snaps combined in the previous two games. "He's a big guy, he gives you more physical presence, especially if a team's trying to run the ball," Packers defensive coordinator Dom Capers said. The Packers want to see whether Richardson, who came back from a serious neck injury, can be a viable option as a starter next season. If not, they will have to make safety a high priority in the offseason.
Boyd over Worthy:
Another young player, rookie defensive end
Josh Boyd
, has seen his snap count spike of late. The fifth-round pick from Mississippi State has played a combined 23 snaps in the last two games after getting just 14 snaps in the first 11 games combined. Boyd has moved ahead of second-year defensive end
Jerel Worthy
, who has played in only one game since coming off the physically unable to perform list Nov. 23 after recovering from ACL surgery. Scouts like Boyd's athleticism and he displayed that one play against the Falcons in which he dropped into coverage. "He actually had never even practiced that before and it just happened that was the call," Tgrovac said. "When I put him in there, I was like 'Ah [expletive],' but he did it fine."
Familiar face
: Cowboys defensive end
Jarius Wynn
spent three seasons with the Packers (2009-2011) and at one time looked like a promising pass-rushing prospect. He opened the 2011 season with three sacks combined in his first three games, including a two-sack game against the
Chicago Bears
in Week 3. But that never materialized, and he was released by the Packers in training camp 2012. He signed with the Cowboys two months ago and has been used in situational duty. "We've had a lot of different defensive linemen on our roster this year," Cowboys coach Jason Garrett said. "We've had a rash of injuries and he came in and helped stabilize us a little bit. At different times when some of our starting guys have been out, he's played more and more. Other times, when some of the other guys have been healthy, he's been more rotational."
QBR numbers:
Since Week 10, the Packers' first without
Aaron Rodgers
, only the
New York Jets
' quarterback play has been worse in terms of Total QBR. The Packers' QBR -- the combined ratings of
Seneca Wallace
,
Scott Tolzien
and
Matt Flynn
-- stands at 31.4, ahead of only the Jets' 11.1, according to ESPN Stats & Information.
Collarbones and haircuts:
Much has been written and said about Rodgers' collarbone injury and why he has not been cleared to return. A long-time former NFL team doctor said this about the subjective nature of determining when a bone is healed: "Waiting for a bone to heal is like saying, 'when do I need a haircut?'"
September, 6, 2013
9/06/13
7:00
PM ET
GREEN BAY, Wis. -- Only Dom Capers knows exactly how much time he spent this offseason studying the read-option offense and devising ways to defend it.
But we know the
Green Bay Packers
defensive coordinator and his staff
made a trip to Texas A&M in March
to listen to the Aggies coaches philosophize about it.
And we know Capers spent a day this offseason
talking to Wisconsin defensive coordinator Dave Aranda
about it.
[+] Enlarge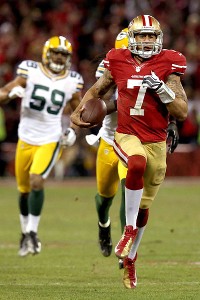 Stephen Dunn/Getty ImagesThe Packers are determined not to let 49ers QB Colin Kaepernick run wild again.
And we know he
dedicated at least a portion
of almost every training camp practice to working against it.
His offseason work was shaped largely by what happened in the Packers' 45-31 loss to the
San Francisco 49ers
in last season's NFC divisional playoff game. Capers' defense, which had improved from dead last in the league in 2011 to a respectable 11
th
last season, allowed the 49ers to pile up 579 yards.
Colin Kaepernick
rushed for 181 of those yards, the most ever gained on the ground by an NFL quarterback.
According to ESPN Stats & Information, the 49ers ran the read-option on just 16 of their 75 total snaps in that playoff game and gained 176 yards. Perhaps more remarkable was how easily those yards came. A total of 149 of them came before contact.
But here's something worth considering: What if the 49ers, knowing full well how much time the Packers dedicated to stopping their read-option in advance of Sunday's season opener at Candlestick Park, decide not to run it?
The question was posed to Packers players and defensive coaches on Friday.
"Then we'll have to resort back to our scheme and our instincts and our play-making ability," Packers defensive tackle
B.J. Raji
said.
Capers was quick to point out the read-option is just one part of the 49ers offense.
"That's just one phase of it," Capers said. "The goal is to win the game, so hopefully you're ready for whatever phase they give you. It's just another element you have to prepare for, and we've invested our time. Hopefully we're prepared."
The Packers were caught off guard by the read-option last January. Now, it's worth wondering if they've spent too much time preparing for that one aspect, albeit an important one, of the 49ers game.
"We haven't just said this is a total read-option team," Packers defensive line coach Mike Trgovac said. "They have other runs and other schemes in their game plan. We haven't just said everything we're doing is read-option. We haven't done that at all because, how many runs did they have against us, 39? (Actually 43). And 16 of them were read-options, so obviously not even half of them were read-options. You have to prepare for their other things as well."