Green Bay Packers:

Raymond Webber
April, 3, 2014
Apr 3
8:00
AM ET
GREEN BAY, Wis. -- With the bulk of the free-agent work done, it's a good time to recheck the
Green Bay Packers
' depth chart leading up to the May 8-10 NFL draft.
First up, the offense:
Quarterback
:
Aaron Rodgers
,
Scott Tolzien
.
Analysis
: Coach Mike McCarthy said at last week's NFL owners meetings that he not only hopes to bring back
Matt Flynn
but also would to take a fourth, developmental quarterback into training camp.
[+] Enlarge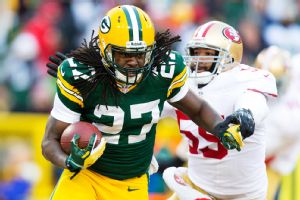 Jeff Hanisch/USA TODAY SportsLed by Eddie Lacy, the running back position is expected to be a key strength for the Packers in 2014.
Running back
:
Eddie Lacy
,
James Starks
,
Johnathan Franklin
,
DuJuan Harris
,
Michael Hill
,
Orwin Smith
,
Ina Liaina
(fullback).
Analysis
: This could be the deepest backfield McCarthy has had in his nine seasons as head coach, and they still may re-sign fullback
John Kuhn
. Starks excelled in a backup role last season behind Lacy, while Franklin showed some signs during a 100-yard game against the
Cincinnati Bengals
in Week 3 before a neck injury ended his rookie season. Harris looks to bounce back after missing all of 2013 because of a knee injury. Hill spent time with both the Packers and Buccaneers last season. Smith was on the practice squad last year. Liaina was signed off the street early in the offseason.
Receiver
:
Randall Cobb
,
Jordy Nelson
,
Jarrett Boykin
,
Myles White
,
Chris Harper
,
Kevin Dorsey
, Sederrick Cunningham,
Alex Gillett
.
Analysis
: Boykin is expected to take over as the No. 3 for
James Jones
, who signed with the
Oakland Raiders
as a free agent. White and Harper both spent time on the roster last season. White could be Cobb's backup as a slot receiver. Harper is an intriguing prospect. He was a fourth-round pick of the
Seattle Seahawks
last year and has good size. Dorsey, a seventh-round pick last season, and Cunningham spent all of 2013 on injured reserve. Gillett spent last season on the practice squad.
Tight ends
:
Andrew Quarless
,
Brandon Bostick
,
Ryan Taylor
,
Jake Stoneburner
,
Raymond Webber
.
Analysis
: There's not an established big-time playmaker to replace
Jermichael Finley
, who remains on the free-agent market but has not been medically cleared following last season's neck injury. Quarless is the starter until someone beats him out. Bostick, a former small-college receiver, is raw but has some playmaking ability. Taylor and Stoneburner played mostly on special teams, while Webber was signed off the street early in the offseason.
Center
:
JC Tretter
,
Garth Gerhart
,
Don Barclay
.
Analysis
: Not one of those players has ever taken a regular-season snap at center. Only Barclay has played in the regular season, and that has been almost exclusively at tackle. But after losing
Evan Dietrich-Smith
to the
Tampa Bay Buccaneers
in free agency, the Packers will see if Barclay can transition to center. There are high hopes for Tretter, a former college tackle who did not play last season as a rookie after sustaining an ankle injury. Gerhart only has practice squad experience.
Guard
:
Josh Sitton
,
T.J. Lang
, Barclay,
Lane Taylor
,
Andrew Tiller
.
Analysis
: The starters are set with Sitton on the left side and Lang on the right. Barclay also could be in the mix for a backup job. Taylor made the team as an undrafted free agent last season but played mostly on special teams. Tiller was on the practice squad last season.
Tackle
:
David Bakhtiari
,
Bryan Bulaga
,
Derek Sherrod
, Barclay,
Aaron Adams
,
Jeremy Vujnovich
.
Analysis
: Bakhtiari, who started every game at left tackle last season as a rookie, will stay in his spot even with the return of Bulaga from the knee injury that kept him out all of last season. Bulaga will go back to the right side. Sherrod returned late last season after missing all of 2012 following the broken leg he sustained on Dec. 18, 2011. He likely will compete with Bakhtiari on the left side. Barclay started all but two games last season at right tackle but the Packers want to upgrade. Adams was on the practice squad last season, while Vujnovich was signed as a street free agent early in the offseason.
March, 15, 2014
Mar 15
11:15
AM ET
GREEN BAY, Wis. -- Who says
Green Bay Packers
general manager Ted Thompson doesn't sign any free agents?
Yes, you've heard that line before, but almost every time it should have been hashtagged with this: #sarcasm. How else can you explain a signing such as
Raymond Webber
?
Who?
Exactly.
No hashtag needed this time.
Not for
Julius Peppers
, who signed
a three-year, $30 million contract Saturday
to continue his career in Green Bay.
This is more than a little splash. It's cannonball-sized, especially for Thompson, who specializes in no-name signings such as Webber, a street free-agent tight end whose
signing last month
barely made a ripple.
Not since 2006, when Thompson signed cornerback
Charles Woodson
, has he made a move like this. This won't count as a true unrestricted-free-agent signing, at least not under the terms of the NFL's formula for awarding compensatory draft picks, because Peppers was released last week by the
Chicago Bears
.
Forget technicalities. This was a significant -- and much-needed -- move for a defense that sank to 25th in the NFL last season and needs an infusion of playmakers.
There's plenty still to be learned about Peppers, including how much the eight-time Pro Bowl defensive end still has left at age 34 and where exactly he will play in Dom Capers' 3-4 defensive scheme.
He's coming off his lowest sack total (7.0) since 2007, but, in his past three seasons combined with the Bears, he has 29.5 sacks. In his 12 NFL seasons, he has had fewer than 10 sacks only three times (2003, 2007 and last year), and he hasn't missed a game since 2007.
At 6-foot-7 and 287 pounds, Peppers has been an ideal 4-3 pass-rushing defensive end. But defensive ends in a 3-4 scheme don't typically command $10 million average salaries because they're not asked to jet up the field and pile up sacks like 4-3 ends.
Perhaps Capers will use Peppers
in the elephant end position
coach Mike McCarthy recently discussed as a possibility for
Nick Perry
and
Mike Neal
, both of whom can be considered hybrid defensive end/outside linebackers.
The possibilities could be endless.
Regardless of how Capers uses Peppers, it should help outside linebacker
Clay Matthews
. Not that teams won't still double-team Matthews, but say Capers lines up Peppers and Matthews on the same side of the formation. What's an offensive coordinator to do?
Peppers nearly ruined the Packers' 2013 season. Had fullback
John Kuhn
not gotten the slightest of chip blocks on Peppers in the final minute of the regular-season finale at Soldier Field, Peppers would have drilled quarterback
Aaron Rodgers
before he could have released the 48-yard bomb to
Randall Cobb
for the game-winning and NFC North-winning touchdown pass.
He could be just what the Packers need in 2014.
Thompson might be done in free agency for this season. For that matter, he might be done in free agency for next season and the one after that. But don't say he doesn't sign free agents. Hashtag: #serious
March, 13, 2014
Mar 13
3:20
PM ET
GREEN BAY, Wis. -- Re-signing
Andrew Quarless
on Thursday gave the
Green Bay Packers
some security at the tight end position.
Entering his fifth season, Quarless might be on the cusp of a breakout, so it was a wise move
to bring him back
.
He showed signs late last season of being the player they liked as a fifth-round pick in 2010 coming out of Penn State. He took over as the starting tight end midway through last season after
Jermichael Finley
's season-ending neck injury on Oct. 20 against the
Cleveland Browns
.
Given his size (6-foot-4, 252 pounds), the Packers like Quarless as both a blocker and a receiver. He caught 32 passes for 312 yards and two touchdowns last season and is a more natural blocker than Finley.
They also are high on
Brandon Bostick
, an athletic receiving tight end who resembles Finley in terms of body type and skill level more so than Quarless does. In a limited role last season, Bostick averaged 17.1 yards per catch before a foot injury ended his season on Dec. 15.
But the tight end position is hardly settled.
That won't begin to happen until a determination is made about Finley. It's unclear whether the Packers have had a chance recently to examine his surgically repaired neck. Finley underwent surgery last November to fuse his C-3 and C-4 vertebra.
Finley visited the
Seattle Seahawks
on Tuesday and Wednesday and was scheduled
to meet with their team doctors
. However, no deal has been completed, meaning Finley remains on the market.
Even if the Packers already have decided not to bring back Finley, that doesn't mean they will stand pat with Quarless, Bostick and their other returning tight ends (
Ryan Taylor
,
Jake Stoneburner
and
Raymond Webber
). They had
Owen Daniels
, formerly of the
Houston Texans
, in for a visit on Wednesday. Daniels is scheduled to visit the
Washington Redskins
next.
This is a tight-end-rich draft class. In fact, ESPN's Todd McShay had the Packers taking North Carolina tight end
Eric Ebron
with the 21st overall pick in his
latest mock draft
.

February, 20, 2014
Feb 20
8:00
AM ET
INDIANAPOLIS – The
Green Bay Packers
' contingent of coaches, doctors, executives and personnel evaluators is on the ground at the NFL combine – and so is ESPN's NFL Nation – and therefore we have come to the conclusion of our countdown.
The first three parts focused on the Packers many defensive needs, from
safety
to
defensive line
to
linebacker
.
The final part before we turn our attention to the events at Lucas Oil Stadium for the remainder of the week will focus on what could be the biggest need on the offensive side of the ball for the Packers: tight end, a position group that will meet with reporters here on Thursday.
Why the Packers need help
: It all hinges on the Packers' plans for
Jermichael Finley
, who has said he expects to be cleared soon from his neck fusion surgery. But that doesn't mean the Packers -- or other NFL teams -- will clear him. With Finley headed toward free agency next month, the Packers could simply decide not to re-sign him, regardless of the medical report. But they would be walking away from their most athletic, big-bodied tight end, and therefore would need to find a replacement.
Andrew Quarless
, who also is scheduled to be a free agent, probably didn't show enough in the second half of the season after Finley's injury to convince anyone that he can be that guy. He's a serviceable player who could return for a modest contract, but he's not a potential difference-maker like Finley. Of the Packers' three other young tight ends,
Brandon Bostick
has the most potential because of his athleticism and receiving skills, but he remains raw.
Ryan Taylor
is a solid blocker and top special teams player, and
Jake Stoneburner
has a ways to go. They also signed street free agent
Raymond Webber
this offseason. The Packers struggled in the red zone last season, ranking 25
th
in the touchdown percentage (50.8 percent), and missing a big target like Finley was one of the reasons.
Tight ends the Packers should be watching
:
Eric Ebron, North Carolina
: In his
first mock draft

back in December, ESPN draft analyst Todd McShay had the Packers taking the 6-foot-4, 231-pound Ebron, who caught 62 passes for 973 yards last season. At that time, the Packers were projected to have the 18th pick in the draft. Now that they're locked into No. 21, it appears Ebron could be gone before the Packers pick.
Jace Amaro, Texas Tech:
The 6-5, 260-pound Amaro caught 103 passes last season. He lined up in the slot position most of the time, much like Finley did for the Packers.
Troy Niklas, Notre Dame
: More of a pure blocker than Ebron or Amaro, but the 6-7, 270-pounder has the potential to grow into a split-out role. He averaged 15.6 yards per catch on 32 receptions last season.
February, 14, 2014
Feb 14
8:00
AM ET
A roundup of what's happening on the Green Bay Packers beat.
GREEN BAY, Wis. -- If the Packers want to keep their restricted free agents -- safety
M.D. Jennings
and linebacker
Jamari Lattimore
-- they shouldn't have much trouble.
It's unlikely that teams would make either one a substantial offer, if any offer at all, that would force the Packers to decide whether or not to match it.
The bigger issue might be whether or not the Packers will tender either one of them.
As
ESPN's John Clayton wrote this week
, the lowest tender for a restricted free agent in 2014 is $1.389 million. That tender would give the Packers the right of first refusal if another team made an offer, but would give them no competition if they chose not to match it.
The other tender offers -- $3 million and$2.124 million -- would carry first- and second-round compensation, respectively, if the teams did not match offers.
What the Packers have to ask themselves is if either Jennings or Lattimore is worth that kind of money. We can safely rule out that they would be candidates for the top-two tenders, and even a salary of $1.389 million might be a stretch.
Although Jennings was a starter last season, the Packers almost certainly will look to upgrade his spot. Lattimore was a fill-on on defense and a core special teams player.
The Packers could decide not to tender either one and perhaps try to sign them for something closer to the minimum for a fourth-year player, which is $645,000.
The deadline for teams to place tenders on their restricted free agents is March 11 at 4 p.m. ET.
In case you missed it on ESPN.com
:
Best of the rest
:
February, 13, 2014
Feb 13
5:10
PM ET
GREEN BAY, Wis. -- This probably isn't what
Green Bay Packers
fans had in mind
when they read earlier
that the team will have money and salary-cap space available for free agency this year, but the Packers signed a tight end off the street on Thursday.
General manager Ted Thompson announced that he has signed the 6-foot-2, 237-pound Raymond Webber, who last was in an NFL training camp in 2012 with the
New York Jets
.
Webber played at Arkansas-Pine Bluff and led the Southwestern Athletic Conference with 101 catches for 1,429 yards in 2010 as a receiver. He was not drafted but went to training camp in 2011 with the
Tampa Bay Buccaneers
but sustained a hamstring injury that landed him on injured reserve. The Bucs eventually released him and he was claimed off waivers by the
Seattle Seahawks
but was released a week later.
He also spent time last season with the Calgary Stampeders of the Canadian Football League.
As a 218-pound receiver, Webber ran a 4.5 40-yard dash during a pro day workout at Central Arkansas prior to the 2011 draft.
The Packers might have some significant needs at tight end given that
Jermichael Finley
and
Andrew Quarless
are scheduled to become free agents next month. The other returning tight ends are
Brandon Bostick
,
Jake Stoneburner
and
Ryan Taylor
.