Green Bay Packers:

Robert Griffin III
January, 31, 2014
Jan 31
2:00
PM ET
GREEN BAY, Wis. -- Three
Green Bay Packers
ranked among the top 50 NFL players in total retail sales of items in their names.
In a release by the NFL Players Association at this week's Super Bowl, quarterback
Aaron Rodgers
(No. 6 overall), outside linebacker
Clay Matthews
(No. 12) and receiver
Jordy Nelson
(No. 43) were among the league leaders in sales from September through November of 2013. Both Rodgers and Nelson missed time because of injuries during that period.
NFL Players Inc., the marketing and licensing arm of the NFLPA, releases the data quarterly. The players association said the list is compiled from "overall total sales of all licensed products from online and traditional retail outlets as reported by more than 65 NFLPI licensees."
The top-six players on the list all were quarterbacks. Seattle's
Russell Wilson
was first followed San Francisco's
Colin Kaepernick
, Denver's
Peyton Manning
, Washington's
Robert Griffin III
, New England's
Tom Brady
and Rodgers.
Matthews was the third-highest ranked defensive player behind Houston's
J.J. Watt
(No. 7) and Seattle's
Richard Sherman
(No. 11), while Nelson ranked eighth among receivers.
September, 15, 2013
9/15/13
9:00
AM ET
September, 13, 2013
9/13/13
4:10
PM ET
GREEN BAY, Wis. --
Green Bay Packers
linebacker
Clay Matthews
deserved to be fined for his late hit out of bounds on
San Francisco 49ers
quarterback
Colin Kaepernick
.
The amount -- $15,000 as was
announced by the NFL on Friday
-- is debatable.
[+] Enlarge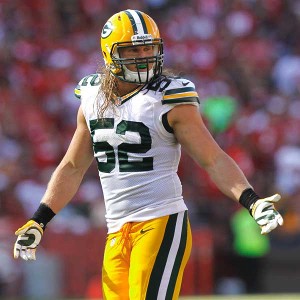 Cary Edmondson/USA TODAY SportsGreen Bay Packers linebacker Clay Matthews denies the accusations that he's a dirty player.
What should not be questioned is Matthews' integrity as a player.
In no way should he be lumped in with players like
Detroit Lions
defensive tackle
Ndamukong Suh
, who last season was voted the NFL's dirtiest player in a poll of players
conducted by The Sporting News
.
There's nothing in Matthews' history to suggest his play resembles that of Suh or the rest of the players on that list.
A check of Matthews' past shows this is hardly a pattern.
Since entering the league in 2009, Matthews has never been penalized more than once in a season for a personal foul. As a rookie, he was called for one roughing the passer penalty (against Baltimore on Dec. 7). In 2010, his lone personal foul was a facemask (against Chicago on Sept. 27). In 2011, he had one roughing the passer infraction (against Minnesota on Oct. 23). And last season, he also had a roughing the passer (also against San Francisco on Sept. 9).
Before this week, the only one of those penalties that drew a fine was the facemask of Bears quarterback
Jay Cutler
in 2010. Matthews was docked $5,000 for that. At least one of those penalties, the 2011 hit on Vikings quarterback
Christian Ponder
, could safely be considered a bad call.
The rest of Matthews' career penalties all have been minor infractions.
There's no doubt Matthews plays hard and plays to the whistle. All great players do, and Matthews certainly qualifies as such. In some ways, he resembles his position coach,
Kevin Greene
, an aggressive player who holds the NFL's career record for sacks by a linebacker.
"I just know that I'm going to coach them one way and, generally speaking, you get what you emphasize as a coach," Greene said on Friday. "I'm coaching, 'Hey, you play with your heart and all of your drive and desire and determination and fire -- and that's play after play after play after play, and never let up. You want to hunt and hunt and keep hunting. That's what I'm hoping to get from all of my kids."
Matthews has taken that to heart. Since he entered the NFL in 2009, only four players have more sacks than Matthews' 43.5. He also is an underrated run defender.
"Clay, he's got a motor and he's a talented guy that has a motor,"
Washington Redskins
quarterback
Robert Griffin III
said on Wednesday. "Anybody with that immense amount of ability that plays every snap like it's his last is a dangerous guy. We'll be aware of him. You've always got to respect your opponent, and I respect Clay Matthews as a player, and that's all you can say. My team respects him as a player, and that's the way we have to go about it. You've got to prepare, there's going to be great players in this league that you have to play against, and he's one of them."
And anyone who plays with the kind of intensity that Matthews brings is bound to go overboard every once in a while. But that doesn't make him dirty. Before 49ers coach
Jim Harbaugh
insinuated this week
that Matthews was a dirty player, there had never been even a whisper of that during his first four NFL seasons.
As Matthews said earlier this week, "I think my résumé is pretty good right now. I think we're doing all right."
September, 13, 2013
9/13/13
12:00
PM ET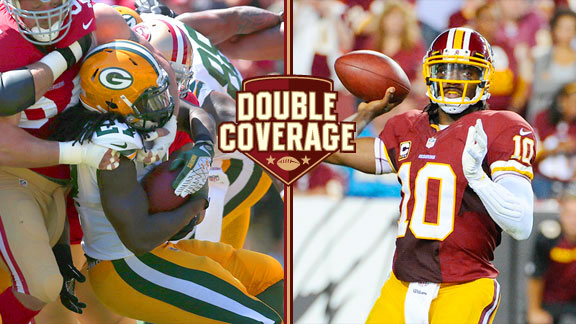 AP Photo, Getty ImagesEddie Lacy, left, and Robert Griffin III are among the keys to Sunday's Packers-Redskins matchup.
The
Green Bay Packers
and
Washington Redskins
, NFC division winners last season and playoff hopefuls this season, both lost in Week 1.
That means, barring a tie, when they meet Sunday at Lambeau Field, one of these teams will be in an 0-2 hole to start this season.
"It's not about, does it make or break your season," Redskins quarterback
Robert Griffin III
said this week.
ESPN Packers reporter Rob Demovsky and ESPN Redskins reporter John Keim break down the key elements to this matchup.
Demovsky:
John, let's get right to perhaps the most closely watched knee rehabilitation in recent NFL history. You've watched Griffin's every move in his comeback from the knee injury. You have chronicled practically every step he has made since, and by now, you've dissected the film of Monday night's loss to the
Philadelphia Eagles
. What limitations, if any, did he play with?
Keim:
Griffin did not look the same and showed the effects of not playing in a game in the preseason -- and of recovering from major knee surgery in January. Was his knee 100 percent? Everyone says it is, including the doctors. But his game was not 100 percent, as should be expected. Jon Gruden pointed it out a few times on Monday night, showing how Griffin wasn't always transferring his weight onto his front leg when he threw. In some cases, the line was getting shoved back and provided him no chance to step into a throw. But it was evident early, even when he had that room. It seemed like his reactions in the pocket, especially early, were not where he would want them to be. He also made the worst passing decision of his career, throwing an interception into triple coverage to a receiver who never even appeared open. He finished strong, though most of the passes he completed during this stretch were short throws. Still, he showed a better rhythm. It's going to take him a few games.
The Packers just played a mobile quarterback; how did they take away
Colin Kaepernick
's legs -- and how did it leave them vulnerable to the pass?
Demovsky:
The Packers did a good job limiting Kaepernick's running opportunities by playing a lot of zone coverage. That kept the defenders' eyes on the quarterback, and they rarely had their backs turned to him. However, that meant they couldn't play as much press coverage as they normally would, and the result was that they gave up massive amounts of yardage to receiver
Anquan Boldin
, who caught 13 passes for 208 yards, and allowed Kaepernick to throw for 412 yards. Now, it should be noted that the Packers were missing two key players in the secondary, safety
Morgan Burnett
and cornerback
Casey Hayward
, who both missed the game because of hamstring injuries.
How much, if anything, do you think Redskins can learn from watching the way Kaepernick and the 49ers attacked the Packers?
Keim:
I'm sure there is a lot to learn, but I wouldn't be surprised if they anticipate different looks in the secondary because of who might be back for Green Bay and because Griffin needs to prove himself as a dynamic threat again. Until he does, I wouldn't be surprised to see teams play him more aggressively, or at least without as much fear. I'm not sure how long that will last; until he makes them pay, I suppose. But I also think what Washington needs to do more than learning from Green Bay's game is learn from its own. The Redskins killed themselves with penalties and poor decision-making. That meant their bread-and-butter run game could never get going, and their offense sputtered until it was 33-7.
Are Burnett and Hayward expected to play Sunday? If so, how big a difference will that make for the Packers?
Demovsky:
Hayward won't play. He already has been ruled out and is likely to miss at least another game or two. This is the second time he pulled the same hamstring. The first time, he missed a month. He reinjured it Aug. 23, and if it's as severe, he could be out for a while. Last season, his six interceptions were huge for the defense. Burnett's injury didn't seem as bad, and it was somewhat surprising that he missed the 49ers' game. The Packers hope he can play, because their safety play with
M.D. Jennings
and
Jerron McMillian
was subpar at San Francisco.
Speaking of the secondary, the Redskins were 30th in the NFL last season in passing yards allowed. Are there any signs that will improve this season? I would think
Aaron Rodgers
would be licking his chops to play against this defense.
Keim:
It's debatable how much they've improved. Long term? I think they'll be helped because two rookies -- starting free safety
Bacarri Rambo
and cornerback
David Amerson
-- are playing key roles. Rambo's big issue is tackling, mostly in the open field. His coverage has mostly been fine, but I don't think he's been challenged in a way that Rodgers could on Sunday. I like Amerson's future, if he remains disciplined with his technique. He's a better tackler than anticipated. But Washington has issues at strong safety because of
Brandon Meriweather
's constant injury issues (missed Monday with a groin injury). The Redskins used a cornerback who had never played safety before in his place (
E.J. Biggers
), and he struggled. Their corners,
DeAngelo Hall
and
Josh Wilson
, do some good things but are not top-line starters. What this group needs more than anything is a better pass rush.
Speaking of the rush, how is the Green Bay offensive line holding up without
Bryan Bulaga
, and where is it susceptible?
Demovsky:
Perhaps surprisingly, Green Bay's young tackles, rookie
David Bakhtiari
on the left side and second-year man
Don Barclay
on the right, held up well against the 49ers.
Aldon Smith
beat Bakhtiari a couple of times for sacks, but Smith does that to a lot of tackles. It's why he had 19.5 sacks last season. But other than those two plays, Bakhtiari's first start went fine. Barclay is much improved over last season, when he filled in for Bulaga the final six games. As a unit, the run blocking needs to get much better.
Eddie Lacy
didn't have much running room, and when he did, there were penalties -- three of them on left guard
Josh Sitton
, who is normally pretty clean -- that wiped away the Packers' longest rushes of the game.
Looking at the big picture, one of these teams is going to be 0-2 after this game (barring a tie). If that's the Redskins, how devastating would that be for them? I know they finished strong last season, but I'm sure they don't want to put themselves in a hole again.
Keim:
It's a hole they could dig out of with games against the
Detroit Lions
at home and on the road against the
Oakland Raiders
in the following two weeks before their bye. But I don't think any team wants to start off 0-2, especially one that has designs on accomplishing grand things in the postseason, which, if healthy, the Redskins should have. I also think it would depend on how they look against Green Bay. If they play well and lose a close game, it still suggests they're on a certain path (no moral victories, but more about being headed in the right direction). If it's an ugly game like it was for nearly three quarters Monday? Then it suggests other issues. That would be difficult for them to swallow. But the one thing I've seen with this group, last season and in the previous few, is that they are resilient. Their mindset is a good one for a 16-game season.
I would think if there's any formula for stopping the Green Bay offense, everyone would use it. But is there a theme to when teams are able to slow this attack?
Demovsky:
For about the past year and a half, teams have played the Packers predominantly one way -- keep both safeties back and dare them to run the ball. That's why they drafted Lacy in the second round. The hope is that teams will start respecting the Packers' running game and bring a safety in the box to stop it. That would give Rodgers more open space to throw in the secondary. Lacy did not get off to a strong start against the 49ers, but he did have one impressive series late in the game in which he gained 26 yards on five carries. Problem was, he couldn't get much else done the rest of the game.
September, 12, 2013
9/12/13
8:30
AM ET
A roundup of what's happening on the Green Bay Packers beat.
It was such a busy Wednesday around Lambeau Field that I didn't even get the chance to weigh in on ESPN colleague Dan Graziano's
second installment of MVP Watch
.
Last week, Graziano had Packers quarterback
Aaron Rodgers
ranked second on his preseason list behind only
Denver Broncos
quarterback Peyton Manning.
One week later, he's not even in the top 10. Why?
Let's allow Graziano the chance to explain.
He wrote: "MVPs come from winning teams, from playoff teams at the very least, if not the absolute top teams in the league. So as the MVP Watch unveils its first top 10 since the 2013 season actually began, you won't find anyone on a team that lost its Week 1 game. That's right. The Watch says no to Aaron Rodgers. He may have as good or a better chance in the end to win the award as anyone on this list, but not if his team doesn't win any games."
Elsewhere:
September, 11, 2013
9/11/13
6:45
PM ET
GREEN BAY, Wis. – Among the things the
Green Bay Packers
will have to figure out during their preparation for Sunday's home opener against Washington is just how mobile quarterback
Robert Griffin III
is at this point.
A little more than eight months removed from reconstructive knee surgery, Griffin, in Monday night's 33-27 loss to Philadelphia, didn't play like the agile, running quarterback he was last season on the way to winning the NFL's offensive rookie of the year award.
Griffin
In 2012, Griffin rushed for 815 yards, the most by a quarterback and the 20
th
-best total in the league.
On Monday night, Griffin rushed only five times for 24 yards, half of which came on one run. Was that a conscious approach by Redskins coach Mike Shanahan to protect his quarterback's knee? Was Griffin tentative? Or was it simply based on the fact that the Redskins fell behind 33-7 and were forced to throw the ball.
That's what the Packers will have to figure out.
"We have a lot of respect for his ability," Packers coach Mike McCarthy said Wednesday. "Whether we feel he's as mobile, that's really with the schemes and really the mindset going into the game that is applied during the course of the week."
The Packers spent a good portion of their offseason preparing to face mobile, read-option quarterbacks the first two weeks. In that regard, they held up San Francisco quarterback
Colin Kaepernick
in Week 1, but they lost the opener because Kaepernick threw for 412 yards. Griffin threw for 329 yards against the Eagles.
"Kaepernick and RG III are about the same," Packers defensive end
C.J. Wilson
said. "We know RG III is still coming off an injury on his leg, so I don't think he's going to be too mobile like he used to be in the past. But he makes the throws like Kaepernick."
For what it's worth, Griffin said Wednesday during a conference call with reporters at Lambeau Field that he isn't hesitant to run.
"You trust God that he'll protect you, and you go out and you play fearless," Griffin said.
September, 11, 2013
9/11/13
12:30
PM ET
GREEN BAY, Wis. --
Robert Griffin
III apparently doesn't plan on getting
Green Bay Packers
linebacker
Clay Matthews
riled up.
Matthews
Griffin
In advance of Sunday's game against the Packers at Lambeau Field, the
Washington Redskins
quarterback had nothing but good things to say about Matthews, who might be public enemy No. 1 in San Francisco after his late hit on 49ers quarterback
Colin Kaepernick
on Sunday.
On a conference call with reporters at Packers headquarters on Wednesday, Griffin called Matthews "a great player."
"Clay, he's got a motor and he's a talented guy that has a motor," Griffin said. "Anybody with that immense amount of ability that plays every snap like it's his last is a dangerous guy. We'll be aware of him. You've always got to respect your opponent, and I respect Clay Matthews as a player, and that's all you can say. My team respects him as a player, and that's the way we have to go about it. You've got to prepare. There's going to be great players in this league that you have to play against, and he's one of them."
Also on the conference call, Griffin said he will not be any more hesitant to run the ball despite coming off reconstructive knee surgery.
"I feel good," he said. "You have to trust your preparation. You trust your foundation. I put the work into the offseason to make sure that I was OK coming into the season, and that's what you trust. You trust God that he'll protect you, and you go out and you play fearless."
September, 11, 2013
9/11/13
8:30
AM ET
A roundup of what's happening on the Green Bay Packers beat.
GREEN BAY, Wis. -- The NFL planned to review the hit Packers linebacker Clay Matthews put on San Francisco 49ers quarterback Colin Kaepernick during Sunday's game, but the league made no announcement about any fine or disciplinary action on Tuesday.
Perhaps they were too busy dealing with Detroit Lions defensive tackle Ndamukong Suh, who was
fined a whopping $100,000
for his hit on Minnesota Vikings center John Sullivan on Sunday.
If Matthews is fined, which is likely, don't expect it to be anywhere in the neighborhood of Suh's penalty. Matthews doesn't have a history of disciplinary problems like Suh does.
The NFL typically announces fines on Friday, but Matthews likely would have received notice of a fine by now.
Elsewhere:
September, 3, 2013
9/03/13
11:35
AM ET
GREEN BAY, Wis. -- Earlier this summer, in our
Green Bay Packers
'
Camp Confidential
, we discussed how much time defensive coordinator Dom Capers has spent working against the read-option offense.
At least a portion of almost every training camp practice was dedicated to defending the scheme that caught the Packers off guard in last year's 45-31 playoff loss at San Francisco, where the Packers allowed 579 yards (including an NFL-quarterback rushing record of 181 yards by
Colin Kaepernick
). Capers and his staff implemented what they learned during a pair of offseason study sessions with college coaches, at Texas A&M and Wisconsin, who had more experience with that scheme.
Matthews
Certainly, there are many complexities to defending the read-option.
But listening to Packers OLB
Clay Matthews
Monday on
ESPN Radio's Mike & Mike

it might be as simple as hitting the quarterback. So expect to see the Packers take as many shots as possible on Kaepernick during Sunday's regular-season opener at Candlestick Park.
"One of the things that the referees have told us is that when these quarterbacks carry out the fakes, they lose their right as a quarterback, a pocket-passing quarterback, the protection of a quarterback," Matthews said on Mike & Mike. "So with that, you do have to take your shots on the quarterback, and obviously they're too important to their offense. If that means they pull them out of that type of offense and make them run a traditional, drop-back, pocket-style offense, I think that's exactly what we're going for. So you want to put hits as early and often on the quarterback and make them uncomfortable."
As has been discussed at length, the Packers are expecting to see a heavy dose of read-option offense the first two weeks of the season with Kaepernick this week and Washington's
Robert Griffin III
in Week 2.
"I can tell you right now, we started from Day 1 in OTAs when we came back in the offseason working on this read-option, pistol, fake offense for lack of a better term," Matthews said. "We've definitely been working on it. You see this trend with quarterbacks you mentioned, Kaepernick, RGIII, (Seattle's Russell) Wilson, so it's around the league now. It's definitely a part of offenses, so it's something to have in our defensive game plan, something to game plan for. We've been working on it, especially after what we saw last year in the playoffs specifically and then opening up the season with two of these quarterbacks. We're ready. We feel good about it."