Green Bay Packers:

Russell Wilson
January, 31, 2014
Jan 31
2:00
PM ET
GREEN BAY, Wis. -- Three
Green Bay Packers
ranked among the top 50 NFL players in total retail sales of items in their names.
In a release by the NFL Players Association at this week's Super Bowl, quarterback
Aaron Rodgers
(No. 6 overall), outside linebacker
Clay Matthews
(No. 12) and receiver
Jordy Nelson
(No. 43) were among the league leaders in sales from September through November of 2013. Both Rodgers and Nelson missed time because of injuries during that period.
NFL Players Inc., the marketing and licensing arm of the NFLPA, releases the data quarterly. The players association said the list is compiled from "overall total sales of all licensed products from online and traditional retail outlets as reported by more than 65 NFLPI licensees."
The top-six players on the list all were quarterbacks. Seattle's
Russell Wilson
was first followed San Francisco's
Colin Kaepernick
, Denver's
Peyton Manning
, Washington's
Robert Griffin III
, New England's
Tom Brady
and Rodgers.
Matthews was the third-highest ranked defensive player behind Houston's
J.J. Watt
(No. 7) and Seattle's
Richard Sherman
(No. 11), while Nelson ranked eighth among receivers.
October, 7, 2013
10/07/13
7:50
PM ET
GREEN BAY, Wis. -- The
Green Bay Packers
did not hesitate to try multiple backup quarterbacks this preseason.
They went from
Graham Harrell
to
Vince Young
to
B.J. Coleman
before finally settling on 33-year-old
Seneca Wallace
, who was signed on Sept. 2.
Wallace
Flynn
But they don't appear interested in shaking things up behind
Aaron Rodgers
again -- not even to re-sign their former backup
Matt Flynn
,
who was released
by the
Oakland Raiders
on Monday.
"Personally, I'm very happy with the quarterback room, the way it looks, the people in it," Packers coach Mike McCarthy said Monday. "Obviously Matt was a Packer, very fond of Matt and his time here. As far as any roster moves and things like that, I really don't have any comment on, but I do like Seneca Wallace. I like what he's done since he's been here. I feel very good about our quarterback room."
Just last week, Packers quarterbacks coach Ben McAdoo said Wallace's 10 years in the NFL and his experience in a similar offense during his time with the
Seattle Seahawks
have made him a good fit.
"He's been around the block," McAdoo said. "This isn't his first rodeo. He's an experienced guy; he's a smart guy. He knows his role, and he's a good team player."
Flynn cashed in on the strength of two performances -- his 2010 start against the
New England Patriots
when Aaron Rodgers was ruled out because of a concussion and the 2011 record-setting performance in the regular-season finale against the
Detroit Lions
with Rodgers resting for the playoffs. In the latter, Flynn threw for a team-record 480 yards and six touchdowns.
The following offseason, he signed a three-year, $26 million free-agent contract with the Seattle Seahawks but couldn't beat out then-rookie
Russell Wilson
for the starting job. The Seahawks then traded him to the Raiders this past April, but once again Flynn couldn't win the job. He started one game this season, the Week 4 loss at Washington, and was demoted to third string shortly thereafter before he was released.
"I definitely am surprised because when his opportunity came I obviously gave him a very high recommendation," McCarthy said. "Injuries and all the different types of things, quarterback competition in both places, a lot of factors go into it. I haven't watched the film of Matt, so I really can't even give you an educated or informed opinion on how exactly he did play, but on a personal level I'm very fond of Matt Flynn. He was excellent in his time here, and I wish him the best of luck."
September, 3, 2013
9/03/13
11:35
AM ET
GREEN BAY, Wis. -- Earlier this summer, in our
Green Bay Packers
'
Camp Confidential
, we discussed how much time defensive coordinator Dom Capers has spent working against the read-option offense.
At least a portion of almost every training camp practice was dedicated to defending the scheme that caught the Packers off guard in last year's 45-31 playoff loss at San Francisco, where the Packers allowed 579 yards (including an NFL-quarterback rushing record of 181 yards by
Colin Kaepernick
). Capers and his staff implemented what they learned during a pair of offseason study sessions with college coaches, at Texas A&M and Wisconsin, who had more experience with that scheme.
Matthews
Certainly, there are many complexities to defending the read-option.
But listening to Packers OLB
Clay Matthews
Monday on
ESPN Radio's Mike & Mike

it might be as simple as hitting the quarterback. So expect to see the Packers take as many shots as possible on Kaepernick during Sunday's regular-season opener at Candlestick Park.
"One of the things that the referees have told us is that when these quarterbacks carry out the fakes, they lose their right as a quarterback, a pocket-passing quarterback, the protection of a quarterback," Matthews said on Mike & Mike. "So with that, you do have to take your shots on the quarterback, and obviously they're too important to their offense. If that means they pull them out of that type of offense and make them run a traditional, drop-back, pocket-style offense, I think that's exactly what we're going for. So you want to put hits as early and often on the quarterback and make them uncomfortable."
As has been discussed at length, the Packers are expecting to see a heavy dose of read-option offense the first two weeks of the season with Kaepernick this week and Washington's
Robert Griffin III
in Week 2.
"I can tell you right now, we started from Day 1 in OTAs when we came back in the offseason working on this read-option, pistol, fake offense for lack of a better term," Matthews said. "We've definitely been working on it. You see this trend with quarterbacks you mentioned, Kaepernick, RGIII, (Seattle's Russell) Wilson, so it's around the league now. It's definitely a part of offenses, so it's something to have in our defensive game plan, something to game plan for. We've been working on it, especially after what we saw last year in the playoffs specifically and then opening up the season with two of these quarterbacks. We're ready. We feel good about it."
August, 23, 2013
8/23/13
11:23
PM ET
GREEN BAY, Wis. –
Vince Young
took a major step toward winning the
Green Bay Packers
' backup quarterback job Friday in the Packers'
17-10 preseason loss
to the
Seattle Seahawks
.

The former first-round draft pick outplayed
Graham Harrell
, who couldn't produce any points in five series (including four with the starting offensive line).
Young, who replaced Harrell in the third quarter, led an 11-play, 80-yard touchdown drive on his first possession. Although Young nearly threw an interception on his third play, the 30-year-old showed that if nothing else, he can still make plays with his feet. He scrambled for 21 and 18 yards on the touchdown drive. He also showed he can be effective running play-action bootlegs. He hit tight end
Andrew Quarless
for 16 yards on one such play, which helped set up Young's 1-yard touchdown pass to fullback
Jonathan Amosa
.
Young's second -- and final -- series was a three-and-out that was ruined by a shotgun snap that sailed over his head. He finished 6-of-7 passing for 41 yards. With one touchdown pass and no interceptions, his rating was 130.7. He rushed three times for 39 yards.
Harrell relieved starter
Aaron Rodgers
, who got only one series, and played the entire second quarter behind the starting offensive line, plus another series in the third quarter with the No. 2 offensive line. Harrell's four series with the top offensive line ended with a punt, a fumble by receiver
Jarrett Boykin
, a turnover on downs after
Jermichael Finley
dropped a potential touchdown pass on fourth-and-goal at the 2 and another punt. The ball Finley dropped was not a good throw. Harrell, who was 6-for-13 passing for 49 yards with a 52.4 rating, also overthrew several open receivers. His biggest gain was a 25-yard pass-interference penalty on Seahawks cornerback
Richard Sherman
.
[+] Enlarge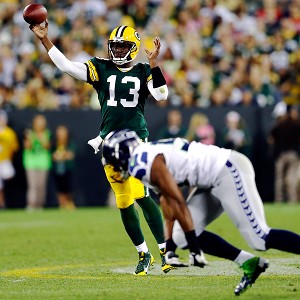 P Photo/Tom LynnVince Young, bidding to back up Aaron Rodgers, led the Packers to their only touchdown Friday.
Here's a rundown of the rest of the night:
In his lone series, Rodgers went 10 plays and completed 4 of 7 passes for 41 yards. It led to a 38-yard Mason Crosby field goal. It was the Packers' only possession of the first quarter. In last year's third preseason game at Cincinnati, Rodgers played the entire first half -- 41 plays over six series. Rodgers took a hard hit on his final play, when center Evan Dietrich-Smith appeared to be late to pick up defensive end Benson Mayowa on a loop move to the inside.

In his preseason debut, running back DuJuan Harris looked rusty and might have reinjured his knee. He rushed for 2 yards on three carries but missed an opportunity for a big gain when he failed to bounce a first-quarter run outside, where there was a big hole. Harris missed the first two preseason games because of a knee injury and then limped off the field in the second quarter and did not return.

Rookie running back Eddie Lacy had no running room. In eight carries, he had minus-5 yards.

Safety Morgan Burnett dropped out after the first series with an apparent hamstring injury.

First-round draft pick Datone Jones, who had played only one preseason snap before Friday because of the ankle injury he sustained Aug. 9 against Arizona, was questionable entering this game after dropping out of practice Wednesday. But after going through warm-ups with no problems, he played a handful of plays in the first half, mostly as the lone defensive lineman in coordinator Dom Capers' "Bat" package, which is a variation of a dime defense.

Outside linebacker Clay Matthews rushing against a running back is a matchup the Packers would take every time. On a five-man rush, Matthews easily beat Seahawks running back Robert Turbin and sacked Russell Wilson.

Starting left tackle David Bakhtiari had a rough series in the second quarter, when he was called for a holding penalty that wiped out an 11-yard run by Lacy and then got beat on an inside move by linebacker Mike Morgan, who tipped a Harrell pass.

Crosby rebounded from his woeful practice Wednesday, when he missed three consecutive field goals. He made his only field goal attempt of the night, the 38-yarder in the first quarter.

Rookie safety Chris Banjo helped his case for the No. 4 safety job. He stopped tight end Luke Willson a yard short of the first-down marker on a third-and-5 pass in the second quarter. He also made a tackle on special teams.

Seahawks receiver Golden Tate, who caught the controversial touchdown pass on the Hail Mary at the end of the Seahawks' victory over the Packers last season, was booed when he took the field to return a second-quarter punt.

Casey Hayward and Jerron McMillian both intercepted Wilson. It was Hayward's preseason debut after missing the first two games because of a hamstring injury.

The first half was very chippy and had several altercations and near fights.

The Packers dropped to 1-2 in the preseason.

The following players were not in uniform: WR Randall Cobb (biceps), CB James Nixon (ankle, knee), S Sean Richardson (neck), CB Tramon Williams (knee), OL JC Tretter (ankle), T Bryan Bulaga (knee), T Derek Sherrod (leg), TE Matthew Mulligan (elbow), WR Jordy Nelson (knee) and DE Jerel Worthy (knee).