Green Bay Packers:

Ryan Grant
August, 1, 2014
8/01/14
2:45
PM ET
GREEN BAY, Wis. -- During a drill early in a training camp practice this week,
Green Bay Packers
running back
Eddie Lacy
was running routes against inside linebackers and safeties.
He popped free and caught a pass over the middle.
Lacy
To hear coach Mike McCarthy tell it, at the end of the play Lacy turned to his coach and said: "Man, I did this drill all last year and never got open."
So when people ask what Lacy can do to follow up his first NFL season – when he rushed for 1,178 yards, won offensive rookie of the year honors and was the best thing that's happened to the Packers' running game since Ryan Grant of 2007-08 – the answer might be found in that kind of detail.
McCarthy said early in the offseason that he wanted Lacy, and the rest of his running backs, to
become proficient on all three downs
so the offense don't have slow down to put a designated third-down back in the game. A significant part of that involves pass protection, but it also could put Lacy in position to become a bigger factor in the passing game.
Lacy caught 35 passes for 257 yards (a 7.3-yard average) last season, the most by a Packers running back since Tony Fisher had 48 catches for 347 yards in the 4-12 season of 2005. The last Packers back to reach 50 receptions was Ahman Green in 2003, when he had the exact same average as Lacy did last season.
It's not exactly Randy Moss receiving numbers, but last season Lacy started calling himself "Moss" when he caught passes in practice, and people keep bringing it up with him.
"I'm thinking that's starting to get a little out of hand," Lacy said. "But I mean, I'm a pretty decent catcher."
That said, Lacy's game is still going to be based on the power he packs on his 5-foot-11, 230-pound frame. It was on display Friday, when he ran over cornerback
Tramon Williams
during a team drill.
"We're not going to line up and feature Eddie in the passing game," McCarthy said. "He still needs to be standing back there behind the quarterback getting the ball, running with his shoulders square."
June, 25, 2014
6/25/14
12:00
PM ET
GREEN BAY, Wis. -- Just about every time
Aaron Rodgers
stepped on the field in 2011, the
Green Bay Packers
were a threat to score.
On the way to winning his first -- and to date only -- MVP award, Rodgers set the NFL record for passer rating (122.5) and set franchise records for touchdown passes (45), passing yards (4,643), completion percentage (68.3) and yards per attempt (9.25), among others.
Rodgers
And he did it in 15 games, resting in the season finale against the
Detroit Lions
to prepare for the playoffs.
As a team, the Packers set club records for points in a season (560), yards (6,482) and passing yards (5,161 gross and 4,924 net).
But you knew all that already.
What you want to know is whether Rodgers and the Packers' offense can ever be that explosive again?
To answer that question, first it is necessary to understand why the 2011 offense was so unstoppable.
"I think our personnel was so good and our confidence was so high, and teams hadn't quite adjusted to what we were doing," Rodgers said in an interview last week. "They were still giving us a lot of one-high [safety] rotation defense because they were worried about [running back]
Ryan Grant
, and they were worried about us controlling the football the way we liked to.
"And because of that, we had so many one-on-one matchups for [receivers] Jordy [Nelson] and for Greg [Jennings] and for
James Jones
and [tight end] Jermichael [Finley], and that just allowed us to really be dynamic on defense. At the same time, our defense was giving up some points as well, so we had a lot of opportunities so we put up a lot of yards and a lot of points."
Another productive running back, reigning offensive rookie of the year
Eddie Lacy
, could force defenses to play the Packers like they did in 2011, when they had to respect both the run and the pass.
"I think there's a chance, but I think that you're still going to see, other than the first game because Seattle is going to play a lot of one-high like they always do, Eddie is going to get a lot of respect this year," Rodgers said. "But I think he's still going to get an opportunity to prove that he can do it again."
Coming tomorrow
: Rodgers on relationships with his coaches.
September, 6, 2013
9/06/13
12:00
PM ET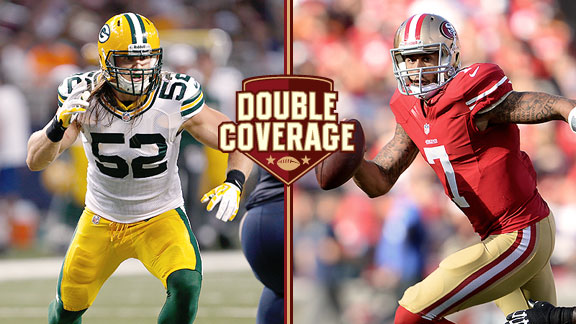 AP PhotoClay Matthews and Green Bay had all offseason to digest what Colin Kaepernick did to them in January.
The final season at venerable Candlestick Park begins in style as the
San Francisco 49ers
host the
Green Bay Packers
on Sunday.
It is a rematch of an NFC divisional playoff game in the same building. The 49ers completely outclassed the Packers on Jan. 12, as first-year starting quarterback
Colin Kaepernick
and crew had their way with a defense that looked slow and lost in a 45-31 San Francisco victory.
Packers team reporter Rob Demovsky and 49ers team reporter Bill Williamson have plenty to discuss. To the questions:
Williamson:
Rob, I think we have to start this off with this simple query: Can the Packers stop the read-option of a Kaepernick-led offense?
Demovsky:
Bill, that's what everyone has wanted to know since Kaepernick rushed for 181 yards against them in the playoff game. The number 579 -- the total yards of offense the 49ers piled up that day -- has been burned into the brains of the Packers' defensive players. Almost every day in practice during training camp, the defense went off to one end of the field by itself and worked against the read-option. But the Packers haven't seen any of it in live action since that playoff game, so at this point, there's no way to know whether they're any better equipped to handle it now.
Williamson:
That's the thing. Green Bay will be coming into this game nervous. The read-option has been on the minds of this coaching staff and its players all offseason, yet the Packers don't know for sure if they can handle it any better than they did the last time they saw Kaepernick. Kaepernick and his coach, the always-confident Jim Harbaugh, believe in their system and their personnel. They are going to challenge the Packers right away. I fully expect Kaepernick to come out gunning to make a statement -- a full-tilt San Francisco offense. If Kaepernick has early success, it could open the offensive floodgates. Now, if the Green Bay defense holds Kaepernick early, the Packers will get a confidence boost and should hang around all day.
Rob, just how confident do you think the Packers will be if they get a ton of read-option right away?
Demovsky:
Clay Matthews
said this week that the Packers know they have to take their shots at the quarterback when he tries to get outside the pocket, and if they do, perhaps they can get Kaepernick to sit in the pocket more, which ultimately is their goal. They want to make him a pocket passer if at all possible. That's their best chance for success.
There are other issues to this game, of course. Bill, considering the fact that the Packers will start a rookie,
David Bakhtiari
, at left tackle and a former undrafted free agent,
Don Barclay
, at right tackle, how big of an advantage does a pass-rusher like
Aldon Smith
have against Green Bay?
Williamson:
Other than Kaepernick and
Aaron Rodgers
, Smith might be the most important player on the field Sunday. He can change the game by himself, as his 33.5 sacks in two NFL seasons attests. Bakhtiari and Barclay have an incredible challenge ahead of them. It is also bad news for Green Bay that 49ers defensive tackle
Justin Smith
is healed from a triceps surgery. Aldon Smith had all 19.5 of his sacks in the regular season with Justin Smith playing with him, and none in 2012 without him. Having the Smith & Smith show together could mean a long day for Rodgers.
Demovsky:
But won't the 49ers have to respect the Packers' running game a little bit more with the addition of rookie
Eddie Lacy
? He looks like their first legitimate running back since Ryan Grant in 2009. If the Packers can establish Lacy on first down, they might be able to keep themselves out of obvious passing situations, and then Aldon Smith wouldn't be able to tee off and jet-rush up the field on every second and third down.
Williamson:
That is certainly the Packers' hope. It is clear that getting their ground game back on track was a focal point of the offseason. This is a passer's league, but getting yardage on the ground and keeping Kaepernick off the field will surely help Green Bay's cause as much the relief that it would give Rodgers. But here's the rub -- San Francisco is a monster against the run. The 49ers allowed just 3.7 yards per rush last season, third-best in the NFL. The Packers will be hard-pressed to break their streak of 43 regular-season games without a 100-yard rusher.
Demovsky:
Bill, we've spent a lot of time talking about how the Packers are going to defend Kaepernick & Co., but don't forget that January's playoff game was tied 24-24 midway through the third quarter, and the Packers' offense was having a decent day -- Rodgers throwing for 257 yards, two touchdowns and an interception. Can the 49ers secondary hold up against Rodgers and the likes of
Randall Cobb
,
James Jones
and
Jordy Nelson
?
Williamson:
A fine point. Look, the Packers are legitimate. They will not be embarrassed in this game. Rodgers is the best player on the planet. He and his receivers must be accounted for. If the 49ers are vulnerable on defense, it might be in the secondary, where they have the oldest defensive backs in the league. Can older players like
Carlos Rogers
and
Nnamdi Asomugha
(who may be slowed by a collarbone injury) keep the Green Bay passing game honest? If Green Bay is going to win this game, it's going to be because Rodgers is unstoppable. That's possible.
Rob, as we have discussed the major talking points of this anticipated matchup, an intriguing side story has developed. The Packers have brought in a pair of former 49ers backup quarterbacks in
Seneca Wallace
and
Scott Tolzien
. Do you think they can help Green Bay pull out a victory from the meeting room?
Demovsky:
I doubt Wallace can. He wasn't even with the 49ers for a full week. But you'd better believe they've grilled Tolzien about the 49ers. In fact, I wouldn't be surprised if that's the biggest reason they brought him in, and if they end up cutting him from the practice squad in a week or two. Now, Tolzien probably won't know much about the 49ers' game plan for this week, but considering he was with them for both meetings against the Packers last season, he likely has a good working knowledge of how Harbaugh wants to go after Green Bay.
Williamson:
I'm with you. These moves add some strategy elements, but this is going to be a big-boy game pitting two of the NFL's finest teams against one another. Once the game starts, this thing is going to all about
Patrick Willis
,
Vernon Davis
, Kaepernick, Rodgers and Matthews.