Green Bay Packers:

Shea McClellin
January, 17, 2014
Jan 17
12:15
PM ET
GREEN BAY, Wis. -- The
Green Bay Packers
were on the field for more than 2,000 plays combined on offense and defense this season and several hundred more on special teams.
As we look back on the season, we will examine 10 plays, subjectively chosen, as the ones that most shaped the Packers' season that ended with the 23-20 NFC wild-card playoff loss to the
San Francisco 49ers
at Lambeau Field.
The list, so far, in reverse order:
No. 10
:
Micah Hyde
's near
interception against the 49ers
.
No. 9
: Enter
Matt Flynn
in
relief against the Vikings
.
No. 8
:
Johnathan Franklin
's fourth-and-1
fumble against the Bengals
.
No. 7
:
Eddie Lacy
's 60-yard
run against the Cowboys
.
No. 6 (and 6a)
:
Sam Shields
' interception in
the fourth quarter against the Cowboys
(and
Tramon Williams
' interception against the Cowboys in the fourth quarter).
No. 5
:
Clay Matthews
breaks his
thumb against the Lions
.
No. 4
:
Randall Cobb
fractures his
tibia against the Ravens
.
No. 3
:
Jermichael Finley
sustains
career-threatening neck injury
.
No. 2
:
Aaron Rodgers
' 48-yard
touchdown pass
to Cobb against the Bears.
Here's No. 1
:
Date
: Nov. 4, 2013.
Location
: Lambeau Field.
Game
: Packers vs. Bears.
The play
: Bears defensive end
Shea McClellin
's first quarter sack of Rodgers.
Why it mattered
: Rodgers fractured his left collarbone on the play and would miss the next seven games, a stretch during which the story of when he would return dominated the news. The Packers used three different quarterbacks --
Seneca Wallace
,
Scott Tolzien
and finally Flynn -- during that stretch in which they went five games without a victory (including one tie) before Flynn led them to a pair of comeback victories against the Falcons and Cowboys in back-to-back weeks. Rodgers finally returned for the regular-season finale against the Bears, when he threw the 48-yard touchdown pass to Cobb (our No. 2 play) for the game-winning score with 38 seconds remaining.
Quotable
: "We haven't handled
Aaron Rodgers
' departure [well]," coach Mike McCarthy said on Nov. 24 after the Packers dropped to 0-4-1 since Rodgers went down. "I haven't talked about it on purpose. That hasn't worked, and we all need to step up as a football team and take advantage of these opportunities."
January, 3, 2014
Jan 3
4:50
PM ET
GREEN BAY, Wis. --
A.J. Hawk
's hit on
Chicago Bears
receiver
Marquess Wilson
in the fourth quarter of last Sunday's game didn't cost the
Green Bay Packers
anything on the field, but it cost Hawk $15,780 in the form of a fine from the NFL.
Although it went unpenalized by referee Clete Blakeman's crew, the NFL deemed that Hawk struck a defenseless player using the crowd of his helmet after Wilson caught a short pass over the middle.
Had the penalty been called, the Bears would have been at the Packers' 23-yard line. Instead, from the Packers' 38, the Bears were called for an illegal formation penalty, lost 5-yards on a second-down run and ended up punting.
Bears defensive end
Shea McClellin
was not penalized for his unnecessary roughness penalty for a late hit on Packers quarterback
Aaron Rodgers
in the second quarter.
December, 27, 2013
12/27/13
11:00
AM ET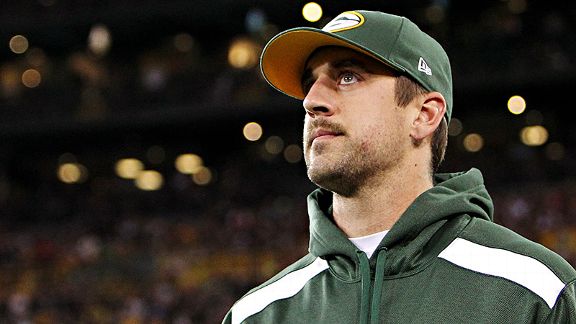 Mike McGinnis/Getty ImagesIn his first game back from injury, the Packers have to find a way to keep quarterback Aaron Rodgers on his feet.
GREEN BAY, Wis. -- Aaron Rodgers' broken collarbone has healed to the point where the
Green Bay Packers
feel comfortable putting their franchise quarterback back on the field.
On Thursday, when he announced Rodgers would start Sunday's regular-season finale at the
Chicago Bears
, Packers coach Mike McCarthy said: "It's time to play football."
But neither McCarthy nor Rodgers would discuss the medical specifics of what led them to this decision when only a week earlier, it was not time.
Even if team physician Dr. Pat McKenzie was able to assure them that Rodgers was no more susceptible to the injury than he was before -- and even that was not known -- the Packers would rather not find out how much punishment the quarterback's collarbone can withstand. In order for that to happen, those charged with protecting Rodgers -- his offensive line, tight ends, running backs and even McCarthy with his play calling -- will need to be on high alert in Sunday's game against the Chicago Bears.
"No question, there's definitely an added urgency to keeping Aaron clean in the pocket," said Packers running backs coach Alex Van Pelt, whose players are often charged with picking up blitzing defenders. "There's no question. I don't think we need to coach our guys any differently. Their responsibilities or who they have, that's all game-planned during the week and prepped on their part, but yeah, I'm sure they're feeling a little more pressure to keep him clean, which is understandable, obviously."
Despite the rules designed to protect quarterbacks, Rodgers doesn't play in a bubble. He's going to get hit. Perhaps the better question is what kind of hits can he take and what kind would be most problematic for his collarbone?
Surprising as it may be, a blindside hit -- like the kind backup quarterback
Matt Flynn
took from
Atlanta Falcons
safety
William Moore
in the Dec. 8 game at Lambeau Field -- might not be the most dangerous. Sure, Flynn had no time to brace himself for Moore because he didn't see him, but the fact that Moore didn't drive him into the ground with all of his force made the hit less dangerous.
"The most vulnerable situation is when there's compression, such as with [Rodgers'] first injury," said ESPN injury analyst Stephania Bell, a physical therapist who is a board-certified orthopedic clinical specialist. "That doesn't mean he couldn't absorb that, but there's no way to know for sure."
Rodgers broke his left collarbone on Nov. 4 when Bears defensive end
Shea McClellin
sacked him and then landed on Rodgers with all of his body weight. According to Bell, the combination of Rodgers landing on the ground with one shoulder and McClellin's weight on his other likely caused his collarbone to buckle.
Protecting Rodgers in the pocket is one thing, but he also likes to get outside and make improvisational plays. He was rolling out to his right when McClellin hit him.
"He can make plays with his feet, he can make throws that most quarterbacks in this league can't make," Packers left guard
Josh Sitton
said. "Sometimes, you look at some of his throws, you're like, 'Where the hell is he throwing the ball?' And it's a catch somehow. He's a special player and we're happy to have him back."
The task now is keeping him healthy. Maybe McCarthy will do that by using a variety of quick throws and three-step drops rather than five- and seven-step drops that could leave Rodgers more vulnerable to getting hit.
Rodgers was sacked 18 times in the first seven-plus games of the season. His' replacements --
Seneca Wallace
,
Scott Tolzien
and Flynn -- were sacked 24 times in seven-plus games.
"I'm sure that Aaron's going to get hit; he's going to get knocked down at some point," Van Pelt said. "That's just the way the football game goes. But those guys I'm sure have a little added urgency to keep him clean."
At other times while he was recovering from his injury, Rodgers said there are things the equipment and medical staffs can do to add protection to his collarbone area. But on Thursday, he would not say whether he would use any.
Protecting Rodgers from dangerous hits is critical, but it's also important for Rodgers to take a hit so that he knows his collarbone can withstand it.
"I'm sure that every guy that comes back when they first step onto the field there's some emotional hurdles that they need to get over," Packers quarterbacks coach Ben McAdoo said. "But I think that's everyone, and I think that's all injuries. But other than that, it's up to the athlete to get through that."
December, 26, 2013
12/26/13
5:35
PM ET
GREEN BAY, Wis. -- As quarterback
Aaron Rodgers
' passes zipped around the Don Hutson Center on Thursday,
Green Bay Packers
' receivers seemed to have an extra inch or two to their vertical jumps and their offensive linemen appeared to hold their blocks for a second or two longer.
OK, maybe not.
But things felt -- and looked -- different at practice on Thursday.
Can Rodgers' return from his Nov. 4 broken collarbone have that big of an impact?
"That's why you pay him so much money because he makes everyone else better," Packers receiver
James Jones
said. "If he was just a one-man show and only made himself better, he probably wouldn't be a $100 million man, but he makes this team a thousand times better."
From his rocket arm and improvisational skills outside the pocket to his ability to read defenses and make the right adjustments at the line of scrimmage, Rodgers can do things that few other quarterbacks can. Certainly not
Seneca Wallace
,
Scott Tolzien
and
Matt Flynn
-- the trio of backups that combined to go 2-5-1 in games Rodgers did not start or finish.
Time and again since Rodgers broke his left collarbone when
Chicago Bears
defensive end
Shea McClellin
sacked him in the first quarter of the Week 9 game at Lambeau Field, numerous teammates have referred to Rodgers as not only the best quarterback in the NFL but also as the best player in the league.
When you're a player of that caliber, teammates don't just play with you, they play for you.
"I think one of Aaron's strengths is he brings out the best in those around him in a lot of different ways," Packers quarterbacks coach Ben McAdoo said. "And that's a special quality that he has."
As big of an impact as Rodgers has on the X's and O's of football, his influence on his teammates psyche may be just as important, although more difficult to measure.
Not that receivers such as Jones or
Jordy Nelson
weren't selling out to catch passes from Flynn the past month. Not that offensive linemen
David Bakhtiari
,
Don Barclay
,
Evan Dietrich-Smith
,
T.J. Lang
and
Josh Sitton
weren't pass protecting as well as they could. But players like Rodgers have a way of elevating the play of those around them.
It may not be something they even realize or can measure but deep down in their subconscious, it's there.
That said, the Packers have to be careful not to take on the attitude that Rodgers' return will cure everything. Perhaps that's why when coach Mike McCarthy announced in Thursday's morning's team meeting the Packers are preparing for Rodgers to start Sunday's game against the Bears, there was no cheering or hooting and hollering.
"Aaron even let us know that," Jones said. "Just cause he's back, it don't guarantee nothing. We've got to go out there and play. He's got to play at a high level, we've got to play at a high level, and we've got to win a game."
December, 12, 2013
12/12/13
7:45
PM ET
GREEN BAY, Wis. -- In front of a semicircle of camera operators and reporters surrounding his locker on Thursday,
Green Bay Packers
quarterback
Aaron Rodgers
answered five minutes worth of questions about his collarbone injury.
The queries came rapid-fire:
What was your level of pain this week?
Are you holding out hope to play Sunday against the Dallas Cowboys?
When will you have another scan?
How frustrating has this process been?
Are you surprised by the day-to-day coverage of your injury?
On and on it went until every possible way to ask him when he will be back on the field had been exhausted.
But not one of the questioners asked anything about how well Rodgers thinks he will perform whenever he returns -- whether it's this Sunday against the Dallas Cowboys, the next Sunday against the
Pittsburgh Steelers
or in 2014.
[+] Enlarge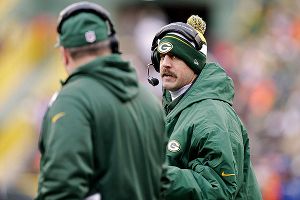 Tom Lynn/Getty ImagesMike McCarthy isn't worried about rust with Aaron Rodgers. "The thing you appreciate is my man can throw the football," McCarthy said. "He throws the heck out of it."
Perhaps that's because everyone just expects Rodgers to return to his pre-injury form. Through seven games, Rodgers had led the Packers to a 5-2 record. He had the NFL's fourth-highest passer rating (108.0), the fourth-best touchdown-to-interception ratio (15-to-4), the fifth-highest completion percentage (67.1 percent) and the most yards per pass attempt (8.8).
Before
Chicago Bears
defensive end
Shea McClellin
sacked Rodgers and put him into the ground left-shoulder first on Nov. 4, Rodgers had been doing the things he had always done.
But is it reasonable to expect that to continue after the longest layoff of his career as a starter, which dates to the beginning of the 2008 season?
Before this injury, Rodgers had missed only two starts -- one in 2010 because of a concussion and one in 2011 when he was rested in a meaningless Week 17 game.
"We've been around long enough that, when he comes back, we expect him to be the way he's been," Packers receiver
Jordy Nelson
said Thursday, standing across the locker room from where the masses were waiting for Rodgers. "I don't think the situation is, 'How is he going to play?' It's, 'What can he take as far as hits?'
"Any player with a broken bone, yeah, you might be able to do some stuff, but until you take that blow, there's only one way to find out. We have to make sure that all the scans are right, and him and the doctors will take care of that."
Packers coach Mike McCarthy put it a little more succinctly after watching Rodgers practice on Thursday.
"He's Aaron Rodgers," McCarthy said. "The thing you appreciate is my man can throw the football. He throws the heck out of it. It's good to have him out there."
Rodgers said Thursday that he would need to
practice more on Friday in order to play
against the Cowboys.
But that's likely for medical purposes and to become familiar with the game plan -- not because Rodgers needs the work.
"You know, in teams reps I haven't seen any rust," Packers quarterbacks coach Ben McAdoo said. "He's been working in the individuals with us for a few weeks now, so I haven't seen any at this point.
"He's been in the offense forever, and the offense is built around him, and we don't anticipate any problems if he were to go."
Perhaps that's why it's not even worth questioning.
November, 4, 2013
11/04/13
11:41
PM ET
GREEN BAY, Wis. -- A few thoughts on the
Green Bay Packers
' 27-20
loss
to the
Chicago Bears
on Monday night:

What it means:
The Packers are in serious trouble if the left-shoulder injury quarterback
Aaron Rodgers
sustained in the first quarter is serious. If it turns out to be something like a broken collarbone, Rodgers almost certainly would miss multiple weeks. Rodgers landed hard on his left shoulder after he was sacked by Bears defensive end
Shea McClellin
on the game's opening series and did not return. Based on what we saw from backup quarterback
Seneca Wallace
, it will be incredibly difficult for the Packers' offense to function at anything close to a high level in the passing game. The loss dropped them to 5-3 and into a three-way tie for first place in the NFC North with the Bears and the
Detroit Lions
.
Stock Watch:
So the Packers' running game is for real. Even without much threat of a passing game, the Packers still ran the ball at will. After Rodgers left the game,
James Starks
had a 32-yard touchdown run, and
Eddie Lacy
ripped off a 56-yard run in the third quarter to set up his 1-yard touchdown run that tied the game at 17-17 with 13 minutes, 8 seconds left in the third quarter. The Packers rushed for a season-high 199 yards, including 150 by Lacy on 22 carries.
Gutsy call:
After Lacy's game-tying touchdown, coach Mike McCarthy made the bold decision to try an onside kick, which worked to perfection.
Mason Crosby
hit the kick that was recovered by Packers linebacker
Jamari Lattimore
. The Packers turned that into a field goal that gave them a 20-17 lead.
Injuries galore:
Rodgers wasn't the only player the Packers lost to injury. Right guard
T.J. Lang
sustained a concussion and did not play in the second half. Right tackle
Don Barclay
moved to right guard, while
Marshall Newhouse
came off the bench to play right tackle. Linebackers
Andy Mulumba
(ankle) and
Sam Barrington
(hamstring) also were injured.
What's next:
The Packers host the
Philadelphia Eagles
on Sunday at Lambeau Field.