Green Bay Packers:

Sterling Sharpe
November, 9, 2014
11/09/14
1:40
PM ET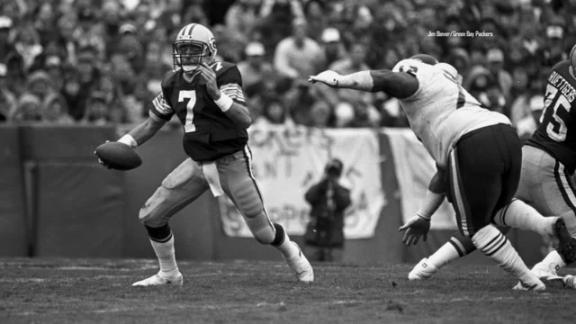 GREEN BAY, Wis. -- At the end of
Jeremy Schaap's "Sunday NFL Countdown" piece
on the Nov. 5, 1989 game between the
Green Bay Packers
and
Chicago Bears
at Lambeau Field -- aka "The Instant Replay Game" -- Don Majkowski had a message for Mike Ditka.
The Packers quarterback -- who on that day threw the game-winning 14-yard touchdown pass to Sterling Sharpe, a play on which Majkowski was initially ruled to have crossed the line of scrimmage only to be overturned by the replay official in the booth -- looked directly into the camera said this to the former Bears coach:
"Coach Ditka, you've got to let this one go. It's time to relax. They made the right call. All I've got to say to you: C'mon, man."
Ditka, in ESPN's "Sunday NFL Countdown" studio, had this response:
"I love Don; he was a competitor. I loved him. He was a great guy. The only thing I'll say very honestly, if this game would've been played in Chicago, the call would've been upheld. It's that simple. This was a homer deal. Period. The guy up there was a homer. I don't care who he was. If he was an official in the National Football League, then he's lousy. But if it would have been in Chicago, we would've had our own guy up there.
"It does not bother me right now."
And then Ditka paused and roared: "It just makes me mad."
But Ditka, who was said to be incensed at the time, then let out a few chuckles and said, "I'm just kidding."
October, 16, 2014
10/16/14
8:00
AM ET
A roundup of what's happening on the Green Bay Packers beat.
GREEN BAY, Wis. --
Jordy Nelson
's pace has slowed slightly since last we checked, but not by much.
After four games, the Packers receiver
led the league in both catches and yards
and was on pace for a 132-catch, 1,836-yard season.
Now, after six games, he stands third in catches (43) but remains on top in receiving yards (632) and his pace -- 115 catches for 1,685 yards -- would still set career highs.
And guess what? Just like when he was asked about it two weeks, Nelson's answer this week was pretty much the same.
"It's what, six games through?" Nelson said. "To me, it's a random stat. To me there's areas, trust me I wish there would be more catches on there already just based off the things I could have done better. It's great, but that's not our goal is those numbers. That's something hopefully we can accomplish, the main goal at the end of the season, and then look back and see what all of our numbers are at the end of the year."
Still, Nelson is in some elite company. His 43 catches are tied for the most in Packers' history through six games with Sterling Sharpe, who did it in his 112-catch season of 1993.
Dating to last year's regular-season finale, Nelson has five games with at least nine catches. He's the first player in the NFL to record at least nine receptions five times in a seven-game stretch since
Calvin Johnson
did so late in the 2012 season.
In case you missed it from ESPN.com
:
Best of the rest
:
July, 11, 2014
7/11/14
10:00
AM ET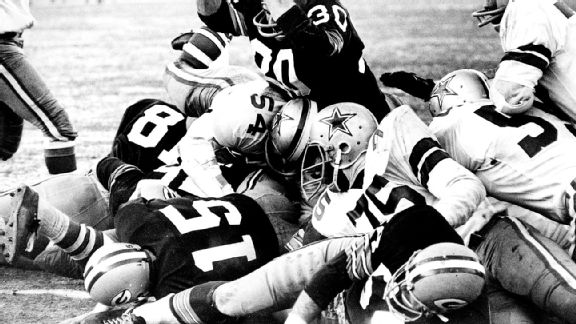 John Biever/Icon SMI
We have a winner. The voters picked Bart Starr's quarterback sneak for a touchdown to win the Ice Bowl as the Packers' most memorable play, and I applaud their selection.
Score:
Packers 21, Cowboys 17
Date:
Dec. 31, 1967
Site:
Lambeau Field
From the moment we began soliciting nominations for the
Green Bay Packers
' three most memorable plays, Bart Starr's quarterback sneak for a touchdown to win the Ice Bowl was mentioned more often than any other play.
So it should come as no surprise that it was the runaway winner in the voting.
Few NFL franchises have one defining play like that, but Starr's sneak ranks up there with
the Immaculate Reception
and
The Catch
.

When the voting closed on Thursday, Starr's play finished as a landslide winner over Brett Favre's 54-yard touchdown pass to Andre Rison in Super Bowl XXXI and
Aaron Rodgers
' third-and-10 completion to
Greg Jennings
to help clinch Super Bowl XLV.
What was most interesting in researching this project was that there was no consensus on the most memorable plays from Super Bowls XXXI and XLV. There was just as much support for Desmond Howard's 99-yard kickoff return for a touchdown that helped him win the Super Bowl XXXI MVP. Likewise in Super Bowl XLV, strong cases could be made for Nick Collins' interception return for a touchdown in the first quarter and
Clay Matthews
' forced fumble that thwarted a potential go-ahead drive by the Steelers in the fourth quarter.
Unlike Starr's sneak, no one play won Super Bowls XXXI or XVL.
And that is why Starr's play was so special.
As we wrap up this project, it's also worth noting some of the other plays that were considered, thanks in part to input from readers and other longtime observers of the team.
Among the others:
Don Hutson's first touchdown, an 83-yarder in 1935.

Dave Robinson drilling Don Meredith, leading to Tom Brown's interception to beat the Cowboys in the 1966 NFL Championship.

Herb Adderley's interception against the Lions in a 1962 regular-season game to set up the game-winning field goal in a 9-7 victory.

Chester Marcol's blocked field goal that he ran in for a touchdown to beat the Bears in 1980.

Don Majkowski to Sterling Sharpe for a 14-yard touchdown pass in 1989 against the Bears in what is known as the Instant Replay Game.

Favre to Sharpe in Detroit for a 40-yard touchdown with 55 seconds remaining in a 1994 playoff game.

Antonio Freeman's "Monday Night Miracle" catch to beat the Vikings in 2000.

B.J. Raji's interception return for a touchdown against the Bears in the NFC Championship Game in 2011.

The "Fail Mary" play against the Seahawks in 2012.
The problem with some of those plays is they were either flukes or meaningless plays in meaningless games. Oh, and there was one other play that a longtime Packers observer was convinced would be the most important play in team history if there more details about it were available. It was a punt, said to be nearly 90 yards by Verne Lewellen in a 1929 game against the
New York Giants
. That punt pinned the Giants deep in their own territory and helped secure a victory that was the difference between the teams in the standings (there were no playoffs at that time). The Packers, with a 12-0-1 record, won the championship over the Giants, whose only loss was to the Packers. It gave the Packers their first championship and, because it happened in New York, helped the Packers capture the attention of the powerful New York media. However, reports from that game do not clearly describe Lewellen's punt.
In the end, Starr's sneak is the play that has been, and likely will continue to be, the most memorable.
January, 28, 2014
1/28/14
8:00
AM ET
A roundup of what's happening on the Green Bay Packers beat.
GREEN BAY, Wis. -- Packers running back
Eddie Lacy
may indeed win the NFL's offensive rookie of the year, an award that will be announced Saturday night in New York at the third annual NFL Honors.
Lacy
But you can't tell from the guest list at the awards program to held at Radio City Music Hall.
Sure, Lacy, fresh off his Pro Bowl appearance, was on the list released by the league on Monday.
But so was
San Diego Chargers
receiver
Keenan Allen
, who might be Lacy's top competition for the award. And so was
Minnesota Vikings
receiver/kick returner
Cordarrelle Patterson
, who also could be under consideration.
Among the others with ties to the Packers that are scheduled to appear are quarterback
Aaron Rodgers
, receiver
Randall Cobb
and former Packers players
Mark Brunell
,
Ahman Green
and
Sterling Sharpe
.
Former Packers quarterback
Brett Favre
, who
appeared on stage at last year's event
with Rodgers, was not on the list.
Rodgers will be in New York on Friday to accept
the 2014 Bart Starr Award
given to one NFL player for outstanding character and leadership on the field and in the community.
Rodgers and Cobb also are among the nominees for the NFL's Never Say Never Moment for their game-winning 48-yard touchdown in Week 17 against the
Chicago Bears
that clinched the NFC North title. That award also will be presented at the NFL Honors program.
In case you missed on ESPN.com
:
Best of the rest
:
In the Green Bay Press-Gazette, Scott Williams got a look at a Coca-Cola commercial that was filmed in and around Lambeau Field and will air during Super Bowl XLVIII.
In the Milwaukee Journal Sentinel, Bob McGinn wrote about Denver Broncos owner Pat Bowlen's ties to Wisconsin, where he played high school football in a small town in the southwest corner of the state.
November, 21, 2013
11/21/13
8:00
AM ET
A roundup of what's happening on the Green Bay Packers' beat.
GREEN BAY, Wis. -- On Wednesday evening, the Pro Football Hall of Fame announced the
25 semifinalists for the 2014 class
.
Among them was current Packers outside linebackers coach Kevin Greene. He made the first cut for the eighth straight year. The five-time Pro Bowl selection played 15 seasons for four different teams and ranks third on the career sacks list with 160, which is first among linebackers.
But from the Packers' standpoint, Wednesday's announcement may have been more notable for who didn't make the cut. Neither former coach Mike Holmgren nor former general manager Ron Wolf, the men perhaps most responsible for turning around Green Bay's football fortunes in the 1990s, made the list. They were among the
126 preliminary candidates
announced in September.
For Holmgren, who led the Packers to the Super Bowl XXXI title and another appearance in Super Bowl XXXII, it was his first year of eligibility.
Among others with Packers' ties who did not make the cut were receiver Sterling Sharpe, safety LeRoy Butler and the father of current Packers linebacker Clay Matthews.
The list of 25 semifinalists will be reduced to 15 plus two recommendations from the seniors committee, punter Ray Guy and defensive end Claude Humphrey, on Jan. 8. Those who will be enshrined in Canton, Ohio, will be announced on the eve of Super Bowl XLVIII.
In case you missed it on ESPN.com:
Elsewhere:
On ESPNWisconsin.com, Jason Wilde used a screen shot from the TV broadcast to show a play in which Lacy faced eight defenders in the box.
In the Green Bay Press-Gazette, Weston Hodkiewicz wrote that while the Packers believe backup quarterback Scott Tolzien is good enough to lead them to victories, they need help from other areas – like defense and special teams.
In the Milwaukee Journal Sentinel, Tom Silverstein broke down four of the big plays that the Packers' defense gave up in Sunday's loss to the Giants and put the blame on the secondary -- and not on defensive coordinator Dom Capers -- and Tyler Dunne's notebook leads with an item on receiver James Jones, who despite returning to action is still battling his knee injury.