Green Bay Packers:

Terrence Murphy
July, 28, 2014
Jul 28
5:00
PM ET
GREEN BAY, Wis. --
Johnathan Franklin
stood on the sideline at practice on Monday and had a smile on his face -- just like he always did last season as a rookie running back for the
Green Bay Packers
.
But this time, it was for a different reason.
Franklin
It was because one by one, players like
Eddie Lacy
,
Randall Cobb
and
Jordy Nelson
approached him on the sideline.
They all wanted to know how Franklin was doing less than two months after the Packers deemed it was
no longer safe for him to play football
and released him following a neck injury late in his rookie season.
Although the Packers said Franklin was not available to talk to reporters, his smile -- along with what one of his former teammates had to say -- was enough to let everyone know how he's doing.
"Just seeing him around here, that's the kind of guy he is," said Packers defensive end
Datone Jones
, who also was a college teammate of Franklin's at UCLA. "He loves football. He loves embracing the team and bringing the team up. He carries an aura with him. He has a gift to brighten people's days. He lets you know that everything is all right and life will go on."
Jones and his teammates might see more of Franklin. Coach Mike McCarthy said the Packers would like to find a non-playing role in the organization for the former fourth-round pick. It would not be the first time a player whose career was cut short because of a neck injury returned in a different capacity. Former receiver Terrence Murphy, who like Franklin was cut down in his rookie season of 2005, returned in 2007 as a coaching intern.
"He's as fine as a young man that's ever walked through these doors in my time here," McCarthy said of Franklin. "It's great to have him back."
June, 19, 2014
Jun 19
5:35
PM ET
GREEN BAY, Wis. -- The last day of minicamp typically has a last-day-of-school feeling, with players eager to begin their summer break, but spirits were dampened in the
Green Bay Packers
' locker room on Thursday after receiving word that running back
Johnathan Franklin
's neck injury
will end his career
with the team and most likely in the NFL.
At one end of the locker room was fellow running back
DuJuan Harris
, whose only concern for Franklin was his future health.
"It's not about football; it's way beyond football," Harris said. "Damn football. This is his life. I'm not thinking about football."
[+] Enlarge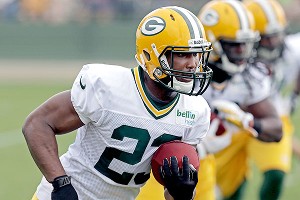 AP Photo/Morry GashRunning back Johnathan Franklin had 19 carries for 107 yards and one touchdown last season.
At the other end of the locker room was defensive end
Datone Jones
. No one with the Packers goes back further with Franklin than Jones. They grew up near each other in Los Angeles and committed to UCLA on the same day.
"To see him work so hard to actually make his dream come true and make it to the NFL, man, it's tough to see it end this way, because I knew how hard he worked," Jones said. "He's a special guy. He was a special guy at UCLA, and not only on the field but off the field. He was very involved off the field. One thing I do know: he has a calling outside of football to lift people and bring people's spirits up. Hopefully he can pursue his dream to become the mayor of L.A."
In the middle of the room was running back
Eddie Lacy
, Franklin's roommate in training camp last season. The Packers picked Lacy and Franklin in the same draft last year, two rounds apart. The two expected to be tied together for years to come.
"He shot everybody in the running back group a text, and it just makes you cherish the moments that you get to play," Lacy said. "We came in together. We got to know each other real good and we spent a lot of time together. He was just starting [his career], and just like that, as fast as you get it, it can be taken away. But from talking to him and still being around him, he has a great personality. He's going to be down a little bit, but that's just any player. He's definitely going to remain positive and keep his faith, so I know no matter what he does after this, he's going to give his all and his personality is great."
Franklin was one of three Packers' players to suffer a serious neck injury last season. The other two players -- tight end
Jermichael Finley
and defensive tackle
Johnny Jolly
-- are currently out of football.
Since 2000, the Packers have had at least nine players suffer significant neck injuries. Of that group -- safety Gary Berry, receiver Terrence Murphy, offensive lineman Tony Palmer, defensive end/outside linebacker Jeremy Thompson, safety Nick Collins, safety
Sean Richardson
, Finley, Jolly and Franklin -- only Richardson has returned to play.
Like Franklin, Murphy, a second-round pick in 2005, suffered a neck injury as a rookie.
Franklin missed the entire offseason program and did not attend the final minicamp practice.
Word that the Packers were concerned that Franklin would not be able to return first came on Wednesday,
when two sources told ESPN.com
that Franklin's football future was in jeopardy.
May, 10, 2014
May 10
12:55
AM ET
GREEN BAY, Wis. -- You can't accuse Ted Thompson of failing to give his quarterback enough weapons.
When he selected Fresno State receiver
Davante Adams
in Friday's second round at No. 53 overall, it was the sixth time in his career the
Green Bay Packers
general manager has drafted a receiver in the third round or higher.
No wonder quarterback
Aaron Rodgers
tweeted the following moments after Thompson made the pick:
Love it.

— Aaron Rodgers (@AaronRodgers12) May 10, 2014
Thompson, in his 10th year running the Packers' draft room, has a history of drafting -- and drafting well -- receivers in the second and third rounds. He found
Randall Cobb
(2011),
Jordy Nelson
(2008) and
Greg Jennings
(2006) in the second round. He also took
Terrence Murphy
in Round 2 in 2005, but Murphy's career was cut short months into his rookie year due to a neck injury. And he found
James Jones
, the receiver Adams perhaps best resembles, in the third round in 2007.
When asked about his success with receivers in the second round, Thompson knocked on the wood podium where he stood to address reporters Friday.
"Athletically, they're similar in some respects and different in others," Thompson said. "Again, if you get back to it, their ball skills are all remarkable. Jordy and Randall and, like you said, Greg and those guys. And that's the first and foremost thing we look for. If I was going to get stuck on one thing it would be that. And they're good people. All those guys that you mentioned are good people and good teammates, and that's what this kid's supposed to be too."
In the 12 years before Thompson was hired as general manager, the Packers' previous two general managers (Ron Wolf and Mike Sherman) drafted only five receivers in the third round or higher. One of them, however, was first-round pick
Javon Walker
(2002).
One of Wolf's greatest regrets was not drafting more help for
Brett Favre
.
Thompson, who learned his craft under Wolf, has not simply relied on his standout quarterback to make his receivers better.
Adams caught 131 passes -- the most in the FBS last season -- as a redshirt sophomore and had 24 receiving touchdowns with fellow second-round pick Derek Carr as his quarterback. Adams ranked second in the country in yards after the catch with 888.
Adams was the ninth receiver taken in a year when a record 12 went in the first two rounds. Thompson took him instead of Indiana's Cody Latimer, among others. Latimer went three picks later to the
Denver Broncos
.
"I guess they say it's one of the deepest classes since the draft has been in existence," Adams said. "It's great to be a part of it. There's definitely guys who have gone that are great players and there are guys that are continuing to go now that are great players. So we'll see as everything unfolds how everything ends up. But it's definitely a very deep class with a lot of talent."
May, 9, 2014
May 9
9:01
PM ET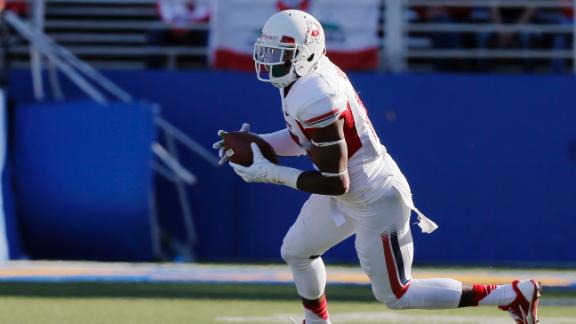 GREEN BAY, Wis. --
The pick:
Davante Adams
, WR, Fresno State
My take:
Over the last two years, the
Green Bay Packers
have lost their career receiving leader (
Donald Driver
) to retirement, a Pro Bowler (
Greg Jennings
) to the
Minnesota Vikings
in free agency and an underappreciated veteran (
James Jones
) to the
Oakland Raiders
in free agency. They needed to fortify their receiving corps even though they still have a pair of standouts in
Randall Cobb
and
Jordy Nelson
. They also are high on
Jarrett Boykin
, who had a breakout season last year with 49 catches. Cobb and Nelson are entering the final years of their contracts, but this pick should not change the fact that they both will be extended. The Packers' strength is their passing game, so why not give
Aaron Rodgers
more help?
Second-round success:
General manager Ted Thompson has done well with second-round receivers. He picked Jennings in 2006, Nelson in 2008 and Cobb in 2011 -- all in Round 2. Also, he drafted receiver
Terrence Murphy
in 2005's second round, but Murphy's career came to an abrupt end because of a neck injury.
What's next
: The Packers have two picks in the third round, Nos. 85 and 98. The 98th pick is a compensatory selection that cannot be traded.
May, 5, 2014
May 5
8:00
AM ET
GREEN BAY, Wis. -- Since he took over as general manager of the
Green Bay Packers
in 2005, Ted Thompson has drafted 87 players.
Leading up to this year's draft, in which Thompson currently has nine picks, we will look at his best and worst selections in each round.
We'll start at the bottom and work our way up. So far, we've looked at the seventh, sixth, fifth, fourth and third rounds.
Next up is Round 2.
Total players drafted
: 13.
By position
: Receivers 4, running backs 2, cornerbacks 2, defensive ends 2, guards 1, quarterbacks 1, safeties 1.
Best pick
:
Nick Collins
, S.
By age 27, Collins (No. 51 overall, 2005) was already a three-time Pro Bowl selection. But his career was cut down in its prime when he sustained a neck injury against the
Carolina Panthers
in Week 2 of the 2011 season. He has not played since despite his desire to return. The Packers released him the next offseason and have struggled to replace his playmaking ability from the safety position.
Honorable mention:
Greg Jennings
, WR (No. 52, 2006),
Jordy Nelson
, WR (No. 36, 2008),
Randall Cobb
, WR (No. 64, 2011),
Eddie Lacy
, RB (No. 61, 2013).
Worst pick
:
Brian Brohm
, QB.
The third quarterback taken in the draft -- behind
Matt Ryan
and
Joe Flacco
-- Brohm (No. 56, 2008) struggled from the outset and lost the backup quarterback job to another rookie, seventh-round pick
Matt Flynn
. After spending the season as the third-stringer, he failed to even make the team in his second year. The Bills signed him in 2009, and he appeared in three games over two seasons in Buffalo.
Dishonorable mention:
Pat Lee
, CB (No. 60, 2008),
Brandon Jackson
, RB (No. 63, 2007),
Jerel Worthy
, DE (No. 62, 2012),
Terrence Murphy
, WR (No. 58, 2005).
Notes
: Thompson has selected almost as many Pro Bowlers in the second round (three -- Collins, Jennings and Lacy) as he has in the first round (four --
Aaron Rodgers
,
Clay Matthews
,
A.J. Hawk
and
B.J. Raji
). ... Nearly half of his second-round picks (Lacy, Worthy, Cobb, Nelson,
Casey Hayward
and
Mike Neal
) remain on the roster. Two others (Jennings and
Daryn Colledge
) played for other teams last season. ... Murphy's career ended after just three games because of a neck injury.