Green Bay Packers:

Toby Gerhart
January, 17, 2014
Jan 17
4:15
PM ET
GREEN BAY, Wis. -- If we're being honest here, I should admit to feeling a little afraid of
Kevin Greene
the first time I met him.
Those wild eyes in front of that flowing blonde hair, his hulking 6-foot-3 frame, the memories of watching what he did to opposing quarterbacks -- sacking them 160 times in his 15-year NFL playing career -- and his brief stint as a professional wrestler are more than enough to make you feel a little intimidated.
It takes a while for that to go away.
[+] Enlarge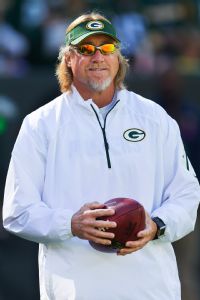 Jeff Hanisch/USA TODAY SportsOutside linebackers coach Kevin Greene cared about his players, often referring to them as "my kids."
It was just starting to do so in November of 2010, when Greene was halfway through his second season as the
Green Bay Packers
' outside linebackers coach. That's when he cornered me in the hallway outside the locker room and wanted to discuss something that appeared in the Green Bay Press-Gazette, my employer at the time, under my byline.
It was a story that was critical of rookie outside linebacker
Frank Zombo
, who in the previous game against the
Minnesota Vikings
had missed an open-field tackle that allowed running back
Toby Gerhart
to convert a third-and-12 dump-off pass into a first down.
Greene asked -- make that told -- me to follow him down the hallway, something that was highly unusual because it was an area normally restricted to reporters, and into the outside linebackers meeting room. He closed the door and opened with this:
"What you wrote about Frank Zombo was unnnnnnnnnjustified," holding the "n" for several seconds.
Over the next 15 minutes, Greene showed about 20 clips from the Vikings' game. He conceded that the missed tackle of Gerhart was a bad play, but he wanted to make it perfectly clear that he felt Zombo was playing well.
From that film session, a story was born and appeared in the Nov. 26, 2010, edition of the Press-Gazette. Here's an excerpt:
So Greene cued up play after play.

He showed Zombo in perfect position when dropping in coverage to defend the hook-curl area in the middle of the field.

He showed Zombo knocking one of the Vikings' guards back into the fullback, which freed up inside linebacker A.J. Hawk to tackle Adrian Peterson for a short gain.

He showed Zombo, all 6-foot-3 and 254 pounds of him, bull-rushing Vikings' left tackle Bryant McKinnie (6-8, 335) straight back into [Brett] Favre, who had to throw off balance.

"Who's kicking who's (butt)?" Greene asks rhetorically. "Seriously, straight up. He's changing the line of scrimmage on a guy who weighs 350 pounds and (went to the) Pro Bowl. This is David and Goliath. It's Zombo kicking a big man's (butt), if you ever want to see what a (butt) kicking looks like. McKinnie's job is to hit him in the lips and blow him off the ball, move him off the line of scrimmage. Not the other way around. Whose feet are going back? McKinnie's."

With each highlight Greene showed, the former star outside linebacker, who is in his second season on the Packers' coaching staff, became more excited.

At various points, he'd just yell, "Zombo!"
At one point on that afternoon, a Packers staff member opened the door to see if everything was OK.
To which Greene responded, "OK, we're almost done."
But there was one more play he wanted to show on the big screen.
"Watch this run," Greene said. "They try to run a delayed screen on Zombo. Guess what? Tackle for no gain."
Zombo would go on to start for the Packers in Super Bowl XLV before injuries derailed his career, which was revived this season with the
Kansas City Chiefs
.
Greene cared about his players, who he often referred to as "my kids." He had a passion for the game as a player and he carried it over to his coaching. He coached like he played, full speed ahead.
Perhaps that's why after only five seasons on the Packers staff, he has decided
to step away from coaching
, the team announced on Friday, to spend more time with his family.
That hallway, that meeting room may never been the same.
November, 25, 2013
11/25/13
8:00
AM ET
GREEN BAY, Wis. -- A review of four hot issues from the
Green Bay Packers
' 26-26
tie
against the
Minnesota Vikings
on Sunday:
Too early for two:
Mike McCarthy became the latest in a long line of coaches who made the mistake of trying a two-point conversion too early in the game. The Packers coach made the call with 11:42 remaining after
Eddie Lacy
's 3-yard touchdown run cut the Vikings' lead to 23-13. McCarthy gave away one sure point, and quarterback
Matt Flynn
couldn't convert on a throw to tight end
Andrew Quarless
. The Packers got two more possessions and scored a touchdown (and kicked the extra point) with 3:30 left and then kicked a field goal with 46 seconds left. That field goal, which forced overtime, would have been the go-ahead points had McCarthy gone for the PAT earlier. "I think once you cross that fourth quarter like you've got to look at the whole picture -- how many series were available to you at that time, obviously what was going on on the headsets just getting ready for each series on offense, the way they were running the football on defense, you're playing at home is a positive because you've got to the crowd behind you," McCarthy said. "I'm comfortable with the decision. We had a good play. Frankly, I wish had a couple more reps in that play; I think it would have been a little clearer for [Flynn]. So I thought it was a solid decision."
[+] Enlarge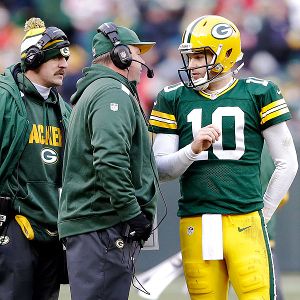 Tom Lynn /Getty ImagesMatt Flynn has a better grasp of the Packers offense than Scott Tolzien.
More for Flynn:
It didn't take long for Flynn to show how much better versed in the Packers offense he is than
Scott Tolzien
. On the second play of Flynn's first series in relief of Tolzien in the third quarter, he had a run-pass option play and checked to the run. The play went for 34 yards when
James Starks
ran off right tackle. On the next series, the Packers went to the no-huddle offense, something they did with Tolzien only in two-minute situations. "I've always been comfortable here in this offense making the checks, making the audibles," Flynn said. "I kind of know what the coaches are looking for run-wise. Definitely need to study and get more familiarized with what we're trying to get accomplished but there was definitely, they gave me the freedom. They said, 'Are you comfortable with no-huddle?' And I said, 'Yeah, let's get it rolling.' We had some success doing that. But not enough." Though McCarthy wouldn't commit to a starting quarterback for Thursday's game at the
Detroit Lions
, it's hard to imagine him not going with Flynn if
Aaron Rodgers
is unavailable again because of his broken collarbone.
Lacy bounces back:
The Vikings stacked the box against Lacy just like the
New York Giants
did a week earlier when they limited him to just 27 carries on 14 yards. This time, Lacy was a tackle-breaking machine against a similar defensive strategy by the Vikings. More than half of his yards came after contact. According to ESPN Stats & Information, 56 of Lacy's 110 rushing yards came after contact. His 4-yard gain on fourth-and-1 in the fourth quarter was made even more impressive by the fact that he was first hit 2 yards behind the line of scrimmage. Lacy also caught a season-high six passes for 48 yards, giving him 158 total yards from scrimmage. Lacy had to leave the game late in the overtime period after he had problems with his asthma, but his tackle-breaking ability elicited some of the loudest cheers from the fans at Lambeau Field and provided a boost of energy for the offense. "I think it lights a spark under Packer Nation," fullback
John Kuhn
said. "You hear the fans get riled up after something like that so if it jacks the fans up, you know our sideline is going to be happy."
Up-and-down defense:
The Packers had a season-high six sacks, including
Clay Matthews
' first two-sack game of the season, and they didn't have any major coverage gaffes that led to big plays like they did against the Giants. Then again, they were playing against
Christian Ponder
, one of three Vikings quarterbacks to play this season. But as has been the case with this defense this season, there's almost always one major weakness. This time, it came against the run. Missed tackles were a killer. It's one thing to give up 146 yards rushing to
Adrian Peterson
, but it's another to let
Toby Gerhart
get 91 more on only eight carries. On the second-half drive in which the Vikings kicked a field goal to take a 23-7 lead, it was worth wondering whether the defense had mailed it in. "You're going to have your missed tackles against AP," Matthews said. "It always seems that he's good enough to exploit you when you're out of gaps. And that's kind of been the theme whenever we've given up too many yards rushing. I'm sure that'll be addressed. You know he's going to make his plays but not that many."
November, 24, 2013
11/24/13
8:27
PM ET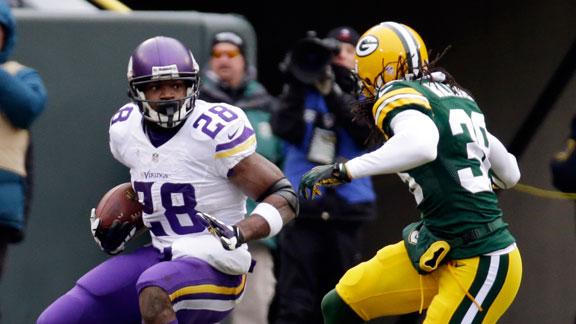 GREEN BAY, Wis. --
Matt Flynn
took the field to a hero's welcome from much of the 77,871 at Lambeau Field on Sunday when he entered the game midway through the third quarter.
He walked off as just another victim of a blown opportunity by the
Green Bay Packers
' defense.
Not even Flynn's remarkable relief effort could make up for the defensive deficiencies that have befallen the Packers ever since
Aaron Rodgers
' broken collarbone altered this season's path on Nov. 4.
Point to the quarterback carousel all you want. Few, if any, teams could thrive playing four quarterbacks in as many weeks. But in the transition from Rodgers to
Seneca Wallace
to
Scott Tolzien
and now to Flynn, there have been issues elsewhere, too.
"We haven't handled Aaron Rodgers' departure [well]," Packers coach Mike McCarthy said. "I haven't talked about it on purpose. That hasn't worked, and we all need to step up as a football team and take advantage of these opportunities."
Sure, the Packers' ended their three-game losing streak on Sunday. But they didn't win, either. No one -- not even Flynn -- was celebrating the
26-26 tie
with the
Minnesota Vikings
that left the Packers at 5-5-1 and prevented them from moving into a three-way tie with the
Chicago Bears
and
Detroit Lions
-- both Sunday losers -- for first place in the NFC North at 6-5.
McCarthy called the Packers' first draw since Sept. 20, 1987 against the
Denver Broncos
"an empty feeling."
"You go out there and you didn't lose the game," he said, "but you feel like you didn't really accomplish what you set out to do."
Flynn nearly did that.
McCarthy turned to him
after Tolzien, who was making his second straight start, went three and out on his first series of the second half. Flynn inherited a 20-7 deficit when he took the field with 8:22 remaining in the third quarter. The deficit grew to 23-7 before Flynn started to look like he did in 2011, when he last played for the Packers and set single-game team records for passing yards (480) and touchdown passes (six) in a Week 17 start against the Detroit Lions before he left in free agency the following offseason.
In throwing for 218 yards on 21-of-36 passing with one touchdown, Flynn rallied the Packers from a 16-point deficit -- with some help from the defense, which actually finished regulation with three straight fourth-quarter stops -- to get the game to overtime. He directed three straight fourth-quarter scoring drives, two touchdowns and a field goal. He then led an overtime drive that
Mason Crosby
capped with a 20-yard field goal to give the Packers their first lead since it was 7-6 in the second quarter.
"I had no doubt," said Flynn, who was re-signed on Nov. 12. "Looking at the guys' eyes in the huddle, I don't think there was any doubt, especially when we started to make some plays. I think that hyped up the sideline, hyped up the guys and we just felt like we did some stuff. That's how you've got to go about it. That's the mentality you have to have. I'm proud of the guys for fighting. But we've got to finish."
He couldn't do that on the first possession of overtime. On third-and-goal from the 2-yard line, Flynn had
Jordy Nelson
on a fade route but badly overthrew him.
"I wasn't exactly sure what angle Jordy was going to come out and he came out flat and I just haven't gotten enough reps with Jordy," Flynn said. "I was set to throw it a little bit higher than he was. I could've maybe at the last minute tried to stick it in there, but I didn't want to take any chances when we're down there. I knew we'd come away with points. I didn't want to make a throw that I wasn't 100 percent sure about."
A touchdown would have ended the game, but the field goal put the game back in the hands of the defense.
Three weeks ago, the Packers had a top-five run defense. The past three weeks, they've been blown off the ball. The Vikings nearly had two 100-yard running backs.
Adrian Peterson
rushed for 146 yards and a touchdown on 32 carries, and
Toby Gerhart
added 91 yards on eight carries.
In the past three games, the Packers have surrendered 514 yards rushing. In the first six games of the season, they allowed just 474 yards rushing.
"It's just the same old problems -- missed tackles and not fitting where we're supposed to be," Packers linebacker
Clay Matthews
said.
Still, there was a chance for redemption in overtime after Crosby gave the Packers the lead. After
Mike Daniels
sacked Vikings quarterback
Christian Ponder
for one of the Packers' six sacks, they were two plays away from a win on third-and-9. But in a flash, Peterson ripped off a 15-yard run to keep the drive going. Gerhart then had gains of 9, 12 and 11 yards that led to
Blair Walsh
's game-tying 35-yard field goal with 3:49 left in overtime.
And with that, the improbable story of a comeback victory led by Flynn was no more. A comeback tie doesn't quite have the same magic.
"I would've been amazing," Packers linebacker
A.J. Hawk
said. "I felt like the tide was shifting. We were trying to take the momentum back. We got some big stops at the end defensively to get it into overtime, and we just couldn't find a way. That's kind of been the story of this season, especially defensively. We couldn't find a way to get off the field and make that play when we needed to to end the game."