Green Bay Packers:

Tony Gonzalez
February, 10, 2014
Feb 10
8:00
AM ET
A roundup of what's happening on the Green Bay Packers' beat.
GREEN BAY, Wis. -- Packers coach Mike McCarthy completed his coaching staff last Friday, when he announced the hiring of four new coaches and gave different responsibilities to five others previously on his staff.
It brought the total number of assistant coaches working under McCarthy to 21 -- one more than the Packers had last season.
Only three NFL head coaches currently have more assistants than McCarthy does.
Philadelphia Eagles
coach Chip Kelly and
Seattle Seahawks
coach Pete Carroll each have 23 assistant coaches -- tops in the NFL. It's interesting that the two biggest staffs both were assembled by recent former college coaches.
Arizona Cardinals
coach Bruce Arians is next with 22 assistants. Three other teams -- the
Buffalo Bills
,
Baltimore Ravens
and
Kansas City Chiefs
-- match the Packers with 21.
In the NFC North, the Packers have two more assistants than the
Chicago Bears
, three more than the
Detroit Lions
and four more than the
Minnesota Vikings
.
The NFL average for assistant coaches is 19.1 per team. The AFC average is 18.9, while the NFC average is 19.3.
The numbers were based on coaching staff directories listed on each team's website.
While there could be a few additions to coaching staffs over the next few weeks, most of the coaching changes have been made, which makes it interesting to note that
Pittsburgh Steelers
coach Mike Tomlin currently has the smallest staff with just 14 assistants. The Steelers list only one strength and conditioning coach, while many teams have two or three, and only list one special teams coach while many teams have two or three. Other teams will small staffs include the
New England Patriots
and
Atlanta Falcons
, each with 16 assistants.
In case you missed it on ESPN.com
:
Best of the rest
:
In the Green Bay Press-Gazette, Mike Vandermause suggested that Seahawks general manager John Schneider, a former Packers scout, might be the best choice to replace Ted Thompson whenever he decides to retire from his GM job.
In the Milwaukee Journal Sentinel, Tom Silverstein wrote that the Thompson's draft-and-develop philosophy has put the Packers in good salary-cap shape.
February, 7, 2014
Feb 7
2:20
PM ET
GREEN BAY, Wis. -- We have a little more clarity in the
Morgan Burnett
-
Tony Gonzalez
situation that arose on Thursday night.
Shortly after the
Green Bay Packers
safety said in an interview
that he never insulted
Gonzalez or trash talked with the
Atlanta Falcons
tight end during last season's game at Lambeau Field, there was speculation that Gonzalez may have meant
Jarrett Bush
rather than Burnett, who almost never covered Gonzalez during the Dec. 8 game.
Thanks to the magic of Twitter, Bush on Friday provided an answer in a series of tweets back and forth with yours truly.
@RobDemovsky @TonyGonzalez88 it started first series 3rd down Rob lol #funfact

— Jarrett Bush (@Jarrettbush) February 7, 2014



@RobDemovsky seriously all competition my man! Doesn't matter who it is! #competition #bigheart
— Jarrett Bush (@Jarrettbush) February 7, 2014
After reviewing the film, it's easy to see what Bush was talking about.
On third-and-5 in the game's opening series, Bush was lined up in press coverage against Gonzalez, who was split out to the right. A few yards down the field, after Falcons quarterback
Matt Ryan
completed a pass to
Roddy White
for a first down, Gonzalez appeared to be frustrated with Bush's tight coverage by throwing his arms up in the air.
While the television coverage followed the ball, a review of the coaches' film on NFL Game Rewind showed that Bush and Gonzalez continued to engage in contact after the play.
Bush also explained that in a Tweet:
@RobDemovsky Naw. I told him he was a flopper, tryin to get a call. And some other words that were exchange. That is undisclosed! #GoPackGo

— Jarrett Bush (@Jarrettbush) February 7, 2014
Late in the game, Bush made two key plays. He broke up a fourth-down pass intended for Gonzalez with 1:55 remaining. On the Falcons' next series, Bush ended the game with an interception with 4 seconds remaining to help preserve the Packers'
22-21 victory
. It was one of Bush's finest performances of the season.
February, 7, 2014
Feb 7
8:00
AM ET
A roundup of what's happening on the Green Bay Packers beat.
GREEN BAY, Wis. -- The Packers have needs at every level of their defense, starting up front on the line and also including both the linebacker group and the secondary.
But to listen to ESPN Draft Analyst Mel Kiper Jr. on Thursday, it sounds like teams that need help on the defensive line should address it early before attacking their other weaknesses on that side of the ball.
"I don't think the defensive line is something you can wait on," Kiper said during an hour-long conference call with reporters. "There's not a lot of depth at end or tackle. There's more depth in the secondary that you can get guys down the line, particularly at corner."
Though the question that prompted that response from Kiper was specifically about the
Chicago Bears
and was asked by Rich Campbell of the Chicago Tribune, it was applicable to the Packers even though they pick 21st -- seven spots after the Bears.
The Packers' needs on the defensive line depends partly on whether or not they re-sign any of their own free agents. Their three starters --
Johnny Jolly
,
Ryan Pickett
and
B.J. Raji
-- plus backup
C.J. Wilson
all are scheduled to be free agents next month.
In another Packers-related item from Kiper's conference call, he was asked about the pressures facing quarterbacks who are high picks in the draft to play right away, and he brought up
Aaron Rodgers
and how he did not have to play immediately.
"Quarterbacks now are expected to be the guy in Year 1 and Year 2," Kiper said. "In the late 70s and 80s, it was a 3-5 year process developing quarterbacks. Look at Aaron Rodgers. He sat for [three] years behind
Brett Favre
, and look what happened. He wasn't ready to play as a rookie. Had he played as a rookie and been forced in there, everybody probably would've been calling him a disappointment and a bust. Who knows how his career would've gone?
"But they handled it properly and they were afforded the opportunity to develop him, and look how it paid off. These other young quarterbacks, Year 1, some of these guys aren't ready. I said that about
Blaine Gabbert
. I said when he was drafted, he's not ready. He needed a year or two to develop. He wasn't given that, now he may be kicked to the curb."
In case you missed it on ESPN.com
:
Best of the rest
:
In the Green Bay Press-Gazette, Mike Vandermause conducted a wide-ranging interview with Packers president Mark Murphy, who defended the team's decision to raise ticket prices, offered his full support of general manager Ted Thompson and reiterated the fact that the team would like to retire Favre's number before he's eligible for Pro Football Hall of Fame induction in the summer of 2016.
In the Milwaukee Journal Sentinel, Tyler Dunne wrote that if Thompson continues his practice of drafting players from the University of Iowa as he has done three of the last four years, then Hawkeyes tight end C.J. Fiedorowicz could be next to come to Green Bay.
February, 6, 2014
Feb 6
11:55
PM ET
GREEN BAY, Wis. -- If you polled players in the
Green Bay Packers
' locker room and asked who the biggest trash talker is, safety
Morgan Burnett
likely wouldn't even garner a single vote.

Burnett
That's what made it so surprising that Burnett's name was mentioned in an ESPN The Magazine story about
Tony Gonzalez
's retirement.
In a finely written piece by Seth Wickersham, there's a part of the story where Gonzalez said he decided to retire and not to come back to the Falcons next season after Burnett yelled "F--- you! You ain't s---" to Gonzalez and none of his Falcons teammates came to his defense.
Those words jump off the page.
What's more, they seemed completely out of character for Burnett, who is about as quiet and non-controversial as you will find in the NFL.
You could argue that if Burnett were more boisterous that he might have performed better last season, when he struggled at times after signing a four-year, $24.75 million contract last summer, but that's not the issue at this moment.
Nevertheless, it was no surprise to hear Burnett emphatically -- or as emphatically as the soft-spoken 25-year-old can be --
deny that he said anything
to Gonzalez in the Dec. 8 game against the Falcons at Lambeau Field.
"I'm just a guy trying to make my way in the league and just trying to be the best player that I can be," Burnett said in a phone interview Thursday night.
Burnett said he has been in Atlanta working out since the season ended. He was part of a safety group that failed to come up with a single interception last season. It's the first time the Packers have not gotten an interception from a safety in at least 50 years, according to the Packers' records.
"Just trying to improve each year," he said. "I want to improve each year and find ways to get better and show that growth from this year past year going into the next year."
January, 22, 2014
Jan 22
11:00
AM ET
GREEN BAY, Wis. -- Our latest NFL Nation survey asked players around the league who they would like to see get a chance to play in his first Super Bowl.
A few years ago, then-Packers receiver
Donald Driver
might have been one of the leading vote getters in this category. Driver was in his 12th NFL season when he finally reached his first Super Bowl.
"I don't know if you get any doubt," Driver said shortly after the Packers clinched their trip to Super Bowl XLV. "I think you get to a point where it's hard to get here, and once you get in, then you just say hey, I've got to win it all."
And Driver did just that.
But for every player like Driver, there are the likes of
Minnesota Vikings
running back
Adrian Peterson
and
Atlanta Falcons
tight end
Tony Gonzalez
.
They were the top-two vote getters in this category.
Peterson, who received 18.4 percent of the votes, finished his seventh NFL season and has been to the playoff three times but never to a Super Bowl. Gonzalez, who received 17.5 percent of the votes, completed his 17
th
NFL season and announced his retirement without ever making it to the Super Bowl.
Interestingly, one member of the Packers' Super Bowl XLV team that did receive a vote in this category was linebacker
Nick Barnett
, who did not play in that game because he was on injured reserve with a broken wrist.
December, 8, 2013
12/08/13
8:55
PM ET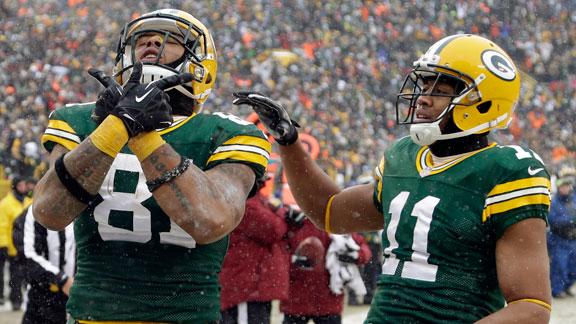 GREEN BAY, Wis. --
Jarrett Bush
did not play a single snap on defense in the
Green Bay Packers
' Thanksgiving loss at the
Detroit Lions
.
He also had an eight-game stretch earlier this season in which he played just one snap on defense, although he missed four of those games because of a hamstring injury.
[+] Enlarge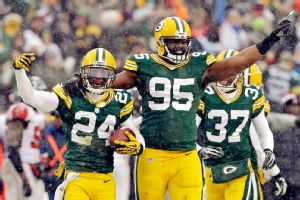 AP Photo/Mike RoemerJarrett Bush, left, celebrates with Datone Jones after closing out Green Bay's victory with an interception.
The only extended playing time the eighth-year cornerback received since playing 20 snaps on defense in the season opener came during a two-week stretch in which
Sam Shields
was inactive.
Otherwise, he played only on special teams.
Until Sunday
.
The oft-criticized Bush, who has had his ups and downs as a defensive player but has long been a solid special teamer, was part of a revamped configuration in defensive coordinator Dom Capers' dime defense. Cornerback
Davon House
was benched, and rookie
Micah Hyde
took his place in the nickel (five defensive backs) package, opening up a spot for Bush as the sixth defensive back.
Sure enough, the
Atlanta Falcons
tested Bush. And perhaps much to the surprise of the 77,550 in the Lambeau Field crowd -- many of whom likely booed Bush at various times during his career -- Bush came up big when it mattered most in the final stages of Sunday's 22-21 victory.
Bush broke up a fourth-and-5 pass that
Matt Ryan
threw to tight end
Tony Gonzalez
with 1:55 left in the game. After the Packers punted the ball back to the Falcons one last time, Bush ended things when he intercepted Ryan's deep pass down the right sideline intended for receiver
Harry Douglas
.
"You love to see him have success because of how hard he works and what he's poured into our football team, into this program the last eight years," Packers coach Mike McCarthy. "I'm very happy for Jarrett Bush and the way he played today."
It was a bit of redemption for Bush, who has been in and out of the lineup throughout his career.
"Yeah, it was; I'm not going to lie," Bush said. "At the same time, I helped my team. I felt like I helped my team win. That's what I'm here for."
It was a much-needed performance from the Packers' defense, too.
After allowing 473 rushing yards in the previous two games, the Packers held the Falcons to just 83 rushing yards. Perhaps more importantly, the missed tackles and blown assignments that plagued the Packers during their 0-4-1 stretch over the last five weeks weren't as big of an issue, especially when the Packers pitched a shutout in the second half.
"It just goes to show the type of talent and what we can do each and every week," linebacker
Clay Matthews
said. "We obviously haven't been living up to that billing."
Unlike in the loss to the Lions on Thanksgiving, when the Packers forced four turnovers but still got blown out, they made their takeaways count. Linebacker
Mike Neal
's sack and forced fumble that was recovered by defensive tackle
Johnny Jolly
in the fourth quarter set up the go-ahead touchdown.
Jolly also had a key tackle for a 2-yard loss on running back
Jason Snelling
in the fourth quarter, forcing the Falcons to try a 52-yard field goal that came up short.
It all came during a week in which questions were raised about
Capers' future as defensive coordinator
.
"He's the best, and I love him," Packers linebacker
A.J. Hawk
said. "I feel like us, defensively, we need to stand up for him. We need to play for him because his scheme is awesome.
"We finally decided to stand up and make plays when we need to. Jolly's TFL he made late in the game was huge. The sack-fumble with Jolly recovering was big. Jarrett's fourth-down stop, that was huge."
December, 5, 2013
12/05/13
10:00
AM ET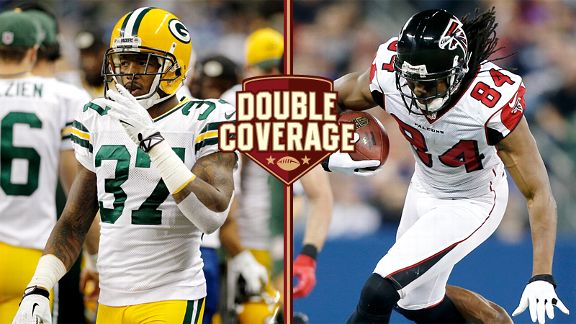 AP PhotoCan Sam Shields and the Packers snap their slump against Roddy White and Atlanta on Sunday?
Last season, the
Atlanta Falcons
were one quarter away from reaching the Super Bowl, and the
Green Bay Packers
reached the divisional round of the playoffs.
Eleven months later, the teams have a combined record of 8-15-1.
That's why the NFL moved the game, which was originally scheduled for prime time on Sunday, to a 1 p.m. ET start.
ESPN Packers reporter Rob Demovsky and ESPN Falcons reporter Vaughn McClure break down the matchup:
Rob Demovsky
: Vaughn, it's hard to believe the Falcons are in playing-out-the-string mode with all of the talent they have on offense. Obviously, injuries have been an issue, especially losing a talented receiver like
Julio Jones
. But unlike the Packers, they didn't lose their quarterback. How come
Matt Ryan
hasn't been able to be a difference-maker?
Vaughn McClure
: Well, it's been hard for Matt Ryan to be himself, playing under duress most of the season. The Falcons have ranked in the top 10 in sacks allowed per pass attempt, but that's only because Ryan has taken shorter drops and delivered the ball quicker. He has still been sacked a career-high 30 times and has been hit countless other times. In the past two games alone -- against the Saints and Bills -- Ryan was sacked 11 times. True, being without Jones hasn't helped Ryan's cause. But also,
Roddy White
hasn't been at full strength all season. Without
Harry Douglas
or
Tony Gonzalez
, Ryan would really be in trouble.
Speaking of quarterbacks, can you explain the different scenarios for the Packers at the position come Sunday, based on
Aaron Rodgers
' injury status?
Demovsky
: Well, it sure looks like Rodgers will be out for at least another week. This was the game he was really targeting to come back for, thinking he could lead them to the playoffs if he got back for the last four games. But his collarbone did not check out well enough Tuesday to be cleared. Even though he plans to practice this week, it doesn't look good for him to play. I was a little surprised that coach Mike McCarthy appears to be going with
Matt Flynn
again. Flynn was completely ineffective in the Thanksgiving debacle at Detroit, and quite frankly, his arm strength does not look good. He didn't have a lot of zip on the ball indoors against the Lions, and it sure won't get any easier to throw in the cold, wintry conditions at Lambeau Field. I wondered if he might go back to
Scott Tolzien
, who looked good in a couple of his appearances but threw too many interceptions.
You mentioned pass protection -- the Packers had issues of their own against the Lions. Flynn was sacked seven times, but on at least a couple of those, he held onto the ball too long. What has been the Falcons' biggest problem in pass protection?
McClure
: The biggest problem has been the offensive line, simply. The guys up front haven't held up their end of the bargain. They've been physically dominated at times, particularly in the loss to the Seahawks. The Falcons lost left tackle
Sam Baker
to season-ending knee surgery, and Baker wasn't the same player he was last season before being placed on injured reserve. Left tackle
Lamar Holmes
, the guy trusted to protect Ryan's blind side, admitted being out of shape at the beginning of the season and is still experiencing growing pains. Center
Peter Konz
, right guard
Garrett Reynolds
, right tackle
Jeremy Trueblood
and Holmes have all been benched at point during the season. Such turnover hasn't helped the group develop any cohesion. And now, it has to face a capable Packers defense.
I know
Clay Matthews
was injured this season, but is he back to the dominant player he was when I covered the NFC North?
Demovsky
: He's starting to look like the player you remember, Vaughn. In his first game back from his broken thumb, he wasn't a factor,because he had to wear that giant club cast. But the next week against the Giants, he was able to play with a much smaller cast. Ever since then, he's been a playmaker again. In the past three games, he has three sacks and a forced fumble. The problem is he's not getting a ton of help. And even when they make big plays like they did against the Lions last week, when they forced four turnovers, the offense can't take advantage of them. Even with Matthews back on the field, the defense has been in a free fall over the past month.
About the only thing the Packers have been able to count on has been their running game, and even that has been a little up and down. But rookie
Eddie Lacy
looks like a force with 806 yards rushing in basically 10 games. I'm sure the Falcons will load up the box to stop him like most teams have tried to do since Rodgers got hurt. Do you think they can stop him?
McClure
: No. Not at all. They struggled to contain speedy backs like Buffalo's
C.J. Spiller
(149 rushing yards) just like they've struggled against powerful backs like Seattle's
Marshawn Lynch
(145 yards). Defensive coordinator Mike Nolan counted 28 missed tackles for his defense over the past two games, which is unacceptable, particularly when they occur in the second level and lead to explosive plays. Although rookie linebacker
Paul Worrilow
has been a tackling machine, he can't do it alone. Like the offensive line, the defense has been dominated physically at times. Lacy's bruising style is the last thing the Falcons want to see. The Falcons are tied for 29th in the NFL in rushing yards allowed per game.