Green Bay Packers:

Tony Romo
October, 7, 2014
Oct 7
1:45
PM ET
GREEN BAY, Wis. -- You know
Aaron Rodgers
doesn't throw interceptions, at least not at the rate of most other quarterbacks.
His 12-to-1 touchdown-to-interception count this season is evidence of that.
But here's an better example of how averse the
Green Bay Packers
quarterback is to throwing the ball to the other team: When he
threw his 200

th

career touchdown pass
in last Thursday's win over the
Minnesota Vikings
, Rodgers had only 53 interceptions -- which was the fewest by any quarterback in NFL history at the time he reached 200 career touchdown passes.
And it's not even close.
The next fewest interceptions by a quarterback at the time of his 200
th
touchdown pass is 88 by New England's
Tom Brady
.
"It's something we preach," said Packers offensive coordinator Tom Clements, who was Rodgers' quarterbacks coach from 2006-11. "We like to take … we have to take care of the ball. You don't want to give the opponent anything free."
There are 10 active quarterbacks with at least 200 career touchdown passes and only Rodgers, Brady, San Diego's
Philip Rivers
and Dallas'
Tony Romo
had fewer than 100 interceptions at the time they reached that touchdown milestone (see accompanying chart).
As for Rodgers' predecessor, Brett Favre, when he threw his 200
th
touchdown pass in the middle of the 1998 season, he had 111 career interceptions.
June, 9, 2014
Jun 9
12:00
PM ET
GREEN BAY, Wis. -- It is not uncommon for NFL contracts to become outdated in a hurry.
Someone is always signing a new deal or an extension to become the highest-paid this or the highest-paid that.
Rodgers
So when
Colin Kaepernick
signed his contract extension with the
San Francisco 49ers
last week, the initial reports suggested his deal contained more guaranteed money than
Green Bay Packers
quarterback
Aaron Rodgers
, the NFL's highest-paid player.
On paper, Kaepernick signed a six-year, $114 million extension that contained $61 million in guaranteed money. But in this case, the definition of guarantee is a loose one.
As ESPN's John Clayton pointed out
in his weekend Mailbag column
, Kaepernick's deal is much more of a pay-as-you-play contract than the five-year, $110 million extension Rodgers signed on April 26, 2013. Rodgers' deal was loaded with real guarantees.
Rodgers' signing bonus of $35 million followed by a guaranteed roster bonus of $9.5 million that was paid this March and another one worth $9.5 million due next March brought his guaranteed money to $54 million in real dollars.
For those who were outraged that Kaepernick received more guaranteed money, a closer examination of the deal revealed that those were "soft" guarantees. Kaepernick's yearly guarantees don't become such until April 1 before each season, meaning the 49ers can get out from under the deal at any point without paying those so-called guarantees.
So for the time being, even though Kaepernick has the potential to collect more than Rodgers, it's not accurate to call him the higher paid at this point.
Perhaps the best measure when comparing contracts is a three-year window. Looking at it that way, here's a breakdown of the top quarterback contracts by average per year, according to ESPN Stats & Information salary data:
Matt Ryan, Atlanta: $22.9 million
Aaron Rodgers, Green Bay: $22.7 million
Joe Flacco, Baltimore: $20.7 million
Drew Brees, New Orleans: $20.3 million
Peyton Manning, Denver: $19.3 million
Tony Romo, Dallas: $18.0 million
Jay Cutler, Chicago: $18.0 million
Matthew Stafford, Detroit: $17.7 million
Ben Roethlisberger, Pittsburgh: $17.6 million
Eli Manning, New York Giants: $17.0 million
Philip Rivers, San Diego: $16.8 million
Colin Kaepernick, San Francisco: $14.7 million
Three of the quarterbacks on the list -- Ryan, Cutler and Kaepernick -- signed their deals after Rodgers did his 14 months ago. In that time, Rodgers' contract has held up. He remains the highest-paid quarterback with a $22 million-per-year average over the life his deal.
Maybe
Russell Wilson
, the next quarterback likely to cash in, will surpass him. But Kaepernick's deal did not.
January, 10, 2014
Jan 10
11:00
AM ET
GREEN BAY, Wis. -- The Green Bay Packers were on the field for 2,216 plays combined on offense and defense this season, and several hundred more on special teams.
As we look back on the season, we will examine 10 plays, subjectively chosen, as the ones that most shaped the Packers' season that ended with Sunday's 23-20 NFC wild-card playoff loss to the San Francisco 49ers at Lambeau Field.
The list, so far, in reverse order (Nos. 1-5 will be revealed next week):
No. 10
: Micah Hyde's near
interception against the 49ers
.
No. 9
: Enter Matt Flynn in
relief against the Vikings
.
No. 8
: Johnathan Franklin's fourth-and-1
fumble against the Bengals
.
No. 7
: Eddie Lacy's 60-yard
run against the Cowboys
.
Here's No. 6 (and 6a)
:
Date
: Dec. 15, 2013.
Location
: AT&T Stadium; Dallas.
Game
: Packers at Cowboys.
The play(s)
:
Sam Shields
' interception of
Tony Romo
in the fourth quarter (and
Tramon Williams
' interception of Romo in the fourth quarter).
Why they mattered
: After trailing 26-3 at halftime, the Packers pulled to within 36-31. The Cowboys faced a second-and-6 from their own 35-yard line with 2:58 remaining, Romo had a run-pass option based on what the Packers' defense showed. Romo checked to the pass (the right move according to Cowboys offensive coordinator Bill Callahan). He avoided a sack by
Clay Matthews
and rolled to his left, where receiver
Miles Austin
had Shields beat over the middle. But Shields closed quickly and picked off the pass. Seven plays later, the Packers scored the go-ahead touchdown on Eddie Lacy's 1-yard run with 1:31 to play.
On the ensuing Cowboys possession, Williams picked off Romo with 1:24 remaining to seal the game. The play was originally ruled an incomplete pass, but replay showed it was a clean interception. Earlier in the fourth quarter, Williams thought he had an interception, but it was overturned and ruled incomplete after Dallas challenged the ruling.
Quotable
: "You can a pick a couple of plays of the game, but that's how you win those kind of games," Packers coach Mike McCarthy said. "For us to get those turnovers there in the fourth quarter was huge."
December, 20, 2013
12/20/13
10:00
AM ET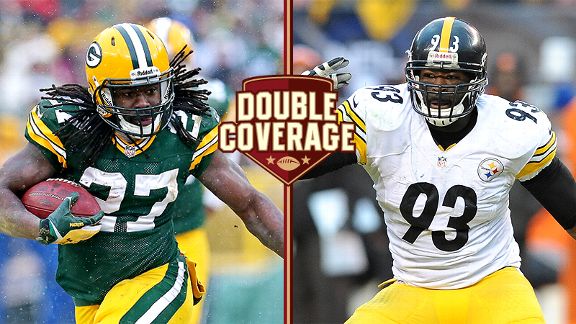 Getty ImagesJason Worilds and the Steelers will have to stop Eddie Lacy -- one of the league's best running backs this season.
The last time the
Green Bay Packers
and
Pittsburgh Steelers
met, the Lombardi trophy was on the line.
In Green Bay, the memories of Super Bowl XLV are alive and well.
In Pittsburgh, all Steelers quarterback
Ben Roethlisberger
said he remembers from that game is one thing: "We lost," he said this week.
The stakes are much different heading into Sunday's game at Lambeau Field. The Steelers (6-8) are in the midst of disappointing season, while the Packers (7-6-1) are fighting for their playoff lives.
Packers reporter Rob Demovsky and Steelers reporter Scott Brown discuss the rematch:
Rob Demovsky:
Let's start with this question. Steelers coach Mike Tomlin said this week that he doesn't regret passing on
Eddie Lacy
in favor of drafting running back
Le'Veon Bell
. Right now, Lacy looks like the better pick, but it's still too early in their careers to say anything definitive. How has Bell fit into the Steelers offense and what's the biggest reason he's only averaging 3.3 yards per carry?
Scott Brown:
Bell has become a big part of the offense and he has added another dimension to it with his pass-catching abilities. He is fourth on the team in receiving, and the Steelers don't just throw screen passes or checkdowns to Bell but also use him as a receiver. Bell is still finding his way as a runner and I'd say his low rushing average is a combination of playing behind a line that is better at pass blocking as well as the adjustment he is making to the speed of the game at this level. Bell has shown flashes, such as when he hurdles a cornerback or plants a defensive end with a stiff-arm, two things he did Sunday night against the Bengals.
Rob, are you surprised at all at the success Lacy has had so early in his career and what has his emergence meant to the Packers offense?
Demovsky
: The only thing that has surprised me about Lacy has been his durability. As everyone around the Steelers knows, there were major questions about his injury history coming out of Alabama. Then, early on his conditioning looked a little off -- although it was not as bad as that unflattering picture of him that was circulating during training camp. Then, he sustained a concussion and missed a game and as half. But ever since he has returned from that, there haven't been any major issues. He's managed to play through a sprained ankle the past two weeks. Whenever they get quarterback
Aaron Rodgers
back, they'll be tough to stop because defenses will have to respect both the run and the pass. That's something Rodgers hasn't really had since he's been the starter.
I've heard a lot of people say they think the Steelers got old in a hurry, especially on defense. Even Roethlisberger looks like an old 31. What do you see in that regard and how much, if at all, has that impacted what's happened to the Steelers this season?
Brown
: Age has certainly been a factor in the decline of the defense this season, but I think it's a bit of a misconception that the Steelers' problems stem from them getting old in a hurry. There is still age on the defense, most notably in the secondary, but the Steelers have quietly gotten younger on that side of the ball -- and will continue to do so after the season. What made the Steelers consistently good before this current stretch is they always seemed to have younger players ready to step in for starters who had passed their prime. Perhaps the best example of this is
James Harrison
and the kind of player he turned into after the Steelers released
Joey Porter
following the 2006 season.
The Steelers are actually pretty young on offense and while Roethlisberger is 31, he has played every snap this season. I think the offense will step to the forefront in the coming seasons while the Steelers retool the defense and Bell and the offensive line get better.
Rob,
Matt Flynn
had trouble sticking with a team before he returned to Green Bay. Is it too strong to say that he saved the season -- or at least prevented the Packers from dropping out of playoff contention after Rodgers went down with the broken collarbone?
Demovsky:
I'm not sure if Flynn saved their season as much as the Detroit Lions' ineptitude saved their season. Same with the
Dallas Cowboys
and
Atlanta Falcons
. It's not exactly like Flynn lit up a couple of defensive juggernauts. That said, it's obvious Flynn has a comfort level with the Packers offense that he did not have in Seattle or Oakland. How else can you explain why he has performed reasonably well here and so poorly in those places?
This is obviously the first meeting between these two teams since Super Bowl XLV. Roethlisberger said this week on a conference call with reporters at Lambeau Field that the only thing he remembers about that game is that his team lost. Given that the Steelers don't have the playoffs to play for this season, does avenging that Super Bowl loss give the Steelers any extra motivation this week?
Brown
: They can say that it doesn't, but I'm sure they would love a little payback for that loss even if a win by the Steelers on Sunday would come on a considerably smaller stage. I have been impressed with how the Steelers have remained focused even though they only have a sliver of hope of sneaking into the playoffs -- and that's if they manage to win their final two games. The Steelers, in fact, could already be eliminated from postseason contention before kickoff Sunday depending on what happens in the 1 p.m. ET games.
If their showing against the Bengals is a guide, the Packers will get the Steelers' best effort no matter what transpires in the early games. The Steelers seemingly had nothing to play for last Sunday night and they jumped all over the Bengals and cruised to a 30-20 win. It was their most impressive win of the season as much for the circumstances under which it came as for the opponent.
Rob, the Steelers offense has really been on the rise since offensive coordinator Todd Haley removed the reins from the no-huddle attack. Given some of the difficulties Green Bay has had on defense do you think it will need to score a lot of points to beat the Steelers?
Demovsky
: The Packers defense gave up 332 yards in the first half alone last Sunday against the Cowboys. They couldn't stop the run -- they haven't really done so since early in the season -- and they seem to have costly coverage breakdowns. When their defense has been at its best is when it has created turnovers. Those two fourth-quarter interceptions of
Tony Romo
sure made up for a lot of defensive mistakes. The same thing happened when they pitched a shutout in the second half against the Falcons the previous week. If Roethlisberger & Co. take care of the ball, then I expect the Steelers will force the Packers to match them in a shootout type of game.
December, 16, 2013
12/16/13
7:55
PM ET
GREEN BAY, Wis. -- Just as there was no panic in the
Green Bay Packers
on Sunday when they trailed the
Dallas Cowboys
26-3 at halftime, there were no wild celebrations on the way home, either.
By no means were they nonchalant about their 37-36 victory, which tied the franchise record for the largest comeback.
They were just tired.
"It was actually a pretty quiet plane," Packers coach Mike McCarthy said Monday. "I think everybody was spent. Just the sideline throughout the second half, the energy, the energy in the locker room, I think a lot of guys were just gassed."
A day later, it's worth looking back on their improbable victory from several perspectives.
The offense
Despite the first-half struggles, McCarthy and offensive coordinator Tom Clements said they never once gave thought to pulling quarterback
Matt Flynn
and going back to
Scott Tolzien
, who Flynn had replaced midway through the Nov. 24 tie against the
Minnesota Vikings
.
"We were focused on trying to get everyone to play better and I think it was a great credit to them that they stuck together, just went out and fought hard and kept fighting and eventually got the win," Clements said.
[+] Enlarge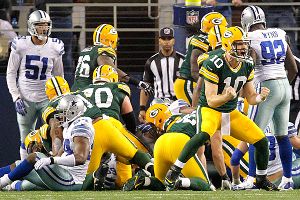 Ron Jenkins/Fort Worth Star-Telegram/MCT via Getty ImagesMatt Flynn led the Packers to a touchdown on their first five drives of the second half.
The turnaround in Flynn's play was remarkable. He led touchdown drives on the first five possessions of the second half -- all five of which were red zone scores, an area where the Packers have struggled most of the season.
McCarthy and Clements ditched the no-huddle offense that Flynn had run so well the week before in the comeback from 11 points down against the
Atlanta Falcons
. In the second half alone, Flynn completed 16 of 22 passes for 182 yards and four touchdown passes after going 10-of-17 for 117 yards and an interception in the first half.
"That's one of the things he said, he got locked on a receiver sometimes in the first half rather than going to the next option," Clements said.
The contributions of running back
Eddie Lacy
also should not be overlooked. His 60-yard run on the first play of the second half set the tone. It was a play that McCarthy had originally scripted in his fist 10 calls of the game.
"I didn't run any trick plays or any deceptives, didn't do anything exotic, just wanted to get after them fundamentally," McCarthy said. "And that's what we did."
The defense
Defensive coordinator Dom Capers had been here before -- one week earlier.
But it wasn't quite this bad.
"I told you guys last week, I can remember looking at our guys in the eyes when we were down 21-10 during halftime last week and was like, 'Hey, we have to go out and play one play at a time and work our way back into this game,'" Capers said. "I pretty much said the same thing to them this week because we were down 26-3. Things weren't looking really good at that point in time. I give them credit. Our guys, I don't think they blinked. We went out. On offense, Eddie had that nice run. I think it kind of picked the guys up and we were able to go out and make a few plays. We played our best when our best was needed."
To make that happen, they got back on their turnover parade. A week after
Mike Neal
's strip-sack set up the go-ahead touchdown against the Falcons and
Jarrett Bush
's interception sealed the game, the Packers picked off Cowboys quarterback
Tony Romo
twice in the fourth quarter -- and they thought they had a third one but
Tramon Williams
' attempt at interception was overturned by replay.
Sam Shields
' interception of Romo led to the go-ahead touchdown on Sunday, and then Williams finally got his to clinch the game after a replay overturned what was initially ruled an incomplete pass. Credit McCarthy for slowing down the Cowboys so they couldn't run another play before the replay official buzzed down to the field instructing referee Walt Coleman to take another look. When McCarthy saw the Cowboys hurrying up to the line of scrimmage, he called a timeout, which was soon after ruled unnecessary by the replay booth.
"We'll, I'm calling the timeout; I mean I'm not going to get beat by a technicality," McCarthy said.
The aftermath
Of the Packers' three coordinators -- Clements, Capers and special teams coach Shawn Slocum -- only Clements could remember being part of a game as dramatic as that one.
"On the opposite end I do," Clements said, recalling a game from his college playing career at Notre Dame.
In 1974, Clements and the Fighting Irish led USC 24-6 at halftime only to lose 55-24.
"Thanks for bringing it up," Clements said.
Said Capers: "That's probably as dramatic of a turnaround [as he could recall]."
Said Slocum: "I've been through a bunch of games. That one was pretty special."
The question now is was it just a singular moment in a season or something more monumental?
"Hopefully I'm talking about this a month from now or so," McCarthy said. "I think these type of games and these types of experiences that we've been through the last five or six weeks are something that you can definitely benefit from as a football team."
December, 16, 2013
12/16/13
1:30
PM ET
GREEN BAY, Wis. -- The
Green Bay Packers
have a legitimate running game and if Sunday's comeback win over the
Dallas Cowboys
taught them anything, it's that they should never forget that.
The Cowboys' offensive brain trust forgot about theirs, and it cost them the game.
Lacy
The Packers watched in amazement in the second half as Cowboys quarterback
Tony Romo
dropped back to pass time after time, even after
DeMarco Murray
had shredded them for 93 yards on just 11 carries in the first half.
Inexplicably, Cowboys coach Jason Garrett and offensive coordinator Bill Callahan gave Murray merely seven more carries in the second half. At one point in the fourth quarter, Romo dropped back to pass on 10 straight play and 11 out of 12 -- the last of which was a fatal mistake. On second-and-6 from his own 35 late in the fourth quarter, Romo had a run-pass option and went with the pass. Cornerback
Sam Shields
made him pay for it, picking off a pass to set up the Packers' go-ahead touchdown.
"Definitely surprised they were throwing the ball there," said Packers cornerback
Tramon Williams
, who then intercepted Romo on the Cowboys' next possession. "I didn't see exactly what was going on on the other side of the field, but I did see that Sam caught the ball. I think there was maybe 2 minutes and something left and they're throwing the ball. I'm glad they threw the ball. Obviously it kept us in the game. Sam made a big play for us and our offense went right down and scored. It was great."
So was Packers coach Mike McCarthy's decision to stick with the run despite the 23-point deficit he faced coming out of halftime.
To say one play changed the game would be an overstatement, but the 60-yard run that
Eddie Lacy
ripped off to open the third quarter was a major start. With fullback
John Kuhn
and tight end
Andrew Quarless
both in the backfield to block, Lacy benefit from Kuhn's masterful cut block on safety
Barry Church
and was off and running.
"We ran it [earlier in the game], and it was there," center
Evan Dietrich-Smith
said. "And then we were going to come back to it, and we just never got back to it in the first half. Right out of the gate, we called it, and it busts wide open. It was one of those deals where all of a sudden everything started clicking from there. It was one play after another. The next thing you know we're scoring touchdowns and all that kind of stuff."
Perhaps it was fitting that on a day in which McCarthy stuck with the run – the Packers ran on 46 percent of their second-half plays, while the Cowboys did so on just 23 percent of theirs – Lacy became the Packers' first rookie to rush for 1,000 yards since 1971. His 141-yard day left him at 1,028 yards for the season with two games still remaining.
And Lacy did it all on a gimpy right ankle that he injured the week before against the Falcons and appeared to aggravate in the second half against the Cowboys.
"Eddie was a featured focus for us," McCarthy said. "I think that was evident just the way we started the game and the way we stayed after it in the second half."
December, 15, 2013
12/15/13
11:30
PM ET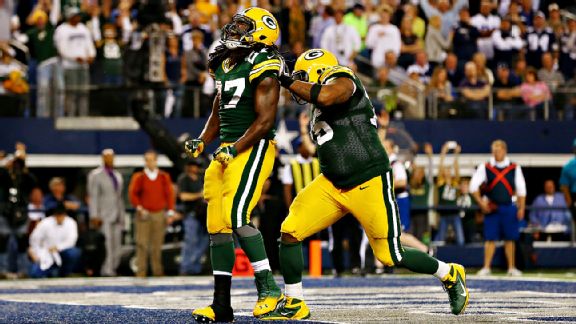 Tom Pennington/Getty ImagesEddie Lacy's fourth-quarter touchdown capped Green Bay's 23-point comeback.
ARLINGTON, Texas -- At one point on Sunday, referee Walt Coleman forgot to turn off his microphone. As he walked to the sideline to look at a replay of a key play in the fourth quarter, he asked two other officials: "So what happened?"
All 91,054 fans at AT&T Stadium could hear it.
You better believe many of them asked themselves the same question as they walked into the North Texas night about an hour later. Depending on their rooting interests, they were either amazed or bewildered.
In the visitors locker room, however, there was just belief.
The
Green Bay Packers
said they believed they could come back from a 26-3 halftime deficit. They believed their struggling defense would eventually start making big plays. They believed their backup quarterback,
Matt Flynn
, would rally them for a second straight week.
But did any of them really think their
37-36 victory
over the
Dallas Cowboys
would happen like this?
"No, not like this," said defensive tackle
Ryan Pickett
, a 13-year NFL veteran who has been around the league longer than any other player on the Packers' roster. "That was big. That was fun."
It matched the 1982 season opener against the Los Angeles Rams -- who led 23-0 at halftime before the Packers won 35-23 -- as the largest comeback in team history.
It kept the Packers' NFC North title hopes alive, perhaps even in time for starting quarterback
Aaron Rodgers
to return from his fractured collarbone for the penultimate game of the regular season next Sunday against the
Pittsburgh Steelers
.
In many ways, the madness that was this game began with the play that left Coleman unsure of what had just taken place. With 12 minutes and four seconds remaining, Packers cornerback
Tramon Williams
appeared to intercept a
Tony Romo
pass that went off the hands of tight end
Jason Witten
and return it to the Cowboys' 8-yard line. Williams thought -- and still thinks -- he cradled the ball to his chest to prevent it from hitting the ground.
But after Coleman watched the replay -- which the referee must do on all turnover plays -- he ruled that the ball hit the ground. The comeback, which at that point had pulled the Packers within five points, had seemingly been thwarted.
With the ball back in his hands, Romo marched the Cowboys down the field and completed that resurrected drive with a 5-yard touchdown pass to
Dez Bryant
that put the Packers in a 36-24 hole with 7:55 remaining.
"I was a little down in the dumps after that," Packers left guard
Josh Sitton
said. "But Flynn came up to me and said, 'Just believe, man. Just believe.'"
Sitton, after pausing for effect, said he told Flynn: "Hell yeah, let's do it."
And so they did.
With plenty of thanks to the Cowboys' wretched defense, which came in ranked last in the NFL, the Packers scored touchdowns on five straight possessions to start the second half. Four of them came on touchdown passes by Flynn, each to a different receiver.
Running back
Eddie Lacy
, whose 141 rushing yards made him the Packers' first rookie to rush for 1,000 yards since John Brockington in 1971, scored the other. It was the game winner, a 1-yard plunge with 1:31 to play with help from defensive tackles
Mike Daniels
and
B.J. Raji
, who came in as extra blockers.
Williams finally got his interception -- this one thanks to a replay review after it was originally ruled incomplete -- and it clinched the game. Packers coach Mike McCarthy wisely asked for a timeout and although it wasn't needed because the replay official eventually buzzed Coleman to take another look, it may have slowed down the Cowboys from quickly running another play.
"The one that I didn't get credited with, I thought I caught it," Williams said. "The one I did get credited with, I never felt more sure about a catch in my life. I showed my emotion on the field about it, didn't give the ref the ball back because I wanted them to take a look at it."
Fellow cornerback
Sam Shields
got one on the Cowboys' previous possession, when seemingly all they had to do was run out the clock. But they stopped running, something
DeMarco Murray
(134 yards) had done so well against the Packers' porous defense. Romo audibled on a second-down play, according to coach Jason Garrett.
Clay Matthews
nearly came up with a sack but when he didn't, Romo fired a pass in the direction of
Miles Austin
that Shields picked off with just 2:50 to go, setting up Lacy's touchdown.
Throw it all together, and it made for a victory that could serve multiple purposes for the Packers. It could show them the errs of their first-half miscues and, if all goes well and Rodgers comes back, it could mean something in the postseason.
"I haven't felt this way in a long time," Matthews said. "I feel like we won the Super Bowl."
McCarthy opened his postgame news conference with the word "Wow" and then went on to explain how it all happened -- even if not everyone could quite comprehend it.
"We were just sitting there in the locker room and kind of looking around like, 'What just happened?'" Flynn said. "I guess we're not really processing it. I know that we did have a really big comeback. We all realize that."
December, 12, 2013
12/12/13
10:00
AM ET
IRVING, Texas -- The
Green Bay Packers
and
Dallas Cowboys
are two of the most storied franchises in NFL history, but with three games to play in the 2013 season both are on the outside of the playoff chase and in need of a win.
The Packers have fallen on hard times without
Aaron Rodgers
but won last week against the
Atlanta Falcons
. The Cowboys are coming off a humiliating loss to the
Chicago Bears
and have a short week to get ready.
ESPN.com Packers reporter Rob Demovsky and Cowboys reporter Todd Archer debate the matchup in this week's Double Coverage.
Archer:
I'll skip the "What's Aaron Rodgers status?" and ask about Ted Thompson's approach to the backup quarterback. The Cowboys pay
Kyle Orton
a lot of money to hopefully never throw a pass. Is there any regret form the Packers that they did not have a better backup quarterback situation behind Rodgers, considering their struggles without him?
[Editor's note: Rodgers was officially ruled out for Sunday's game on Friday.]
Demovsky:
Thompson admitted at the end of training camp that he probably should have signed
Vince Young
much earlier than he did, although after watching Young for about a month, I'm not sure he would have been any better had the Packers signed back in the spring. Where they probably erred was in not drafting a quarterback. They overestimated what they had in
Graham Harrell
and B.J. Coleman, and neither one developed enough. When Ron Wolf was the GM, he made it a regular practice to draft a quarterback in the middle-to -late rounds. Not all of them worked out, but guys like
Ty Detmer
,
Mark Brunell
,
Matt Hasselbeck
and
Aaron Brooks
all came up through the Packers' system.
Packers defensive coordinator Dom Capers said
Tony Romo
is "playing probably as good as he has in his career." Do you agree with that assessment?
Archer:
I'd agree with that, sure. It's hard to argue against his numbers. He has 3,244 yards passing with 27 touchdowns and seven interceptions. He's taking care of the ball. He had one really careless throw and it cost the Cowboys big-time in their loss to the
Denver Broncos
. Romo gets most of the blame for the December/January woes this team has had, but in his last 16 games he has 34 touchdowns and seven picks. It's hard to play better than that. But you know what? He has to. This defense is so bad that Romo has to be nearly perfect. There can be no poor drives. If they don't get points they at least need to chew up time because there's not an offense the Cowboys can slow down right now.
When the Packers won Super Bowl XLV at AT&T Stadium they were able to overcome so many injuries, especially on defense as we talked about. The difference this year is Rodgers missing time, but is there anything more to it than that?
Demovsky:
They did end up with 15 players in injured reserve in their Super Bowl season, and then during that game itself they lost
Charles Woodson
to a broken collarbone. But you know what? This defense played fine early this season and even during the stretch
Clay Matthews
missed because of his broken thumb. Capers said last week that losing Rodgers had nothing to do with the Packers' defensive slide, but I'm not buying it. The Packers' defense got four turnovers in the Thanksgiving game at Detroit and still got walloped 40-10 because the offense couldn't do a darn thing with them. To be sure, there are issues on defense. Their failure to address needs at safety has hurt them up the middle, where their inside linebackers also haven't played well enough.
It sounds like Monte Kiffin is already taking heat, but how much of it is personnel? When I saw Packers castoff
Jarius Wynn
playing Monday night against the Bears, to me that was a red flag that there are talent issues, perhaps some of them caused by injuries.
Archer:
There are talent issues and there are depth issues. Blame the owner and GM who constructed this team. Blame the coaches -- Kiffin and Rod Marinelli -- for saying the line was a position of strength. The Cowboys thought they had pieces to fit Kiffin's scheme at the start of the year.
DeMarcus Ware
has not been DeMarcus Ware in part because of injuries, but he acknowledged he has to play better.
Bruce Carter
was supposed to be the ideal weak-side linebacker and he just has not made any plays. The corners are more man corners and Kiffin has tried to play more man but all of them --
Brandon Carr
,
Morris Claiborne
and
Orlando Scandrick
-- have had issues.
Sean Lee
has been hurt and could miss Sunday's game with a neck injury. He's been good but the defense has been lit up with him on the field, too. It's just a mess. Until Jerry Jones realizes he needs better players, not necessarily better schemes, it will be a mess.
Let's stick with the defensive coordinators. From the outside looking in, it appears Capers is catching a lot of grief too. Are the Packers committed to the 3-4 regardless or could they pull a Dallas and move to a 4-3 in the future?
Demovsky:
When the cornerstone of the defense is Matthews, an outside linebacker, I would think they'd have to stick with the 3-4 even if they part ways with Capers, which I'm not sure will happen anyway. Mike McCarthy has continually praised Capers and the defensive staff. It's probably more about personnel. They need a few more playmakers to help out Matthews. They haven't gotten enough production from their defensive front. I'd look for an overhaul in personnel more than a coaching change.
Knowing the temperature in the Cowboys locker room like you do, how do you think they will react to getting steamrolled Monday night? Is this a group that will fight? Or will they pack it in?
Archer:
This is where I have to give Jason Garrett credit. This team has fought. Maybe they didn't fight all that much in the losses to New Orleans and Chicago, but they have not packed it in. You saw the last time the Cowboys packed it in in 2010 at Lambeau Field when Wade Phillips was the coach. The Cowboys lost 45-7 and were completely disinterested. Phillips was fired the next day and Garrett took over. There is some gumption to this team. They do work hard. They do the right things. I'll say it again: Most of it is a talent issue. I'd expect the Cowboys to come out with the effort Sunday because they're still very much in the playoff chase. But do they believe they can really make a run? I don't know about that.
December, 11, 2013
12/11/13
6:50
PM ET
GREEN BAY, Wis. -- Many have weighed in on whether
Green Bay Packers
quarterback
Aaron Rodgers
should play or will play again this season after breaking his collarbone on Nov. 4.
But few have the insight that
Dallas Cowboys
quarterback
Tony Romo
has on the subject.
Romo
Rodgers
Romo broke his collarbone on Oct. 25, 2010, and did not return the rest of that season. Romo's injury occurred in the same spot as Rodgers' -- the left clavicle -- but was worse because it was displaced, meaning the two ends of the bone were separated from each other. Rodgers sustained a non-displaced fracture.
"I was doing everything I could to get back out there," Romo said during a conference call Wednesday with reporters at Lambeau Field. "I know Aaron's doing the same thing. You also have to be smart about it. If he's been feeling good for a couple of weeks, then I think that's something where you could really have a chance to say his re-injury factor has gone down. And if that's the case, you might be able to go."
But Rodgers felt pain as recently as last week. He said during his ESPN Milwaukee radio show on Tuesday that he experienced
more discomfort than expected
when he practiced last Wednesday.
He returned to practice on Wednesday and although coach Mike McCarthy said Rodgers did not look like he was in pain, that might not be known until Thursday, when Rodgers speaks to reporters.
"If you're feeling it at all, you can't come back and play," Romo said. "But even more so than that, even when you get relatively where you feel like it's pain free, it still doesn't mean you're ready to play just because it's such an easy thing to hurt again.
"And it's a little different in the sense that if you come back right when you feel like you're healthy, there's just so many cases of people come down with another collarbone injury, the same one just re-injuring it. That really plays a big role in determining when you come back, and [it's] always an injury that you almost have to wait longer than initially diagnosed, typically, because it's just the re-injury factor alone plays such a high role."
Romo said doctors initially told him it would take six to eight weeks to heal. Rodgers has mentioned the same timeline several times. Sunday's game at Dallas would mark the six-week mark since Rodgers' injury.
However, Romo said it took more like nine or 10 weeks for his to fully heal.
The Cowboys never brought Romo back that season. It was an easy decision because they were out of playoff contention.
The Packers are in a different situation. Heading into Sunday's game, they are only one-half game out of first place in the NFC North with just three games remaining.
"I think in our case a lot of it was dependent upon where we were and what position we were in and if we had the opportunity to continue to play," Romo said. "We didn't that year, so it made the decision easier on the doctors, I think."