Green Bay Packers:

Vernon Davis
February, 21, 2014
2/21/14
8:00
AM ET
INDIANAPOLIS -- One by one, the top tight ends in this year's NFL draft rolled through Lucas Oil Stadium as part of Thursday's interview session at the scouting combine.
There was
Eric Ebron
of North Carolina,
Jace Amaro
of Texas Tech,
Austin Seferian-Jenkins
of Washington,
Troy Niklas
of Notre Dame,
C.J. Fiedorowicz
of Iowa and on and on.
Most, if not all, were asked which NFL tight end they admired, emulated or resembled.
For some, like Ebron, it was
San Francisco 49ers
tight end
Vernon Davis
.
[+] Enlarge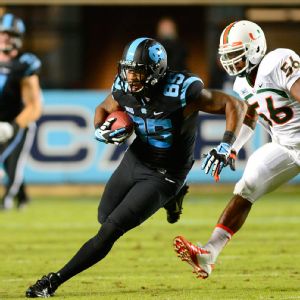 Bob Donnan/USA TODAY SportsCarolina likely would have to trade up in the first round of the NFL draft to have a shot at selecting Eric Ebron.
For others, like Amaro and Fiedorowicz, it was the New England Patriots'
Rob Gronkowski
.
For Seferian-Jenkins, it was the New Orleans Saints'
Jimmy Graham
and the Denver Broncos'
Julius Thomas
, who like him had a background in basketball.
Not one of them, however, mentioned
Jermichael Finley
.
Yet if the
Green Bay Packers
don't bring back their starting tight end, which is a likely course of action given his neck injury and his expiring contract, one of those players could become the next Finley.
Most of the top tight end prospects said Thursday that they had either visited with the Packers or planned to talk with team representatives this week at the combine.
So too will Blake Baratz, the agent who represents Finley, but the Packers may have already decided that Finley's neck fusion surgery was too much of a risk to bring him back. If that's their plan, then there are plenty of viable options in this draft, which features playmaking tight ends of all sizes.
It starts with the 6-foot-4, 250-pound Ebron, who likely will be the first tight end taken in the draft and could be gone before the Packers pick at No. 21.
"I'm very fast; I'm very different," said Ebron, who along with the other tight ends will do their on-field testing this weekend. "I play the tight end role like no one else."
In some ways, he plays it like Finley, whose physical presence is similar to Ebron's.
Amaro (6-5, 255) is as much receiver as he is tight end. Most of last season, when he caught 106 passes for 1,352 yards (the NCAA record for a tight end), he played standing up away from the line of scrimmage.
"That's why I'm so unique," Amaro said. "It's kind of a revolution into the game and how the tight ends are coming in across the board. I like to see myself as both a tight end and a receiver."
But can he block?
That's not an issue with Fiedorowicz (6-5½, 265), who was more of a blocking tight end in Iowa's run-heavy offense.
"A lot of tight ends in the NFL are either blocking tight ends or receiving tight ends," Fiedorowicz said. "I like watching Rob Gronkowski. He can dominate both the line of scrimmage and down the field."
Seferian-Jenkins (6-5, 262) said he was asked to do both last season at Washington, where he played basketball as a freshman.
"At the tight end position, you've got a lot of great players [in this draft]," he said. "But what I think I do is if you watched me play, I split out and played receiver. I've done fullback. I've played in line. I think I've showed I'm very capable of being a playmaker down the seam and run regular routes as a receiver, and I've shown the capability of being a blocker."
Niklas (6-6½ , 270) might be the biggest bruiser of this bunch. He began his college career as an outside linebacker.
"I can block, and I enjoy blocking," Niklas said. "I think it's something I can use to my advantage."
Further down the tight end pecking order is Jacob Pedersen of Wisconsin. He grew up just north of Green Bay in Michigan's Upper Peninsula. He's a late-round prospect who would love the chance to be the Packers' next tight end.
"Growing up 45 minutes away from Green Bay, obviously it'd be a childhood dream to play for your home team," said Pedersen, one of six Badgers invited to the combine. "But I'm just hoping to get drafted by a team. Whoever takes me, they're going to get my best effort."
January, 3, 2014
1/03/14
10:00
AM ET
The
Green Bay Packers
and
San Francisco 49ers
have met so often of late that they're becoming like division rivals.
Sunday's NFC wild-card playoff game at Lambeau Field will be the fourth meeting between the two teams in the past 17 months. They played in Week 1 of the 2012 season and again in the divisional round of the playoffs that season. They opened the 2013 season against each other again.
The 49ers won all three games.
ESPN.com 49ers reporter Bill Williamson and Packers reporter Rob Demovsky discuss what, if anything, might be different this time around.
Demovsky
: Bill, the Packers have seen quarterback
Colin Kaepernick
beat them with his feet like he did in last year's playoff game, when he rushed for 181 yards, and also beat them with his arm, like he did in the season opener this year when he threw for 412 yards. What has he been doing better lately, running or throwing, and how do you think coach Jim Harbaugh will try to attack the Packers' defense this time around?
Williamson
: Rob, he's been a pass-first quarterback all season as he showed in Week 1. That was his best game of the season. But Kaepernick has been playing at a high level in the past five games with
Michael Crabtree
back on the field. Kaepernick's Total QBR during the past three weeks is the highest in the NFL. Rob, I'm intrigued to see what the offensive attack is going to be. We all remember the cat-and-mouse game in Week 1 about the read-option attack that never materialized. I could see the 49ers hitting the Packers with it early to get them off-balance and try to go back and forth throughout the game.
Rob, what do you think the Packers are expecting from Kaepernick this week?
Demovsky
: I'm not sure they know what to expect. Defensive coordinator Dom Capers pointed out that last year, the 49ers had the bye week in the first round of the playoffs and therefore had plenty of time to tinker with their game plan and install new looks like the read-option. They don't have that luxury this time around. That said, maybe Harbaugh didn't use much read-option during the season because he wanted to keep his quarterback from getting hit. Now that it's win-or-go-home time, maybe he'd be more willing to risk it. Either way, the Packers know they have to limit the big plays -- whether on the ground or through the air -- that have killed them in the previous meetings.
In the opener this year, receiver
Anquan Boldin
dominated the Packers. Now that Crabtree has returned, what dimension has he added to the offense?
Williamson
: It's changed everything. This is a much better, varied, dangerous offense. Crabtree is not 100 percent, but he is still able to help. It makes Boldin even more dangerous. He was double- and triple-teamed because the 49ers didn't have many weapons. With a trio of Crabtree, Boldin and tight end
Vernon Davis
, Kaepernick has some firepower.
Rob, do you think the Packers are giving Boldin extra thought this week because of the damage he caused in Week 1?
Demovsky
: I'm sure they are, but they've changed the way they cover since that game. They're more willing to match up
Sam Shields
on the opponent's best receiver now, whereas early in the year they simply played Shields on one side of the field and
Tramon Williams
on the other. They're also cognizant of what the return of Crabtree means for the passing game. Also, the Packers didn't have safety
Morgan Burnett
in the Week 1 game and although Burnett has had an inconsistent year, they're hoping his presence on the back end helps slow down the 49ers' passing game.
From here, the 49ers look as though they have one of the NFL's best group of linebackers with
Patrick Willis
,
NaVorro Bowman
and
Ahmad Brooks
. What makes those guys so effective and how can the Packers attack the heart of the 49ers' defense?
Williamson
: And don't forget
Aldon Smith
. The young star has been playing at a high level for the past month-plus. He came back in November after missing five games while receiving treatment for substance abuse. But you are right; Bowman, Willis and Brooks all made the Pro Bowl. They are dominant. Bowman has been playing out of his mind and he is a legitimate NFL Defensive Player of the Year candidate.
Rob, do you think containing the linebackers is the key for offensive success from
Aaron Rodgers
' unit?
Demovsky
: That's certainly going to be one of the keys, because they could impact both the passing game when their ability to pass rush and the running game because of how they can clog up the middle, where
Eddie Lacy
likes to churn out yards. The Packers' second-level blocking is going to be more critical in this game than perhaps at any time all season. If they let those linebackers get loose, it could spell trouble.