Green Bay Packers:

Winston Moss
February, 28, 2014
Feb 28
2:00
PM ET
GREEN BAY, Wis. -- We've come to the end of the first month without football in 2014 for the
Green Bay Packers
.
Free agency is still more than a week away. The NFL draft is more than two months away. Yet as usual in the NFL, plenty of business was conducted in February. On the final day of the month, it's a good time to review what we learned about the Packers over the last four weeks.
Finley not done yet?:
Thoughts of tight end
Jermichael Finley
's demise in Green Bay may have been premature. For those who thought Finley would be cast aside just like safety
Nick Collins
was following his neck injury in 2011, coach Mike McCarthy said that although Finley had the same fusion surgery that Collins had, there were some differences that have left the Packers' medical staff
feeling more optimistic about a return
.
Cap space galore
: With the salary cap likely to be at least $132 million this season, the Packers will have
the sixth-most cap space to use
, as of figures compiled this week.
Position changes
: Every year, McCarthy and his staff seem to tweak a position or two, and this year appears to be no different. McCarthy said recently that in an effort to get cornerback
Micah Hyde
on the field more, he could
play some safety this season
. Also, outside linebacker
Nick Perry
may get the chance
to play a new position
that the Packers are developing in their defense, an elephant end spot.
No deals, no cuts
: While talks with cornerback
Sam Shields
intensified last week at the combine
and remain ongoing
, the Packers did not sign any of their 17 unrestricted free agents to be. With free agency set to begin on March 11, the Packers still have plenty of work to do in order to retain some of their key players. The Packers also didn't make any salary-cap related cuts.
New coaches, new roles
: McCarthy finalized
his coaching staff changes
, and perhaps the most noticeable change was how the linebackers will be coached. The resignation of outside linebackers coach
Kevin Greene
last month prompted McCarthy to bring both the outside and inside linebackers together under assistant head coach
Winston Moss
, who previously coached inside linebackers.
More involvement
: McCarthy also hinted that he will be
more involved in the defense
, at least in the offseason, in an effort to improve it over last season, when it ranked 25
th
in the NFL in yards allowed. McCarthy said he would "set the vision for the defense, [and] Dom Capers and the defensive staff will carry it out."
February, 23, 2014
Feb 23
12:30
PM ET
INDIANAPOLIS –
Green Bay Packers
defensive coordinator Dom Capers has known Kevin Greene since he coached the former outside linebacker with the
Pittsburgh Steelers
in the early 1990s.
So he knows Greene operates only one way -- full throttle.
That's why Capers said he understood why Greene
resigned as the Packers outside linebackers coach
last month after five seasons on the job. Greene cited the desire to spend more time with his wife and teenage children as his reasons.
"I've always believed in this business family comes first, and I truly believe it was a family decision for Kevin," Capers said. "Both of his children are in high school and whether you like it or not in this business, we spend a lot of time in that stadium. It's always tough, especially if your son is a player and you aren't getting a chance to experience those things with him. Knowing Kevin, once he commits to something he's committed to it, and his family's extremely important to him."
Packers coach Mike McCarthy said he wasn't surprised by Greene's decision.
"I clearly understand and respect it," McCarthy said.
However, when asked whether he asked Capers to make changes on his defensive staff, McCarthy would not comment.
"I wouldn't discuss that if I did anyway," McCarthy said. "But for the record, I control the coaching staff. Dom doesn't control the defensive staff."
Upon Greene's departure, the Packers brought together all the linebackers under assistant head coach
Winston Moss
, who previously coached only the inside linebackers. Scott McCurley was promoted to assistant linebackers coach and will help Moss handle the entire group.
"Having Winston oversee the whole group, I think the communication there just from a structure standpoint will improve," McCarthy said. "It's nothing against Kevin or the other guys, it's just the fact now you've got all those body types in one room if you do want to have more flexibility. Scott has been preparing, I've been preparing Scott for this opportunity for a long time, so this was all part of the potential options for the future planning of the coaching staff."
Greene, a 15-year NFL player who had never been on a coaching staff before he joined the Packers, resigned after five years on the job -- the minimum to be vested in the coaches' retirement plan. The Packers still participate in that plan even though in 2009 several NFL teams opted out.
February, 14, 2014
Feb 14
12:45
PM ET
GREEN BAY, Wis. -- Last week,
Green Bay Packers
coach Mike McCarthy announced
changes to his coaching staff
.
This week, some of the new coaches and some of the returning ones with new responsibilities met with reporters.
We'll introduce you to them throughout the week. First, there was
running backs coach Sam Gash
followed by
assistant special teams coach Ron Zook
and then
assistant linebackers coach Scott McCurley
.

Moss
Next up is assistant head coach/linebackers coach
Winston Moss
, who added outside linebackers to his duties.
The 48-year-old former NFL linebacker for 11 seasons with the Buccaneers, Raiders and Seahawks has been on McCarthy's staff since the beginning. In 2006 he was the linebackers coach before being promoted to assistant head coach the following season.
When Dom Capers was hired as defensive coordinator in 2009 and converted the Packers from a 4-3 to a 3-4 scheme, Moss worked exclusively with the inside linebackers. But with the resignation of outside linebackers coach Kevin Greene last month, Moss took over all of the linebackers, along with help from McCurley.
Here's what Moss had to say on:
Consolidating the linebackers into one group
: "I'm sure that dynamic will take care of itself. If you've noticed, those guys really get along well. A.J. [Hawk] has really developed as far as being a very good communicator and interacted extremely well with the defense this past year. Now, those guys just being in the same room, I think that they'll really be able to share more than anything. And so, that should really help out, just the continuity, just the chemistry and camaraderie. Those are all positive things."
Evolving as a coach
: "I think there's an experience factor. I think I keep it very, very simple. I'm very demanding. I'm very consistent. I'm very fair. The main thing that I focus on is identifying what each and every single person goes about their skill-set and goes about their way differently. I try to identify and I try to push their buttons. I think that I would try to coach A.J. differently than I would try to coach Brad [Jones]. I think that I would speak to
Jamari Lattimore
differently than the way I spoke to Robert [Francois]. I have experience with Clay [Matthews] and [Nick] Perry and the rest of those [outside linebackers]. Obviously, once I have that one-on-one relationship with them to where on a day-to-basis that I can focus on them, then I will be able to grow with them and find out. It's all going to be a relationship in which it's going to be based upon trusting one another and getting to know one another. From there, we would anticipate everything working out very well."
His interaction with the outside linebackers in the past
: "No more than any other position. I think the outside linebackers, as much as the outside linebackers have a coordination with the inside guys, you can say the same thing about the defensive line, the safeties and the corners. I think I have been able to interact with all positions very well, so the outside linebackers will be just one part of my [job]."
This being a good career move
: "I wish I can give you a great answer but to be perfectly honest with you, my focus right now has been expanded not to two positions but in essence four positions. So my focus is clearly to get those guys to play at the highest level possible."
February, 10, 2014
Feb 10
6:45
PM ET
GREEN BAY, Wis. -- Assistant special teams coaches in the NFL are usually neophyte coaches or former players trying to break into the business.
Rarely are they 59-year-olds who have held head coaching jobs at two prominent top-level colleges and also NFL coordinator jobs.
It wasn't lost on Ron Zook that his new position as the
Green Bay Packers
assistant special teams coach was a bit unusual, when he met with reporters on Monday for the first time
since he was hired last week
.
[+] Enlarge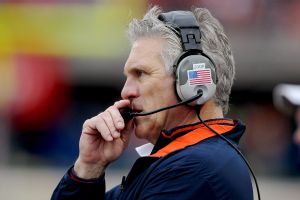 Jonathan Daniel/Getty ImagesThe Packers will turn to Ron Zook to help with special teams.
"Coaching's coaching; I wanted the opportunity to get back in the profession, I really did," said Zook, the former Florida and Illinois head coach who had been out of football since he was fired in 2011 after seven seasons with the Illini.
"The first year out, I probably needed it just to kind of collect your thoughts and so forth. This past year, I really began to miss it. I told some people, one of the most exciting things for me is getting back into coaching for the reasons I got into coaching: because I love the game, I love the camaraderie, I love being around the players and the coaches and trying to help get everybody on the same page trying to do the same thing."
Even Zook isn't quite sure exactly what his role will be, but coach Mike McCarthy knows he wants more attention paid to special teams, which struggled at times last season. McCarthy didn't feel that the problems warranted a complete change, which is why he retained special teams coordinator Shawn Slocum, but he appears set on dedicating more resources to it. He also has assigned Jason Simmons, a coaching administrator the last three seasons, to assist with special teams.
"I wanted to put more of an emphasis on that area," McCarthy said. "One of our challenges ever year with youth, some of the injuries we've had with younger players playing early, there's a lot of one-on-one time that goes into special teams coaching. Everybody in the league goes through it. We just want to maximize that structure as far as to make sure our players are getting the one-on-one time, and I thought Ron brought a whole different dimension to the room."
Zook was a natural fit for McCarthy. The two worked together with the
New Orleans Saints
for two seasons (2000 and 2001) when McCarthy was the offensive coordinator and Zook the defensive coordinator before Zook returned to the college ranks to coach the Gators.
In fact, Zook and McCarthy lived together during their early days with the Saints before Zook's family moved to New Orleans. Even after Zook's wife and kids joined him, they lived down the street from McCarthy.
Packers assistant head coach/linebackers coach Winston Moss also was with them in New Orleans, and Zook coached Packers safeties coach Darren Perry during their days with the
Pittsburgh Steelers
, where Zook was the special teams coach from 1996-98.
"So you've got guys that you know and everybody's looking for the same thing, and that's to win," Zook said. "That was what was important to me, being in a situation where you had a chance to win and being around good people."
McCarthy mentioned Zook's energy and enthusiasm, something that was apparent throughout his 20-minute session with reporters on Monday. Zook spoke openly about both his successes, most notably the 2007 Rose Bowl team at Illinois; and his failures, being fired by both Florida and Illinois.
Zook also explained how he has spent the past two years out of football, working part-time as an analyst for CBS and also at a bank in Florida.
But perhaps it was what he did in his free time that was instrumental in his return to the NFL. He would make regular trips across the state to Tampa, Fla., where he would spend time watching film with ESPN "Monday Night Football" analyst Jon Gruden.
"I've spent I can't tell you how many hours, spent an awful lot of time with Jon Gruden," Zook said. "I'd drive to Tampa, and we'd study football. We'd get ready for the draft, study programs that way, what's going on in both college and the NFL. So I was able to stay involved with the game in terms of the X's and O's part of it. But you miss the relationship side of it."
February, 10, 2014
Feb 10
4:45
PM ET
GREEN BAY, Wis. -- There are alterations coming to the Green Bay Packers' defense but nothing dramatic like a switch from the 3-4 as their base scheme.
Despite changes to the structure of defensive coordinator Dom Capers' coaching staff that seemingly could have made it easy to transition to a 4-3 scheme, the Packers are not headed in that direction.
"Our defense is going to change some," Packers coach Mike McCarthy said Monday. "You don't ever stay the same. I'll set the vision for the defense. Dom Capers and the defensive staff will carry it out."
[+] Enlarge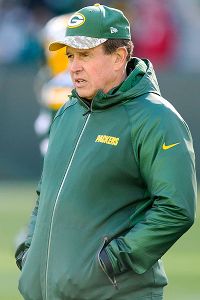 Jeff Hanisch/USA TODAY SportsDom Capers' defense struggled at times last season amid a rash of injuries to key players.
The biggest change -- so far -- is how the linebackers will be coached. Last week, McCarthy announced that assistant head coach Winston Moss, who previously coached inside linebackers, will add outside linebackers to his duties following the resignation of Kevin Greene.
Under that coaching structure, it would have made it possible for McCarthy to integrate more 4-3 principles into the defense.
While not all of the defensive changes have been hammered out, that will not be one of them.
"The only thing that I've been instructed is basically the structure's going to stay the same as far as the 3-4," Moss said. "If anything changes there, then that has not been made available to me so I'm moving forward that we'll be structurally the same. Obviously my approach will just naturally bring some different philosophies and different approaches from the standpoint that I like to have a sense of those guys just doing a lot of things well."
The Packers slipped to 25
th
in the NFL in yards allowed last season, down from 11th in 2012, and reverted to the form of 2011, when it finished last in the league. In Capers' first two seasons as the Packers' defensive coordinator, his units ranked second and fifth.
Injuries to key defensive players -- most notably outside linebackers
Clay Matthews
and
Nick Perry
and cornerback
Casey Hayward
-- prevented Capers from using some of the myriad packages and concepts in his playbook last season.
From the sound of it, McCarthy wants to get back to being more versatile on defense.
"We were not as multiple maybe this year as we've been in prior years really because of the stress of injuries on that unit so we want to get back to some of the things that we did very well in the past and make sure we're carrying enough packages to utilize all of our players," McCarthy said. "We obviously need to get better on defense, and I think these moves that we've made on defense will definitely put us on that path."
McCarthy said Capers, who has run a 3-4 system his entire NFL coaching career, has previously utilized one coach to oversee both the inside and outside linebackers even though he has never done so in Green Bay. Plus, Moss will have an assistant, Scott McCurley, who was promoted from defensive quality control coach.
While the responsibilities of the inside and outside linebackers differ significantly in Capers' scheme, the voice in front of the position meeting room will be the same.
"You know, Winston, he's really going to be the leader of the group," McCurley said. "I think the players have a huge amount of respect for Winston's leadership, and what he brings to the table there, and from there, I'm there to assist him, whether it be inside guys or outside guys."
February, 8, 2014
Feb 8
8:00
AM ET
Each week, I will ask for questions via Twitter with the hashtag #PackersMail and then will deliver the answers over the weekend.
.
February, 7, 2014
Feb 7
4:45
PM ET
GREEN BAY, Wis. -- The
Green Bay Packers
have four new members of their coaching staff and five existing coaches with new or expanded roles.
In
addition to hiring
Ron Zook and
Sam Gash
, the Green Bay Packers hired two other new assistant coaches, Luke Getsy and former Packers linebacker
Chris Gizzi
.

Zook, the former Florida and Illinois head coach, will serve as the assistant special teams coach, while Gash will coach running backs.
Getsy will serve as offensive quality control coach, while Gizzi will be a strength and conditioning assistant.
Also, returning assistant coaches
Winston Moss
(assistant head coach/linebackers coach),
Alex Van Pelt
(quarterbacks coach), Scott McCurley (assistant linebackers coach),
Jason Simmons
(defensive/special teams assistant) and John Rushing (defensive quality control coach) all have new duties.
Including special teams coordinator Shawn Slocum, who is returning for his sixth season, the Packers will now have three coaches working directly with special teams. Previously they had two -- Slocum and
Chad Morton
, who was not retained.
"The offseason is progressing with the finalization of adjustments and additions to our coaching staff," Packers coach Mike McCarthy said in a statement announcing the changes. "Every day and every decision has the focus on bringing the Lombardi Trophy back to Green Bay. The evaluation process will continue with a vision to change, adjust or emphasize any aspect of our program to help us reach the attainable goal of another Super Bowl championship."
Here's a breakdown of their new coaches and the old ones with new duties:
Sam Gash, running backs coach
: Coached running backs with the
Detroit Lions
from 2008-12. Replaces Van Pelt, who was promoted to quarterbacks coach after two seasons. Played 12 years in the NFL as a fullback with the
New England Patriots
,
Buffalo Bills
and
Baltimore Ravens
.
Ron Zook, assistant special teams coach
: Returns to the NFL after spending the past two seasons out of coaching. Previously coached special teams for the
Pittsburgh Steelers
(1996-98). Also worked with McCarthy in New Orleans, where he was the Saints defensive coordinator (2000-01) and McCarthy was the offensive coordinator.
Luke Getsy, offensive quality control coach
: A former college quarterback at Akron (2005-06). Previously the receivers coach at Western Michigan.
Chris Gizzi, strength and conditioning assistant
: Played for the Packers in 2000 and 2001 and is perhaps best remembered for leading the Packers out of the tunnel carrying an American Flag in their first game following the 9/11 terrorist attacks. Spent last offseason as an intern with the Packers before working as a strength and conditioning assistant at the University of North Carolina last season.
Winston Moss, assistant head coach/linebackers
: Previously held the same title while coaching inside linebackers. Will add outside linebackers to his duties, inheriting that role from
Kevin Greene
after he resigned last month.
Scott McCurley, assistant linebackers coach
: Has been with the Packers since 2007, including the last five as a defensive quality control coach. Will assist Moss will all linebackers.
John Rushing, defensive quality control
: Served as an offensive and special teams assistant the past two seasons after spending two seasons as the offensive quality control coach.
Jason Simmons, defensive/special teams assistant
: Served as a coaching administrator for the past three seasons.
Alex Van Pelt, quarterbacks coach
: Replaced Ben McAdoo, who became the
New York Giants
offensive coordinator. Previously coached the Packers running backs for two seasons. Former NFL quarterback, served as a quarterbacks coach with the Bills (2008-09) and Buccaneers (2010-11).
Remaining in their current roles on the coaching staff are: Tom Clements (offensive coordinator), Dom Capers (defensive coordinator), Mark Lovat (strength and conditioning coordinator), Shawn Slocum (special teams coordinator),
Edgar Bennett
(receivers),
James Campen
(offensive line), Jerry Fotenot (tight ends),
Joel Hilgenberg
(assistant offensive line),
Darren Perry
(safeties), Mike Trgovac (defensive line), Joe Whitt Jr. (cornerbacks) and Thadeus Jackson (strength and conditioning assistant).
January, 14, 2014
Jan 14
11:30
AM ET
GREEN BAY, Wis. -- Last week,
Green Bay Packers
coach Mike McCarthy seemed resigned to the fact that he would lose one member of his coaching staff, quarterbacks coach Ben McAdoo.
Although McAdoo has not landed a new job yet, his parade of interviews continued on Tuesday. According to ESPN Giants reporter Dan Graziano, McAdoo left Monday's meeting with the
New York Giants
about their offensive coordinator position
and went straight to Florida
, where he was scheduled to meet Tuesday with the
Miami Dolphins
about the same position on their staff.
Last Wednesday, McAdoo interviewed for the
Cleveland Browns
' head coaching position. McAdoo has been on McCarthy's staff since the beginning in Green Bay. He coached tight ends from 2006-11 before being promoted to quarterbacks coach.
Miami appears to be a logical landing spot for McAdoo given his familiarity with Dolphins head coach Joe Philbin, the former Packers offensive coordinator.
"He's prepared himself for opportunities potentially that are out there," McCarthy said last week. "I think the world of Ben. I've been with Ben a long time and seen him diligently prepare himself to move forward. So whatever opportunities that do come by, he'll do a phenomenal job."
McAdoo might not be the only hole McCarthy could have to fill. Inside linebackers coach Winston Moss, who also has the assistant head coach title, has emerged as a possible candidate to become the
Tennessee Titans
' defensive coordinator, according to
ESPN Titans reporter Paul Kuharsky
.
Like McAdoo, Moss is an original member of McCarthy's staff. Moss has interviewed for at least two head coaching jobs in past offseasons. In 2009, he met with both the
Oakland Raiders
(for whom he played four seasons) and the
St. Louis Rams
. It was at that time that McCarthy gave Moss the assistant head coach title.
"I think we have a very talented coaching staff," McCarthy said last week. "I would anticipate interest throughout."
The Packers' assistant coaches were scheduled to be off this week.
November, 3, 2013
11/03/13
8:00
AM ET
GREEN BAY, Wis. – Cut off the dreadlocks and put a No. 55 jersey on his back, and
Jamari Lattimore
might look a lot like a former
Green Bay Packers
linebacker.
The way the third-year pro has played the past three games, he's playing the way
Desmond Bishop
did in that spot in 2010 and 2011 before injuries set him back.
"He was always so active; he had an attitude playing," Lattimore said of Bishop, who was released by the Packers and signed with the
Minnesota Vikings
in the offseason before a knee injury ended his season. "He's got all the skills. He'll hit you, and he can cover. What more can you want out of a guy?"
[+] Enlarge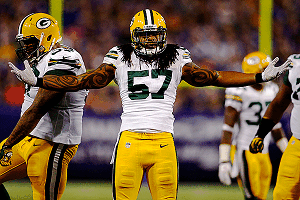 Bruce Kluckhohn/USA TODAY SportsGreen Bay LB Jamari Lattimore has made an impression with his production -- not just his hair -- as a starter.
The same could be said of Lattimore in his first three NFL starts. Since taking over for the injured
Brad Jones
(hamstring) on Oct. 13 against the
Baltimore Ravens
, Lattimore has combined for 24 tackles (based on the Packers coaches' film review) and two sacks.
"I spent a lot of time watching Desmond; He always used to tell me that I remind him of him," Lattimore said. "We talk a lot; we just recently spoke a couple of days ago, and he was very positive about the way [Lattimore has] played."
At 6-foot-2 and 237 pounds, Lattimore is the same height and just one pound lighter than Bishop.
With Jones set to return for Monday night's game against the
Chicago Bears
, defensive coordinator Dom Capers will have to decide whether to use both players plus veteran
A.J. Hawk
in some kind of rotation. Before his injury, Jones was the every-down inside linebacker who called the defensive signals. Hawk took over in that role, and Lattimore has played along side of Hawk in the base and nickel – but not the dime – packages.
"I think we'll take the approach that Brad is healthy now, and we'll insert Brad in and if there's going to be a change from there, then those decisions will be collectively discussed with Coach Dom and Coach McCarthy and so forth and we'll make decisions then," inside linebackers coach Winston Moss said. "But right now, Brad seems to be practicing well, looks healthy and we'll go from there."
Said Capers: "You'll see Jamari at times because he's certainly played well enough to warrant getting some time."
Emptying out the notebook from the week:
More Micah
: Rookie cornerback
Micah Hyde
said he took the same amount of practice reps on kickoff returns as he has each week this season, and therefore wasn't sure whether he would handle the duties full time on Monday night against the Bears.
Hyde, who took over as the full-time punt returner on Oct. 20 against the
Cleveland Browns
and had a 93-yard punt return for a touchdown a week later against the Vikings, looks like a good bet to replace the ineffective
Johnathan Franklin
on kickoff returns. Hyde lined up for kickoff returns in the second half against the Vikings but did not get any chances.
"I have no idea coming into Monday night," said Hyde, who leads the NFL with an 18.6-yard punt return average. "If I'm back there, I'd love the opportunity, but if not, I'm sure my teammates will be prepared."
Hyde returned punts – but not kickoffs – in college at the University of Iowa.
The Packers rank last in the NFL in kickoff return average at just 15.3 yards per return.
Sherrod decision coming
: The Packers will have to decide this week whether to add tackle
Derek Sherrod
to the active roster for the first time in nearly two years. Sherrod's three-week practice window on the physically unable to perform list expires on Tuesday.
Sherrod, a first-round pick in 2011, has not played since he broke both bones in his lower right leg on Dec. 18, 2011.
"He's progressing nicely," offensive line coach
James Campen
said. "I'm excited to see what's going to happen there."
Sherrod also started last season on PUP, practiced for two weeks and then was placed on injured reserve.
Three other PUP players – safety
Sean Richardson
(neck), offensive lineman
JC Tretter
(ankle) defensive end
Jerel Worthy
(knee) – have not returned to practice. They have until the week of Nov. 11 to begin practicing or they cannot return this season.
Developmental quarterback
: If you get to the stadium early enough on game days, you can watch practice squad quarterback
Scott Tolzien
go through a workout on the field.
Typically, it's just Tolzien, quarterbacks coach Ben McAdoo and anyone they can find to run routes and catch passes – which sometimes is backup quarterback
Seneca Wallace
, who has moonlighted as a receiver during his career.
For Tolzien, the former University of Wisconsin quarterback who was signed to the practice squad at the start of the regular season, it's a rare chance for one-on-one instruction.
"You think about it, typically the last practice is Friday," Tolzien said. "For those who aren't playing in the game, the next [practice] is Wednesday, so I think it's huge to get an extra day in there. And why not? Everyone else is playing the game, so why can't I treat it as my own little game?
"Bottom line is it's an opportunity to get better. So maybe you get 50 extra throws. Well, that's 50 extra throws, and you're not going to be throwing until Wednesday, so it's a great opportunity to improve and get one-on-one time with your coach, too."
The Packers believe the 6-foot-2, 213-pound Tolzien has potential, which was why last week they gave him a raise from the usual practice-squad pay check of $6,000 per week to a salary practically equivalent to a second-year roster player, at $544,999, after the Cleveland Browns offered him
a spot on their roster two weeks earlier
.
McAdoo said last week that he wouldn't comment on Tolzien's development, but earlier this season he said: "That's why he's here. He's a heck of a football player. He's a talented young man. He's smart. He's a quick study, and we're fortunate to have him."