High-SchoolArizona:

Must See
May, 4, 2012
5/04/12
10:00
AM ET
By
Christopher Parish
| ESPN.com
For all of senior
Mitch Nay
's accomplishments during his high school days, the one he remembers most fondly is a loss.
Nay's spectacular junior season helped his Hamilton (Chandler, Ariz.) Huskies reach the Class 5A, Division I baseball title game against Mountain Pointe (Phoenix, Ariz.). The fourth-seeded Huskies battled hard but dropped a heartbreaking game, 7-6, in eight innings.
For many athletes, a loss like that would be devastating. For Nay, it was exhilarating.
"That's something I'll always remember," he said. "It was a great game. It went to extra innings, and we ended up losing, but it was still the most fun I've ever had playing the game. I'm with my best friends, against good competition, it was back and forth for seven innings, and the whole atmosphere was great."
Baseball can be a grind more than a game for top recruits. Yet for the nation's No. 9 prospect in the
ESPN 100
, a childlike appreciation of the sport helps him stay grounded, all the while proving why the Arizona State signee has a chance to be selected in the early rounds of this June's MLB draft.
"He's performing very well for us," said Hamilton head coach Mike Woods. "When you factor in that he's having to deal with all of the pressures of the scrutiny, where he's going to be drafted, everybody watching, and teams not giving him much to hit, he's doing super."
For Nay, the last part — teams not giving him much to hit — has been the toughest. Last season, the third baseman hit .495, cracked 14 home runs and added 54 RBIs. This season, those numbers are down because teams are staying away from the powerful senior star.
"It's actually been really tough," Nay said. "It's taken some getting used to. Sometimes you get in that zone where you're sure they won't throw you a strike, and then you get a pitch to hit and you won't be ready. In the beginning of the season, I was really aggressive. I was not swinging at good pitches. It's definitely been an adjustment."
His patience at the plate has been a big improvement this season. So has his work ethic. Nay says it wasn't until last summer that he really understood his talent on the diamond could take him places — places beyond even the college level.
Since then, he's been a gym rat, constantly working out, taking his batting practice sessions more seriously and studying every aspect of his approach at the plate.
"He had a huge swing over the last couple of years," Woods said, "but he's refining it, shortened it, and he's gotten it under control."
Nay says that longer swing reared its ugly head again at the start of this season. So he headed to the film room and watched a tournament from last summer, when he felt his swing was more repeatable. He made some adjustments, and the results — including five home runs in the last two weeks of the regular season — spoke for themselves.
Nay's offense is what attracts scouts and sold Arizona State. But it's his defense that keeps them watching. While ESPN senior baseball analyst Keith Law believes
Nay will eventually shift to the outfield
, Woods disagrees.
"He looks like a professional third baseman," the coach says. "He's got a major league arm right now across the diamond. He's got more work to do defensively — everyone does — but he could play at that level defensively."
It may not be long until we see Nay at that level. The senior says he's unsure about his next step, and it will depend on where he's selected in the MLB draft. He says all but two or three MLB teams have visited his home or showed up at his games, and a few have shown particularly strong interest.
For Nay, there are benefits to either side of the equation. He's long dreamed of playing professionally, but he doesn't want to rush it, either. And the allure of Arizona State is strong.
"I've always wanted to go to ASU," he says. "The college lifestyle would be a lot of fun. And I'd still probably get to the majors from there. If it's pro, it's pro, but if it's ASU, I'd be glad to go there for three years. I'll figure it out."
"He's got a lot of people in his ear about what's next," Woods adds. "No matter what he decides, I'm sure he'll be successful."
Nay isn't all baseball, all the time. Woods says his star hitter is also a star student. He's got a grade-point average well above 4.0, and it took years for many of his teachers to realize he was a baseball player, much less the nation's second-ranked third baseman.
And now, with the biggest summer of his life ahead of him, Nay isn't altering his fun-loving approach.
"It's been a learning process," he said. "I've never had this many eyes on me before. It's taken some getting used to. But no matter how many eyes are on me, the game is still the game."
March, 16, 2012
3/16/12
9:49
AM ET
By
Jason A. Churchill
| ESPN.com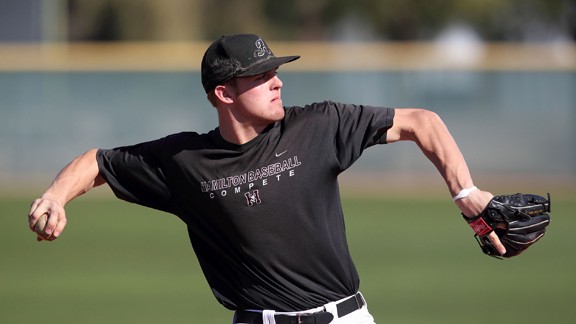 Mike Janes/Four Seam Images via AP ImagesHamilton (Chandler, Ariz.) senior third baseman Mitch Nay has seen his MLB draft stock rise thanks to a strong start to the 2012 season.
Jason A. Churchill, who covers the MLB draft for ESPN Insider, looks at the high school senior baseball prospects who've either helped or hurt their draft stock early in the 2012 season.
The Class of 2012 high school baseball class is one of great promise. While it might lack polish at the top, it offers a lot of projectable, star-level athletes with high ceilings. This class, however, won't sort itself out until late April and May. From our rough sketch of the top 20 high school prospects that was compiled during the preseason (see below), we'll look at who's improving their stock and who's fading in the early going.
Preseason Top 20
1.
Lucas Giolito
, RHP, Harvard-Westlake (Studio City, Calif.)
2.
Byron Buxton
, OF, Appling County (Baxley, Ga.)
3.
Carlos Correa
, SS, Puerto Rico Academy (Gurabo, Puerto Rico)
4.
Walker Weickel
, RHP, Olympia (Orlando, Fla.)
5.
Max Fried
, LHP, Harvard-Westlake (Studio City, Calif.)
6.
Matt Smoral
, LHP, Solon (Ohio)
7.
Stryker Trahan
, C, Acadiana (Lafayette, La.)
8.
Joey Gallo
, 1B, Bishop Gorman (Las Vegas)
9.
Gavin Cecchini
, SS, Barbe (Lake Charles, La.)
10.
David Dahl
, OF, Oak Mountain (Birmingham, Ala.)
11.
Lucas Sims
, RHP, Brookwood (Snellville, Ga.)
12.
Hunter Virant
, LHP, Camarillo (Calif.)
13.
Rio Ruiz
, 3B, Bishop Amat (La Puente, Calif.)
14. Zach Eflin, RHP, Hagerty (Oviedo, Fla.)
15.
Clint Coulter
, C, Union (Camas, Wash.)
16.
Courtney Hawkins
, OF, Carroll (Corpus Christi, Texas)
17.
Addison Russell
, SS, Pace (Fla.)
18.
Carson Kelly
, 3B, Westview (Portland, Ore.)
19.
Tanner Rahier
, SS, Palm Desert (Calif.)
20.
Corey Seager
, 3B, Northwest Cabarrus (Concord, N.C.)
STOCK UP
Mitch Nay, 3B/OF, Hamilton (Chandler, Ariz.)
Nay, Arizona's top prep prospect, has a shot to shoot up the charts with more performances like this week's outing when he went deep to right-center -- the opposite field for Nay, who's a right-handed batter -- for a three-run homer.
Ty Buttrey, RHP, Providence (Charlotte, N.C.)
Buttrey touched 95 mph on the radar gun last week and sat firmly in the low-90s. He fanned 12 in 5.2 innings in one start and offers projection at 6-foot-6 and just over 200 pounds. He's committed to Arkansas, but he could move up into first-day consideration.
Eflin
In his latest start, Eflin, a 6-foot-5, 200-pound Central Florida commit, tossed six hitless frames and struck out 12. He has 29 strikeouts in 15 innings on the season, using a 90-94 mph fastball and a potentially plus curveball. He has yet to allow an earned run.
Weickel
Weickel, already a potential top 10 pick and a Miami commit, whiffed 10 in his start last week and has scouts drooling over what might be in a few years. "Sometimes I get lost and imagine him four years down the line," said an area scout. "He could be an absolute horse. The sky's the limit."
STOCK DOWN
Keon Barnum, 1B, King (Tampa, Fla.)
Barnum is hitting for average and power early on, but is not showing a consistent ability to recognize and adjust to the breaking ball. Since he's already 19, Barnum has less developmental time ahead of him than most prep draft prospects and is limited to first base defensively, so he has to show even better at the plate than if he offered defensive value. He does possess plus bat speed and the ball jumps off his barrel, but he's slumped a bit early this season.
Lance McCullers Jr., RHP, Jesuit (Tampa, Fla.)
While McCullers started this year 4-0, he lands on the Stock Down list because scouts hoped to see improvements in some key areas that have not yet been displayed. He's still inconsistent with his command and there are issues with his delivery, including a lot of effort, and the buzz is that he's headed for the bullpen as a professional.
Fried
After faring very well in his first few outings and impressing over the summer, fall and early winter, Fried has looked very pedestrian of late. He's sat 89-92 mph with his fastball and has not commanded his arsenal well in his last two starts, getting touched up in both. It's far too early to suggest this will ultimately impact his draft stock, but the trend isn't rosy.
Giolito
Giolito lands here based solely on his elbow injury.
It's been described as a UCL sprain
-- I coined it a potential "UCLA sprain" for its impact on Giolito's decision to sign a pro deal or head to UCLA next fall -- but sprains too often turn up as tears, which generally require Tommy John surgery. The right-hander is my No. 1 overall prospect, prep or college, and will remain at the top of the prep list until more is known of his condition.
If Giolito returns and shows he's 100 percent, he's still likely to be selected in the top 5-10 picks, if not the top three.
INJURIES
On top of Giolito's injury, there have been two others that may weaken the prep class and drop the stock of the player in question. Albuquerque Academy (Albuquerque, N.M.) catcher/infielder
Alex Bregman
broke the tip of his middle finger and is expected to miss the rest of the season. Showing the toughness clubs want to see, Bregman hurt the finger in pre-game yet played and had two hits.
Ringgold (Ga.) left-hander
Matthew Crownover
, the nation's No. 8 lefty, recently had Tommy John surgery and will miss the rest of the season. He wasn't considered a first-round talent, but he has touched 95 mph and had a shot to sneak into the top 100 despite his lack of ideal height at 6-0. He's likely headed for Clemson and will be draft eligible in 2015.
Jason A. Churchill covers scouting, player development and the MLB draft for ESPN Insider, as well as Prospect Insider, where he's the founder and executive editor. You can follow him on Twitter @ProspectInsider and email him at churchill@prospectinsider.com.
March, 7, 2012
3/07/12
9:10
AM ET
By
Mark Tennis
| ESPN.com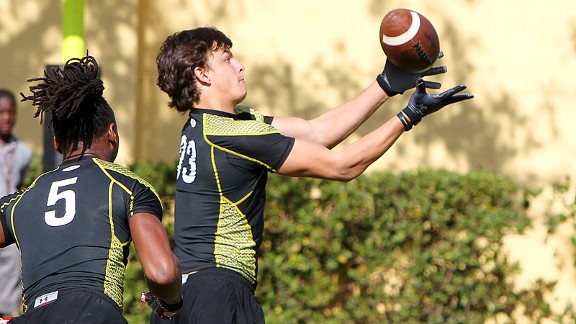 Miller Safrit/ESPN.comBrophy Prep (Phoenix) junior receiver Devon Allen scored 17 touchdowns this past fall.
During the offseason, we'll check out one team per week that looks like a sure bet to be among the best in the nation for next fall.
FAB 50 Offseason Primer Archive
This week's team:
Brophy Prep (Phoenix)
2011 Season
: 11-1, Division I state quarterfinalist, unranked in final
POWERADE FAB 50
.
Projected
2012
Preseason
Ranking
: Top 40. With a strong cast of returning players off a 2011 team that didn't lose until the state playoffs, the Broncos could be the preseason team to beat in Arizona. Brophy, which fell to Basha (Chandler, Ariz.) 32-29 in the state quarterfinals, is set to play Santa Margarita (Rancho Santa Margarita, Calif.) in late August. Santa Margarita figures to start the season No. 2 in California and was projected to be a top-15 FAB 50 team earlier in our
Offseason Primer
.
Team Strengths
: Coach Scooter Molander should have one of the nation's top collections of skill players, similar to the group at Chaparral (Scottsdale, Ariz.) this fall that was led by quarterback
Connor Brewer
and receiver/defensive back/kick returner
Davonte' Neal
.
Brophy junior quarterback
Tyler Bruggman
threw for 37 touchdowns with just two interceptions this past season and has offers from a multitude of colleges, including Arizona and Arizona State. Junior receiver
Devon Allen
had 44 receptions for 844 yards and scored 17 total touchdowns, including a 90-yard kickoff return for a touchdown against North Canyon (Phoenix). He's been offered by the likes of Michigan, Stanford and Washington. Also returning will be junior running back
D'Amani Grayer
, who ran for 939 yards and 10 scores. Junior
Charlie Renfree
leads the offensive line.
On defense, junior linebacker Andrew Curtis racked up 103 tackles in 2011, while junior
Robert Relf
is a solid contributor at safety.
Another Arizona team to watch
: Defending Division I state champion Desert Vista (Phoenix) and perennial power Hamilton (Chandler, Ariz.) aren't going to hand over state bragging rights to Brophy Prep quite so easily and should be solid once again.
One small school powerhouse with a national reputation for success that may have one of its best teams is Blue Ridge (Lakeside, Ariz.). Coach Paul Moro's program is coming off a 14-0 Division IV state championship season and should feature one of Arizona's top prospects, regardless of school size, in 6-foot-3, 220-pound linebacker
Chans Cox
. The Yellow Jackets, who have won two state titles in the last three years, also will return quarterback Skyler Hill, who threw for 267 yards in the state finals against Show Low (Ariz.).
February, 12, 2012
2/12/12
10:33
PM ET
By
Sheldon Shealer
| ESPN.com
Daniel Lopez's goal and a save by keeper Jonathan Atencio on a penalty kick allowed Cortez (Phoenix, Ariz.) to snag a 1-0 victory over Coronado (Scottsdale, Ariz.) in the
February, 12, 2012
2/12/12
10:32
PM ET
By
Sheldon Shealer
| ESPN.com
Salpointe Catholic (Tucson, Ariz.) scored twice in the final 10 minutes to pull away for a 3-0 victory over Notre Dame Prep (Scottsdale, Ariz.) in the
February, 12, 2012
2/12/12
10:31
PM ET
By
Sheldon Shealer
| ESPN.com
Arizona Division I state final
Saturday night.
The victory marked Hamilton's first state title, while Brophy was prevented from winning back-to-back crowns.
Jordan Fletcher of Hamilton (Chandler, Ariz.) scored in the fourth overtime session, lifting the Huskies to a 2-1 victory over Brophy College Prep (Phoenix, Ariz.) in the
February, 12, 2012
2/12/12
10:28
PM ET
By
Sheldon Shealer
| ESPN.com
Arizona Division III final
on Friday evening.
Kelsie Roberts scored twice, the second coming in overtime for Estrella Foothills, which won the three previous Class 1A-2A-3A titles in Arizona.
For the fourth straight season, Estrella Foothills (Goodyear, Ariz.) ended the year as a state champion, this time knocking off top-seeded Palo Verde (Tucson, Ariz.) 3-2 in overtime in the
February, 12, 2012
2/12/12
10:28
PM ET
By
Sheldon Shealer
| ESPN.com
Arizona Division II state final
Saturday afternoon.
The victory marked Catalina Foothills' third straight state title and sixth in the past eight seasons. Catalina Foothills won the Class 4A-I titles in 2010 and 2011 before the Arizona state association changed the playoff format for 2012.
Emily Green and Jenna Glad each scored goals to carry Catalina Foothills (Tucson, Ariz.) to a 2-0 victory over Catcus Shadows (Cave Creek, Ariz.) in the
February, 12, 2012
2/12/12
10:27
PM ET
By
Sheldon Shealer
| ESPN.com
Arizona Division I state final
Saturday evening following a 1-1 match that went four overtimes. Highland held a 4-2 advantage in the penalty kicks.
The victory marked Highland's first state title. Hamilton was the large-school state champion last year.
Goalkeeper Ashley March delivered a pair of diving saves in the shootout that allowed Highland (Gilbert, Ariz.) to edge Hamilton (Chandler, Ariz.) in the
January, 31, 2012
1/31/12
9:54
PM ET
By
Mark Tennis & Doug Huff
| ESPN.com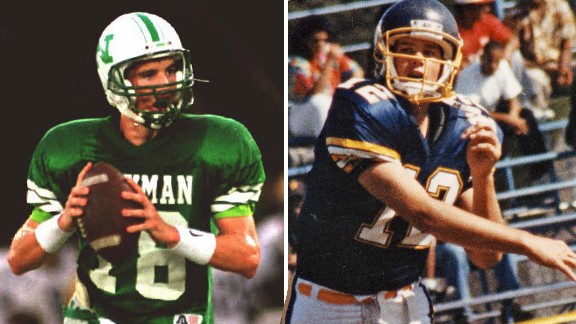 AP Photo, Serra High SchoolBefore they led their teams to Super Bowl XLVI, Eli Manning (left) and Tom Brady were high school standouts at Isidore Newman (New Orleans) and Junipero Serra (San Mateo, Calif.), respectively.
With signing day upon us and the the Super Bowl not far behind, it's a busy time for all levels of the game. Given that every player in Super Bowl XLVI played as a prep back in the day, we decided to break down the rosters for the New England Patriots and New York Giants by state and by high school.
Emerging superstar tight end
Rob Gronkowski
and fullback
Lousake Polite
of the Patriots are both from Woodland Hills (Pittsburgh). These two are also the only two players from Pennsylvania from the Patriots in this year's game.
For the Giants, star receiver
Hakeem Nicks
from Independence (Charlotte, N.C.) was part of the school's legendary 109-game win streak from 2000 to 2009 that still stands as the second-longest in U.S. history.
And with the
Great State Debate
still fresh on our minds, it's worth mentioning that California leads the way for Super Bowl participants this season with 13, while Florida (11) and Ohio (9) aren't far behind in the tally.
ALABAMA
Giants LB
Michael Boley
(Elkmont)
Giants WR
Jerrel Jernigan
(Eufaula)
Giants DL
Justin Tuck
(Central Coosa County, Rockford)
Giants DL
Osi Umenyiora
(Auburn)
ARIZONA
Giants DB
Prince Amukamara
(Apollo, Glendale)
ARKANSAS
Giants OL
Mitch Petrus
(Carlisle)
CALIFORNIA
Giants WR
Ramses Barden
(Flintridge Prep, La Canada)
Patriots QB
Tom Brady
(Junipero Serra, San Mateo)
Giants QB
David Carr
(Stockdale, Bakersfield)
Patriots DB
Patrick Chung
(Rancho Cucamonga)
Patriots WR
Julian Edelman
(Woodside)
Patriots OL
Logan Mankins
(Mariposa)
Patriots DB
Sterling Moore
(Deer Valley, Antioch)
Giants TE
Bear Pascoe
(Granite Hills, Porterville)
Giants LB
Spencer Paysinger
(Beverly Hills)
Patriots WR
Matthew Slater
(Servite, Anaheim)
Giants DL
Dave Tollefson
(Ygnacio Valley, Concord)
Patriots RB
Shane Vereen
(Valencia)
Patriots OL
Ryan Wendell
(Diamond Bar)
COLORADO
Giants DB
Derrick Martin
(Thomas Jefferson, Denver)
Patriots OL
Nate Solder
(Buena Vista)
CONNECTICUT
Patriots TE
Aaron Hernandez
(Bristol Central, Bristol)
Patriots LB
Niko Koutouvides
(Plainville)
Patriots OL
Donald Thomas
(Career Magnet, New Haven)
FLORIDA
Giants OL
David Baas
(Riverview, Sarasota)
Giants OL
Kevin Boothe
(Pine Crest, Fort Lauderdale)
Giants DL
Linval Joseph
(Santa Fe, Alachua)
Patriots WR
Chad Ochocinco
(Miami Beach)
Giants DB
Kenny Phillips
(Carol City, Miami)
Giants DL
Jason Pierre-Paul
(Deerfield Beach)
Giants DB
Antrel Rolle
(South Dade, Homestead)
Giants K
Lawrence Tynes
(Milton)
Patriots DL
Gerard Warren
(Union County, Lake Butler)
Giants LB
Jacquian Williams
(Riverview, Sarasota)
Patriots DL
Vince Wilfork
(Santaluces, Lantana)
GEORGIA
Patriots
Deion Branch
(Monroe, Albany)
Giants DB
Deon Grant
(Josey, Augusta)
Patriots LB
Gary Guyton
(Bradwell Institute, Hinesville)
Patriots DL
Kyle Love
(North Clayton, College Park)
Giants RB
D.J. Ware
(Rockmart)
ILLINOIS
Patriots DB
Sergio Brown
(Proviso East, Maywood)
Giants OL
David Diehl
(Brother Rice, Chicago)
Patriots LB
Rob Ninkovich
(Lincoln-Way Central, New Lenox)
INDIANA
Giants OL
James Brewer
(Arlington)
Giants LB
Mathias Kiwanuka
(Cathedral, Indianapolis)
Giants P
Steve Weatherford
(North Vigo, Terre Haute)
IOWA
Giants DB
Tyler Sash
(Oskaloosa)
KENTUCKY
Patriots DL
Brandon Deaderick
(Elizabethtown)
LOUISIANA
Patriots RB
Kevin Faulk
(Carencro, Lafayette)
Patriots RB
BenJarvus Green-Ellis
(St. Augustine, New Orleans)
Giants RB
Brandon Jacobs
(Assumption, Napoleonville)
Giants QB
Eli Manning
(Isidore Newman, New Orleans)
Giants DB
Corey Webster
(St. James)
MARYLAND
Patriots DB
Kyle Arrington
(Gwynn Park, Brandywine)
MASSACHUSETTS

Patriots DL
Ron Brace
(Burncoat, Worcester)
Giants LS
Zak DeOssie
(Phillips Academy, Andover)
Patriots DB
James Ihedigbo
(Amherst-Pelham Regional, Amherst)
MICHIGAN
Patriots OL
Nick McDonald
(Ford, Sterling Heights)
Giants WR
Devin Thomas
(Canton)
MISSISSIPPI
Patriots K
Stephen Gostkowski
(Madison Central, Madison)
Patriots RB
Stevan Ridley
(Trinity Episcopal, Natchez)
MISSOURI
Patriots OL
Dan Connolly
(Marquette, Chesterfield)
MONTANA
Patriots LB
Dane Fletcher
(Bozeman)
NEBRASKA
Patriots RB
Danny Woodhead
(North Platte)
NEW JERSEY
Giants WR
Victor Cruz
(Paterson Catholic, Paterson)
Patriots DB
Nate Jones
(Scotch Plains-Fanwood, Scotch Plains)
Patriots DB
Devin McCourty
(Saint Joseph Regional, Montvale)
Giants OL
Kareem McKenzie
(Willingboro)
Giants DL
Justin Trattou
(Don Bosco Prep, Ramsey)
Patriots WR
Tiquan Underwood
(Notre Dame, Lawrenceville)
NEW YORK
Giants DL
Jimmy Kennedy
(Roosevelt, Yonkers)
NORTH CAROLINA
Giants DL
Chris Canty
(Charlotte Latin, Charlotte)
Giants WR Hakeem Nicks (Independence, Charlotte)
Patriots LB
Brandon Spikes
(Crest, Shelby)
OHIO
Giants TE
Jake Ballard
(Springboro)
Giants LB
Chase Blackburn
(Marysville)
Giants OL
Jim Cordle
(Lancaster)
Patriots QB
Brian Hoyer
(Saint Ignatius, Cleveland)
Giants LB
Greg Jones
(Archbishop Moeller, Cincinnati)
Patriots OL
Matt Light
(Greenville)
Patriots
Zoltan Mesko
(Twinsburg)
Giants WR
Mario Manningham
(Harding, Warren)
Patriots DB
Antwaun Molden
(Glenville, Cleveland)
OKLAHOMA
Patriots DL
Mark Anderson
(Booker T. Washington, Tulsa)
Patriots WR
Wes Welker
(Heritage Hall, Oklahoma City)
PENNSYLVANIA
Patriots TE Rob Gronkowski (Woodland Hills, Pittsburgh)
Giants LB
Mark Herzlich
(Conestoga, Berwyn)
Giants RB
Henry Hynoski
(Southern Columbia, Catawissa)
Patriots RB Lousaka Polite (Woodland Hills, Pittsburgh)
Giants RB
Da'Rel Scott
(Plymouth Whitemarsh, Plymouth Meeting)
Giants OL
Chris Snee
(Montrose)
RHODE ISLAND
Giants DB
Will Blackmon
(Bishop Hendricken, Warwick)
SOUTH CAROLINA
Patriots DL
Shaun Ellis
(Westside, Anderson)
Patriots LB
Tracy White
(Timberland, St. Stephen)
TEXAS
Giants DL
Rocky Bernard
(Sterling, Baytown)
Patriots OL
Marcus Cannon
(Odessa)
Patriots QB
Ryan Mallett
(Texas, Texarkana)
Giants DB
Aaron Ross
(Tyler)
Giants OL
Tony Ugoh
(Westfield, Houston)
Patriots OL
Brian Waters
(Waxahachie)
Patriots DB
Malcolm Williams
(South Grand Prairie, Grand Prairie)
VIRGINIA
Patriots LS
Danny Aiken
(Cave Spring, Roanoke)
Giants RB
Ahmad Bradshaw
(Graham, Bluefield)
Patriots LB
Jerod Mayo
(Kecoughtan, Hampton)
WISCONSIN
Giants TE
Travis Beckum
(Oak Creek)
Note: List does not include OL Sebastian Vollmer of the Patriots, who is not from a U.S. high school (Germany); Rob Gronkowski attended Williamsville North (Williamsville, N.Y.) before transferring to Woodland Hills for his senior year
January, 27, 2012
1/27/12
4:15
PM ET
By
Sheldon Shealer
| ESPN.com