High-SchoolBaseball:

POWERADE FAB 50
February, 27, 2012
2/27/12
9:29
AM ET
By
Walter Villa
| ESPN.com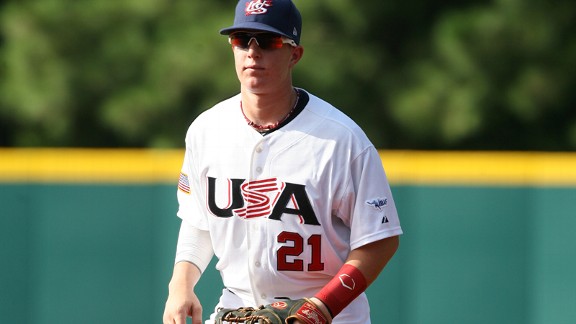 Gregg ForwerckAmerican Heritage (Plantation, Fla.) junior Zach Collins was named MVP of last year's IBAF World 'AA'/16U Youth Championships after leading the USA Baseball 16U National Team to a gold medal.
Bruce Aven knew it was time to retire as a major league outfielder when the teams that were calling him wanted him as a coach, not as a player.
A native of Orange, Texas, Aven played for four major league teams from 1997 to 2002. His career ended in 2003 when he suffered a serious knee injury and went for rehab at Memorial Hospital in Pembroke Pines, Fla.
It's near that location where Aven began the transition to his second career. Aven created the Memorial Sports Center Baseball and Softball Strength Program, which ultimately led to him landing the job as the head baseball coach of American Heritage (Plantation, Fla.) this season. The position opened up after longtime coach Todd Fitz-Gerald left to coach Douglas (Parkland, Fla.)
"I had been offered opportunities to coach in the minors and in college, but I declined," Aven said. "Coaching was something I thought I'd do when my son (Kolbe, 10) was older. But the chance to coach American Heritage was too good to pass up."
It's easy to see why. American Heritage, which finished No. 3 in the
POWERADE FAB 50
and won a state title in 2008 when current MLB star
Eric Hosmer
was playing for the Patriots, seems to have top-tier talent again. The team began the season No. 40 in this year's
POWERADE FAB 50
and nine players have already committed to D-I programs from the Patriots, who lost to North Broward Prep (Coconut Creek, Fla.) in last year's Class 3A regional semifinals.
The team's top prospect is senior shortstop Brandon Lopez, who has signed with the University of Miami. Lopez, who hit .462 with five home runs last year, has a strong arm and a steady glove.
"I can easily see him going in the top five rounds (in the June draft)," Aven said. "All the scouts are interested in him."
Another player to watch is junior catcher Zach Collins, who hit .369 for Flanagan (Pembroke Pines, Fla.) last year before transferring to Heritage.
Collins, another Miami recruit, was named the MVP of the 2011 IBAF World 'AA'/16U Youth Championships after leading the USA Baseball 16U National Team to a gold medal.
Rounding out the offense are junior third baseman Danny Zardon, who has committed to LSU; junior second baseman/center fielder Brandon Diaz, who has committed to FIU; and senior right fielder Esteban Puerta, who signed with Florida Atlantic.
The Patriots' other Brandon Diaz is a senior left-hander and a Stetson recruit who heads a pitching staff that has four elite prospects. The others are all right-handers: senior Domenick Mancini (Florida Atlantic); junior Shaun Anderson (Florida); and senior Alex Seibold (FIU).
Aven is worried about his pitching depth should one of his big four get hurt and has made plans to use Lopez and possibly Zardon on the mound in some circumstances.
"I have no problems pitching," Lopez said. "I told Coach (Aven) I'll do whatever he needs."
Lazaro Llanes, the director of the Selective Recruiting tournament that will feature American Heritage next month, said most teams would love to have the Patriots' so-called problems.
"Other than Columbus (Miami), there aren't many teams in the state and probably the country that have four Division-I pitchers," he said. "And Lopez and Zardon are studs on the mound."
This year, the Patriots are among the favorites in Class 5A, along with Jesuit (Tampa, Fla.) and its ace pitcher,
Lance McCullers Jr.
Aven, though, said his team still has a lot of work to do.
"Sometimes, when a high school team has a lot of talent, you can make four errors and still win," Aven said. "But we're teaching our kids to play the right way. Hopefully, a state championship will be a byproduct of playing the right way."
February, 27, 2012
2/27/12
9:27
AM ET
By
Ryan Canner-O'Mealy
| ESPN.com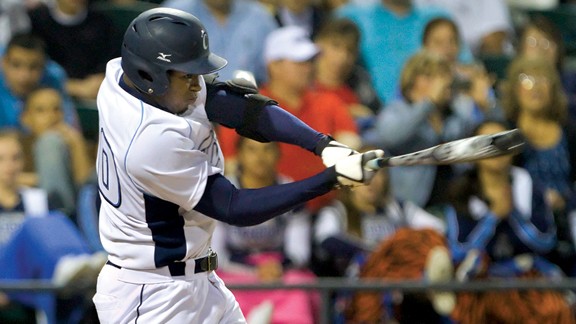 Corpus Christi Caller-Times/Photographer George TuleyCarroll (Corpus Christi) senior outfielder/right-handed pitcher Courtney Hawkins leads the way for the Tigers, who advanced to last year's state semifinals.
This article appears in the March issue of ESPNHS magazine.
Back in 2010, a young, determined Carroll (Corpus Christi, Texas) team shocked the high school baseball world by knocking off top-ranked Klein (Texas) to win a state championship.
With seven starters returning last spring, the Tigers opened the season at No. 4 in the
POWERADE FAB 50
and were favored to be the first Texas team to repeat as state champ since 2003.
Carroll lived up to the expectations in the regular season, earning a return trip to the state semifinals before getting upset by Coronado (Lubbock, Texas), 10-0. Coach Lee Yeager thinks the yearlong hype finally caught up to his team.
"We ran into a team that had our 2010 mentality," the 12th-year skipper says. "When we played Klein in 2010, we had that burning desire to beat them. I think last year we faced a team a little more hungry than we were."
That won't be an issue this time around.
The Tigers return seven seniors who've been on varsity the past three years, led by Texas-bound RHP/OF
Courtney Hawkins
, the lone junior on the Class 5A All-State first team last year. With Hawkins, O'Shea Dumes and Chris Cano anchoring a veteran staff, Yeager's squad can shut down any lineup on any day.
The lineup is strong from top to bottom, starting with leadoff man Trey Rodriguez (SS) and including Josh Cruz (3B), Jason Franco (OF) and Julian Salinas (2B). Sophomore catcher Michael Cantu is the program's next elite player.
So while the hype and the high rankings (No. 4 in this year's preseason FAB 50) will again accompany this team, there's no way the players will buy in. Yeager isn't shy about calling last year's season finale embarrassing, and you can bet his players feel the same way.
"I do think losing that game the way we lost it left something inside the guys that they know we better atone for that," the coach says.
After surprising the state in 2010, Yeager challenged his players to prove it wasn't a fluke the following year. For the most part, the Tigers complied. By emerging from the cauldron of Texas postseason baseball as one of four regional champs going on to state, they quieted most of the doubters. But, according to Yeager, that lopsided defeat in last year's season finale – the coach isn't shy about calling it embarrassing – could reignite the skeptics. A typical coach's motivational ploy? Perhaps.
But for a group of seniors who have played together for more than 10 years, and delivered Carroll the school's first state title in any sport, nothing would mean more than going out on top together.
"Their legacy as high school players is based on this season," the coach says.
February, 13, 2012
2/13/12
11:33
AM ET
By
Mark Tennis & Doug Huff
| ESPN.com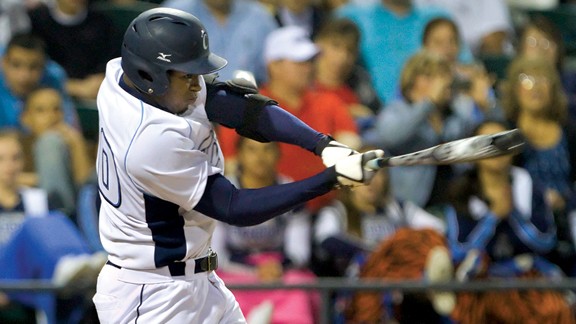 Corpus Christi Caller-Times/Photographer George TuleyCarroll (Corpus Christi) senior outfielder/right-handed pitcher Courtney Hawkins leads the way for the Tigers, who advanced to last year's state semifinals.
Coming up with a preseason baseball top 10 for the
Powerade FAB 50 ESPNHS Team Rankings
was no easy task.
How high should we rank Harvard-Westlake (Studio City, Calif.), which has the nation's
top right-hander
(Lucas Giolito) and
left-hander
(Max Fried) on its roster?
And what about Jesuit (Tampa, Fla.), led by senior flamethrower and likely first-round pick
Lance McCullers Jr.
?
Ultimately, the top spot came down to a pair of traditional national powers in Bishop Gorman (Las Vegas) and Mater Dei (Santa Ana, Calif.), two schools that once again field impressive collections of players that will make them very tough to beat in their respective leagues.