High-SchoolBaseball:

Arizona State baseball
January, 24, 2012
1/24/12
9:29
AM ET
By
Christopher Crawford
| ESPN.com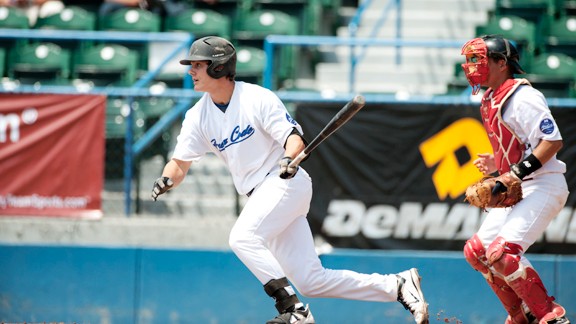 Dustin Snipes/ESPNHSUnion (Camas, Wash.) senior catcher and Arizona State recruit Clint Coulter was an all-state selection last year after batting .400 with four homers.
If you were to ask a scout or front-office member the most difficult position to develop, the overall consensus would likely be catcher.
The position is demanding both physically and mentally, and the attrition behind the plate is undoubtedly the highest in baseball. Plus, most players struggle to pick up the position for several years.
That's why what Union (Camas, Wash.) senior
Clint Coulter
has done in his short period of time behind the plate is all the more impressive. Last year was the first season the 6-foot-3, 215-pounder focused solely on baseball.
"I wouldn't have guessed that he was new to the position," said a West Coast Conference coach. "We saw him quite a bit last spring, and he really impressed us with his instincts back there. It is always a work in progress when you're seeing a 16- to 18-year-old kid catch, but the athleticism and size was really impressive."
That athleticism and size has served Coulter well in multiple sports. As a sophomore, he was the Class 3A state wrestling champion at 189 pounds, but he ended up giving up wrestling last year to concentrate on the diamond.
Last spring, the right-handed hitter delivered an impressive junior campaign to earn a spot in both the Under Armour All-America Baseball Game and the
Area Code Games
, where he was selected to the
New Balance All-Area Code Team
.
"Those events were a lot of fun," Coulter said. "At the Area Code Games, those events are typically dominated by the South, so for us (the Northwest-region-based
Royals
) to come in and go undefeated was awesome. And then getting a chance to be in the same locker room as Ernie Banks at Wrigley Field for the Under Armour game and how well they catered to us and getting to participate in the home run derby, all of it was a blessing."
After the big summer, Coulter is being included on many analysts' top 100 for the 2012 draft. Coulter says his dream is to play professional baseball, and working towards the draft is one of his biggest goals, but he did admit that the new draft rules could have an impact on whether or not he goes the pro or collegiate route.
While he may not be enthralled with the new rules, Coulter did light up when talking about his college commitment to Arizona State.
"I was just so impressed with the competitiveness of the practices," Coulter said. "I've never seen anything like that. Coach Esmay has them working so hard, and it's more intense than most games I've seen or been a part of. They truly are committed to winning."
Just how high Coulter goes in the draft will depend on whether or not talent-evaluators believe he can stick as a backstop. But the bat should also play well at a corner infield position, just like a current MLB star.
"I like to pattern my game after Mike Napoli," Coulter said, referring to the Texas Rangers standout catcher who also plays first. "I love how he goes up looking for that fastball middle in, and if he gets, it he lets it rip."
But if he ends up strictly behind the backstop, Coulter has shown he has what it takes to succeed at the demanding position.
Christopher Crawford is a regular contributor to Prospect Insider and the founder and executive editor of MLB Draft Insider. Follow him on Twitter @CrawfordChrisV.
November, 29, 2011
11/29/11
9:44
AM ET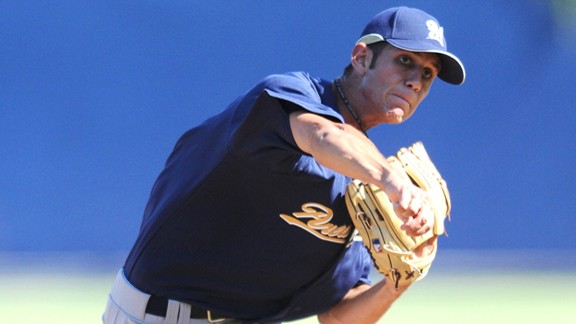 Scott Kurtz/ESPNHSMission Viejo (Mission Viejo, Calif.) senior RHP Kieran Lovegrove is one of nine 2011 Area Code Games participants that signed with Arizona State.
The early signing period concluded in mid-November and 175 participants from the
2011 Area Code Baseball Games
ended up signing with D-I programs. Here's breakdown of what schools signed the best classes and who ended up with most Area Code Games participants.
Longhorns and Sun Devils lead way with nine Area Code Games alums each
Arizona State has a whopping 22-member signing class. For a school with Arizona State's tradition, conference and location, it's not hard to see why many of the nation's top players are headed to Tempe.
The Sun Devils kept right-handed pitchers Tony Blanford of Boulder Creek (Anthem, Ariz.), David Graybill of Brophy Prep (Phoenix, Ariz.) and Eric Melbostad of Pinnacle (Phoenix, Ariz.) and infielder Mitch Nay of Hamilton (Chandler, Ariz.) in state.
Outside of the desert, Arizona State signed RHP Paul Blackburn of Heritage (Brentwood, Calif.), C Clint Coulter of Union (Camas, Wash.), RHP Trey Kamachi of Kapolei (Kapolei, Hawaii), LHP Brett Lilek of Marian Catholic (Chicago Heights, Ill.) and RHP Kieran Lovegrove of Mission Viejo (Mission Viejo, Calif.).
Like Arizona State, Texas benefits from being in state loaded with talent. The Longhorns loaded up on top talent as nine of its 13 signees played in the Area Codes Games list past August.
Led by C.J. Hinojosa (who will enroll early and be a member of the Longhorn team this spring), Texas has a class that will look to continue the College World Series-reaching ways of the program.
Hinojosa, an infielder at Klein Collins (Spring, Texas), is joined by fellow Lone Star State products in RHP Dalton Brown of Ponder (Ponder, Texas), LHP Ty Culbreth of Bryan (Bryan, Texas), 1B Austin Dean of Klein Collins (Spring, Texas), RHP/INF Tyler Gonzales of Madison (San Antonio, Texas), OF Courtney Hawkins of Carroll (Corpus Christi, Texas), RHP Chad Hollingsworth of Robinson (Robinson, Texas), Wyatt Mathisen of Calallen (Corpus Christi, Texas) and Nick Williams of Ball (Galveston, Texas).
Eight of the nine Texas signees played on the Texas Rangers Area Code team — Gonzales was on the roster of the Washington Nationals.
While UCLA was edged out by Arizona State and Texas in landing the highest total of Area Code Games members, no class in the country had as high of a percentage of its class made up of Area Code alumni as did UCLA with eight in its nine-member class. And few other schools had as much success in their home base as every member hails from Southern California.
Pitcher Lucas Giolito of Harvard-Westlake (Studio City Calif.) headlines the UCLA early signing class and is considered by many to be the nation's top player. The right-handed Giolito forms a potential dynamite one-two combo with Harvard-Westlake teammate Max Fried — a left-handed pitcher who's also a top prospect. That the 2011 MLB Draft saw former Bruins Gerrit Cole and Trevor Bauer selected as first and third picks likely helped UCLA coach John Savage, who had no shortage of pitchers ready to sign.
Giolito and Fried are joined on the mound by right-handed pitchers Felipe Perez of Fairmont Prep (Anaheim, Calif.) and Cody Poteet of Christian (El Cajon, Calif.) as well as left-handed hurler Hunter Virant of Camarillo (Camarillo, Calif.).
Catcher Darrell Miller of Servite (Anaheim Calif.), third baseman Daniel Robertson of Upland (Upland, Calif.) and outfielder Ty Moore of Mater Dei (Santa Ana, Calif.) are the other Area Code participants who inked with the Bruins.
On Deck
Here are the schools that followed Arizona State, Texas and UCLA with the most Area Code participants.
Stanford, 7
Utah, 7
Cal State Fullerton, 6
USC, 6
Arkansas, 5
Mississippi, 5
Oregon State, 5
Vanderbilt, 4
Florida, 4