High-SchoolBaseball:

Chris Shaw
November, 16, 2011
11/16/11
12:21
PM ET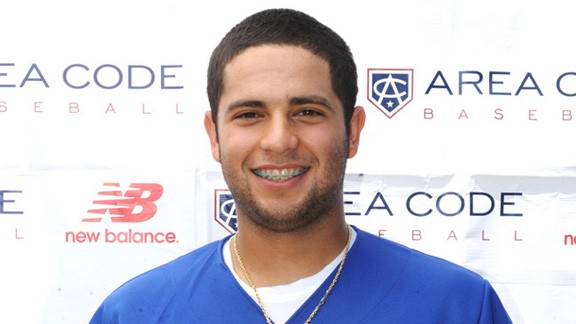 Scott Kurtz/ESPNHSKlein Collins' (Spring, Texas) CJ Hinojosa intends to leave school early and enroll at Texas in January.
Fans of the Vanderbilt baseball program have reason to be excited. As the early signing period comes to an end, Vanderbilt has received a National Letter of Intent from many of the nation's top players. With elite players in the signing class such as right-handed pitcher Carson Fulmer (Lakeland, Fla.), the next wave of talent have cemented their desire to play for the 2011 College World Series participant.
As sterling as the Commodores class is, the period will come and go without a letter of intent from Chris Harvey, a power-hitting catcher out Germantown Academy (Fort Washington, Pa.) who committed to Vanderbilt coach Tim Corbin more than a year ago.
That is because Harvey is already a member of the Vanderbilt program.
In August, Harvey decided to enroll early, skipping his entire senior year of high school. The decision Harvey made to leave high school early is one that is gaining momentum, possibly on the cusp of taking off.
Bryce Harper made national headlines when he decided to forgo his final two years at Las Vegas High School, electing to attend and play for the College of Southern Nevada prior to being the first pick in the 2010 MLB Draft. But comparing Harvey to Harper is difficult.
By receiving his GED and attending a JUCO, Harper was eligible for the the MLB Draft in 2010, a year earlier than he would have by completing high school. For Harvey, a participant in the 2011
Area Code Games
, he is delaying his eligibility to the MLB Draft by two years by going to a four-year school, electing to pull his name from 2012 draft considerations until 2014 at the earliest.
Harvey is not alone in declining potential millions from the 2012 draft
Joining him as players passing on their senior year are infielder C.J. Hinojosa, from Klein Collins in Spring, Texas; and Taylor Gushue, a catcher from Calvary Christian in Boca Raton, Fla. The two will enroll a semester early. Hinojosa will enroll at Texas, and Gushue will be a Florida Gator.
High school athletes enrolling in time for spring semesters have been common practice on the gridiron. In baseball, the recent rewards may signal the trend is ready for a breakthrough on the diamond.
In the Winter of 2009, infielder Levi Michael form North Davidson High School in Lexington, N.C., enrolled early at the University of North Carolina. Likewise on the west coast, right-handed pitcher Trevor Bauer from Hart High School in Valencia, Calif., put a premature end to his prep career by enrolling early at UCLA.
Instead of taking on prep competition, the two players were named Louisville Slugger Freshman All-Americans in 2009. The recognition and numerous awards were prelude to the duo being first-round draft picks in 2011. Michael was the 30th-overall pick to the Minnesota Twins, and Bauer was the third-overall pick to the Diamondbacks.
The success of Bauer and Michael may be an example for the nation's top high school baseball players. Leaving high school early and becoming exposed to more rigorous competition in college may entice more top high school players to follow this trend.
October, 20, 2011
10/20/11
12:17
PM ET
By
Christopher Parish
| ESPN.com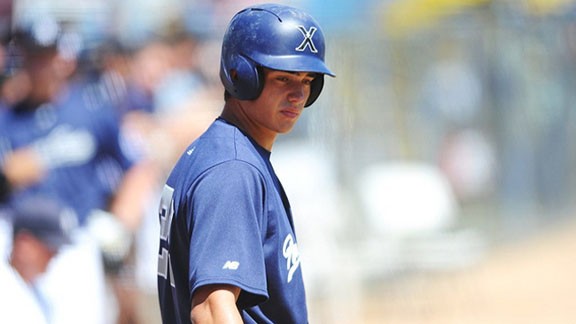 Scott Kurtz/ESPNHSChris Shaw of Lexintong (Lexington, Mass.) at the 2011 Area Code Baseball Games as a member of the Yankees. He is also a two sport star in baseball and hockey.
Lexington (Mass.) senior Chris Shaw has been answering plenty of questions over the last half-hour or so of our interview, but there's one he can't quite wrap his head around.
Baseball or hockey?
"Right now it's baseball," he said. "I'm getting ready to go down to Jupiter (Fla.) for the next two weeks, and I'm pretty excited about it."
So baseball, then.
"But when I come back I've got to start getting ready for hockey. I'm a captain this year.
So it's hockey?
"I'm more a baseball boy than a hockey player."
Well, which is it?
"It really depends."
Two-sport athletes aren't uncommon, especially in New England, where the weather dictates what sport you play every bit as much as the athletic calendar. But Shaw's made a name for himself in both. He's a stellar first baseman on the diamond, one of the nation's top sluggers, was a league co-MVP and also pitched when needed. He hit .484 with eight home runs last year and had a 5-0 record on the mound.
But at 6-foot-3 and 215 pounds, Shaw also makes for an outstanding hockey player. He is a lock-down defenseman for the Lexington hockey team and was playing well last winter until an ankle injury cut short his season.
Shaw is headed to Boston College for baseball next season, so while hockey is a clear passion, it's not his future. He considered giving hockey in college a shot, but he's not just going to any school — BC is perennially a nationally ranked powerhouse, having won two of the last four national titles.
"The hockey schedule is way too crazy," he says. "If I can, I'll try to play club hockey in college. But we start baseball season in February so I'll be pretty busy."
That just makes Shaw all the more excited for this winter. This is his last hockey season, and it's a chance for him to play competitively perhaps for the final time.
"I've thought about it a lot," he says. "Obviously it's kind of tough to realize that after playing my whole life, this is the last time I'm playing for something that really matters. But I'm trying to make it worth it and enjoy every moment."
The two sports are as different as can be, and for Shaw, that's a good thing. Baseball is a mental game where the drag of a long season, playing every game, can get in your head. The old adage rings true: the best hitters fail seventy percent of the time.
"You've got to be mentally tough for baseball," Shaw says. "If you don't have that mental toughness to move on from an at-bat, you won't succeed."
So Shaw uses hockey as an escape from the rigors of the baseball grind.
"It's a good break," he says. "It clears my mind."
But the physical toll of hockey can take over, and Shaw experienced firsthand the difficulties of the punishing season last winter. He missed part of hockey season after crashing into the boards at a practice in January. He played in only six games, but extensive rehab helped him return to form just in time for baseball season.
"I only had eight days to get ready for high school season," he says. "I wasn't even able to swing a bat the entire time. It was tough getting ready but I was able to work through it."
It'll be a much different transition getting ready for hockey season again this winter. But when his season is over he'll have just one more high school baseball campaign before he is prepping for college.
It's a good thing the sports aren't played in the same season. He certainly wouldn't want to choose which one he'd rather play.