High-SchoolBaseball:

Cody Poteet
June, 1, 2012
6/01/12
10:15
AM ET
By
Jason A. Churchill
| ESPN.com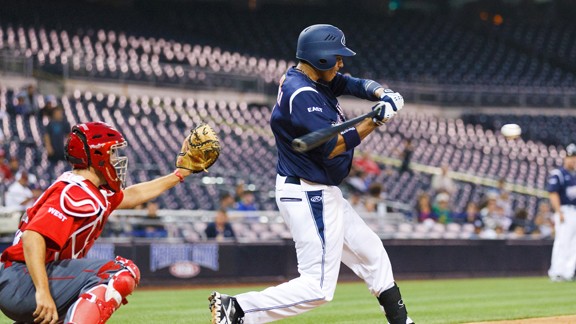 Cal Sport Media via AP ImagesPuerto Rico Baseball Academy (Gurabo, Puerto Rico) shortstop Carlos Correa has seen his stock rise heading into Monday's MLB draft.
Each Friday since the beginning of May, Jason A. Churchill, who covers the MLB draft for ESPN Insider, has looked at the high school prospects whose stock is up and whose stock is down for the draft. Here's his final stock watch heading into the draft, which begins on June 4.
The 2012 MLB draft begins on Monday, so there's little time, if any at all, for the top high school prospects to impress scouts.
But over the past week, a few elite players, including Carlos Correa and
Byron Buxton
, have managed to improve their already high draft stock with impressive workouts and performances.
Here's a look at the players who've improved their stock and whose stock is down heading into Monday.
STOCK UP
Carlos Correa, SS, Puerto Rico Baseball Academy (Gurabo, Puerto Rico)
Correa's stock can't get much higher, but he's been mighty impressive in workouts for a handful of clubs selecting in the Top 10, including the Houston Astros, who own the No. 1 overall pick. Correa's chances to stick at shortstop aren't great -- one crosschecker opined those chances at "maybe 10 percent at best" -- but his bat is expected to play at third base, thanks to plus raw power and good all-around hitting skills. It's not out of the question that Correa is the top pick.
Tanner Rahier, SS, Palm Desert (Calif.)
Rahier showed up on the Stock Down list earlier this spring, but more clubs are showing optimism on his chances to remain at shortstop, which boosts his overall value. He has some pop, but his ability to square up the fastball and make consistent contact -- along with that shot to stay at shortstop -- could mean a first-round bonus for Rahier. Third base would likely be the next move should he outgrow short, but there has also been mention of the outfield, where his athleticism would play well and his arm strength would remain an asset.
Byron Buxton, OF, Appling County (Baxley, Ga.)
Like Correa, the two-sport star has been impressive in workouts and there is some buzz that the evaluations of Buxton by the top three clubs -- Houston, Minnesota and Seattle -- have soared since. There now appears to be zero chance Buxton gets past Seattle and a decent chance he goes No. 1 overall to the Astros.
STOCK DOWN
Lewis Brinson, OF, Coral Springs (Fla.)
Brinson is projectable, athletic and signable, but fellow prep outfielders
David Dahl
and
Anthony Alford
appear to have passed him up on several draft boards this spring. A few college outfielders are getting some additional attention, which also hurts Brinson's stock. Of course, a club looking to save a little bonus pool money could tab Brinson in the top 40 and spend the savings on other picks.
Cody Poteet, RHP, Christian High School (El Cajon, Calif.)
Poteet, listed at 6-foot-1 and 180 pounds, may be falling victim to the projectable arms ranked in the sandwich round through round 3, including California prepsters
Shane Watson
and
Kyle Twomey
, as well as
Paul Blackburn
and
Ryan Burr
. Poteet is still a lock to go in the top three rounds, unless his commitment to UCLA grows as the selections in the top 50 continue without his name being called.
Lucas Giolito, RHP, Harvard-Westlake (Studio City, Calif.)
Giolito started throwing and word is he's working out for clubs, but he's not expected to throw from a mound until well after the draft, which robs clubs the chance to see him in full action. Some teams drafting high don't appear willing to take the risk, but Giolito remains a signable talent with as much upside as any player in the entire class, college or high school, pitcher or hitter. It simply seems that he will not be a top-three pick, and perhaps not even in the 8-10 range.
HOLDING
Albert Almora
, OF, Mater Academy (Hialeah Gardens, Fla.)
Gavin Cecchini
, SS, Barbe (Lake Charles, La.)
Max Fried
, LHP, Harvard-Westlake (Studio City, Calif.)
Courtney Hawkins
, OF, Carroll (Corpus Christi, Texas)
Addison Russell
, SS, Pace (Fla.)
Lucas Sims
, RHP, Brookwood (Snellville, Ga.)
Stryker Trahan
, C, Acadiana (Lafayette, La.)
Jason A. Churchill covers scouting, player development and the MLB draft for ESPN Insider, as well as Prospect Insider, where he's the founder and executive editor. You can follow him on Twitter @ProspectInsider and email him at churchill@prospectinsider.com.
November, 22, 2011
11/22/11
10:47
AM ET
By
Jason A. Churchill
| ESPN.com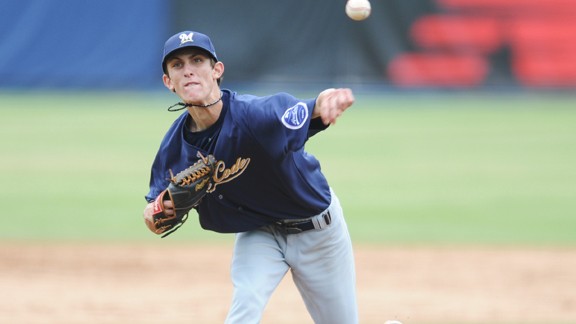 Scott Kurtz/ESPNHSCamarillo (Calif.) senior left-hander Hunter Virant went 6-1 last year with a 1.54 ERA and 56 strikeouts in 50 innings.
While the prep baseball season is months away, it's never too soon to evaluate what we'll be watching once the schedule gets under way. "The Golden State" is typically among the three hot spots for amateur baseball with Texas and Florida in terms of producing myriad elite prospects. But it's California that often produces the most top prospects, and this year is no different.
Here's a look at the Top 10 California high school prospects in the Class of 2012.
1. Lucas Giolito, RHP, Harvard-Westlake (Studio City, Calif.)
Giolito
, a UCLA recruit, has the velocity — up to 97 mph — and projectability with his 6-foot-6, 230-pound frame to land in the top five in June's MLB Draft. He sits in the 92 to 94 range with his fastball and also has a pair of promising secondary pitches with his changeup and two-gear breaking ball.
2. Max Fried, LHP, Harvard-Westlake (Studio City, Calif.)
Fried, who inked with UCLA along with his high school teammate Giolito, stands a projectable 6-foot-4 and combines consistent mechanics with above-average velocity that reaches 92 miles per hour. Fried, who will pitch in the same rotation as Giolito in 2012, stands a projectable 6-foot-4 and combines consistent mechanics with athleticism and above-average velocity that reaches 92 miles per hour. His changeup and curveball each figure to be average or better offerings, and when the smoke clears, Fried could hear his name called shortly after Giolito somewhere in the top half of the first round.
3. Freddy Avis, RHP, Menlo School (Atherton, Calif.)
Despite lacking the physical frame of some of his in-state rivals at 6-foot-2 and 180 pounds, Avis has good arm speed and a fluid delivery, producing easy velocity in the 90 to 93 mph range and also holstering a curveball. He's believed to be a strong commit to Stanford, but is also likely to be considered in Round 1.
4. Trey Williams, 3B, Valencia (Valencia, Calif.)
Williams is a right-handed hitting prep shortstop who profiles defensively at third base. He's sturdy and strong with a plus arm and good athleticism. His setup needs work but with terrific hands and wrists generates well above-average bat speed that should result in plus power. Williams, a Pepperdine commit, is the son of former big league infielder Eddie Williams, who spent parts of 10 seasons in the majors after being the No. 4 overall selection in the 1983 Draft.
5. Hunter Virant, LHP, Camarillo (Camarillo, Calif.)
Virant, like Williams and Avis ahead of him, has the capability to soar to at least No. 2 on this list with a strong spring. He offers projection at 6-foot-3 and 180 pounds and already boasts a solid to average fastball that has brushed 94 mph in the past. His arm action is somewhat short, but there's plenty of time to figure that out and it's not expected to negatively impact his draft status. The left-hander's mid-70s curveball and potential for added velocity suggest he's among the prep arms with the most upside in any state.
6. Rio Ruiz, 3B, Bishop Amat (La Puente, Calif.)
Ruiz is a two-sport star at Bishop Amat, where he's a standout quarterback in the fall and an elite baseball talent in the spring. He handles multiple gigs on the diamond, including on the mound, where he's touched 93 miles per hour. He runs well (7.1 in the 60), stands 6-foot-2 and about 200 pounds and offers left-handed power. He has good hands and may stick at third if he doesn't outgrow the position. But if he can't stick at third, he has good instincts and could transition to right field without any issues.
7. Cody Poteet, RHP, Christian (El Cajon, Calif.)
Packing a bigger fastball than his 6-foot-1, 180-pound frame suggests, Poteet is also able to create some plane to his heater that sits at 90 to 93 mph. He throws from around a three-quarter arm slot, which creates some tilt to his curveball. He's a bulldog on the mound and I'm a little bullish on him here at No. 7, but his lack of projection doesn't bother me all that much.
8. Shane Watson, RHP, Lakewood (Lakewood, Calif.)
Watson's arsenal includes a fastball in the 88 to 92 mph range, showing sink and arm side ride, and his frame (6-foot-4, 200 pounds) may produce more velocity down the line. But it may have to come from improved mechanics, primarily better balance and use of his lower half. Watson is committed to USC and should be considered early on Day 1 of the draft.
9. Felipe Perez, RHP, Fairmont Prep (Anaheim, Calif.)
This 6-foot-3, 200-pound right-hander pitches at 88 to 91 mph but has touched 93 and throws two breaking balls — a 72 to 75 mph curveball and a 77 to 79 mph slider. His arm works well from a high, three-quarter slot and he's performed well in showcase events, something scouts remember throughout the spring.
10. Ryan McNeil, RHP, Nipomo (Nipomo, Calif.)
One could argue that McNeil belongs as high as No. 7 on this lists — the last four players on this are all worthy adversaries. He's got an aggressive arm with upside, and he's touched 94 mph with his fastball. He also employs a slider. McNeil has committed to Long Beach State, but he could perform his way into the top 50 of the draft come June. Marina (Marina, Calif.) pitcher Trevor Megill — all 6-foot-7 of him — would have ranked here, but he decided to enroll early at Loyola Marymount.
On the Brink
Corey Oswalt, 3B, James Madison High School (San Diego, Calif.)
Chase DeJong, RHP, Wilson (Long Beach, Calif.)
Nolan Gannon, RHP, Santa Fe Christian (San Diego, Calif.)
C.J. Saylor, C, South Hills (West Covina, Calif.)
NOTES
Right-handers Giolito, Perez and Poteet and southpaws Fried and Virant have all signed with UCLA, which could make for an intriguing class if any number of them pass on pro ball the first time around … Saylor is an elite defensive backstop recruited to San Diego State, where he could catch Gannon if they both ultimately honor their college commitments … Giolito could be the No. 1 overall pick if the Houston Astros buck the building trend of avoiding prep pitchers with the top overall selection. At this stage, only Appling County (Baxley, Ga.) outfielder Byron Buxton rivals Giolito among the country's top prep prospects … The new Collective Bargaining Agreement in Major League Baseball may impact how many high school talents put their professional aspirations on hold for college ball. The new tax that is expected to be introduced this week by the Major League Baseball Players Association and the league will incorporate penalties for clubs that exceed a set amount for signing bonuses in combination for the first 10 rounds. This may or may not abbreviate the bonuses for some top picks.
Jason A. Churchill covers scouting, player development and the MLB Draft for ESPN Insider, as well as Prospect Insider, where he's the founder and executive editor. You can follow him on Twitter @ProspectInsider and email him at churchill@prospectinsider.com.