High-SchoolBaseball:

Corpus Christi Carroll
March, 29, 2012
3/29/12
11:30
PM ET
By
Lucas O'Neill
| ESPN.com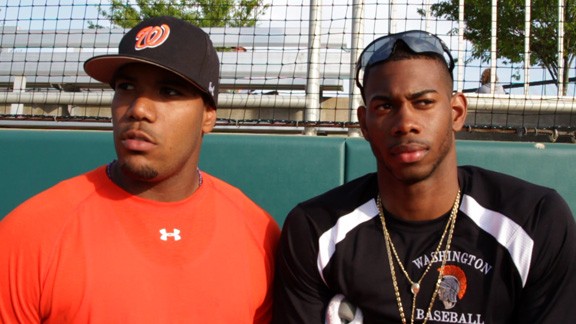 Lucas O'Neill/ESPNHSNelson Rodriguez (left) has been forced to play without George Washington (New York) teammate Fernelys Sanchez, who is out with a broken leg, at the USA Baseball H.S. Invitational.
CARY, N.C. -- George Washington (New York) has had a rough go of it so far at the USA Baseball National High School Invitational. The lone representative from the Northeast, the Trojans fell to Parkview (Lilburn, Ga.) 11-3 on Wednesday and Russell County (Seale, Ala.) 8-0 on Thursday.
Unlike most of the teams at the tournament, George Washington's season has essentially just started. They played nine games in March — none against what would be considered national-caliber programs. But the bigger obstacle for the Trojans this week is that they are without star outfielder
Fernelys Sanchez
, the No. 93 recruit in the
ESPN 100
.
Well, that's not technically true. Fernelys made the trip to North Carolina and was there in the dugout for both games, but the large cast on his right leg made playing impossible. Sanchez broke his leg last week when his foot got stuck in the dirt while running the basepaths and is expected to miss 4-6 weeks.
"All I was thinking was just, 'North Carolina, North Carolina,' man," Sanchez recalled. "I was just thinking about this week. I was just really looking forward to joining my team and Nelson…
"It happens, though; it's baseball," he continued. "Now I've just got to adjust to what's next."
Nelson would be
Nelson Rodriguez
, the Trojans' other senior leader. A star since his freshman campaign, Rodriguez has long been compared to another Trojans' power-hitter: Manny Ramirez. And the person making the comparison, coach Steve Mandl, is in a position to know: He coached Ramirez at GW.
Rodriguez and Sanchez have been best friends since Little League. One year they were opponents, the next year they were teammates, and the rest is history.
"That's where everything started right there," said Sanchez. "From then on, we always played together."
But that could change next year. While both players have committed to Central Arizona CC, it's likely that one or both will choose to go pro instead following June's MLB draft. That's what makes this year all the more important — and Sanchez's injury all the more disappointing. Still, the Trojans will settle for nothing less than a city championship.
"Now that Fernelys is injured, we have to adjust to the atmosphere," said Rodriguez. "It's a big loss and hopefully he gets better soon."
Playing or not, Sanchez will be there every step of the way.
One-Man Show
Courtney Hawkins
led Carroll (Corpus Christi, Texas) over Gulliver Prep (Pinecrest, Fla.) Thursday morning, supplying the game's only run with a solo blast in the top of the third. Hawkins, No. 26 in the ESPN 100, also pitched 5.1 innings of four-hit ball with nine strikeouts and two walks.
"Courtney kind of showed up today," said Carroll coach Lee Yeager, whose team entered the tournament No. 2 in the
POWERADE FAB 50
. "It came down to what he did for us."
Making the performance more impressive is the fact that Gulliver boasts at least a trio of potential early-round draft picks in
Adrian Marin
,
Chris Chinea
and Eric Neitzel. Hawkins did some reconnaissance work before the game to get an edge on the Raiders' potent lineup.
"I got a little help from some guys in Florida I know that play with them," he said with a smile.
Giant Killers
Hawkins' smile was short-lived, figuratively speaking, as within a couple hours his Tiger team was getting trounced by Mater Dei (Santa Ana, Calif.). The Monarchs, who were ranked No. 2 in the preseason POWERADE FAB 50 but had since fallen out of the rankings, had the tournament's toughest draw, but you wouldn't know it from looking at their box scores.
A day after taking out the nation's No. 1 team, Bishop Gorman (Las Vegas), by a score of 10-3, Mater Dei defeated No. 2 Carroll by mercy rule, 12-0.
Ty Moore
led the way for the Monarchs on Thursday, pitching four scoreless innings and hitting a three-run home run.
No. 1*
The radar guns were out in force Thursday as Harvard-Westlake (Studio City, Calif.) co-ace
Max Fried
took the hill against Parkview. The nation's No. 4 prospect in the ESPN 100, Fried didn't disappoint, striking out eight in the Wolverines' 10-3 win.
Perhaps more important to the many scouts in attendance, Fried touched 94 mph on the gun and was consistently in the 89-91 range on his fastball. His 80-mph breaking ball was equally devastating. While Fried's injured teammate, RHP
Lucas Giolito
, is the No. 1 player in the ESPN 100, Fried might be just as coveted by MLB teams come draft time for one reason: He's a southpaw.
Harvard-Westlake will face American Heritage (Plantation, Fla.) in the semifinals on Friday.
Come Sail Away
Sarasota (Fla.) is one of the few teams that entered the tournament unranked in the FAB 50, but that could change after the Sailors won both ends of a double-header on Thursday to earn a semifinal tilt with Mater Dei on Friday.
In a morning matchup with Lee County (Sanford, N.C.), Sarasota scored 14 unanswered runs, breaking the game open with five runs in the sixth and another six in the seventh in a 14-2 victory. In the nightcap, sophomore Evan Mendoza went the distance for the Sailors in the 5-3 win.
"This is the best thing I've seen done for high school baseball yet," said coach Clyde Metcalf, who's in his 31st year at the helm. "Our kids have been really excited about this since it was announced. We're grateful to be here."
February, 29, 2012
2/29/12
9:51
AM ET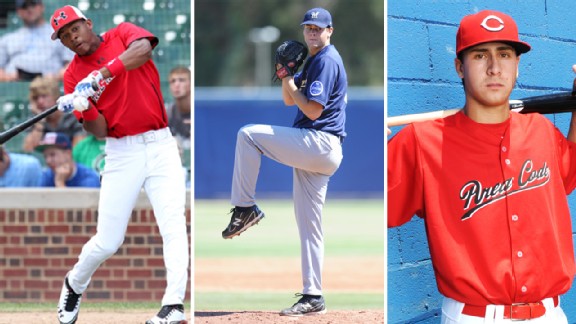 Mike Janes/Four Seam Images via AP Images, Scott Kurtz/ESPNHS(From left to right) Byron Buxton, Lucas Giolito and Joey Gallo are the three top preseason candidates for The Diamond Gem, the title bestowed upon the nation's most outstanding baseball player based on on-field performance.
With spring right around the corner, ESPNHS has begun its search for the nation's top high school baseball player, regardless of school year and based solely on on-field performance.
Every two weeks, we'll rank the nine players in order in The Starting Nine. And at the end of the season, whoever is in the top spot will be crowned The Diamond Gem, our award given to the nation's most outstanding player.
So to kick it off, we give you our preseason Starting Nine. Leading the way is Harvard-Westlake (Studio City, Calif.) senior Lucas Giolito, the nation's top right-handed pitcher who dominated opposing hitters last season and has looked very much like an early first-round pick in the early going this year.
The Starting Nine: Preseason
1. Lucas Giolito, Harvard-Westlake (Studio City, Calif.)
RHP, Senior
Why he's here:
The nation's top right-hander, Giolito went 9-0 last year with a 1.00 ERA with 78 strikeouts in 70.1 innings. He also pitched four complete games, three of which were shutouts.
2. Joey Gallo, Bishop Gorman (Las Vegas)
1B/3B/RHP, Senior
Why he's here:
The top player on the top team in the
POWERADE FAB 50
, Gallo hit .471 last year with 25 homers and 78 RBIs while leading Gorman to its sixth straight state title. He also was 3-1 on the bump with a 1.12 ERA and 29 strikeouts in 18.2 innings.
3. Byron Buxton, Appling County (Baxley, Ga.)
OF, Senior
Why he's here:
The nation's top outfielder and potential top 10 pick in June's MLB draft flirted with the .600 mark last season (he finished hitting .594) and clubbed 10 homers while driving in 48 runs.
4. Lance McCullers Jr., Jesuit (Tampa, Fla.)
RHP/SS, Senior
Why he's here:
The hard-throwing right-hander (he's hit 100 mph on the radar gun) went 5-2 with a 1.71 ERA and 70 strikeouts in 45 innings last season for the Class 4A state runner-up. He also hit .422 with seven homers and 24 RBIs.
5. Kayden Porter, Spanish Fork (Utah)
RHP/OF, Senior
Why he's here:
Porter picked up ESPNHS National Junior of the Year honors last year after leading Spanish Fork to its third straight state title. He went 9-1 with 85 strikeouts in 59 innings and hit .570 with 14 homers and 50 RBIs.
6. Gavin Cecchini, Barbe (Lake Charles, La.)
SS, Senior
Why he's here:
Leader of Louisiana powerhouse picked up Gatorade State Player of the Year honors last season after hitting .548 with 10 homers, 41 RBIs and 32 stolen bases.
7. Max Fried, Harvard-Westlake (Studio City, Calif.)
LHP, Senior
Why he's here:
The nation's top lefty, Fried went 7-3 with a 1.31 ERA and 100 strikeouts in 69.2 innings at Montclair Prep (Van Nuys, Calif.). He transferred to Harvard-Westlake after Montclair Prep cut its athletics program.
8. Kyle Carter, Columbus (Ga.)
OF/LHP, Senior
Why he's here:
Carter, who starred on the Columbus team that won the 2006 Little League World Series, set a single-season school record with 22 homers last season to help Columbus earn its second straight state title and 11
th
overall. He also hit .467 with 47 RBIs and went 9-4 on the mound with a 2.33 ERA.
9. Courtney Hawkins, Carroll (Corpus Christi, Texas)
RHP/OF, Senior
Why he's here:
The leader of the No. 4 team in the POWERADE FAB 50, Hawkins led Carroll to a state title as a sophomore and the state semifinals last season. As a junior, he hit .410 with 15 homers, 49 RBIs and 22 stolen bases and was 10-2 with a 2.35 ERA and 81 strikeouts.
ON DECK
Another 25 players we're tracking to begin the 2012 season
OF
Albert Almora
, Mater Academy (Hialeah Gardens, Fla.), Sr.
RHP
Freddy Avis
, Menlo School (Atherton, Calif.), Sr.
1B
Keon Barnum
, King (Tampa, Fla.), Sr.
RHP Ryan Burr, Highlands Ranch (Colo.), Sr.
C
Zach Collins
, American Heritage (Plantation, Fla.), Jr.
C
Clint Coulter
, Union (Camas, Wash.), Sr.
OF
David Dahl
, Oak Mountain (Birmingham, Ala.), Sr.
RHP
Ty Hensley
, Santa Fe (Edmond, Okla.), Sr.
3B/RHP
Carson Kelly
, Westview (Portland, Ore.), Sr.
LHP
Nathan Kirby
, James River (Midlothian, Va.), Sr.
C
Jeremy Martinez
, Mater Dei (Santa Ana, Calif.), Jr.
C/SS/RHP
Wyatt Mathisen
, Calallen (Corpus Christi, Texas), Sr.
OF/RHP
Ty Moore
, Mater Dei (Santa Ana, Calif.), Sr.
3B/OF
Mitch Nay
, Hamilton (Chandler, Ariz.), Sr.
1B/RHP
Matt Olson
, Parkview (Lilburn, Ga.), Sr.
3B
Rio Ruiz
, Bishop Amat (La Puente, Calif.), Sr.
SS
Addison Russell
, Pace (Fla.), Sr.
RHP
Lucas Sims
, Brookwood (Snellville, Ga.), Sr.
LHP
Matt Smoral
, Solon (Ohio), Sr.
1B/RHP Jake Thompson, Rockwall-Heath (Heath, Texas), Sr.
RHP/OF Keegan Thompson, Cullman (Ala.), Jr.
C
Stryker Trahan
, Acadiana (Lafayette, La.), Sr.
LHP
Hunter Virant
, Camarillo (Calif.), Sr.
RHP
Walker Weickel
, Olympia (Orlando, Fla.), Sr.
OF/LHP
Jesse Winker
, Olympia (Orlando, Fla.), Sr.
February, 27, 2012
2/27/12
9:27
AM ET
By
Ryan Canner-O'Mealy
| ESPN.com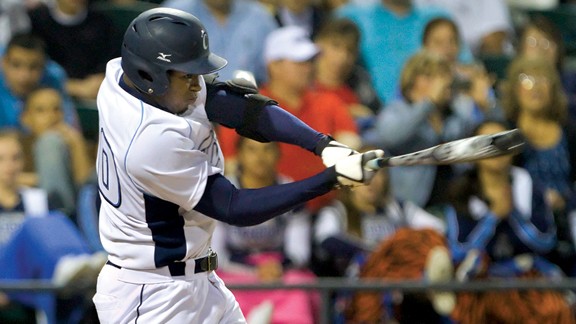 Corpus Christi Caller-Times/Photographer George TuleyCarroll (Corpus Christi) senior outfielder/right-handed pitcher Courtney Hawkins leads the way for the Tigers, who advanced to last year's state semifinals.
This article appears in the March issue of ESPNHS magazine.
Back in 2010, a young, determined Carroll (Corpus Christi, Texas) team shocked the high school baseball world by knocking off top-ranked Klein (Texas) to win a state championship.
With seven starters returning last spring, the Tigers opened the season at No. 4 in the
POWERADE FAB 50
and were favored to be the first Texas team to repeat as state champ since 2003.
Carroll lived up to the expectations in the regular season, earning a return trip to the state semifinals before getting upset by Coronado (Lubbock, Texas), 10-0. Coach Lee Yeager thinks the yearlong hype finally caught up to his team.
"We ran into a team that had our 2010 mentality," the 12th-year skipper says. "When we played Klein in 2010, we had that burning desire to beat them. I think last year we faced a team a little more hungry than we were."
That won't be an issue this time around.
The Tigers return seven seniors who've been on varsity the past three years, led by Texas-bound RHP/OF
Courtney Hawkins
, the lone junior on the Class 5A All-State first team last year. With Hawkins, O'Shea Dumes and Chris Cano anchoring a veteran staff, Yeager's squad can shut down any lineup on any day.
The lineup is strong from top to bottom, starting with leadoff man Trey Rodriguez (SS) and including Josh Cruz (3B), Jason Franco (OF) and Julian Salinas (2B). Sophomore catcher Michael Cantu is the program's next elite player.
So while the hype and the high rankings (No. 4 in this year's preseason FAB 50) will again accompany this team, there's no way the players will buy in. Yeager isn't shy about calling last year's season finale embarrassing, and you can bet his players feel the same way.
"I do think losing that game the way we lost it left something inside the guys that they know we better atone for that," the coach says.
After surprising the state in 2010, Yeager challenged his players to prove it wasn't a fluke the following year. For the most part, the Tigers complied. By emerging from the cauldron of Texas postseason baseball as one of four regional champs going on to state, they quieted most of the doubters. But, according to Yeager, that lopsided defeat in last year's season finale – the coach isn't shy about calling it embarrassing – could reignite the skeptics. A typical coach's motivational ploy? Perhaps.
But for a group of seniors who have played together for more than 10 years, and delivered Carroll the school's first state title in any sport, nothing would mean more than going out on top together.
"Their legacy as high school players is based on this season," the coach says.
February, 24, 2012
2/24/12
9:20
AM ET
By
Jason A. Churchill
| ESPN.com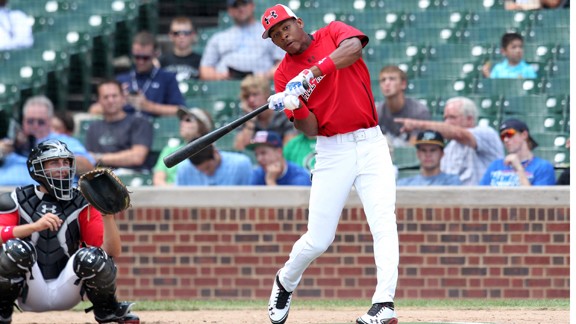 Mike Janes/Four Seam Images via AP ImagesAppling County (Baxley, Ga.) senior Byron Buxton is the nation's top outfielder and a potential top-five pick in June's draft.
Each week from now until early March, we'll take a look at the elite Class of 2012 high school baseball prospects by ranking our Top 10 players by position. This week, we unveil our list of the Top 10 outfielders led by Appling County (Baxley, Ga.) standout Byron Buxton.
Last season, Buxton established himself as one of the nation's top overall prospects by hitting .594 with 10 homers and 48 RBIs. And this week, he was named by Keith Law as the
No. 1 prospect
for this year's MLB draft.
1. Byron Buxton, Appling County (Baxley, Ga.)
Buxton is a two-sport star with plus speed and a steady setup and swing at the plate. He has the athleticism to play center field but scouts tend to believe he'll settle in right in a similar manner as Arizona Diamondbacks star
Justin Upton
. Buxton hits the low-90s off the mound, but his future is as an everyday talent, and he may hit for plus power down the road. He could be a top-five pick, but if he prefers college, the University of Georgia will welcome him with open arms.
2. David Dahl, Oak Mountain (Birmingham, Ala.)
Dahl is a multi-talented athlete, but his best asset may be his eye for the strike zone. He can throw and run, projects to hit for average and power and should get on base with regularity. He's likely to end up in right field but could play some center early in his career. Dahl is an Auburn commit, but is a good bet for the first round and is a possible top-10 pick.
3. Albert Almora, Mater Academy (Hialeah Gardens, Fla.)
Almora , a Miami commit, may be the best prep center fielder in the class and projects to hit for average with a chance to add 10 to 15 home runs. He's a 55 runner on the 20-80 scouting scale and has tremendous instincts in the field and on the bases. Almora performs well in showcases and big games, which could get him selected in the top 20.
4. Courtney Hawkins, Carroll (Corpus Christi, Texas)
Hawkins, also a right-handed pitcher, is an enticing talent with plus power that he put on display at the Area Code Games, where he was one of just two players to leave the yard. Blair Field is rather cavernous, making the feat that much more impressive. He improved from the end of the spring into the showcase circuit, but scouts do show concern about his defensive instincts and how he handles soft stuff at the plate. Hawkins should hear his name called on Day 2, if not late on Day 1.
5. Lewis Brinson, Coral Springs (Fla.)
Brinson is quite the athlete, grading out above average across the board, including a 55 run grade and throwing arm. He has legit power that plays now, but he's raw in terms of plate discipline and pitch recognition. Florida could get a terrific corner outfielder with a bright future if Brinson passes on pro ball for the college game. Such a decision could put him in the first round conversation in 2015.
6. Billy "Nick" Williams, Ball (Galveston, Texas)
Williams could fit anywhere on this list and the argument for such a ranking would be legitimate and justified. He lacks polish and has big problems with offspeed stuff, which means his draft stock is based largely on his physical tools. He's a 70 runner with good raw power, but his mechanics at the plate need work and his defensive instincts are below average. If he maximizes his potential, he's a future star. Williams may benefit greatly from three years at the University of Texas.
7. Skye Bolt, Holy Innocents' Episcopal (Atlanta)
Bolt has a chance to move up this list with some fundamental changes this spring. He's projectable at 6-foot-3 and 175 pounds, is a 60 runner and thrower and can handle center field. The switch hitter's swing (he's better from the right side) mechanics are poor — he was mostly upper body in 2011 — but that's not irreparable and big power could come as a result. If he spurns North Carolina and signs, he might be a sleeper to keep an eye on.
8. Jesse Winker, Olympia (Orlando, Fla.)
Winker is known for his sound swing and big power, but he may have to convert to first base down the line, erasing some of his value. He doesn't run or throw all that well, but is a good worker who sets an example for teammates on and off the field. Winker is committed to Florida.
9. Rhett Wiseman, Buckingham Browne & Nichols (Cambridge, Mass.)
Wiseman brings a little of everything to the ballpark, including good feet, wrist strength and good bat speed. His swing is a mess, however, which keeps his stock down. He's a decent defender but lacks polish and does not make plays instinctually, but he's always played multiple sports, somewhat explaining the lack of natural baseball skills. He's a Vanderbilt commit, so he's not going to be easy to sign, and frankly he could use the time to develop anyway.
10. Anthony Alford, Petal (Miss.)
Alford may take his game to the gridiron — he's committed to Southern Mississippi to play quarterback as well as baseball — but he's a physical specimen at 6-foot-2 and 210 pounds to go with above-average speed. He may have to play left in pro ball, and is still unrefined at the plate, but there's plenty to like athletically.
Jason A. Churchill covers scouting, player development and the MLB Draft for ESPN Insider, as well as Prospect Insider, where he's the founder and executive editor. You can follow him on Twitter @ProspectInsider and email him at churchill@prospectinsider.com.
February, 13, 2012
2/13/12
11:33
AM ET
By
Mark Tennis & Doug Huff
| ESPN.com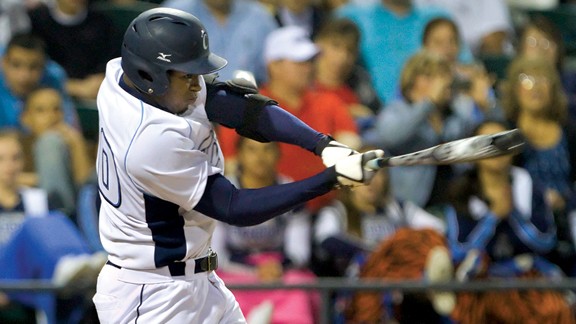 Corpus Christi Caller-Times/Photographer George TuleyCarroll (Corpus Christi) senior outfielder/right-handed pitcher Courtney Hawkins leads the way for the Tigers, who advanced to last year's state semifinals.
Coming up with a preseason baseball top 10 for the
Powerade FAB 50 ESPNHS Team Rankings
was no easy task.
How high should we rank Harvard-Westlake (Studio City, Calif.), which has the nation's
top right-hander
(Lucas Giolito) and
left-hander
(Max Fried) on its roster?
And what about Jesuit (Tampa, Fla.), led by senior flamethrower and likely first-round pick
Lance McCullers Jr.
?
Ultimately, the top spot came down to a pair of traditional national powers in Bishop Gorman (Las Vegas) and Mater Dei (Santa Ana, Calif.), two schools that once again field impressive collections of players that will make them very tough to beat in their respective leagues.
January, 13, 2012
1/13/12
10:12
AM ET
By
Jason A. Churchill
| ESPN.com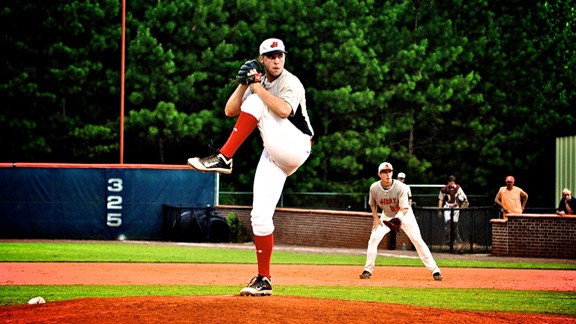 Courtesy of Traver FamilyHouston Christian (Houston) senior right-hander Mitchell Traver struck out 61 batters in 42.1 innings last season.
Texas, much like
California
and
Florida
, traditionally produces big-time baseball prospects for both the college and pro ranks. Top prospects such as Sherman (Texas) right-hander Kyle Crick (No. 49 overall in 2011), The Woodlands (Texas) right-hander Jameson Taillon (No. 2 overall in 2010), McKinney (Texas) right-hander Zach Lee (No. 28 overall in 2010) and Brownwood (Texas) right-hander Shelby Miller (No. 19 overall in 2009) highlight the recent top talent from the state.
The list of current and former MLB stars from the Lone Star State is extensive. There's pitching legend
Nolan Ryan
, this year's National Cy Young winner,
Clayton Kershaw
, and Red Sox ace
Josh Beckett
, to name a few.
While it's way too early to tell if anyone from this year's high school senior class is bound for Cooperstown, there's no doubt that the group is talented.
Here's a list of the Top 10 Texas high school baseball prospects from the Class of 2012.