High-SchoolBaseball:

Emerson Gibbs
June, 8, 2012
6/08/12
9:48
AM ET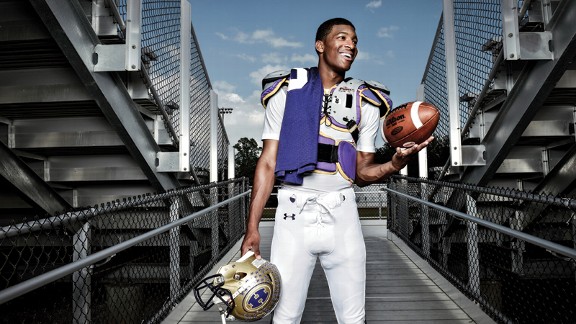 Dustin Snipes/ESPNHSJameis Winston of Hueytown (Ala.) was drafted in the 15th round by the Texas Rangers. The nation's No. 1 quarterback is expected to play both football and baseball at Florida State.
The first day of the 2012 MLB draft had a definite high school feel to it with
35 prep prospects getting drafted
on Monday, highlighted by Puerto Rican shortstop Carlos Correa going No. 1 overall to Houston and Appling County (Baxley, Ga.) outfielder
Byron Buxton
following at No. 2 to Minnesota.
But while the first day of the draft was filled with plenty of star power, the last two days featured plenty of intriguing high school storylines. Here were the best of the bunch.
Can I Graduate?
Providence (Charlotte, N.C.) senior right-hander
Ty Buttrey
created quite a stir when his family revealed he wouldn't be able to walk with his graduating class. The mix-up occurred when Buttrey, a fourth-round pick of the Boston Red Sox and the No. 25 player in the
ESPN 100
, skipped graduation rehearsal to negotiate a deal with an MLB team because no cell phones were permitted at the rehearsal.
Apparently, though, it was all a miscommunication, as Buttrey was ultimately allowed by his high school principal to walk with his class,
according to WBTV News in Charlotte
.
Two-Sport Stars
There were plenty of questions of how far
Jameis Winston
of Hueytown (Ala.) and
Anthony Alford
of Petal (Miss.) would fall in the draft because of their football commitments.
Winston, who's rated the nation's No. 1 quarterback in the
ESPN 150
, signed with Florida State is expected to play
both football and baseball
there. He's rated the nation's No. 71 baseball player in the ESPN 100.
Alford, the nation's No. 95 football recruit in the ESPN 150 and No. 29 baseball prospect in the ESPN 100, signed with Southern Mississippi.
Winston, an outfielder and right-handed pitcher, was drafted in the 15
th
round by Texas, while Alford was selected in the third round by Toronto.
The Rangers
told ESPN Dallas
they were hopeful Winston would choose to play for them in the offseason once Florida State's football season was over, like Russell Wilson did at NC State and Kyle Parker did at Clemson.
Meanwhile, Grant (Sacramento, Calif.) senior
Shaq Thompson
, a Washington football recruit rated the nation's No. 3 safety in the ESPN 150, was drafted in the 18
th
round by the Boston Red Sox. What's intriguing about that is Thompson didn't even play baseball his junior year and played sparingly as a sophomore. But Thompson
told The Sacramento Bee
he plans on signing with the Red Sox, though he'll still honor his commitment to the Huskies.
Where's Kyle Carter?
Columbus (Ga.) senior outfielder/left-handed pitcher
Kyle Carter
enjoyed a
phenomenal 2012 campaign
, hitting 14 homers and going 12-2 on the bump with a 0.98 ERA and 116 strikeouts in 86 innings to help the Blue Devils to their third straight state title and 12
th
overall. Columbus is No. 2 in the
POWERADE FAB 50
.
With a season like that, the Georgia recruit figured he'd go in the first few rounds. But after 40 rounds, he didn't get drafted at all.
What gives?
Carter
told the Ledger-Enquirer
that after he wasn't drafted in the second round, he told teams he was heading to Georgia.
Another player who fell for what is believed to be signability issues is Camarillo (Calif.) left-hander
Hunter Virant
, who lasted until the 11
th
round, when he was selected by Houston. Virant is a UCLA commitment.
When asked about UCLA or the Astros, Virant
told the Ventura County Star
, "The Astros still need to put together some money, so you never know. Right now the only sure thing is UCLA. But it's a win-win no matter what happens with those options."
Injuries and Arm Trouble
A few top prospects fell in the draft due to injury issues, most notably Bishop Amat (La Puente, Calif.) infielder
Rio Ruiz
. Once considered a potential first-round pick, Ruiz had a
blood clot removed from his clavicle
this spring and missed most of his senior season. A USC commit, Ruiz was selected in the fourth round by Houston.
Meanwhile, Bolles School (Jacksonville, Fla.) right-hander
Hayden Hurst
, who had
Tommy John surgery
as an eighth-grader, lasted until the 17th round, where he was selected by Pittsburgh.
While we're on the topic of arms, the three pitchers we featured last week in
our article on high pitch counts
—
Emerson Gibbs
of Jesuit (New Orleans),
Mitch Sewald
of Archbishop Rummel (Metairie, La.) and
Willie Nastasi
of Barnstable (Mass.) — weren't drafted at all. Gibbs and Sewald combined to throw 347 pitches in a game this April, while Nastasi tossed 155 pitches of his own in one start.
No word whether those high pitch counts scared off teams, but they couldn't have helped.
No Pressure, Kid
There are a lot of expectations heaped on sons of big leaguers. Now imagine you got drafted by the team your dad starred for.
That's what Ryan Ripken is facing. The Gilman (Baltimore) first baseman and South Carolina recruit was
drafted in the 20th round
by the Baltimore Orioles, the same squad his dad, Cal Jr., delivered a Hall of Fame career for. Ryan hit .377 and was 4-1 as a pitcher this year for Gilman.
Meanwhile, Tate Matheny, the son of St. Louis manager Mike Matheny, was
drafted by the Cardinals
in the 23rd round. The senior center fielder and Missouri State recruit hit .610 with 11 homers, 51 RBIs and 25 stolen bases this season for Westminster Christian (Town & Country, Mo.), leading the team to a second straight state title.
May, 31, 2012
5/31/12
9:42
AM ET
By
Matthew Muench
| ESPN.com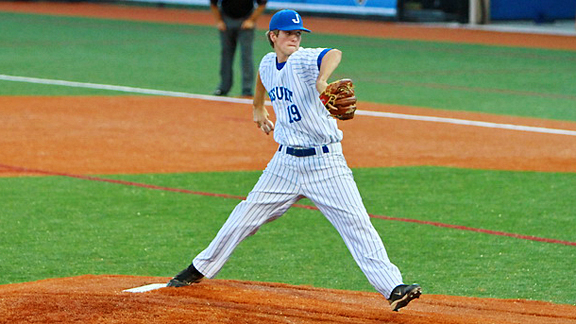 Courtesy of Jesuit High School of New OrleansJesuit (New Orleans) pitcher Emerson Gibbs threw 193 pitches in a game against Archbishop Rummel (Metairie, La.) in April. His opponent, Mitch Sewald, threw 154 pitches.
Dr. James Andrews couldn't believe it when he heard the combined pitch count racked up by two Louisiana high school pitchers in a game last month.
The number? Try 347.
"Wow," said Andrews, who is arguably the world's most famous and best orthopedic surgeon. "I have a hard time believing two pitchers were allowed to do that. Are you sure that number is for only two pitchers?"
Yes, doc. Just check the box score.
Jesuit School (New Orleans) senior ace
Emerson Gibbs
threw a whopping 193 pitches in an 18-inning, 2-1 victory over Archbishop Rummel (Metairie, La.) senior star
Mitch Sewald
, who threw 154 pitches. Gibbs threw 15 innings, while Sewald tallied his high pitch count in 10 frames.
"It's ludicrous and it's not safe judgment," Andrews said. "That is just way too many pitches. That shouldn't happen anywhere in any league."
Well, it did happen again.
Two weeks later, another young pitcher was piling up the pitch count in Massachusetts. Barnstable (Mass.) senior ace
Willie Nastasi
threw
155 pitches
in a nine-inning, complete-game victory over Taunton (Mass.).
Nastasi, who struck out 16 in the game, said he doesn't regret the high pitch count but does agree that 155 is a little too steep for his comfort.
"Looking back, yes it probably was too many pitches and I won't do it again," said Nastasi, who is signed to play for UConn next season. "But I also look back at that game and remember that I stayed strong throughout the whole game. I really felt great and had no fatigue."
[+] Enlarge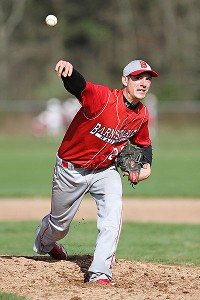 Eric Adler for ESPNBoston.comBarnstable (Mass.) pitcher Willie Nastasi racked up 155 pitches in one start this spring.
All three pitchers drew national attention because of their high pitch counts, and it once again raised the question of when enough is enough when it comes to pitch counts at the youth and high school levels.
Andrews has an answer.
"High school pitchers should not throw more than 90 pitches in a game and they should have to take at least five days rest before they pitch again anywhere," he said. "No way should they throw more than 100. The elbow isn't ready for that workload.
"I understand coaches are under a lot of pressure to win. But coaches need to know your No. 1 priority is the health and safety of your young pitchers and baseball players. Your job is to deliver them to the next level without injury."
All three coaches of the above-mentioned pitchers have caught heat from national media and scouts for the way they handled the pitch count.
Jesuit coach Joey Latino said looking back he would have changed the way he used Gibbs.
"I can't defend the number," he said. "It's something I am going to have to deal with for a while. It's hard to explain to someone who wasn't there."
Gibbs, however, saw no reason why he should have been pulled from the game because of a pitch count.
"I was feeling good the whole game and my velocity stayed the same," said Gibbs, a Tulane recruit. "I didn't think it was a big deal."
Andrews disagrees.
Based on numerous studies he has been involved in, Andrews said most shoulder and arm surgeries in youth, college and professional baseball are related to fatigue in the arm. And high pitch counts are a big factor in the fatigue.
"Pitching too much in one game, one week or one season is a very high risk factor," he said. "The problem is the injuries don't always show up when they pitch too many pitches at age 15. When you see a pitcher at age 22 start developing a problem, you go look at their history and most times you find out they threw too much as a teen."
None of the parents involved with the three pitchers complained to the coach or school district, but Sewald's father did raise an eyebrow when he watched his son continue to pitch.
"We were shocked he kept pitching," Chris Sewald said. "[Mitch] knows he probably shouldn't do it again. He was caught up in the moment. His coach did ask him and he kept saying he was fine. He wanted to stay in."
All three pitchers felt no pain beyond the usual soreness. And they all continued to pitch this season.
"I felt fine the whole time before and after," Nastasi said. "But I will say, if I was tired and if I felt like my arm was getting tired I think I am smart enough to know to take myself out. That just wasn't the case that game."
His coach, Joe DeMartino, agreed.
"He didn't look like he was pressing, and in my mind he was looking really strong as the game went on," he said. "I was confident in my decision. And I still am."
DeMartino said he always kept Nastasi's health a concern during the game and repeatedly asked his young pitcher if he was OK to continue.
"It's a tough call," he said. "Any coach who has been in my position knows the feeling. But I know what Willie is capable of and I know he works hard and has great mechanics. The key in all this is a coach should know what their pitcher can and cannot do. I can tell when a pitcher is getting tired. I would have had no problem pulling him if I felt he wasn't good to go."
Good mechanics or not, Andrews still thinks every high school league in the country should have pitch-count rules.
"Why do we have red lights and stop signs?" Andrews said. "Because we have to have them. Nobody likes them. I hate red lights. But they make you safe. Someone has to police these young kids to get them out of the operating room."
April, 19, 2012
4/19/12
7:42
AM ET
By
Mark Tennis & Doug Huff
| ESPN.com
Here are this week's high school baseball players of the week. One player is chosen from each region of the country. The only other criteria is that no player will be chosen more than once during a season.
(After games of Tuesday, April 17)
EAST
Randy Rodriguez, George Washington (New York)
The Trojans' leadoff hitter had a monster week as GW captured the annual George Washington Tournament crown with a 5-1 record and avenged an early-season loss to rival Cardozo (Bayside, N.Y.) 6-0 in the title game. Rodriguez, a senior veteran, was selected the tournament MVP after going 12-for-18 in the six games, driving in eight runs and playing stellar defense at short.
SOUTHEAST
Emerson Gibbs, Jesuit (New Orleans)
The senior pitcher, who got the save for the Blue Jays in last year's Class 5A state final, posted the equivalent of a seven-inning perfect game within the team's 2-1 victory in 18 innings last week over Archbishop Rummel (Metairie, La.). Gibbs retired 21 straight batters after the sixth inning of the
marathon matchup
. He ended up throwing 15 innings and 193 pitches. Those totals are legal in Louisiana, but would make the heads spin of many coaches around the country. Gibbs has signed with Tulane.
MIDWEST
Alex Darr, University Liggett (Grosse Pointe Woods, Mich.)
The 6-foot-2, 185-pound senior right-handed pitcher/infielder is off to an impressive start for the defending Division 4 state champions. Last week, he struck out 30 batters in two wins, including a no-hitter in a 4-0 blanking of Clarenceville (Livonia, Mich.). In Liggett's home opener, Darr fanned 15 and allowed only two hits in a 13-0, five-inning win over Parkway Christian (Sterling Heights, Mich.). He also helped his own cause with a three-run first-inning homer. Later in the week, he fanned 15 in the win over Clarenceville for his second no-hitter of the season.
MIDLANDS
Sean Rubalcaba, Grand Junction (Colo.)
A familiar name for anyone who follows Colorado prep sports, Rubalcaba continued his hitting tear in a Tuesday game this week by going 4-for-5 with two doubles in a 19-12 victory over Montrose (Colo.). Rubalcaba, a three-sport athlete who was the winner of the prestigious Gold Helmet Award by the Denver Post, kept his season batting average at a hard-to-believe number (.673) and also raised his season total for doubles to 12. He had his fourth four-hit game of the season and in one of those games all four hits were doubles. Rubalcaba, who has a 3.9 GPA and totaled 2,449 yards of total offense last fall as Grand Junction's quarterback, has signed to play football at Northern Colorado.
WEST
Kyle Twomey, El Dorado (Placentia, Calif.)
Pitching no-hitters is one thing, but doing it at the Hard 9 National Classic and for a third straight shutout is something else. Twomey tossed his no-hitter and struck out 14 for the Golden Hawks in a first-round game against Galena (Reno, Nev.). They eventually went on to win the tourney title with Twomey getting the save in a 4-2 victory over El Toro (Lake Forest, Calif.). He was named the tourney's MVP. Earlier this week, Twomey pitched a three-hitter with nine strikeouts when El Dorado topped Esperanza (Anaheim, Calif.) 2-1 in a matchup between two state-ranked squads. The 6-foot-3 senior has signed with USC.
April, 16, 2012
4/16/12
10:10
AM ET
According to
The Times-Picayune
, the two starting pitchers in Friday's game between Jesuit (New Orleans) and Archbishop Rummel (Metairie, La.) combined to throw a whopping 347 pitches in Jesuit's 2-1, 18-inning win.
Jesuit senior and Tulane recruit Emerson Gibbs racked up 193 pitches in 15 innings of work, while Rummel senior and LSU recruit Mitch Sewald had 154 pitches in 10 innings.
You can read more of the game story
here
.