High-SchoolBaseball:

Harvard-Westlake
April, 1, 2012
4/01/12
2:03
AM ET
By
Lucas O'Neill
| ESPN.com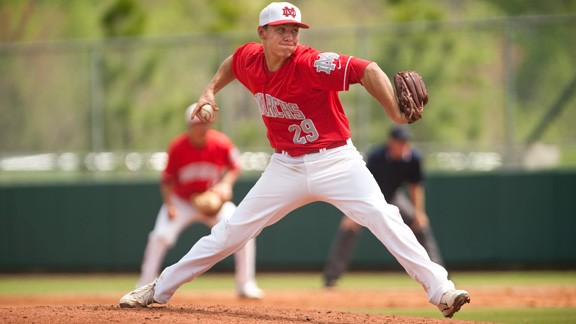 Andrew Craft/ESPNHSMater Dei (Santa Ana, Calif.) senior Ty Moore was a stud all week for the Monarchs, tossing eight scoreless innings while driving in six to lead Mater Dei to the USA Baseball H.S. Invitational crown.
CARY, N.C. --
Ty Moore
knew as soon as the ball came off of his best friend's bat that the game was over. There was still the little matter of running home, touching the plate, leaping in the air, throwing off his helmet and sprinting toward the rapidly forming celebratory dogpile near the mound, but all that was epilogue to the moment of victory.
Moore scored the winning run Saturday as Mater Dei (Santa Ana, Calif.) rallied from a 2-0 deficit to beat Harvard-Westlake (Studio City, Calif.), 3-2, in extra innings in the inaugural USA Baseball National High School Invitational.
The Monarchs' star RHP/OF, and the No. 98 prospect in the
ESPN 100
, Moore reached first on a misplayed ball in the bottom of the eighth. He then stole second, went to third on a botched pickoff attempt and came home when Ryan Barr cracked a single over his head and into left field.
"I'm speechless," Moore said. "To go out there and play a crazy game like that and to be the winning run hit in by your best friend? I mean, that's the best feeling you could ever have in your life."
Moore also picked up the win, his second in four games, throwing four innings of scoreless relief. He looked tired toward the end and admitted he was running on adrenaline — but there was still no way he was giving up the ball.
"Coach asked me, 'How you feeling?' And I said, 'Good. Don't take me out,'" Moore said. "And he goes, 'I wasn't thinking about it.' And I said, 'No, coach, even if it's like the 20th inning don't take me out. It's my game.'"
In many ways, it was Moore's tournament. On Thursday, the UCLA signee jacked a three-run homer in addition to picking up the win on the mound, and Friday he went 1-2 with two RBIs and a run scored, plus some highlight-reel plays in the outfield.
"He has this desire to win and he puts it out there on the line every pitch; he's that type of guy," said Mater Dei coach Burt Call. "He's an amazing baseball player."
Harvard-Westlake first baseman Joe Corrigan doubled to open the game and came around to score on catcher Arden Pabst's two-bagger. The Wolverines went up 2-0 in the top of the third when
Max Fried
drove home Casey Rosenfield, who had doubled to start the frame.
The Monarchs had only hit one home run entering the tournament but found the long ball when they needed it. Moore homered on Thursday, and the Monarchs got on the board Saturday in the bottom of the fourth when junior cleanup hitter Ryan McMahon went yard.
Then with one out in the bottom of the seventh, junior Davis Tominaga crushed a Brandon Deere offering over the right field fence to even the game at 2-2.
"I was just trying to help my team any way I could," Tominaga said. "I don't mind the home run, though. It was awesome."
Like Moore, Tominaga had a huge tournament, limiting
POWERADE FAB 50
No. 1 Bishop Gorman (Las Vegas) to just three runs in a complete-game effort on Wednesday. He also pitched an inning of scoreless relief on Saturday.
Deere, who didn't allow a hit through the first three frames, pitched seven strong innings and nearly became the fourth different Wolverine pitcher to toss a complete game in as many days. He was lifted in the eighth — the first time Harvard-Westlake had utilized a relief pitcher all tournament.
While only one team went home smiling, both had reason to be proud of what they accomplished at this elite showcase, which featured 16 national powerhouse programs. Ultimately, though, it came down to two squads from Southern California. No surprise there.
"We kind of feel like in Southern California we play the best brand of baseball in the nation," Harvard-Westlake coach Matt LaCour said prior to the game. "And there's other great teams out there and I'm not taking anything away from them, (but) on a daily basis you get tested in Southern California."
This was certainly a test for both teams. For Mater Dei, it was the first tourney game in which they'd trailed for any substantial amount of time, while Harvard-Westlake was coming off a draining 1-0, nine-inning semifinal win 20 hours earlier. On top of that, both teams endured a three-hour rain delay before the title tilt began.
Mater Dei, which entered the season ranked No. 2 in the FAB 50 but had fallen out of the rankings prior to the event, beat No. 1 Bishop Gorman and No. 2 Carroll (Corpus Christi, Texas) the first two days of the tournament, then two of the best representatives from Florida (American Heritage) and California (Harvard-Westlake) in the next two days.
"I think we've proven that we've played quality competition," Call said. "I think we've proven ourselves nationwide this week."
So did Westlake. Missing the nation's top player in RHP
Lucas Giolito
, who is out for the season with an injury, the Wolverines got players to step up time and time again, particularly on the mound.
"I don't think many people gave us a shot in extra innings against Mater Dei on the fourth day of a tournament without Lucas being with us," LaCour said, "so that's a credit to the guys that are on the field, that are doing the job. They have stepped up every bit of the way."
April, 1, 2012
4/01/12
1:31
AM ET
By
Christopher Crawford
| ESPN.com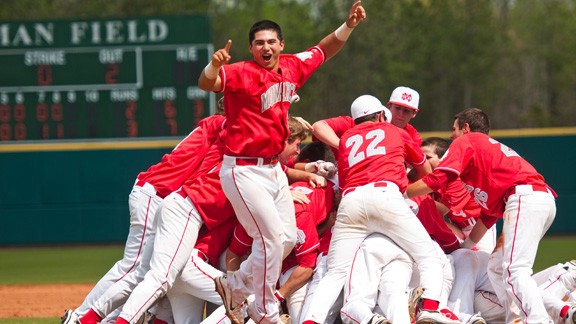 Andrew Craft/ESPNHSMater Dei (Santa Ana, Calif.) junior catcher Jeremy Martinez celebrates the Monarchs' win over Harvard-Westlake in the championship of the inaugural USA Baseball H.S. Invitational.
CARY, N.C. -- From a scouting perspective, the problem with high school baseball is the lack of competition top draft prospects face throughout the season. With prospects spread out across the country, the cream of the crop are rarely matched up against one another, which makes it difficult to accurately assess their skills.
That is why the USA Baseball National High School Invitational is such a welcome addition to the spring schedule. And not only by the major league scouts and front office executives who came out in droves, but also by the players who got a chance to prove themselves in a competitive environment. You'd be hard pressed to see better high school baseball played anywhere in the country. As one scout put it, "It's the best collection of talent I've seen in one complex in my 20 years of doing this."
Here's a look at 10 prospects — in no particular order — who stood out over the four days in North Carolina.
Jeremy Martinez
Mater Dei (Santa Ana, Calif.), C, Jr.
Martinez's beautiful line-drive stroke — in addition to his hustle and leadership — was on full display throughout his team's run to the title. The USC commit also shut down the opposition's running game. Overall, the junior backstop showed once again why he's one of the top prep prospects in the Class of 2013.
Lucas Sims
Brookwood (Snellville, Ga.), RHP, Sr.
Sims was close to unhittable in his start against Highlands Ranch on Wednesday, giving up just one knock over six innings while striking out 11. His fastball sat between 91-93 mph with a devastating curveball and a changeup that has improved since the Prospect Classic. He's currently committed to Clemson, but there's a real chance he'll be taken in the first 20 picks of June's draft.
Ty Moore
Mater Dei (Santa Ana, Calif.), RHP/OF, Sr.
Moore was one of the better two-way prospects on display over the week. He shut out the vaunted Carroll lineup over five innings on Thursday using a fastball with plenty of movement and a breaking-ball that he commanded well all day. He made good reads on the ball in the outfield, and he showed some pop at the plate by hitting one of the longer homers of the event.
Max Fried
Harvard-Westlake (Studio City, Calif.), LHP, Sr.
At No. 4 in the
ESPN 100
, Fried was one of the most-hyped prospects coming into the event. He didn't disappoint. The left-handed ace struggled early against Parkview (Lilburn, Ga.), but the UCLA pledge ended up throwing a complete game and striking out eight. He hit 94 on the gun and showed the best breaking-ball of any pitcher in the field.
Arden Pabst
Harvard-Westlake (Studio City, Calif.), C, Jr.
Another impressive SoCal catcher from the Class of 2013, Pabst showed impressive pitch recognition and a swing that should be conducive to power as he gets stronger. Behind the plate, he demonstrated solid catch-throw skills. It shouldn't surprise anyone if Pabst and Martinez are off the draft board very early in 2013.
Courtney Hawkins
Carroll (Corpus Christi, Texas), OF/RHP, Sr.
When you throw a shutout and hit a home run in a 1-0 victory, you know you've had yourself a pretty good day. Hawkins did that Thursday, and he did it against Florida power Gulliver Prep (Pinecrest, Fla.). Hawkins' fastball sat in the low-90s all game, and he touched 94. His combination of arm strength, speed and raw power makes him one of the top prospects for the 2012 draft.
Brandon Lopez
American Heritage (Plantation, Fla.), SS, Sr.
There was no better defensive shortstop over the week than Lopez. The Miami recruit made dazzling plays going to his left and right, and he showed plenty of arm strength for the position as well. He was no slouch with the stick, either, but it's his glove that makes Lopez such a valuable commodity.
Ryan Burr
Highlands Ranch (Colo.), RHP, Sr.
Burr battled Sims neck and neck for five innings on Wednesday, but some defensive miscues ultimately led to the lopsided final score of 7-0. The Arizona State signee sat in the low-90s and touched 93. Additionally, he showed good commanded of both his fastball and hard-biting breaking ball.
Matt Olson
Parkview (Lilburn, Ga.), RHP/1B, Sr.
Georgia's Gatorade State Player of the Year in 2011, Olson was a dominant force on the mound and at the plate during the tournament. He shut down a strong George Washington (New York) lineup on Wednesday and then crushed a Fried fastball for a homer on Thursday.
Rock Rucker
Russell County (Seale, Ala.), OF, Sr.
In addition to having one of the best names out there, Rucker is an impressive athlete who turned a lot of heads at the event. The left-handed hitting OF has plenty of arm strength — his fastball has been clocked in the 90s — and there's raw power and plenty of bat-speed in his stroke as well.
Honorable Mentions
Joey Gallo
, Bishop Gormon (Las Vegas), 3B/RHP, Sr.
Jack Flaherty
, Harvard-Westlake (Studio City, Calif.), RHP, Soph.
Adrian Marin
, Gulliver Prep (Pinecrest, Fla.), SS, Sr.
Ryan McMahon, Mater Dei (Santa Ana, Calif.), 3B, Jr.
Ivan Pelaez, Gulliver Prep (Pinecrest, Fla.), LHP, Sr.
Christopher Crawford is the founder and executive editor of MLB Draft Insider and a contributor to Prospect Insider. Follow him on Twitter @CrawfordChrisV.
March, 29, 2012
3/29/12
11:30
PM ET
By
Lucas O'Neill
| ESPN.com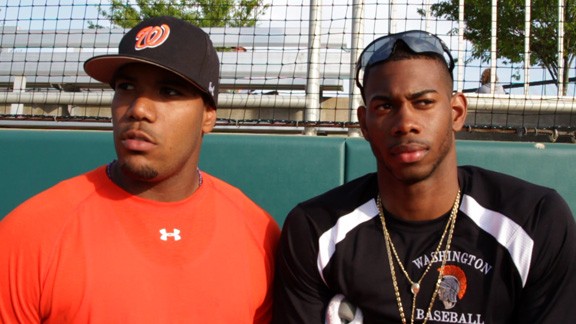 Lucas O'Neill/ESPNHSNelson Rodriguez (left) has been forced to play without George Washington (New York) teammate Fernelys Sanchez, who is out with a broken leg, at the USA Baseball H.S. Invitational.
CARY, N.C. -- George Washington (New York) has had a rough go of it so far at the USA Baseball National High School Invitational. The lone representative from the Northeast, the Trojans fell to Parkview (Lilburn, Ga.) 11-3 on Wednesday and Russell County (Seale, Ala.) 8-0 on Thursday.
Unlike most of the teams at the tournament, George Washington's season has essentially just started. They played nine games in March — none against what would be considered national-caliber programs. But the bigger obstacle for the Trojans this week is that they are without star outfielder
Fernelys Sanchez
, the No. 93 recruit in the
ESPN 100
.
Well, that's not technically true. Fernelys made the trip to North Carolina and was there in the dugout for both games, but the large cast on his right leg made playing impossible. Sanchez broke his leg last week when his foot got stuck in the dirt while running the basepaths and is expected to miss 4-6 weeks.
"All I was thinking was just, 'North Carolina, North Carolina,' man," Sanchez recalled. "I was just thinking about this week. I was just really looking forward to joining my team and Nelson…
"It happens, though; it's baseball," he continued. "Now I've just got to adjust to what's next."
Nelson would be
Nelson Rodriguez
, the Trojans' other senior leader. A star since his freshman campaign, Rodriguez has long been compared to another Trojans' power-hitter: Manny Ramirez. And the person making the comparison, coach Steve Mandl, is in a position to know: He coached Ramirez at GW.
Rodriguez and Sanchez have been best friends since Little League. One year they were opponents, the next year they were teammates, and the rest is history.
"That's where everything started right there," said Sanchez. "From then on, we always played together."
But that could change next year. While both players have committed to Central Arizona CC, it's likely that one or both will choose to go pro instead following June's MLB draft. That's what makes this year all the more important — and Sanchez's injury all the more disappointing. Still, the Trojans will settle for nothing less than a city championship.
"Now that Fernelys is injured, we have to adjust to the atmosphere," said Rodriguez. "It's a big loss and hopefully he gets better soon."
Playing or not, Sanchez will be there every step of the way.
One-Man Show
Courtney Hawkins
led Carroll (Corpus Christi, Texas) over Gulliver Prep (Pinecrest, Fla.) Thursday morning, supplying the game's only run with a solo blast in the top of the third. Hawkins, No. 26 in the ESPN 100, also pitched 5.1 innings of four-hit ball with nine strikeouts and two walks.
"Courtney kind of showed up today," said Carroll coach Lee Yeager, whose team entered the tournament No. 2 in the
POWERADE FAB 50
. "It came down to what he did for us."
Making the performance more impressive is the fact that Gulliver boasts at least a trio of potential early-round draft picks in
Adrian Marin
,
Chris Chinea
and Eric Neitzel. Hawkins did some reconnaissance work before the game to get an edge on the Raiders' potent lineup.
"I got a little help from some guys in Florida I know that play with them," he said with a smile.
Giant Killers
Hawkins' smile was short-lived, figuratively speaking, as within a couple hours his Tiger team was getting trounced by Mater Dei (Santa Ana, Calif.). The Monarchs, who were ranked No. 2 in the preseason POWERADE FAB 50 but had since fallen out of the rankings, had the tournament's toughest draw, but you wouldn't know it from looking at their box scores.
A day after taking out the nation's No. 1 team, Bishop Gorman (Las Vegas), by a score of 10-3, Mater Dei defeated No. 2 Carroll by mercy rule, 12-0.
Ty Moore
led the way for the Monarchs on Thursday, pitching four scoreless innings and hitting a three-run home run.
No. 1*
The radar guns were out in force Thursday as Harvard-Westlake (Studio City, Calif.) co-ace
Max Fried
took the hill against Parkview. The nation's No. 4 prospect in the ESPN 100, Fried didn't disappoint, striking out eight in the Wolverines' 10-3 win.
Perhaps more important to the many scouts in attendance, Fried touched 94 mph on the gun and was consistently in the 89-91 range on his fastball. His 80-mph breaking ball was equally devastating. While Fried's injured teammate, RHP
Lucas Giolito
, is the No. 1 player in the ESPN 100, Fried might be just as coveted by MLB teams come draft time for one reason: He's a southpaw.
Harvard-Westlake will face American Heritage (Plantation, Fla.) in the semifinals on Friday.
Come Sail Away
Sarasota (Fla.) is one of the few teams that entered the tournament unranked in the FAB 50, but that could change after the Sailors won both ends of a double-header on Thursday to earn a semifinal tilt with Mater Dei on Friday.
In a morning matchup with Lee County (Sanford, N.C.), Sarasota scored 14 unanswered runs, breaking the game open with five runs in the sixth and another six in the seventh in a 14-2 victory. In the nightcap, sophomore Evan Mendoza went the distance for the Sailors in the 5-3 win.
"This is the best thing I've seen done for high school baseball yet," said coach Clyde Metcalf, who's in his 31st year at the helm. "Our kids have been really excited about this since it was announced. We're grateful to be here."
January, 27, 2012
1/27/12
8:37
AM ET
By
Jason A. Churchill
| ESPN.com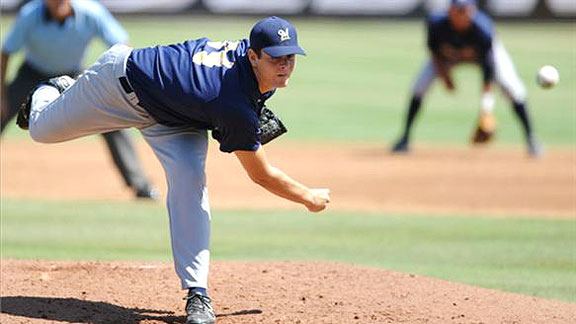 Scott Kurtz/ESPNHSHarvard-Westlake (Studio City, Calif.) senior Lucas Giolito is the nation's top right-hander and a likely top 10 pick in June's MLB Draft.
The top Class of 2012 high school baseball players are just weeks away from starting their seasons. It will also be the time when those elite prospects will begin jockeying for draft position.
Each week from now until early March, we'll take a look at those elite prospects by ranking our Top 10 players by position. This week, we kick it off with a look at right-handed pitchers.
December, 19, 2011
12/19/11
8:44
AM ET
By
Christopher Crawford
| ESPN.com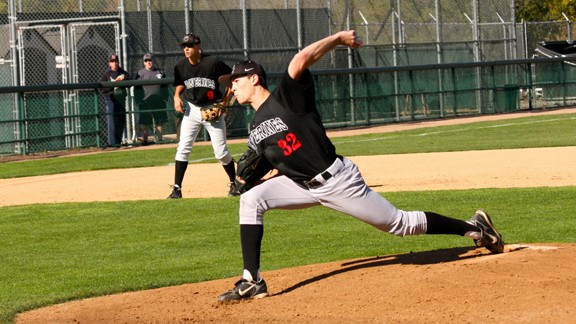 Courtesy of Matt LaCour/Harvard-WestlakeAfter Montclair Prep (Van Nuys, Calif.) cut its athletic program, senior lefty Max Fried transferred to Harvard-Westlake (Studio City, Calif.), where he'll team with right-hander Lucas Giolito to form the nation's top pitching tandem
Over the last few seasons, there have been plenty of elite prep baseball prospects living in close proximity to each other. Heck, last year, Dylan Bundy of Owasso (Okla.) and Archie Bradley of Broken Arrow (Okla.) competed against each other for both a state championship and to see who would be the first prep pitcher off the board.
Next year, you won't have to venture any farther than Harvard-Westlake (Studio City, Calif.) to see arguably the two top pitchers in high school in senior right-hander
Lucas Giolito
and senior left-hander Max Fried, who will be high school teammates for the first time this upcoming season.
The 6-foot-4 Fried was one of the top hurlers in the Golden State at Montclair Prep (Van Nuys, Calif.), but he was forced to transfer after his school decided to discontinue all its sports last summer.
"It was really hard on me," said Fried. "But coach LaCour, Lucas and the teammates have helped make that transition much easier."
"Max is a great kid who has made a seamless transition to us" Harvard-Westlake head coach Matthew LaCour said. "He's a great athlete and his work ethic is off the charts. You wouldn't even be able to tell he hasn't been here the whole time when he interacts with the boys. He's really blended into the fabric of our team"
This summer, Fried participated in the Perfect Game All-American Classic and at the Area Code Baseball Games.
"That was probably my favorite event of the summer," Fried said of ACG. "It taught me how to stay composed on the mound, not to try to do too much and just relax."
As for next year, the goal for Fried is simple -- win sectionals and then take his talents -- along with Giolito -- to UCLA.
"Staying close to home was important," Fried said on picking the Bruins. "But mostly it was the comfort level I felt with (UCLA) coach Savage, and it's where I felt I would progress the most as a pitcher."
As for whether or not the Giolito's commitment to the school had anything to do with his decision, Fried said the decision was "purely coincidental, but it has made the two of us closer."
One thing that could keep the 6-foot-4 lefty from becoming a Bruin, however, is the draft, for which he's a potential first-round pick.
"He was 89-95 when I last saw him, with a good curveball and flashed a change," ESPN.com senior baseball writer Keith Law remarked on Fried. "He has a good above 3/4 slot, although the arm action was a little long and he doesn't make enough use of his height, yet."
Fried says the draft isn't on his mind at all right now, as college is extremely important to him and the event is still six months away.
If you get the impression that Fried is a team-oriented guy, you'd be correct. In fact, he didn't mention a single individual statistic when asked about what his goals for the upcoming season.
"He's a guy who leads both by example and vocally," Giolito said about his teammate. "He's become my best friend, and I'm so excited to play baseball with him next year and the next three years in college, as well."
Harvard-Westlake – and Pac-12 – opponents would be wise to take warning.
Christopher Crawford is a regular contributor to Prospect Insider and the founder and executive editor of MLB Draft Insider. Follow him on Twitter @CrawfordChrisV.
November, 22, 2011
11/22/11
10:47
AM ET
By
Jason A. Churchill
| ESPN.com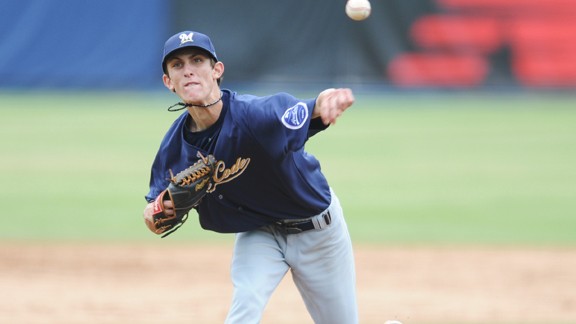 Scott Kurtz/ESPNHSCamarillo (Calif.) senior left-hander Hunter Virant went 6-1 last year with a 1.54 ERA and 56 strikeouts in 50 innings.
While the prep baseball season is months away, it's never too soon to evaluate what we'll be watching once the schedule gets under way. "The Golden State" is typically among the three hot spots for amateur baseball with Texas and Florida in terms of producing myriad elite prospects. But it's California that often produces the most top prospects, and this year is no different.
Here's a look at the Top 10 California high school prospects in the Class of 2012.
1. Lucas Giolito, RHP, Harvard-Westlake (Studio City, Calif.)
Giolito
, a UCLA recruit, has the velocity — up to 97 mph — and projectability with his 6-foot-6, 230-pound frame to land in the top five in June's MLB Draft. He sits in the 92 to 94 range with his fastball and also has a pair of promising secondary pitches with his changeup and two-gear breaking ball.
2. Max Fried, LHP, Harvard-Westlake (Studio City, Calif.)
Fried, who inked with UCLA along with his high school teammate Giolito, stands a projectable 6-foot-4 and combines consistent mechanics with above-average velocity that reaches 92 miles per hour. Fried, who will pitch in the same rotation as Giolito in 2012, stands a projectable 6-foot-4 and combines consistent mechanics with athleticism and above-average velocity that reaches 92 miles per hour. His changeup and curveball each figure to be average or better offerings, and when the smoke clears, Fried could hear his name called shortly after Giolito somewhere in the top half of the first round.
3. Freddy Avis, RHP, Menlo School (Atherton, Calif.)
Despite lacking the physical frame of some of his in-state rivals at 6-foot-2 and 180 pounds, Avis has good arm speed and a fluid delivery, producing easy velocity in the 90 to 93 mph range and also holstering a curveball. He's believed to be a strong commit to Stanford, but is also likely to be considered in Round 1.
4. Trey Williams, 3B, Valencia (Valencia, Calif.)
Williams is a right-handed hitting prep shortstop who profiles defensively at third base. He's sturdy and strong with a plus arm and good athleticism. His setup needs work but with terrific hands and wrists generates well above-average bat speed that should result in plus power. Williams, a Pepperdine commit, is the son of former big league infielder Eddie Williams, who spent parts of 10 seasons in the majors after being the No. 4 overall selection in the 1983 Draft.
5. Hunter Virant, LHP, Camarillo (Camarillo, Calif.)
Virant, like Williams and Avis ahead of him, has the capability to soar to at least No. 2 on this list with a strong spring. He offers projection at 6-foot-3 and 180 pounds and already boasts a solid to average fastball that has brushed 94 mph in the past. His arm action is somewhat short, but there's plenty of time to figure that out and it's not expected to negatively impact his draft status. The left-hander's mid-70s curveball and potential for added velocity suggest he's among the prep arms with the most upside in any state.
6. Rio Ruiz, 3B, Bishop Amat (La Puente, Calif.)
Ruiz is a two-sport star at Bishop Amat, where he's a standout quarterback in the fall and an elite baseball talent in the spring. He handles multiple gigs on the diamond, including on the mound, where he's touched 93 miles per hour. He runs well (7.1 in the 60), stands 6-foot-2 and about 200 pounds and offers left-handed power. He has good hands and may stick at third if he doesn't outgrow the position. But if he can't stick at third, he has good instincts and could transition to right field without any issues.
7. Cody Poteet, RHP, Christian (El Cajon, Calif.)
Packing a bigger fastball than his 6-foot-1, 180-pound frame suggests, Poteet is also able to create some plane to his heater that sits at 90 to 93 mph. He throws from around a three-quarter arm slot, which creates some tilt to his curveball. He's a bulldog on the mound and I'm a little bullish on him here at No. 7, but his lack of projection doesn't bother me all that much.
8. Shane Watson, RHP, Lakewood (Lakewood, Calif.)
Watson's arsenal includes a fastball in the 88 to 92 mph range, showing sink and arm side ride, and his frame (6-foot-4, 200 pounds) may produce more velocity down the line. But it may have to come from improved mechanics, primarily better balance and use of his lower half. Watson is committed to USC and should be considered early on Day 1 of the draft.
9. Felipe Perez, RHP, Fairmont Prep (Anaheim, Calif.)
This 6-foot-3, 200-pound right-hander pitches at 88 to 91 mph but has touched 93 and throws two breaking balls — a 72 to 75 mph curveball and a 77 to 79 mph slider. His arm works well from a high, three-quarter slot and he's performed well in showcase events, something scouts remember throughout the spring.
10. Ryan McNeil, RHP, Nipomo (Nipomo, Calif.)
One could argue that McNeil belongs as high as No. 7 on this lists — the last four players on this are all worthy adversaries. He's got an aggressive arm with upside, and he's touched 94 mph with his fastball. He also employs a slider. McNeil has committed to Long Beach State, but he could perform his way into the top 50 of the draft come June. Marina (Marina, Calif.) pitcher Trevor Megill — all 6-foot-7 of him — would have ranked here, but he decided to enroll early at Loyola Marymount.
On the Brink
Corey Oswalt, 3B, James Madison High School (San Diego, Calif.)
Chase DeJong, RHP, Wilson (Long Beach, Calif.)
Nolan Gannon, RHP, Santa Fe Christian (San Diego, Calif.)
C.J. Saylor, C, South Hills (West Covina, Calif.)
NOTES
Right-handers Giolito, Perez and Poteet and southpaws Fried and Virant have all signed with UCLA, which could make for an intriguing class if any number of them pass on pro ball the first time around … Saylor is an elite defensive backstop recruited to San Diego State, where he could catch Gannon if they both ultimately honor their college commitments … Giolito could be the No. 1 overall pick if the Houston Astros buck the building trend of avoiding prep pitchers with the top overall selection. At this stage, only Appling County (Baxley, Ga.) outfielder Byron Buxton rivals Giolito among the country's top prep prospects … The new Collective Bargaining Agreement in Major League Baseball may impact how many high school talents put their professional aspirations on hold for college ball. The new tax that is expected to be introduced this week by the Major League Baseball Players Association and the league will incorporate penalties for clubs that exceed a set amount for signing bonuses in combination for the first 10 rounds. This may or may not abbreviate the bonuses for some top picks.
Jason A. Churchill covers scouting, player development and the MLB Draft for ESPN Insider, as well as Prospect Insider, where he's the founder and executive editor. You can follow him on Twitter @ProspectInsider and email him at churchill@prospectinsider.com.