High-SchoolBaseball:

Illinois
October, 31, 2011
10/31/11
9:25
AM ET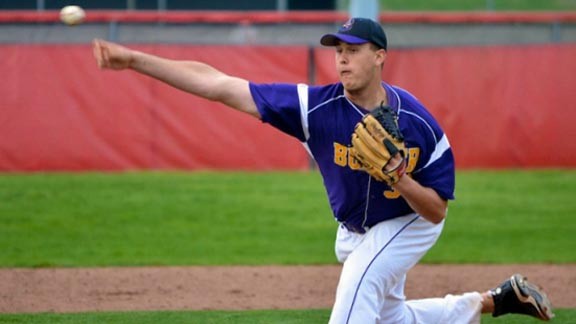 Vandalia-Butler Baseball /OtherTaylore Cherry is not only one of the top pitchers in the Great Lakes region, but in the nation as well.
In the second part of our look at the top players in the Great Lakes, we see the region is loaded in the outfield, on the mound, and home to elite two-way prospects.
Outfielders
Committed to Louisville,
Nathan Mikolas (Kenosha, Wis.)
is regarded as the region's top non-catcher positional prospect. Viewed as a potential top-100 draft pick, the 6'2, 205 left-handed hitter possesses a fluid and consistent swing with great bat speed, generating backspin while maintaining a selective eye. Mikolas has potential above-average power, including opposite field power with his ability to control and cover the strikezone, stay back on breaking pitches and snap through the zone with strong wrists. The 2011 Area Code Games particiant is a good athlete that runs a sub-6.9 sixty-yard dash with a projectable big league frame.
Though currently a third baseman, a move to the outfield is mostly likely in the future for
Xavier Turner (Sandusky, Ohio)
a toolsy 6'1, 205 prospect. Turner, who has committed to Vanderbilt, recently played the outfield for the esteemed Canes Baseball program. Though lacking repitions in the outfield, Turner held his own in making reads while displaying a good arm. Turner has above-average speed, registering a sixty as fast as 6.75. At the plate, Turner displays consistent gap-to-gap power with occasional pull power from an ability to recognize pitches early, square-up and drive the ball to all fields.
Mitchell Holtz (Plainfield, Ill.)
stood out at the 2010 Area Code Games teamWhite Sox tryouts, when at 6'1, 210, running a 6.89 sixty. As Holtz's frame beging to slightly fill-out, now 215, his speed remains as he approaches being a 6.85-runner. Though not lacking in speed, Holtz top tool may be his arm where he can register up to 88 on the mound and from the outfield. At the plate Holtz is an explosive hitter, maintaining outstanding bat swing to and through the ball with a solid line-drive approach.
Right-handed pitchers
Taylore Cherry (Dayton, Ohio)
is not only the top regional right handed pitcher, he is one of the best in the nation. At 6'9, 260 Cherry often appears a man among boys, backed by game that separates him from many peers. Gifted with outstanding arm speed, Cherry can reach 94 on his fastball, often sitting 89-91 from a low-in-effort and simple-in-mechanics 3/4 release. Cherry's fastball has late life, an offering that compliments a repeatable upper-70s change with sink. Cherry can command a curve, making him a three-pitch pitcher, but at the present time wthout tight spin his breaking ball is behind his devasting fastball-change plus-plus combo. Though big, is not an overly physical pitcher, carrying a body that is still a bit soft. Meaning there is more in the tank for the towering righty who has committed to North Carolina as he gains muscle and definition development.
Other notable Great Lakes right-handed pitchers:
Karl Keglovits (Nazareth, Pa.; North Carolina State-commit) Jacob Post (Chesterton, Ind. Ohio State-commit), Luke Stephenson (Fairland, Ind.; Vanderbilt-commit) Kyle Funkhouser (Oak Forest, Ill.; Louisville-commit), Mitchell Brown (Rochester, Minn.; San Diego-commit), Jared Price (Mohnton, Pa.; Maryland-commit)
Left-handed pitchers
Matt Smoral (Solon, Ohio)
like Cherry, his Buckeye state counter part, Smoral is recognized as one of the nation's best. The 6'8, 240 Smoral is an imposing figure on the mound, an attacking and polished southpaw. Smoral comforably sits 90-92, reaching back to 94 when needed. Smoral is similar to Cherry as he has a smooth low-effort delivery, a very loose arm that sees him throw from a true ¾ slot. Smoral has the ability to throw three pithches for strikes for strikes working curve and change off his fastball. Though a bit slurvey in break, Smoral's curve displays above-average tightness that has the ability to be a big-league plus pitch. Smoral hides the ball well making a mid-80s change more effective than the separation from velocity in fastball suggest. The lefty works well in-and-out, to both sides of the plate, a heady pitcher who understands the game.
Other notable Great Lakes left-handed pitchers:
Brett Lilek (South Holland, Ill.; Arizona State-commit), Jordan Minch (Highland, Ind.; Purdue-commit), Jake Drossner (Richboro, Pa.; Maryland-commit), Ryan Borucki (Mundelein, Ill.; Iowa-commit), Brent Strong (Andover, Minn.; Bradley-commit)
Two-way players
The Great Lakes is home to many outstanding two-way players, some previously highlight, but few have the ceiling both on the mound and in the field as Arizona-commit
Ryan Koziol (Orland Park, Ill.)
. On the mound the right-handed pitcher throws four pitchers, led by a fastball that can reach 90, a low-to-mid 80s cutter, change and curve. At shortstop Koziol is great in anticipation and reads the ball well of the bat, aiding his range and allowing his quick hands and strong arm to make up for a slight lack in speed. At the plate, the long and loose 6'3, 185 left-handed hitter has a level swing and loose hips from a squared stance that produces line-drives to all fields.
Other notable Great Lakes two-way players:
Jacob Bosiokovic (Delaware, Ohio; Ohio State-commit), Anthony Kidston (Defiance, Ohio; Louisville-commit), Danny Rosenbaum (Lafayette Hill, Pa.; Louisville-commit), Michael Hadden (Prior Lake, Minn.).
Chris Webb has covered Midwestern college baseball since 2009 for Buckeye State Baseball as well as in his own personal blog The Webb Log (
ChrismWebb.com
). Chris is in his second year of covering the area's high school baseball and recruiting for Prep Baseball Report. He can be reached at
cmwebb24@gmail.com
and followed on Twitter @ChrisMWebb
October, 26, 2011
10/26/11
6:32
PM ET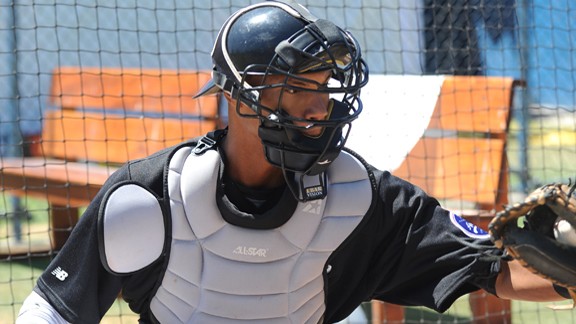 Scott Kurtz/ESPNHSBlake Hickman's future looks to be behind the dish. Here he is at the 2011 Area Code Baseball Games presented by New Balance.
What do Jason Kipins, Cory Luebke, Devin Mesoraco, Jarrod Parker, Drew Storen and Jordan Zimmermann have in common?
Outside of being some of MLB's brightest young stars, each played his high school baseball in the Great Lakes Region.
While high school players in the states of Michigan, Minnesota, Illinois, Indiana, Ohio, Pennsylvania and Wisconsin may not have the luxury of the year-round baseball, these snowbird states year-in and year-out pump out elite talent.
Since 2007, when Luebke, Mesoraco, Parker and Zimmermann were top 70 selections, to this past June, when Andrew Chafin, Cameron Gallagher, Cory Spangenberg and Charlie Tilson were among the first 80 picks. Those seven states have combined for 42 draft picks in the first two rounds.
That number is expected to rise when the 2012 draft is included.
We highlight by position the top talent, then list a few more players expected to be drafted or early college contributors. Our first part is around the diamond, with catchers, corner and middle infielders.
Catchers
One of the toughest positions to find an impact player, catcher, the Great Lakes is stockpiled with backstops capable of impacting a major college program or minor league system. Illinois is home to the top two in
Jason Goldstein (Highland Park, Ill.)
and
Blake Hickman (Chicago)
, both 2011 Area Code Games participants. Goldstein, an Illinois-commit, edges out the Iowa-commit Hickman at this stage due to advanced footwoork, above-average receiving skills and a sub-1.85 pop. Goldstein is an above-average hitter who brings to the plate a good approach with a smooth swing and gap-to-gap power. Hickman is the better athlete of the two, displaying a mid-80s arm, a sub 6.95 sixty, and a 6-5, 210 frame compared to Goldstein's 6'0, 190 stature. But with raw tools, at the present time scouts view Hickman both behind and at the plate, a project that needs improvement with his footwork and release, while shorting his swing and working on timing.
Other notable Great Lakes catchers:
Maxwell McDowell (North Hungtinton, Pa.; Connecticut-commit)
,
Casey Schroeder (Ottawa, Ohio; Kentucky-commit)
,
Scott Williams (Berwyn, Pa.; Virginia-commit)
.
Corner Infielders
Joining Goldstein and Hickman at the Area Code games was
Kevin Ross (Skokie, Ill.)
, an infielder committed to Michigan. Currently a shortstop, at 6'1, 205, Ross presents a frame that projects for more growth, one that ultimately will see him settle at the hot corner. The future position bodes him well as he carries one of the region's top power-potential bats, good range and a plus-arm. At the plate Ross can spray the ball to all fields, while possessing raw power generated from a pull-approach, and outstanding bat speeed with an attacking uppercut swing.
In Central Ohio,
Jeff Murray (Reynoldsburg, Ohio)
and
Zach Ratcliff (Blacklick, Ohio)
have positioned themselves in the region as the top two first baseman. Both are true power hitters, Murray a left-handed hitter while Ratcliff swings form the right-side. Murray has a strong arm, generates good bat speed and carries a projectable frame. Ratcliff is a three-sport athlete who has the potential to see time in the outfield due to his speed and athleticism, while displaying a solid plate approach leading to above-average opposite-field power. The pair will stay in-state collegiality as the 6'4, 225 Ratcliff is committed to Ohio State and the 6'2, 205 Murray to Cincinnati.
Other notable Great Lakes corner infielders:
Devin Pickett (Flossmoor, Ill.; Iowa-commit), Joe DeCarlo (Glen Mills, Pa.; Georgia-commit)
.
Middle Infielders
Jordan Striegel
,
a shortstop from Sellersburg, Ind., headlines the crop of middle infielders. With his quick hands and release, a strong arm and above-average range, the Louisville-commit is one of few regional shortstops that a move elsewhere on the diamond is not immediately needed. His defense is combined with a compact, line-drive producing swing, and good speed to make him a solid all-around player.
While currently a shortstop,
Travis Maezes (Ann Arbor, Mich.)
lags the quick release and ideal rangel for shortstops, but the tools the Michigan-commit possesses will keep him on the diamond. The left-handed hitter has power potential with a controlled smooth swing that sees him barrell up balls and quick to pitches inside. With an above average arm and good speed, Maezes could be suited for second or third base, the outfield, and even catcher where he has a sub 1.90 pop, but lacks development.
Other notable Great Lakes middle infielders:
Matt Dauby (Indianapolis;Virginia Tech-commit),
Kenny Koplove (Philadelphia; Duke-commit), Forrest Perron (Strongsville, Ohio; Cincinnati-commit)
.
Chris Webb has covered Midwestern college baseball since 2009 for Buckeye State Baseball as well as in his own personal blog The Webb Log (
ChrismWebb.com
). Chris is in his second year of covering the area's high school baseball and recruiting for Prep Baseball Report. He can be reached at
cmwebb24@gmail.com
and followed on Twitter @ChrisMWebb