High-SchoolBaseball:

Kevin Ross
October, 26, 2011
10/26/11
6:32
PM ET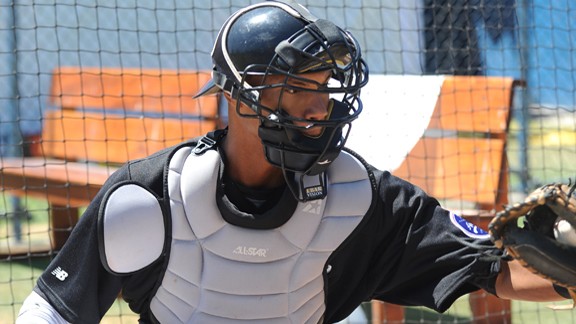 Scott Kurtz/ESPNHSBlake Hickman's future looks to be behind the dish. Here he is at the 2011 Area Code Baseball Games presented by New Balance.
What do Jason Kipins, Cory Luebke, Devin Mesoraco, Jarrod Parker, Drew Storen and Jordan Zimmermann have in common?
Outside of being some of MLB's brightest young stars, each played his high school baseball in the Great Lakes Region.
While high school players in the states of Michigan, Minnesota, Illinois, Indiana, Ohio, Pennsylvania and Wisconsin may not have the luxury of the year-round baseball, these snowbird states year-in and year-out pump out elite talent.
Since 2007, when Luebke, Mesoraco, Parker and Zimmermann were top 70 selections, to this past June, when Andrew Chafin, Cameron Gallagher, Cory Spangenberg and Charlie Tilson were among the first 80 picks. Those seven states have combined for 42 draft picks in the first two rounds.
That number is expected to rise when the 2012 draft is included.
We highlight by position the top talent, then list a few more players expected to be drafted or early college contributors. Our first part is around the diamond, with catchers, corner and middle infielders.
Catchers
One of the toughest positions to find an impact player, catcher, the Great Lakes is stockpiled with backstops capable of impacting a major college program or minor league system. Illinois is home to the top two in
Jason Goldstein (Highland Park, Ill.)
and
Blake Hickman (Chicago)
, both 2011 Area Code Games participants. Goldstein, an Illinois-commit, edges out the Iowa-commit Hickman at this stage due to advanced footwoork, above-average receiving skills and a sub-1.85 pop. Goldstein is an above-average hitter who brings to the plate a good approach with a smooth swing and gap-to-gap power. Hickman is the better athlete of the two, displaying a mid-80s arm, a sub 6.95 sixty, and a 6-5, 210 frame compared to Goldstein's 6'0, 190 stature. But with raw tools, at the present time scouts view Hickman both behind and at the plate, a project that needs improvement with his footwork and release, while shorting his swing and working on timing.
Other notable Great Lakes catchers:
Maxwell McDowell (North Hungtinton, Pa.; Connecticut-commit)
,
Casey Schroeder (Ottawa, Ohio; Kentucky-commit)
,
Scott Williams (Berwyn, Pa.; Virginia-commit)
.
Corner Infielders
Joining Goldstein and Hickman at the Area Code games was
Kevin Ross (Skokie, Ill.)
, an infielder committed to Michigan. Currently a shortstop, at 6'1, 205, Ross presents a frame that projects for more growth, one that ultimately will see him settle at the hot corner. The future position bodes him well as he carries one of the region's top power-potential bats, good range and a plus-arm. At the plate Ross can spray the ball to all fields, while possessing raw power generated from a pull-approach, and outstanding bat speeed with an attacking uppercut swing.
In Central Ohio,
Jeff Murray (Reynoldsburg, Ohio)
and
Zach Ratcliff (Blacklick, Ohio)
have positioned themselves in the region as the top two first baseman. Both are true power hitters, Murray a left-handed hitter while Ratcliff swings form the right-side. Murray has a strong arm, generates good bat speed and carries a projectable frame. Ratcliff is a three-sport athlete who has the potential to see time in the outfield due to his speed and athleticism, while displaying a solid plate approach leading to above-average opposite-field power. The pair will stay in-state collegiality as the 6'4, 225 Ratcliff is committed to Ohio State and the 6'2, 205 Murray to Cincinnati.
Other notable Great Lakes corner infielders:
Devin Pickett (Flossmoor, Ill.; Iowa-commit), Joe DeCarlo (Glen Mills, Pa.; Georgia-commit)
.
Middle Infielders
Jordan Striegel
,
a shortstop from Sellersburg, Ind., headlines the crop of middle infielders. With his quick hands and release, a strong arm and above-average range, the Louisville-commit is one of few regional shortstops that a move elsewhere on the diamond is not immediately needed. His defense is combined with a compact, line-drive producing swing, and good speed to make him a solid all-around player.
While currently a shortstop,
Travis Maezes (Ann Arbor, Mich.)
lags the quick release and ideal rangel for shortstops, but the tools the Michigan-commit possesses will keep him on the diamond. The left-handed hitter has power potential with a controlled smooth swing that sees him barrell up balls and quick to pitches inside. With an above average arm and good speed, Maezes could be suited for second or third base, the outfield, and even catcher where he has a sub 1.90 pop, but lacks development.
Other notable Great Lakes middle infielders:
Matt Dauby (Indianapolis;Virginia Tech-commit),
Kenny Koplove (Philadelphia; Duke-commit), Forrest Perron (Strongsville, Ohio; Cincinnati-commit)
.
Chris Webb has covered Midwestern college baseball since 2009 for Buckeye State Baseball as well as in his own personal blog The Webb Log (
ChrismWebb.com
). Chris is in his second year of covering the area's high school baseball and recruiting for Prep Baseball Report. He can be reached at
cmwebb24@gmail.com
and followed on Twitter @ChrisMWebb
August, 9, 2011
8/09/11
3:27
PM ET
LONG BEACH, Calif. -- Some of Kevin Ross' favorite memories playing baseball are from his days in Little League. And now that he's one of the most highly touted prospects in the country, he hasn't forgotten about that time in his life. Ross helps coach a Little League team each spring, hoping to help influence the players who are following in his footsteps. Combine that with the skills he's displayed on the diamond this week, and Ross is an easy choice for the New Balance Kevin Youkilis "Heart and Hustle Award."

"Older kids used to come out when I was that age and I looked up to them," said Ross, a rising senior at Niles West (Skokie, Ill.). "I see myself in them, and I know how important that time was for me."

The kids would be wise to pay extremely close attention to Ross. The 6-foot-1, 190-pound third baseman is 5-for-10 at the dish in his team's first four games. He also showed off his wheels with a stolen base.

"I came in this week expecting great things from myself," Ross said. "And so far it's gone pretty well."

Game 2: Kansas City Royals vs. Oakland A's

Brody Russell came to the Area Code Games looking to make a name for himself. One of the lesser-known prospects on the A's, Russell caught the eye of the scouts today with a sharply struck single, some aggressive baserunning and a run scored in his team's 7-5 loss to the Royals. Back in his hometown, the rising senior from Centennial (Bakersfield, Calif.) has already made a name for himself thanks to his community service working with the Special Olympics, and that makes him another winner of our New Balance Kevin Youkilis "Heart & Hustle Award."

"A couple years ago I went out to an event for the first time and helped the guys out however they needed and it was a blast," Russell said. "Since then I've kept going back. It's great because you're helping out and it also makes you feel good about yourself."

Russell had to feel good about his contributions to the A's today. He helped break open a 1-1 game by singling to lead off the bottom of the fifth. He moved to third on a single and then scored the go-ahead run on another hit. It looked like it would prove to be the winning run until the Royals rallied late to come away with the win.

Game 3: New York Yankees vs. Texas Rangers

For Leon Byrd, being an active member of the community is second nature. For as long as he can remember, Byrd has spent a portion of his Thanksgiving at a retirement home sharing his dinner with those who would otherwise be alone on the holiday. After reaching base three times, scoring three runs, swiping two bags and making a sensational diving catch for the Rangers in their 9-3 win over the Yankees, he picks up the New Balance Kevin Youkilis "Heart & Hustle Award."

"I know that I'm fortunate in so many ways," said Byrd, a rising senior at Cypress Ranch (Cypress, Texas), "so helping those less fortunate is something I like to do."

Byrd's father began visiting the retirement home on Thanksgiving as part of his fraternity's continuing outreach in the community, and he carried on the tradition with his son from an early age.

"Some of the folks don't have any family and don't have anyone to share the day with," Byrd said. "They appreciate having us around."

His presence on the diamond was a big part of the Rangers' blowout victory. In addition to scoring a team-high three runs on the afternoon, the center fielder made one of the best defensive plays of the week when he laid out for a low liner that seemed destined to drop in front of him.

Game 4: Cincinnati Reds vs. Washington Nationals

Forgive us for making a small tweak to the name of today's award, but you'll understand why we did it in a moment. When the Cincinnati Reds took on the Washington Nationals in the final game of the day, scouts who were slumping in their seats after a long day of action suddenly started scrambling for their radar guns. Reds phenom Joey Gallo had unexpectedly taken the mound and was warming up. The rising senior out of Bishop Gorman (Henderson, Nev.) prefers to play in the infield, but his skills on the mound are too good to ignore. He proved that when he hit 94 mph multiple times in his two innings of work. Combine that with his work with the Miracle League, and Gallo takes home the New Balance Kevin Youkilis "Heart & Heat Award." See what we did there?

Gallo flashed a filthy curveball in addition to his mid-90s fastball, a combination that puts him among the top 10 pitching prospects at the Area Code Games. Sounds like a pretty good fallback if his dreams of making The Show as a position player don't work out.

So we've established the heat. What about the heart? That comes through Gallo's work with the Miracle League, a baseball program for kids with disabilities.