High-SchoolBaseball:

Kyle Twomey
May, 25, 2012
5/25/12
9:02
AM ET
By
Jason A. Churchill
| ESPN.com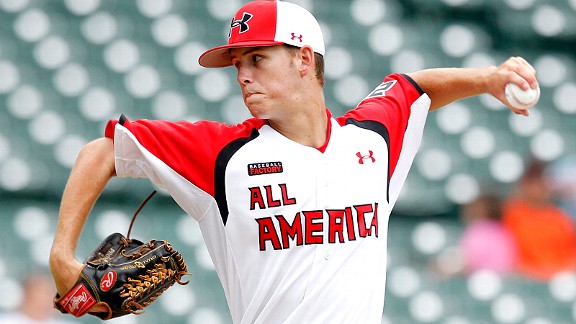 Mike Janes/Four Seam Images via AP ImagesServite (Anaheim, Calif.) senior left-hander Cole Irvin has seen his stock go up heading into the June 4 MLB draft.
Each Friday from now until the end of May, Jason A. Churchill, who covers the MLB draft for ESPN Insider, will look at the high school prospects whose stock is up and whose stock is down heading into the draft, which begins on June 4.
With the 2012 MLB draft a little more than a week away, it's coming down to the wire for top prospects to making one last impression on scouts in the hopes of raising their draft stock.
Two players from the Golden State -- left-hander
Cole Irvin
of Servite (Anaheim, Calif.) and
Daniel Robertson
of Upland (Calif.) -- have done just that. Irvin showcased a wide array of pitches during the spring, while Robertson hit .560 with six homers and 31 RBIs this season.
Check back next Friday for our final high school Stock Watch before the draft.
STOCK UP
Cole Irvin, LHP, Servite (Anaheim, Calif.)
Irvin, who stands 6-foot-4 and 170 pounds, battled all spring. He impressed scouts late in the season by showing consistent fastball command and a competitive approach to go with an improved set of secondary pitches, including the occasional changeup in a two-hitter tossed earlier this month. Irvin is committed to Oregon, but his arm speed and projectable frame could be enough for a late Day 1 or very early Day 2 selection.
Daniel Robertson, 3B, Upland (Calif.)
Robertson's season just ended, but the third baseman finished strong. He gathered six hits in his final seven at-bats and finished the year with a .560/.669/1.000 triple slash (batting average/on-base percentage/slugging percentage) that includes six home runs and a 29-6 BB/K ratio. He's strong, moves well laterally on defense and has a plus arm, suggesting he'll stick at the hot corner in pro ball. He's committed to UCLA but could go early enough to warrant signing a pro deal instead.
Kolby Copeland, OF, Parkway (Bossier City, La.)
Copeland's season was over last month, but his stock is rising as a result of his signability and the strong college commitments of others (see Stock Down). He's signed on with Baton Rouge Community College and could re-enter the draft next year if he feels he can improve his stock, but may go off the board as early as the second round this June. He's a bit raw at the plate, but he's also a very good athlete who generates good bat speed.
Carson Fulmer, RHP, All Saints Academy (Winter Haven, Fla.)
Fulmer fits on both ends of the spectrum here. He's a Vanderbilt signee, and they tend to lose stock as the draft nears due to their strong commitment to playing college ball. Fulmer, however, has pitched his way into consideration for the sandwich round, and if he's among those that strikes a pre-draft deal, he could easily be a top 60 selection. He lacks projection at 6-foot-1 and 190 pounds, but is otherwise an advanced and polished prep arm.
Others Trending Up
Anthony Alford
, OF, Petal (Miss.)
Walker Buehler
, RHP, Henry Clay (Lexington, Ky.)
James Kaprielian, RHP, Beckman (Irvine, Calif.)
Kyle Twomey
, LHP, El Dorado (Placerville, Calif.)
STOCK DOWN
Skye Bolt, OF, Holy Innocents' (Atlanta)
Bolt's stock is sinking a bit due to signability concerns, as the speedy outfielder's commitment to North Carolina may be his ticket to the first round in three years. This could all change with a pre-draft agreement for a slot in the top few rounds, but the payoff appears too great for him to settle. Bolt, a switch hitter, profiles well in center field and has good present strength. His quick, smooth swing produces line drives and promises future power.
Daniel Starwalt, RHP, Granite Hills (El Cajon, Calif.)
Starwalt, not unlike fellow Stanford commit
Freddy Avis
, may be a tough sign unless he's a first-round pick, and Starwalt will not carry such a profile into draft day. There are clubs that have tossed a fourth-round grade on the right-hander, despite his low-90s velocity and 6-foot-3, 210-pound frame. Barring an overdraft or money-saving deal, Stalwart is probably headed for Day 2 and likely Palo Alto.
Austin Barr, C, Camas (Wash.)
Barr's stock hasn't fallen because of his play -- most clubs are off him entirely because he's committed to Stanford, and the industry believes he'll pass on pro ball for now and re-enter the draft in 2015. Otherwise, Barr would have been a consideration in the top 100 picks, perhaps as high as the end of the sandwich round.
Others Trending Down
Tyler Gonzales
, RHP, James Madison (San Antonio)
Trey Williams
, 3B, Valencia (Calif.)
Jason A. Churchill covers scouting, player development and the MLB draft for ESPN Insider, as well as Prospect Insider, where he's the founder and executive editor. You can follow him on Twitter @ProspectInsider and email him at churchill@prospectinsider.com.
April, 19, 2012
4/19/12
7:42
AM ET
By
Mark Tennis & Doug Huff
| ESPN.com
Here are this week's high school baseball players of the week. One player is chosen from each region of the country. The only other criteria is that no player will be chosen more than once during a season.
(After games of Tuesday, April 17)
EAST
Randy Rodriguez, George Washington (New York)
The Trojans' leadoff hitter had a monster week as GW captured the annual George Washington Tournament crown with a 5-1 record and avenged an early-season loss to rival Cardozo (Bayside, N.Y.) 6-0 in the title game. Rodriguez, a senior veteran, was selected the tournament MVP after going 12-for-18 in the six games, driving in eight runs and playing stellar defense at short.
SOUTHEAST
Emerson Gibbs, Jesuit (New Orleans)
The senior pitcher, who got the save for the Blue Jays in last year's Class 5A state final, posted the equivalent of a seven-inning perfect game within the team's 2-1 victory in 18 innings last week over Archbishop Rummel (Metairie, La.). Gibbs retired 21 straight batters after the sixth inning of the
marathon matchup
. He ended up throwing 15 innings and 193 pitches. Those totals are legal in Louisiana, but would make the heads spin of many coaches around the country. Gibbs has signed with Tulane.
MIDWEST
Alex Darr, University Liggett (Grosse Pointe Woods, Mich.)
The 6-foot-2, 185-pound senior right-handed pitcher/infielder is off to an impressive start for the defending Division 4 state champions. Last week, he struck out 30 batters in two wins, including a no-hitter in a 4-0 blanking of Clarenceville (Livonia, Mich.). In Liggett's home opener, Darr fanned 15 and allowed only two hits in a 13-0, five-inning win over Parkway Christian (Sterling Heights, Mich.). He also helped his own cause with a three-run first-inning homer. Later in the week, he fanned 15 in the win over Clarenceville for his second no-hitter of the season.
MIDLANDS
Sean Rubalcaba, Grand Junction (Colo.)
A familiar name for anyone who follows Colorado prep sports, Rubalcaba continued his hitting tear in a Tuesday game this week by going 4-for-5 with two doubles in a 19-12 victory over Montrose (Colo.). Rubalcaba, a three-sport athlete who was the winner of the prestigious Gold Helmet Award by the Denver Post, kept his season batting average at a hard-to-believe number (.673) and also raised his season total for doubles to 12. He had his fourth four-hit game of the season and in one of those games all four hits were doubles. Rubalcaba, who has a 3.9 GPA and totaled 2,449 yards of total offense last fall as Grand Junction's quarterback, has signed to play football at Northern Colorado.
WEST
Kyle Twomey, El Dorado (Placentia, Calif.)
Pitching no-hitters is one thing, but doing it at the Hard 9 National Classic and for a third straight shutout is something else. Twomey tossed his no-hitter and struck out 14 for the Golden Hawks in a first-round game against Galena (Reno, Nev.). They eventually went on to win the tourney title with Twomey getting the save in a 4-2 victory over El Toro (Lake Forest, Calif.). He was named the tourney's MVP. Earlier this week, Twomey pitched a three-hitter with nine strikeouts when El Dorado topped Esperanza (Anaheim, Calif.) 2-1 in a matchup between two state-ranked squads. The 6-foot-3 senior has signed with USC.
February, 3, 2012
2/03/12
10:13
AM ET
By
Jason A. Churchill
| ESPN.com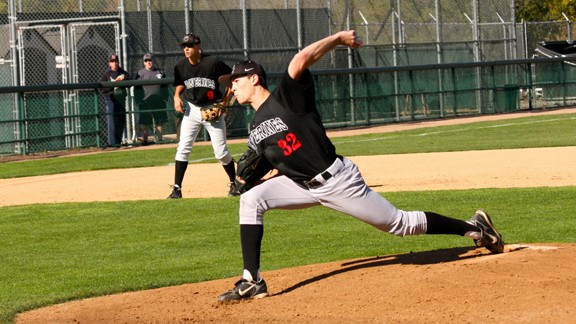 Courtesy of Matt LaCour/Harvard-WestlakeHarvard-Westlake (Studio City, Calif.) senior Max Fried, who transferred from Montclair Prep (Van Nuys, Calif.) after it cut its athletics program, is the nation's top left-handed pitcher.
Each week from now until early March, we'll take a look at the elite Class of 2012 high school baseball prospects by ranking our Top 10 players by position. This week, we unveil our list of the Top 10 left-handed pitchers, which has a familiar feel at the top with Harvard-Westlake (Studio City, Calif.) southpaw Max Fried. Last week, we rated Fried's teammate
Lucas Giolito
as the nation's top right-hander.
1. Max Fried, Harvard-Westlake (Studio City, Calif.)
Fried is a fastball—curveball--changeup southpaw with projection in his 6-foot-4, 170-pound frame and a present fastball that has hit 94 mph. He's part of UCLA's tremendous recruiting class but is a good bet to go in the top half of the first round.
2. Matt Smoral, Solon (Ohio)
Smoral is interchangeable with Fried for the top spot. While Fried is further along in his development, Smoral brings more upside. At 6-foot-8, Smoral's 90-94 mph fastball comes easy and his slider works well from his three-quarters arm slot. He's a North Carolina commit but could go in the top 10 come June.
3. Hunter Virant, Camarillo (Calif.)
Virant, who could join Fried and right-hander Giolito at UCLA next season, is a first-round talent heading into the spring schedule. He sits in the 88-92 mph range and has topped out at 93, and the pitch carries some late life. He has good arm speed, which bodes well for his changeup.
4. Nathan Kirby, James River (Midlothian, Va.)
Kirby's fastball--breaking ball combination is first-round worthy. And despite the lack of size at 6-foot-1 and 180 pounds, the southpaw sits in the 88-91 mph range with his heater. The development of a legitimate changeup could be the difference on draft day. Kirby has committed to Virginia.
5. Max Foody, IMG Baseball Academy (Bradenton, Fla.)
Foody, a Florida State commit, is big and strong at 6-foot-4 and 225 pounds, but he remains athletic and showed toughness in coming back from shoulder problems prior to last season. He employs a fastball, curveball and changeup, and has hit the low 90s in 2011. He could pitch his way into the first round with a strong spring.
6. Jack Wynkoop, Cape Henry Collegiate (Virginia Beach, Va.)
Wynkoop lands at No. 6 mostly on projection. He's 6-foot-6 and 190 pounds and a solid athlete. He's pitched in the 84-87 mph range but touched 89 last summer and also offers a curveball, slider and changeup. He's a South Carolina signee, but could see his stock rise if the fastball becomes more firm and more consistently in the upper-80s to low-90s.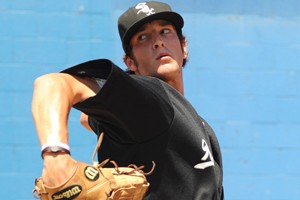 Scott Kurtz/ESPNHSMarian Catholic (Chicago Heights, Ill.) senior and Arizona State recruit Brett Lilek is the nation's No. 9 left-hander.
7. Kyle Twomey, El Dorado (Placentia, Calif.)
Twomey impresses with his ability to pitch, rather than throw, and his out pitch is curveball that flashes as a plus pitch. He's generally sat in the 85-88 mph range in games, but he has touched 91 in showcases. His fastball has also shown some arm side run. He's headed to USC if he doesn't sign a pro deal, but has a shot at a Day 1 selection, and the first round isn't completely out of the question.
8. James Crownover, Ringgold (Ga.)
Crownover is a sturdy left-hander who has touched 95 on the radar gun. He uses his secondary stuff well, when necessary, and both his curveball and changeup has occasionally shown as above-average pitches. He lacks projection -- he's 6-feet tall -- so he's not likely a first-round talent, but the compensation round could be within reach.
9. Brett Lilek, Marian Catholic (Chicago Heights, Ill.)
Lilek offers a loose armed delivery that helps him get to the low-90s with his fastball. At times he looks the part of a first-rounder, teasing scouts in the process. The Arizona State commit also employs a curveball and change, both of which should eventually benefit from the top-end arm speed. But there are some concerns with the rest of the delivery, specifically his right leg, which lands a bit violently.
10. Austin Fairchild, St. Thomas (Houston)
Fairchild isn't built like the prototypical starting pitcher at 6-foot-1 and 175 pounds, but he reaches the low-90s with his fastball and also offers a curveball and changeup. He has good arm speed, too, but there is a lot of effort in his delivery, which could mean he's headed for the bullpen down the line. Fairchild is a TCU commit, and among the most likely of their better signees to actually get to campus next fall.
Jason A. Churchill covers scouting, player development and the MLB Draft for ESPN Insider, as well as Prospect Insider, where he's the founder and executive editor. You can follow him on Twitter @ProspectInsider and email him at churchill@prospectinsider.com.
October, 3, 2011
10/03/11
12:30
PM ET
By
Andrew Knepper
| ESPN.com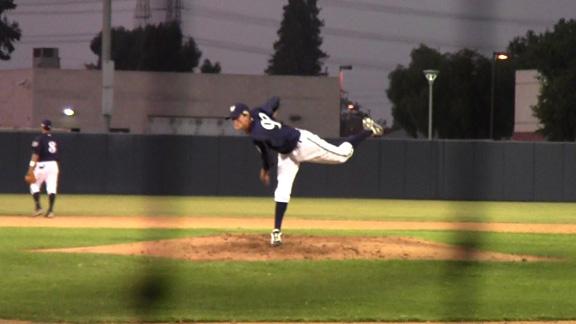 With one of the smoothest deliveries you will see out of a prep player, Kyle Twomey has been keeping hitters off balance with his deception and repetitive delivery. From the left side he hurls his fastball between 84-87 mph and at times tops out at 89 mph, his curveball between 65-67 mph and an outstanding changeup at 69-72. He has a good downward plane to the plate and his delivery is effortless. One of the pluses to his game is his pinpoint command of his three pitches.
Playing for El Dorado (Placentia, Calif.) high, Twomey will have some of the best talent the state has to offer. Shortstop Chris Rivera is widely known as one of the best middle infield prospects in the nation and left-handed pitcher P.J Conlon is an emerging pitching prospect.
Staying close to his current surroundings for his collegiate career, Twomey has committed to the University of Southern California. He will play for the Trojans with three of his fall ball teammates. Rio Ruiz of Bishop Amat (La Puente, Calif.), Shane Watson of Lakewood (Lakewood, Calif) and Chase DeJong of Woodrow Wilson (Long Beach, Calif.)