High-SchoolBaseball:

North Carolina
October, 17, 2011
10/17/11
12:04
PM ET
By
Matthew Muench
| ESPN.com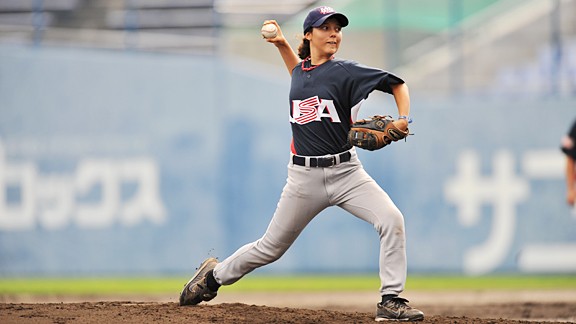 USA BaseballTeam USA pitcher Marti Sementelli made headlines last year when she was a part of the first-ever high school baseball game that featured two female starting pitchers.
California teen Marti Sementelli thought she was walking into a scene of a new movie on that 2008 summer day.
But the lights weren't for cameras and the 100 or so girls were not actresses.
"They were all just like me," Sementelli said. "I was like, 'Woah!' I was shell-shocked because I had so much in common with them."
It wasn't just because they all had ponytails draped outside of their hats.
They were all baseball players competing for a roster spot on the USA Baseball women's national team.
"I didn't even know there were others girls who played baseball," said Sementelli, who has made the USA roster for the last three summers. "I really thought I was dreaming. It didn't look real."
Yes, girls play baseball, even at the high school level.
According to the National Federation of High School Sports Participation Survey, 698 girls played high school baseball in the USA last season.
One of them was Sementelli, a pitcher for Birmingham (Lake Balboa, Calif.) High School who made headlines last year when she was a part of the first high school baseball game that featured two female starting pitchers.
"I'm not a softball player or a volleyball player," the 2011 graduate said. "I am a baseball player."
GOING LOCAL
Sandy Almon remembers one of the first times she toed the rubber in a high school baseball game. It's a story she loves to revisit and tell.
"When I got to the mound guys on the other team laughed at me and taunted me about my appearance," she said. "First guy came up and I struck him out on three pitches. Next guy? Infield fly out. Third guy? Ground out. It was an eye-opener for them."
And a teeth-shower for her. She ended up pitching six scoreless innings that day.
"I smiled big," said the 2011 graduate of Mt. Pisgah (Ga.). "I love it when people tell me I can't do something when I know I can."
Like Sementelli, Almon played for the USA national team last season and expects to be on the team next summer.
And like Sementelli, Almon often hears the repetitive question from peers: Why baseball and not softball like all the other girls?
"Softball isn't baseball and I like playing baseball," Almon said. "It just didn't make sense to just stop playing baseball because I was a girl. So what's the big deal?"
Almon is a big deal. She reportedly has been clocked at 86 mph on the radar gun and currently plays for the Chicago Pioneers, a women's baseball traveling team.
During her senior year she struck out nine batters in her first six innings of work.
"I don't look at it like everyone else sees it," she said. "Yes you see me as a girl playing baseball. But I see me as a baseball player part of a baseball team. I run as hard as everyone. I throw as hard. I work as hard."
Sementelli agrees.
Playing baseball has been the norm for her since her dad starting teaching her the game. She played on boys teams all through Little League and eventually landed a spot on a high school squad after searching for schools which would allow a girl to try out for the team.
"As I got older people said I needed to go to softball because baseball was moving to a bigger field and I wouldn't be able to do it," she said. "Well. I never thought about switching. And I never will."
She shined as a relief pitcher and also started some games at second base.
"People tell me I make a difference out there for other girls," she said. "But I am really just trying to be like any pitcher – which is to get the next guy out. Only difference is I prove a girl can do it."
GOING NATIONAL
Most players on the USA women's national team are closer to the age of 25 than 20.
But Sementelli and Almon are proof high school teens are getting better at the sport. They are two of seven girls born after 1991 who made last year's squad, marking it one of the youngest squad in the team's seven–year history.
"I was really young when I first played in 2008," Sementelli said. "I am still really young now and I am considered one of the veterans. But it appears more younger players are starting to make the squad."
Enter Wynne McCann.
Last year the Boyertown (Penn.) teen became the youngest to play for the squad when she sported the red, white and blue at 16 years old.
"It was definitely scary being the youngest out there," she said. "I never thought I would make the team because there is so much talent out there. But they gave me a shot. I took it."
When Almon got her shot, she also took it.
But it didn't come easy to her at first.
"I am used to playing with all guys so it was a little weird," she said. "But it was great looking around and seeing all the talent. Everyone was so fundamental. I am sure we can beat a lot of men's teams."
The team won bronze medals at the World Cup in 2008 and 2010 and expects a strong showing at next year's Cup in Canada.
"It's truly amazing to play for your country," Sementelli said. "It's the best feeling."
Her favorite part is learning from the veteran players and hearing stories about baseball.
"It's just great to sit there and talk baseball with people who went through the same experiences as you," she said. "It's normal when we are together. No one is whispering about a girl playing baseball."
EXTRA INNINGS
Sementelli, Almon and McCann are not finished making names for themselves on the diamonds across the country.
After her senior season this year McCann plans on playing college softball but will continue her baseball career with the national team.
Sementelli recently accepted a partial scholarship to play baseball at Montreat College in the mountains of North Carolina, and Almon expects to begin her college career next year. She also has bigger dreams.
"I am pushing for the majors like I always have," she said. "It's been my dream, and it will continue to be my dream. I'll make it, and when people say I throw like a girl, I'll say, 'Yes. Yes I do.'"
October, 11, 2011
10/11/11
12:15
PM ET
By
Jason A. Churchill
| ESPN.com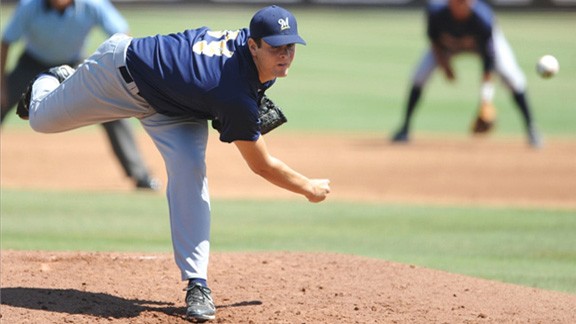 Scott Kurtz/ESPNHSLucas Giolito may be a first round pick in the 2012 MLB Draft.
Next June's draft class does not appear to be as deep as last year's crop. There are fewer blue chip prospects overall and fewer high-ceiling prep pitchers. Or are there?
One thing I have learned in eight years covering the scouting and player development world is that high school players change more between the ages of 16 and 20 than at any other time in their athletics lives. What this could mean is that a second-division talent gets bigger, faster and stronger and hones them into further advanced baseball skills that were not necessarily on display the previous spring or summer.
This is how the class of 2012 could make up some ground on its brethren of previous years, and that burden is likely on the backs of an intriguing crop of prep pitchers. Added velocity, the development of a breaking ball or changeup, significantly improved command or a combination of these attributes can change the profile of a pitching prospect and shoot him up the charts.
Right-handers
Lucas Giolito
(Harvard-Westlake HS, Calif.), Lucas Sims (Brookwood HS, Ga.) and Lance McCullers, Jr. (Jesuit HS, Fla.) offer big upside and project as first-round selections, but there are several additional prospects that could take a momentous step forward before draft day.
Max Fried, LHP -- Harvard-Westlake (North Hollywood, Calif.)

Fried, who transferred from Montclair Prep (Van Nuys, Calif.) to join forces with Giolito, offers a fastball in the 89-92 mph range and a potentially plus curveball and changeup. He stays over the rubber well and is a good athlete, running sub seven-second 60 times over the summer. He's hit 94 on the gun in the past and his 6-foot-4, 175-pound frame offers plenty of projection to suggest he could sit in the 93-96 mph range down the road. Fried is committed to UCLA, but could perform his way into the Top 10 where the bonus money exceeds $2 million.
Taylore Cherry, RHP -- Butler (Vandalia, Ohio)

Cherry checks in at 6-foot-9 and 260 pounds and sits 92-94 mph with his four-seam fastball. The pitch generates sink, as does his plus changeup. He commands his pitches well, including a below-average curveball that tends to flatten out at times. His size may scare off some clubs and it could ultimately dictate his role, but there are no present red flags with his mechanics that would push him to the bullpen. He's committed to North Carolina but there's likely more velocity in the chamber and he may not be able to pass up first-round money.
Walter Weickel, RHP -- Olympia (Orlando, Fla.)

The Orlando product is one of the better athletes in the class, posting times in the 6.6 range in the 60-yard run, in addition to his potential for a top-of-the-rotation arsenal. Weickel pitches at 89-92 mph, but has threatened the mid-90s and with downhill plane. He also employs a below-average change (78-81 mph) and a curveball of varied speeds (69-75 mph) that shows some depth. He offers terrific arm speed which bodes well for the changeup. The University of Miami has received a verbal commitment from Weickel, but he appears to be well on his way to becoming a first-round pick, and a strong spring could land in the top half.
Hunter Virant, LHP -- Camarillo (Camarillo, Calif.)

Virant, like Fried and Giolito, has committed to UCLA but like his potential future college teammates could be a first-round pick come June. The southpaw sits in the 88-91 mph range but has visited the 94 mph neighborhood and offers projectability at 6-foot-3 and 175 pounds. He has a good feel for a mid-70s curveball and turns over a changeup for strikes. There is a bit of concern with his arm action -- it's a bit short -- but it's not likely to impact his future role and if it's mended he could add velocity.
Matt Smoral, LHP -- Solon (Solon, Ohio)

Smoral may be the pitching prospect with the most room to climb up the charts thanks to his 6-foot-8, 230-pound frame and low-90s fastball. Scouts believe there is more in the tank in terms of velocity and he also uses a fringe-average slider and is becoming more comfortable with his changeup. Smoral, a North Carolina commit, isn't likely to see Chapel Hill since left-handers with plus heaters and projectable bodies don't last long in the draft. Smoral could land in the top 10.
Giolito has No. 1 stuff, including a fastball that has touched 97 mph and power curveball. He's big and projectable at 6-foot-6 and 230 pounds and has shown an average changeup. The velocity is easy and the delivery is clean. He'a also a UCLA signee, but he could end up as the No. 1 overall pick which means the chances the Bruins get him on campus are somewhere between slim and absolutely not.
Sims, who signed with Clemson, has also touched the mid-90s, but his best pitch may be his 81-83 mph curveball that draws "plus" grades from scouts. He's a first-round talent with a chance at the top 10.
McCullers, the son of former big leaguer Lance McCullers, has hit 99 mph on the radar gun and also offers a hard-breaking curveball with some slider traits. His delivery and lack of a promising third pitch suggest to some talent evaluators that the bullpen is in his future, which very likely keeps him out of the top 10-15 of the draft. He has next spring to change that assessment.
Freddy Avis of Menlo (Palo Alto, Calif.) is also a first-round caliber arm, but his strong commitment to Stanford could prevent a first-round selection. Avis sits in the 90-93 mph range and his smooth and easy delivery bode well for his future. His curveball is among the better offspeed pitches in the prep class and he shows good arm action on a changeup with fading action.
Others:
Kayden Porter, RHP (Spanish Fork HS, Utah); Carson Fulmer, RHP (Lakeland HS, Fla.); Tyler Hensly, RHP (Santa Fe HS, Okla.); Cody Poteet, RHP (Christian HS, Calif.); Trevor Megill, RHP (Marina HS, Calif.); Shane Watson, RHP (Lakewood HS, Calif.); Ryan McNeil, RHP (Nipomo HS, Calif.); Felipe Perez, RHP (Fairmont Prep, Calif.); Michael Rucker, RHP (Auburn-Riverside HS, Wash.); Ryan Burr, RHP (Highlands Ranch HS, Colo.).
Jason A. Churchill covers scouting, player development and the
MLB Draft for ESPN Insider
, as well as
Prospect Insider
where he's the founder and executive editor. He's served in similar roles for numerous publications since 2003, including the Seattle Post-Intelligencer. You can find Jason's ESPN archives
here
and follow him on Twitter
here.