High-SchoolBaseball:

St. Louis Cardinals
October, 21, 2011
10/21/11
12:30
PM ET
By
Matthew Muench
| ESPN.com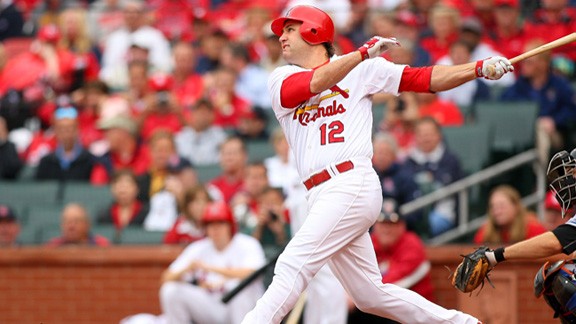 Scott Kane/Icon SMILance Berkman of the St. Louis Cardinals is still a hero to those at New Braunfels Canyon (Texas) High School.
This year's edition of the World Series hits close to home for members of the New Braunfels Canyon (Texas) baseball team.
Not just because Arlington, the hometown of the Texas Rangers, is a quick afternoon drive up Interstate-35. Not just because the majority of the Canyon squad are die-hard Rangers fans.
The biggest reason why? It can be found on the back of Canyon junior Blake Brunnemann's favorite jersey.
It reads: BERKMAN -- as in St. Louis Cardinals star Lance Berkman -- as in former New Braunfels Canyon star Lance Berkman.
"He has been my favorite player since third grade when his mom was my teacher," Brunnemann said "It's pretty cool that he played here. So I have always looked up to him and always rooted for him."
He also has rooted for his favorite player to win a World Series.
"But not this year," he said. "I'm all for the Rangers."
Canyon players, parents and teachers are all wavering back and forth this week on who they want to win this year's Fall Classic.
Do you root for the hometown hero, or the hometown favorite team?
"It definitely is something people are talking about here," Canyon head baseball coach Brian Martinez said. "It's one of those deals where you hope (Berkman) does well, but you still hope the Rangers win the ball game."
So far, Berkman and the Cardinals are tied with the Rangers 1-1 in the best-of-seven game series that swings to Arlington for Game 3 on Saturday night. Berkman's two-run single in Game 1 was a key reason why the Cardinals won the Series opener, 3-2.
"I'm definitely rooting for the Rangers," senior pitcher James Wood said. "But to see a player from here on the big screen of the World Series do well is definitely exciting."
Berkman was definitely an exciting player during his diamond days in high school. In 1994, his senior season, he hit .539 with eight home runs and averaged an RBI a game. He then headed to Rice University before becoming a national household name while with the Houston Astros.
Martinez was in college when Berkman was dominating South Texas high school pitching. But he got to watch Berkman play against his brother, who was playing for New Braunfels High at the time."
"I saw him hit a few towering shots here," Martinez said. "He is one of those you definitely remember and you definitely felt that he was going to be a special player."
When Berkman was a senior in high school most of Canyon's players weren't even born yet. But growing up in New Braunfels it's hard not to hear a Lance Berkman story if you are a baseball player.
"The kids know Berkman walked these halls. They know he played on their field, and because of him they know hard work pays off," Martinez said. "So it's pretty exciting for them even though they didn't see him play while he was here."
Even though he hasn't put on a Canyon uniform in 17 years, Berkman is still helping his alma mater win.
"He definitely inspires all of us to play better," Wood said. "He shows us it is possible for someone from a place like here to make it to the Big Leagues."
Martinez said he doesn't know anyone rooting for the Cardinals this week, but if Berkman came up with the bases loaded, down one run, in the bottom of the ninth of Game 7, he would hope for one outcome.
"Texas may not like me saying this," he said. "But I would want the Canyon kid to get a hit. It's tough to say that, but in that situation you root for the local kid."
Brunnemann has a different opinion.
"He is my favorite player, but I'd want him to K," he said. "I'm for the Rangers winning it all."
October, 13, 2011
10/13/11
9:51
AM ET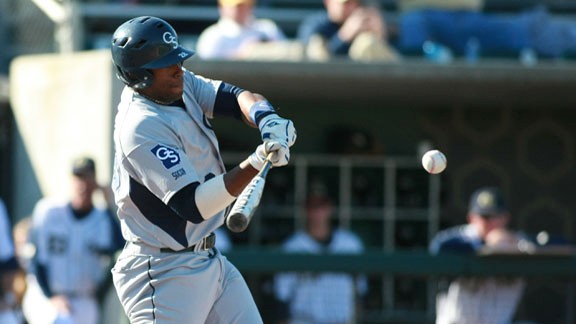 Georgia Southern Media RelationsVictor Roache is one of the I.C.E. program's most successful alums. The Georgia Southern outfielder is a 2012 MLB Draft prospect.
On the same day that the Tigers had Detroit abuzz with a 5-2 ALCS win over the Texas Rangers, Georgia Southern outfielder Victor Roache was attracting the attention of MLB scouts at the school's scout day. Two years earlier, Roache was drafted out of Lincoln (Ypsilanti, Mich.) in the 25th round by the Tigers but opted not to sign. Now he's coming off a season in which he led NCAA Division I with 30 homers and is a top 2012 MLB draft prospect.
Roache is one of the success stories of Detroit's I.C.E. program. I.C.E. (Inner City Exposure Foundation) aims to provide high quality, affordable baseball training for youth players, especially in Detroit's economically disadvantaged neighborhoods.
In 2008, the Lincoln senior caught the attention of St. Louis Cardinals area scout Brian Hopkins at an ICE showcase. Later that year, Roache was chosen by Hopkins to participate in the East Coast Pro Showcase in Lakeland, Fla., where he first caught the attention of Georgia Southern scouts.
"I.C.E. has been instrumental in Victor's development," said his father, Victor Roache Sr., who now organizes I.C.E. events. "The experience, the quality of competition and exposure to college coaches and pro scouts were pretty vital."
The elder Roache says everything that has transpired at Georgia Southern for his son would not have been possible without the I.C.E. program. That success is what co-founder Dwayne Henderson envisioned and hopes to continue.
Henderson knows what the benefits of traveling to showcases can bring to a young player. Growing up in Detroit's inner city, Henderson wasn't able to play travel baseball until he was 17. He said it was because of travel baseball that he was able to get noticed and secure a scholarship to Wiley College in east Texas.
Then he started coaching his own kids and wanted to give them the opportunities he didn't have.
"I saw the Perfect Game showcases and that route was the way to go," he said of the organization that holds more than 100 showcases around the nation each year. "As I tried to get my son through, I realized it's not affordable to inner-city kids. There's no way they can get the opportunity to get the exposure they need to be seen by the right scouts, to get down to Florida or Iowa, wherever the Perfect Game showcases were being held. I added it up and it was around $2,000 per kid, and many cannot afford it."
I.C.E. was founded with this in mind.
In 2007, Henderson asked Hopkins to come to Detroit to see some of the prospects who couldn't afford to travel. The following year, Philadelphia Phillies local scout Dwight Smith joined Hopkins and Henderson to put on another showcase for area players. And so the I.C.E. concept -- providing affordable baseball opportunities for area youth -- was born. Today, I.C.E. is a year-round program and works in conjunction with MLB's RBI (Reviving Baseball in Inner Cities) program to operate a league. Along with participation in showcases, training sessions and league games, players also receive information on the college recruiting process.
Detroit nonprofit organization Petra Community Outreach is a financial partner. Membership to I.C.E. is $20 a year and that makes registration to the fall training ($50), and fall tournament program ($450) 50 percent off.
"It's an expensive sport where the funds aren't available in the inner-city and for minorities," co-founder Smith said.
The expenses of baseball, coupled with the downturn in the Detroit economy, provide a bleak outlook for the game's future in the city. The Tigers organization has aided the efforts of I.C.E. to keep the program affordable. Smith says I.C.E. leaders meet regularly with the manager of the Tigers Foundation, Sam Abrams.
In September, the Tigers covered the travel costs for six I.C.E. participants to participate with Team Ohio Valley during the USA Baseball National Team Identification Series in Cary, N.C. They have provided equipment, and Abrams provides guidance in decisions of how I.C.E. can operate at its best.
I.C.E. alum Devan Ahart, a redshirt freshman outfielder at the University of Akron, said without the program, he wouldn't be where he is today.
"The showcases and the I.C.E. games, where we played fellow I.C.E. members, allowed us to compete against good talent," said Ahart. "Without the program, I'm not the baseball player I am."
Chris Webb has covered Midwestern college baseball since 2009 for Buckeye State Baseball as well as in his own personal blog The Webb Log (
ChrismWebb.com
). Chris is in his second year of covering the area's high school baseball and recruiting for Prep Baseball Report. He can be reached at
cmwebb24@gmail.com
and followed on Twitter @ChrisMWebb