High-SchoolBaseball:

Texas Rangers
January, 11, 2012
1/11/12
5:14
PM ET
By
Andrew Drennen
| ESPN.com
The Texas Rangers announced their dates and locations for the 2012 Area Code Baseball regionals. They will once again bring a team from Texas and Louisiana.
Monday, June 11: Weatherford College; Weatherford, Texas
Tuesday, June 26: Baseball USA, "The Yard"; Houston
October, 14, 2011
10/14/11
8:19
AM ET
By
Christopher Crawford
| ESPN.com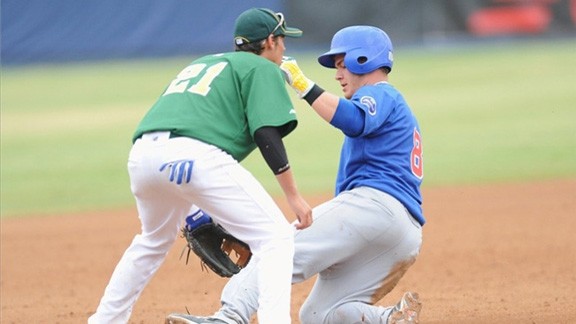 Scott Kurtz/ESPNHSStryker Trahan is one of the top catchers in the 2012 class and continues to improve.
Over the fall and winter months, ESPN High School will be spotlighting players that stood out over the summer baseball seasons, giving you an in-depth look at some of the best prospects of 2011 and beyond.
Catchers who can hit from the left-side of the plate with power are not exactly commonplace in the game today. The position has generally been defensive oriented due to the wear and tear, and generally players that provide offensive value switch positions to maximize their worth. This is why players like Joe Mauer, Brian McCann and to a lesser extent Alex Avila and Matt Weiters are thought of as indispensable to their respective organizations.
It's too early to tell if he'll be in that class, but the reason's above are why some talent evaluators are falling in love with Acadania (Scott, La.) High School's Stryker Trahan.
"(Trahan) is a heck of a talent," said an SEC coach. "You see the plus bat-speed, you see the ball just jump of his bat –be it aluminum or wood – and then you watch the kid run and throw? He's a star in college at third base or the outfield. If he can stay at catcher he's the type of kid who could take you to Omaha."
That may seem like lofty expectations for a young man who just started his senior year of high school, but one need only to see his previous accolades to know why he's so highly regarded. Trahan was busy over the summer, participating in the 2011 Area Code Games and the 2011 Under Armour All-American Game at Wrigley field, where he put on a show during batting practice and was selected to participate in the home run derby before the game.
While Trahan has impressed everyone offensively, Trahan is much more enigmatic behind the dish. While no one can question the natural arm strength, his footwork – though improving – still isn't up to standard, and blocking pitches is not yet a large part of his skillset.
"Really, it's just going to depend on how patient a school or club is (with him)," an NL-East scout says. "No high school kid is going to just be ready defensively to catch, it's a difficult position. This is my first look at him, but the info I've seen says that he's done nothing but improve since he started playing the position. A club may want to try and advance his bat quickly and that could derail the progress, or a team may decide they just don't want his knees to take away his speed and athleticism. Outside of that though, I give him a chance. There's just so much value in catchers who can hit, it's worth the risk to me."
Another question is where exactly Trahan will be playing baseball after 2012. Trahan – who also is the starting quarterback for Acadania this fall – is currently committed to play baseball at Ole Miss come 2012, but the prospects of being a high draft pick could change that quickly.
"It wouldn't stun me one bit if you saw him taken in the first two rounds," an AL-West scout said. "The power is well-above average and even as an outfielder the overall skill to me is top 100. Not saying that's where he'll end up, but that's where the talent stands right now."
Whether that talent ends up at Ole Miss come next year – or behind the plate long-term – Stryker Trahan is a name that demands your attention now and in the future.
October, 13, 2011
10/13/11
9:51
AM ET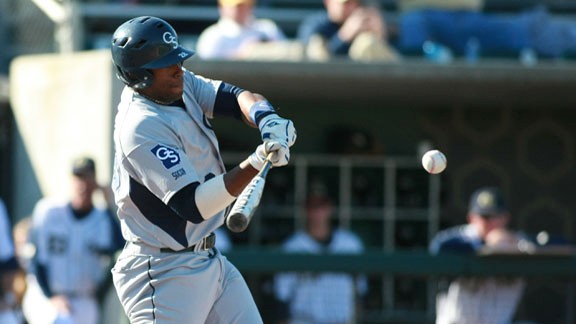 Georgia Southern Media RelationsVictor Roache is one of the I.C.E. program's most successful alums. The Georgia Southern outfielder is a 2012 MLB Draft prospect.
On the same day that the Tigers had Detroit abuzz with a 5-2 ALCS win over the Texas Rangers, Georgia Southern outfielder Victor Roache was attracting the attention of MLB scouts at the school's scout day. Two years earlier, Roache was drafted out of Lincoln (Ypsilanti, Mich.) in the 25th round by the Tigers but opted not to sign. Now he's coming off a season in which he led NCAA Division I with 30 homers and is a top 2012 MLB draft prospect.
Roache is one of the success stories of Detroit's I.C.E. program. I.C.E. (Inner City Exposure Foundation) aims to provide high quality, affordable baseball training for youth players, especially in Detroit's economically disadvantaged neighborhoods.
In 2008, the Lincoln senior caught the attention of St. Louis Cardinals area scout Brian Hopkins at an ICE showcase. Later that year, Roache was chosen by Hopkins to participate in the East Coast Pro Showcase in Lakeland, Fla., where he first caught the attention of Georgia Southern scouts.
"I.C.E. has been instrumental in Victor's development," said his father, Victor Roache Sr., who now organizes I.C.E. events. "The experience, the quality of competition and exposure to college coaches and pro scouts were pretty vital."
The elder Roache says everything that has transpired at Georgia Southern for his son would not have been possible without the I.C.E. program. That success is what co-founder Dwayne Henderson envisioned and hopes to continue.
Henderson knows what the benefits of traveling to showcases can bring to a young player. Growing up in Detroit's inner city, Henderson wasn't able to play travel baseball until he was 17. He said it was because of travel baseball that he was able to get noticed and secure a scholarship to Wiley College in east Texas.
Then he started coaching his own kids and wanted to give them the opportunities he didn't have.
"I saw the Perfect Game showcases and that route was the way to go," he said of the organization that holds more than 100 showcases around the nation each year. "As I tried to get my son through, I realized it's not affordable to inner-city kids. There's no way they can get the opportunity to get the exposure they need to be seen by the right scouts, to get down to Florida or Iowa, wherever the Perfect Game showcases were being held. I added it up and it was around $2,000 per kid, and many cannot afford it."
I.C.E. was founded with this in mind.
In 2007, Henderson asked Hopkins to come to Detroit to see some of the prospects who couldn't afford to travel. The following year, Philadelphia Phillies local scout Dwight Smith joined Hopkins and Henderson to put on another showcase for area players. And so the I.C.E. concept -- providing affordable baseball opportunities for area youth -- was born. Today, I.C.E. is a year-round program and works in conjunction with MLB's RBI (Reviving Baseball in Inner Cities) program to operate a league. Along with participation in showcases, training sessions and league games, players also receive information on the college recruiting process.
Detroit nonprofit organization Petra Community Outreach is a financial partner. Membership to I.C.E. is $20 a year and that makes registration to the fall training ($50), and fall tournament program ($450) 50 percent off.
"It's an expensive sport where the funds aren't available in the inner-city and for minorities," co-founder Smith said.
The expenses of baseball, coupled with the downturn in the Detroit economy, provide a bleak outlook for the game's future in the city. The Tigers organization has aided the efforts of I.C.E. to keep the program affordable. Smith says I.C.E. leaders meet regularly with the manager of the Tigers Foundation, Sam Abrams.
In September, the Tigers covered the travel costs for six I.C.E. participants to participate with Team Ohio Valley during the USA Baseball National Team Identification Series in Cary, N.C. They have provided equipment, and Abrams provides guidance in decisions of how I.C.E. can operate at its best.
I.C.E. alum Devan Ahart, a redshirt freshman outfielder at the University of Akron, said without the program, he wouldn't be where he is today.
"The showcases and the I.C.E. games, where we played fellow I.C.E. members, allowed us to compete against good talent," said Ahart. "Without the program, I'm not the baseball player I am."
Chris Webb has covered Midwestern college baseball since 2009 for Buckeye State Baseball as well as in his own personal blog The Webb Log (
ChrismWebb.com
). Chris is in his second year of covering the area's high school baseball and recruiting for Prep Baseball Report. He can be reached at
cmwebb24@gmail.com
and followed on Twitter @ChrisMWebb
August, 30, 2011
8/30/11
1:51
PM ET
By
Andrew Drennen
| ESPN.com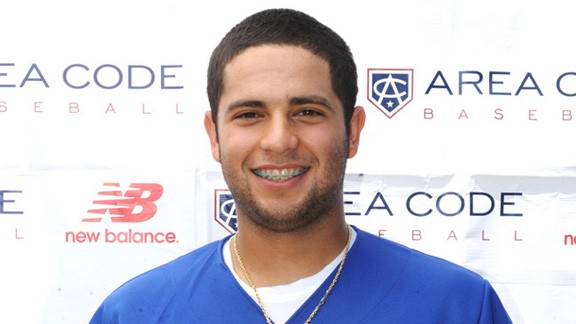 Scott Kurtz/ESPNHSKlein Collins' (Spring, Texas) CJ Hinojosa intends to leave school early and enroll at Texas in January.
For a second time this month one of the nation's best high school players has decided to finish high school early to enroll in college ahead of schedule. Klein Collins' (Spring, Texas) shortstop CJ Hinojosa follows Chris Harvey (going to Vanderbilt) in leaving school early to play college ball next Spring.
This is according to Hinojosa's twitter account and Kendall Rogers of Perfect Game.
Hinojosa played in the 2010 and 2011 Area Code Baseball Games for the Texas Rangers. At the games and the
tryouts he impressed
with his glove and bat. In the 2011 games he was named the Wilson Defensive Player of the Day. In an earlier story on
AreaCodeBaseball.com
, Hinojosa talked about the importance of college and getting a degree.
"It's a life-changing decision, but right now I'm focused on school and being successful outside of baseball like my mom wants me to be. Nowadays, you have to have a college degree to be successful," said Hinojosa earlier this month. He carries a 3.75 GPA and plans on studying kinesiology or business.
His plan is to join the Longhorns in January, after he finishes up his high school courses.
July, 27, 2011
7/27/11
2:46
PM ET
By
Andrew Drennen
| ESPN.com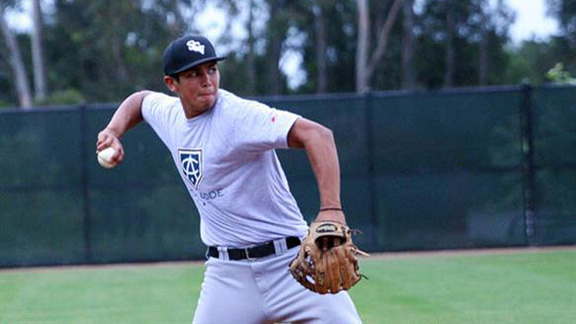 Andrew Drennen/ESPNHSRio Ruiz gets ready to show off his arm strength during the Milwaukee Brewers workout at Westmont College (Montecito, Calif.). Ruiz will play in the 2011 Area Code Games for the Brewers.
It's official, all eight Area Code Baseball rosters have been set for the 2011 Area Code Baseball Games presented by New Balance this August. 210 players nationwide will head to Long Beach, Calif., for the 25th installment of the Area Code Games.
Highlights from the player selections:
This year there is only one player from the 2014 class, that is Drew Ward of Leedey (Leedey, Okla.). He will be playing on the Chicago White Sox team this August.

The smallest roster for the 2011 Area Code Games will be the Texas Rangers. The Rangers will bring 21 players from Texas and Louisiana. Of the 21 players, four of them came out in 2010: Hunter Kopycinski, Nick Williams, Riley Ferrell and C.J. Hinojosa.

The Brewers have one of the largest rosters, 33 players, and may even have the roster high of 16 pitchers. They have six players who played in 2010: Timothy Lopes, Trevor Megill, Rio Ruiz (played for the Yankees), Cole Irvin, Max Fried and Lucas Giolito.

Speaking of Max Fried, his high school, Montclair Prep (Van Nuys, Calif.) made local news when they dropped their athletic program. So he is a free-agent of sorts and it will be interesting to see where he goes to school.

Looking at the Yankees they have two returning players: Fernelys Sanchez and Nelson Rodriguez. Both were named to the ESPN Underclass All-America team. They both play for George Washington (Bronx, N.Y.) and won the PSAL title. Like the other teams, the Yankees may strength may be their pitching.

The Athletics are excited about their team for many reasons. First, they get to bring players from their own backyard, they moved to Northern California this year. Second, they have a soild team. Ryan Tellez from Elk Grove (Elk Grove, Calif.) is the youngest player on the team, class of 2013. He told Harold Abend at the tryout in Stockton that he has something to prove. They also have James Marvel a pitcher out of Campolindo (Moraga, Calif.). He is going to be blogging for us about his Area Code Baseball experiences.

The Royals are back for the first time since 1998 and they have the Northwest. Their team will have some athletes on it. Two that stand out are Clint Coulter and Dylan LaVelle. Both played in 2010 on the Washington Nationals. Coulter is a former state champ in wrestling and LaVelle holds a black belt in Karate.

The Reds will once again bring the team from the Four Corners, Hawaii and Nevada. Bryce Harper, we all have heard of him, played on the Reds when he went to Las Vegas (Las Vegas, Nev.) High School. Harper was selected No. 1 in the 2010 MLB Draft. He is currently in double-A for the Washington Nationals. The Reds are bringing out Joey Gallo, one of the best hitters in the region and may be one of the best hitters in the nation.

The Washington Nationals made a region swap, and now they are coming from the Southeast. Vance Vizcaino played in 2010 for the then Athletics and will be back in 2011. Also Jesse Winker from Olympia (Windermere, Fla.) is heading out with the Nationals. Winker's older brother, Joe, is in the Dodgers organization.
July, 1, 2011
7/01/11
1:12
AM ET
By
Andrew Drennen
| ESPN.com
The final Texas Rangers workout was held in Houston at Baseball USA "The Yard" and like the workout in Weatherford, over 140 players attended.
One of the standout names was Hunter Kopycinski of St. Thomas (Houston, Texas). If the name rings a bell, it's because he played on the Rangers a year ago. He has a good arm behind the plate, but his best asset may be his bat. He constantly squared up balls during the batting practice session.
Out of Fossil Ridge (Fort Worth, Texas) Sheldon Neuse had one of the best days in Houston. Not only is he a solid defensive player, but when he took to the mound he showed great stuff. He stands in a 6-foot and 170 pounds.
You can read more about the
Houston workout here
, plus there are links to photos for you to see.
June, 16, 2011
6/16/11
12:57
PM ET
By
Andrew Drennen
| ESPN.com
Land at Dallas' DFW Intnerational and drive about an hour and half West you end up in the small town of Weatherford. For another year the Texas Rangers start their tryouts at Weatherford College. It seems that pitching is strong every year in Texas, and the Rangers bring a solid staff each year. They have had a team since 1998 and to name a few of the arms to play on the Rangers: Josh Beckett, Clayton Kershaw, Homer Bailey and Jordan Walden. Try hitting those guys in high school.
There were some standouts at the workout and the first one to come to mind was Nick Williams of Ball (Galveston, Texas). Williams played in 2010 for the Rangers and roamed the outfield.
Another standout outfielder was Austin Aune from Argyle (Argyle, Texas). Great athlete with a good arm. He is a football kid as well.
Willie Schwanke attended the tryout last year and just fell short of making the 201 Rangers. This year, however, he made the afternoon cut and showed great improvement from last year. He improved upon his skills and the big thing is he got stronger. When he was on the mound, he got up to 91mph. It was great to see this improvement.
The Rangers had 140 players in Weatherford and there is still one more workout, in Houston, to go. There will be around another 140 players at Baseball USA and from there a roster of around 25 will me built. It wouldn't be a surprise if the Rangers bring a smaller roster, last year they brought 22.
Read more on the workout in Weatherford.
June, 9, 2011
6/09/11
1:39
AM ET
By
Andrew Drennen
| ESPN.com
Starting this week the 2011
Area Code Baseball
Tryouts will begin. The process starts with approximately 3,000 players, nationwide, attending one of 21 regional tryouts. There are eight MLB teams this year bringing eight regional teams: Milwaukee Brewers (Southern California), Oakland Athletics (Northern California), Kansas City Royals (Northwest), Cincinnati Reds (Four Corners/Hawaii), Chicago White Sox (Midwest), Washington Nationals (Southeast) and the New York Yankees (Northeast).
For the Royals it is the first time since 1998 that they will have a team in the Area Code Games, and the last time they had a team, Albert Pujols played on it. Yes, there is a photo of him in a Royals jersey.
Many times we asked players what they thought of the process and what it's like playing in the games. More times than not, they all said it was like a job interview. Great choice of words because at the MLB Players' Symposium some of the scouts told the players and parents that they view that week as a beginning of an interview process. Starts in August and ends with the MLB Draft the following June.
In the 2011 MLB Draft, UCLA's Gerrit Cole went No. 1 overall. As far as Area Code is concerned he became the ninth player in the event's history to be selected No. 1. He joins Phil Nevin (1995), Pat Burrell (1998), Adrian Gonzalez (2000), Delmon Young (2003), Matt Bush (2004), Justin Upton (2005), Tim Beckham (2008) and Bryce Harper (2010), all went at the top spot overall.
This is the 25th year of the event, which makes it the Silver Anniversary. There have been some great players to play in Long Beach, where the event has been held since 1998. If you have never been to Blair Field, it is the current home to Long Beach State and it is a big park, with the Southern California marine layer making the air a little heavy at times. Add that to the players using wood bats and the pitchers have an advantage.
To conlude, from these 3,000 players the final number (in August) be around 210. We know this, the final group of players in Long Beach will have an opportunity to perform in front of 300 plus scouts from every team plus the MLB Scouting Bureau. Don't forget the college coaches in attendance, too.
It all starts on June 11 and will come to an end on August 10. What an exciting couple of months we have in store.