High-SchoolBaseball:

Trevor Megill
October, 24, 2011
10/24/11
12:39
PM ET
By
Andrew Knepper
| ESPN.com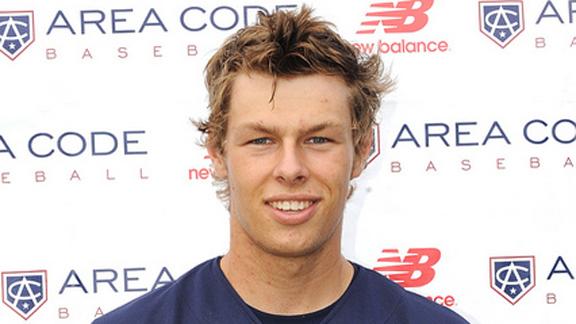 Trevor Megill out of Marina (Huntington Beach, Calif.) is a towering presence on the mound. Standing in at 6-foot-7, 230 pounds he has an inning-eater frame and a solid fastball with a good downhill plane.
During this game he was sitting comfortably between 88-90 with his fastball, his only breaking ball was clocked it at 78 mph and a changeup that was 83 mph. Megill has the durable frame college coaches and pro scouts like to see and with his size you can see his velocity picking up in the future. He was a two-year Area Code Games member.
Megill will be forgoing his senior high school season by graduating early to attend Loyola Marymount University in Los Angeles. This seems to be a starting trend among this 2012 graduating class as we have seen C.J. Hinojosa out of Klein Collins (Spring, Texas) high leave early for Texas, Chris Harvey out of Germantown Academy (Fort Washington, Pa.) left early for Vanderbilt and Fernando Perez out of Otay Ranch (Chula Vista, Calif.) is leaving for Central Arizona Community College.
July, 16, 2011
7/16/11
1:20
PM ET
By
Andrew Drennen
| ESPN.com
The Brewers hosted a final workout for the 2011 Area Code Games at Westmont College (Montecito, Calif.). This was the third workout in ten days at the small school just North of Los Angeles. The idea with this workout was to bring the best players from the July 6 and July 7 workouts together for one final evaluation day.
It gave the players a chance to make a final impression before the Brewers staff made the decision on the roster. Typically the Brewers (because they had two teams) would put around 26 players on each roster. This year, with one team, the roster may be slightly larger, but at the same time some players may be left at home.
Because of this year's setup, the final workout was even more important. One thing is for sure, the pitching would be the hardest decision for the staff. And because of that, should the Brewers decide to take a couple of more arms, that would mean less spots for the position players.
At the final tryout it was once again the arms that stood out. Trevor Megill out of Marina (Huntington Beach, Calif.) made the team back in 2010. At the tryout at Westmont he was throwing in the low-90s.
We learned more about Camarillo's (Camarillo, Calif.) Hunter Virant. He may make the team as a pitcher and oddly enough he only threw one inning for his high school team. He said that he just started to pitch within the last year. You wouldn't know that by watching him.
You can read more on the other standout from the final workout here.