High-SchoolBaseball:

Tyrone Taylor
October, 17, 2011
10/17/11
5:05
AM ET
By
Andrew Knepper
| ESPN.com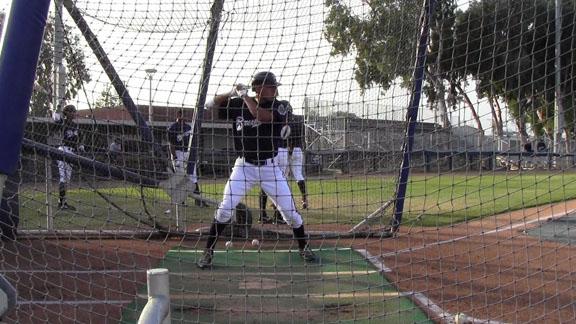 As some would call a "toolsy" player, Tyrone Taylor fits that bill with his strength and speed combination. He is athletically gifted and plays both baseball and football. Already known in the football world in Southern California's South Bay as one of the better tailbacks, he might be overshadowing that title with his play on the diamond as a game changing leadoff hitter.
In his junior year at Torrance (Torrance, Calif.) he hit .472 with six home runs and 26 RBIs and crossed the plate 42 times. Already built like a pro ball player at 6-foot-1, 185 pounds, Taylor obtains solid speed by running a 6.60 second 60-yard dash. That kind of speed turns singles into extra-base hits and also allows him to cover a ton of ground in centerfield. He has good present gap power and hits for a good average. Roaming the outfield, he has good reads off the bat and runs good routes, which is impressive in a prep player, and he also has a canon for an arm.
He is currently committed to play baseball at California State Fullerton.
July, 8, 2011
7/08/11
1:54
AM ET
By
Andrew Drennen
| ESPN.com
The Milwaukee Brewers had a change in region for the 2011 Area Code Games, as they will bring only one team this year from Southern California. Whereas last year they had an easier time building their two rosters, this year they will have a difficult time deciding who stays home.
If there was one thing that both tryouts showed, is that for the first time in the past couple of years, the Brewers will have plenty of depth on the mound. During the second day of tryouts, it seemed that every pitcher that ran out there was hitting 90mph.
Hunter Virant out of Camarillo (Camarillo, Calif.) is relatively new to pitching, had some of the best stuff at the workout. The lefty had good feel for his pitches and mixed them well. He kept the hitters off balance with the effective use of his breaking pitches and fastball.
Tyrone Taylor from Torrance (Torrance, Calif.) did well during the outfield evaluations. He showed a consistantly strong arm on his throws to third and the plate, as the ball seemed to jump out of his hand. He possesses a great skill set and was one of the better athletes of the day.
As far as infielders go there was a slick fielding shortstop out of El Dorado (Placentia, Calif.) named Chris Rivera. He showed good actions and a strong arm during the defensive evaluations. He may be one of the best infielders in the 2013 class for the Golden State. He may be one of the best hitters one the West Coast in the 2013 class because he is so advanced with the wood bat.
Another arm was Daniel Starwalt from Granite Hills (El Cajon, Calif.). He is a big kid standing at 6-foot-3, 195 pounds and he showed a good arm. His fastball touched 94mph. He threw strikes and found a good rythum on the mound.
To
read more on day 1 click here
and to
read more on day 2 click here
.