High-SchoolBaseball:

Under Armour All-America Baseball Game
January, 24, 2012
1/24/12
9:29
AM ET
By
Christopher Crawford
| ESPN.com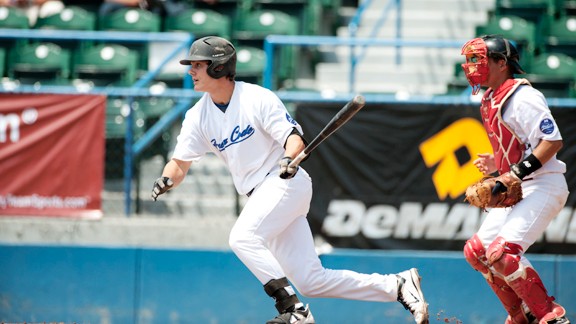 Dustin Snipes/ESPNHSUnion (Camas, Wash.) senior catcher and Arizona State recruit Clint Coulter was an all-state selection last year after batting .400 with four homers.
If you were to ask a scout or front-office member the most difficult position to develop, the overall consensus would likely be catcher.
The position is demanding both physically and mentally, and the attrition behind the plate is undoubtedly the highest in baseball. Plus, most players struggle to pick up the position for several years.
That's why what Union (Camas, Wash.) senior
Clint Coulter
has done in his short period of time behind the plate is all the more impressive. Last year was the first season the 6-foot-3, 215-pounder focused solely on baseball.
"I wouldn't have guessed that he was new to the position," said a West Coast Conference coach. "We saw him quite a bit last spring, and he really impressed us with his instincts back there. It is always a work in progress when you're seeing a 16- to 18-year-old kid catch, but the athleticism and size was really impressive."
That athleticism and size has served Coulter well in multiple sports. As a sophomore, he was the Class 3A state wrestling champion at 189 pounds, but he ended up giving up wrestling last year to concentrate on the diamond.
Last spring, the right-handed hitter delivered an impressive junior campaign to earn a spot in both the Under Armour All-America Baseball Game and the
Area Code Games
, where he was selected to the
New Balance All-Area Code Team
.
"Those events were a lot of fun," Coulter said. "At the Area Code Games, those events are typically dominated by the South, so for us (the Northwest-region-based
Royals
) to come in and go undefeated was awesome. And then getting a chance to be in the same locker room as Ernie Banks at Wrigley Field for the Under Armour game and how well they catered to us and getting to participate in the home run derby, all of it was a blessing."
After the big summer, Coulter is being included on many analysts' top 100 for the 2012 draft. Coulter says his dream is to play professional baseball, and working towards the draft is one of his biggest goals, but he did admit that the new draft rules could have an impact on whether or not he goes the pro or collegiate route.
While he may not be enthralled with the new rules, Coulter did light up when talking about his college commitment to Arizona State.
"I was just so impressed with the competitiveness of the practices," Coulter said. "I've never seen anything like that. Coach Esmay has them working so hard, and it's more intense than most games I've seen or been a part of. They truly are committed to winning."
Just how high Coulter goes in the draft will depend on whether or not talent-evaluators believe he can stick as a backstop. But the bat should also play well at a corner infield position, just like a current MLB star.
"I like to pattern my game after Mike Napoli," Coulter said, referring to the Texas Rangers standout catcher who also plays first. "I love how he goes up looking for that fastball middle in, and if he gets, it he lets it rip."
But if he ends up strictly behind the backstop, Coulter has shown he has what it takes to succeed at the demanding position.
Christopher Crawford is a regular contributor to Prospect Insider and the founder and executive editor of MLB Draft Insider. Follow him on Twitter @CrawfordChrisV.
January, 10, 2012
1/10/12
11:32
AM ET
By
Christopher Crawford
| ESPN.com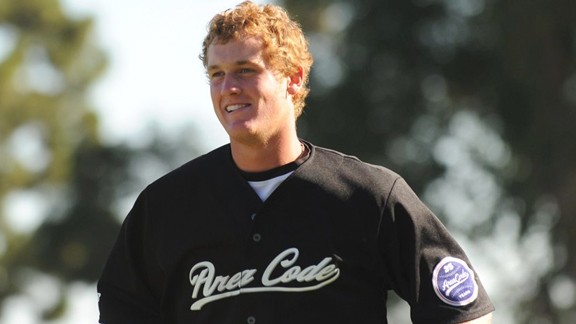 Scott Kurtz/ESPNHSSanta Fe (Edmond, Okla.) senior right-hander and Ole Miss recruit Ty Hensley went 6-0 last year with a 2.26 ERA and 58 strikeouts in 31 innings.
While it hasn't received as much credit as neighboring Texas when it comes to baseball talent, Oklahoma has become a pitching hotbed over the last few years.
Yukon (Okla.) left-hander Chad James was a first-rounder in 2009, while last season, five Oklahoma prep hurlers were selected among the first 200 picks, including
Owasso (Okla.) right-hander Dylan Bundy and Broken Arrow (Okla.) right-hander Archie Bradley
, who were drafted No. 4 and No. 7 overall, respectively.
This year, Oklahoma might not have the quantity of talent that Texas does, but the state is well represented by Sante Fe (Edmond, Okla.) right-hander Ty Hensley.
Standing in at 6-foot-5 and 220 pounds, Hensley is one of the most physically imposing pitchers in his class. Last season, he went 6-0 with a 2.26 ERA and 58 strikeouts in 31 innings.
"He's got a power arm with a power delivery," said Jason A. Churchill, who covers scouting, player development and the MLB Draft for ESPN Insider. "I had him up to 94 mph and sitting 91-92 at the Area Code Games and he used what appeared to be two different breaking balls — either a slider and a curve or a variation of one of them. He may end up in the bullpen, but I like to stay away from labeling a high school kid. You do have to dream on the command and off-speed stuff and hope he develops a changeup if he's to be a full-time starter, however."
The burly right-hander was one of the busier players this summer. He participated in the Area Code Games and the Prospect Classic, which was a matchup between USA Baseball's Collegiate and 18U National Teams. He also pitched a scoreless inning at the Under Armour All-America Baseball Game at Wrigley Field,
"It was a blast pitching in a major league stadium like that," said Hensley of his experience at Under Armour. "The talent level behind me was unreal, and it was such an honor to be selected to participate."
At Under Armour, Hensley impressed several scouts, including a senior front-office member of an A.L. East club.
"He got in trouble early, but the fastball had plenty of life and he showed the command and poise that I've heard about throughout 2011," said the front-office member. "It's all a bit raw right now, but there's a lot of potential in that right arm."
Right now, that right arm is currently committed to Ole Miss, who may have the best recruiting class of anyone not named UCLA. Hensley says that college is important to him and called Ole Miss "his dream school", but a big senior campaign could keep him from ever reaching Oxford.
"He did drag his backside through on some pitches down in Long Beach, something scouts have seen him do, particularly with runners aboard, throughout his junior season." Churchill said regarding Hensley's draft status. "But there should be more velocity to come as refines his mechanics, and with his size, he's got a big-league future and won't last long come June. I'd say he starts the 2012 season as an early pick on Day 2."
Whether or not his future is in the SEC or a farm system, the present is very bright for Ty Hensley.
Christopher Crawford is a regular contributor to Prospect Insider and the founder and executive editor of MLB Draft Insider. Follow him on Twitter @CrawfordChrisV.