High-SchoolBaseball:

Union High School
February, 17, 2012
2/17/12
10:07
AM ET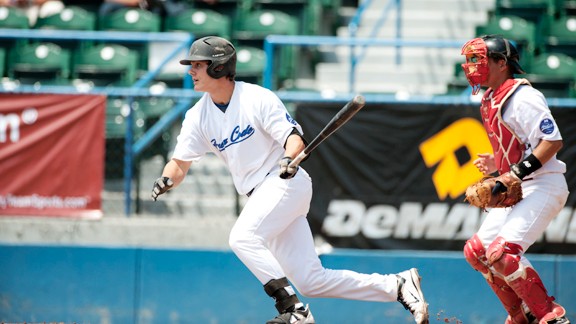 Dustin Snipes/ESPNHSUnion (Camas, Wash.) senior catcher and Arizona State recruit Clint Coulter was an all-state selection last year after batting .400 with four homers.
From foul tips to collisions at the plate, there's a reason catchers are the only baseball players who need to wear body armor. We checked in with Clint Coulter,
the No. 2-ranked catcher prospect by ESPNHS
, to find out exactly how punishing the position really is. The Union (Camas, Wash.) senior only began catching a few years ago, but he's already experienced his fair share of excruciating moments behind the dish.
On collisions at home plate:
"It's illegal to run into the catcher in high school, but that doesn't mean it doesn't happen. I remember one collision a guy came in hot and slid headfirst and his braces tore into my arm. It was deep, almost down to the bone."
On dealing with foul tips:
"I've taken them in the crotch, off the thigh and off the mask. But you can't worry about it. It's not humanly possible to react (in time).
On the grind of the position:
"Doubleheaders will eat your lunch pretty good. I was catching one over the summer in Georgia and it was 100 degrees and humid. I remember stepping into the batter's box and then stepping back out and I could see my wet footprint in the dirt. I had literally sweated through my cleats. You have to be pretty crazy to handle days like that, but I love it."
On blocking balls in the dirt:
"I wasn't the best at blocking balls when I started out because I was trying too hard to catch the ball instead of just keeping it in front of me. I'd come home from practice with bruises up and down my arms and jammed fingers. When I learned to use my chest to block the ball, that saved me a lot of pain."
On getting hit by the bat:
"A lot of times, batters will get into the box and set up on in one spot, but then as the pitcher winds up they'll move back in the box an inch or two. There have been a couple times where that's happened and the ump has been right on my back so I can't move back at all and I end up getting hit in the glove by the bat. That doesn't feel too good on the fingers."
On the overall strain of the position:
"Baseball is a grueling sport to begin with, and being a catcher is like grueling times two. Not just physically, but mentally you're really tuned in hard to your pitcher on every pitch. But I love it. I love being in control of the pitching staff. Like anything else in life, if you don't enjoy it then you're not going to be the best. I love being back there, and I want to be the best."
February, 17, 2012
2/17/12
10:07
AM ET
By
Jason A. Churchill
| ESPN.com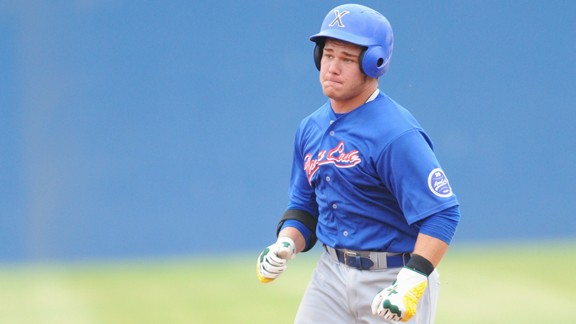 Scott Kurtz/ESPNHSAcadiana (Lafayette, La.) senior and Ole Miss recruit Stryker Trahan batted .460 with five homers and 31 RBIs last season.
Each week from now until early March, we'll take a look at the elite Class of 2012 high school baseball prospects by ranking our Top 10 players by position. This week, we unveil our list of the Top 10 catchers headlined by Acadiana (Lafayette, La.) standout Stryker Trahan.
Last year, Trahan was a Class 5A All-State first team selection after he batted .460 with five homers and 31 RBIs. He signed with Ole Miss.
Note: There are others that catch at the prep level that have enough offensive potential to have landed in the Top 10, but don't, in my opinion, have a great enough shot to stick at the position. This Top 10 has the best present skills and tools to remain catchers in pro ball.
1. Stryker Trahan, Acadiana (Lafayette, La.)
Trahan possesses good arm strength, quick feet and a consistent swing that produces above-average power from the left side of the plate. He's strong and sturdy, suggesting he can physically handle catching long term, but he also runs well, posting times from home to first in the low four-second range. He's committed to Ole Miss, but the 6-foot-1, 215-pounder has a chance to be taken off the board among the top 20 picks and is among the better high school catching prospects over the past five years.
2. Clint Coulter, Union (Camas, Wash.)
Coulter, a former elite wrestler, has only focused solely on baseball for one season, but it's already paying off for the 6-foot-3, 215-pound right-handed hitter. He shows strength and a good approach at the plate and during the Area Code Games tryouts last summer stood out with a short swing and good hip rotation. He's signed a letter of intent with Arizona State, but there is also a good chance he's selected on Day 1 of the draft, which generally guarantees a player a mid-to-high six-figure bonus.
3. Alex Bregman , Albuquerque Academy (Albuquerque, N.M.)
Bregman played shortstop last summer and looked like a quality player, but most scouts project him at second base or catcher. His ranking here is based on the possibility that he sticks behind the plate. He certainly possesses the athletic ability, and his quick release bodes well for the position. He could stand to get stronger, however. He's an LSU commit who could sneak into second round with a strong spring.
4. Wyatt Mathisen, Calallen (Corpus Christi, Texas)
Mathisen's sound approach at the plate and strong arm highlight a solid package of skills for a prep catcher. He's an accurate thrower as well and has quick hands that help him generate bat speed. Mathisen will head to Austin to play for the Longhorns if he doesn't sign a pro deal this coming summer. He projects as a potential second-round pick as the 2012 schedule begins.
5. C.J. Saylor, South Hills (West Covina, Calif.)
Saylor gets the most out of his 5-foot-10, 180-pound frame, including some gap power and above-average arm strength. His strong lower half helps him produce solid pop times and provides a solid base when swinging the bat. The swing itself has flaws, including a stiff front arm, but there's bat speed and good hand-eye coordination. The San Diego State signee should hear his name called on Day 2.
6. Bryan De La Rosa, Bucky Dent Baseball School (Delray Beach, Fla.)
De La Rosa, a Florida State commit, possesses solid bat speed, generated from good hip rotation and quick wrists. His pop times sit in the 1.7-1.75 range, which is excellent, and despite his lack of size — 5-foot-9, 180 pounds — there's some upside in his game. He'll have to get stronger in his upper body and continue to work on his technique behind the plate and approach at it, but the Puerto Rico native is likely to garner a lot of attention in the middle rounds of Day 2, if not before.
7. Christopher Chinea, Gulliver Prep (Pinecrest, Fla.)
Chinea may have as much chance to jump up the charts as any other prep backstop. He's strong yet athletic at 6-feet and just over 200 pounds, and the power he's displayed is impressive. He was injured late last spring, but there are scouts who believe he's a solid talent that they'd like to keep from heading to LSU. Arm strength and a power swing may lead the way.
8. Ruben Ybarra, Riverside Poly (Riverside, Calif.)
Ybarra may be right behind Chinea in terms of possessing the raw physical tools to greatly improve his stock by draft day. There's big power in his swing and his arm is above average. He's committed to Arizona State, but another year working on his accuracy, making contact at the plate and improving his footwork could mean a spot in the top 100.
9. Tomas Nido, Orangewood Christian (Maitland, Fla.)
Nido is a favorite of mine after studying video and talking to scouts. He stands out in the most important categories as far as tools are concerned — arm strength, receiving and power at the plate. His pop times are above average, but during games he's shown a tendency to open his front side on throws. The hit tool needs work, too, and despite the raw power the swing is long and his hands are busy. He's another Florida State commit and a Day 2 prospect, but he has a chance to end up among the top five prep catchers off the board.
10. Wilfredo Rodriguez, Puerto Rico Baseball Academy (Gurabo, Puerto Rico)
Rodriguez has good feet, running many 60s in under seven seconds, which is good for a catcher. He has good arm strength, is very accurate and his footwork is also solid. His swing is simple and produces line drives, but he does bar his front arm and has a difficult time with good pitches on the outer half. He's signed on at Seminole State College.
Jason A. Churchill covers scouting, player development and the MLB Draft for ESPN Insider, as well as Prospect Insider, where he's the founder and executive editor. You can follow him on Twitter @ProspectInsider and email him at churchill@prospectinsider.com.
January, 24, 2012
1/24/12
9:29
AM ET
By
Christopher Crawford
| ESPN.com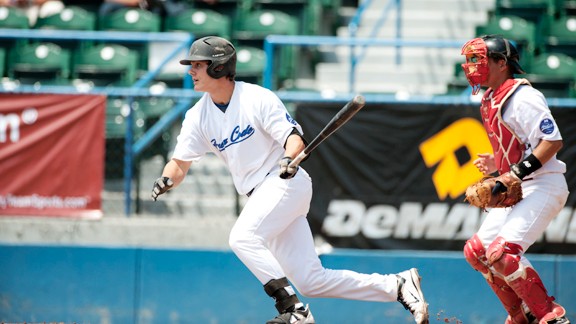 Dustin Snipes/ESPNHSUnion (Camas, Wash.) senior catcher and Arizona State recruit Clint Coulter was an all-state selection last year after batting .400 with four homers.
If you were to ask a scout or front-office member the most difficult position to develop, the overall consensus would likely be catcher.
The position is demanding both physically and mentally, and the attrition behind the plate is undoubtedly the highest in baseball. Plus, most players struggle to pick up the position for several years.
That's why what Union (Camas, Wash.) senior
Clint Coulter
has done in his short period of time behind the plate is all the more impressive. Last year was the first season the 6-foot-3, 215-pounder focused solely on baseball.
"I wouldn't have guessed that he was new to the position," said a West Coast Conference coach. "We saw him quite a bit last spring, and he really impressed us with his instincts back there. It is always a work in progress when you're seeing a 16- to 18-year-old kid catch, but the athleticism and size was really impressive."
That athleticism and size has served Coulter well in multiple sports. As a sophomore, he was the Class 3A state wrestling champion at 189 pounds, but he ended up giving up wrestling last year to concentrate on the diamond.
Last spring, the right-handed hitter delivered an impressive junior campaign to earn a spot in both the Under Armour All-America Baseball Game and the
Area Code Games
, where he was selected to the
New Balance All-Area Code Team
.
"Those events were a lot of fun," Coulter said. "At the Area Code Games, those events are typically dominated by the South, so for us (the Northwest-region-based
Royals
) to come in and go undefeated was awesome. And then getting a chance to be in the same locker room as Ernie Banks at Wrigley Field for the Under Armour game and how well they catered to us and getting to participate in the home run derby, all of it was a blessing."
After the big summer, Coulter is being included on many analysts' top 100 for the 2012 draft. Coulter says his dream is to play professional baseball, and working towards the draft is one of his biggest goals, but he did admit that the new draft rules could have an impact on whether or not he goes the pro or collegiate route.
While he may not be enthralled with the new rules, Coulter did light up when talking about his college commitment to Arizona State.
"I was just so impressed with the competitiveness of the practices," Coulter said. "I've never seen anything like that. Coach Esmay has them working so hard, and it's more intense than most games I've seen or been a part of. They truly are committed to winning."
Just how high Coulter goes in the draft will depend on whether or not talent-evaluators believe he can stick as a backstop. But the bat should also play well at a corner infield position, just like a current MLB star.
"I like to pattern my game after Mike Napoli," Coulter said, referring to the Texas Rangers standout catcher who also plays first. "I love how he goes up looking for that fastball middle in, and if he gets, it he lets it rip."
But if he ends up strictly behind the backstop, Coulter has shown he has what it takes to succeed at the demanding position.
Christopher Crawford is a regular contributor to Prospect Insider and the founder and executive editor of MLB Draft Insider. Follow him on Twitter @CrawfordChrisV.