High-SchoolBaseball:

Westview High School
February, 10, 2012
2/10/12
6:49
AM ET
By
Jason A. Churchill
| ESPN.com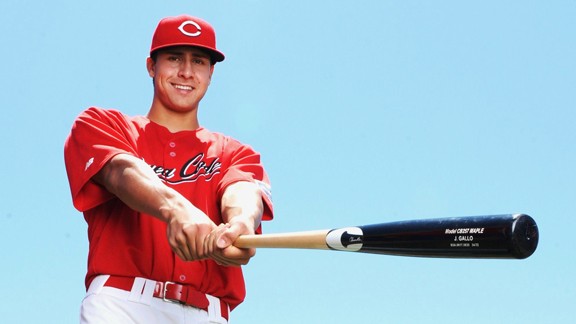 Scott Kurtz/ESPNHSBishop Gorman (Las Vegas) senior Joey Gallo hit .471 last year with 25 homers and 78 RBIs to help lead the Gaels to their sixth straight state title.
Each week from now until early March, we'll take a look at the elite Class of 2012 high school baseball prospects by ranking our Top 10 players by position. This week, we unveil our list of the Top 10 corner infielders led by Bishop Gorman (Las Vegas) slugger Joey Gallo.
Last season, Gallo tore up high school pitching, hitting .471 with 25 homers and 78 RBIs while leading the Gaels to their sixth straight state title. He also showcased his skills on the bump, going 3-1 with a 1.12 ERA and 29 strikeouts in 18.2 innings.
1. Joey Gallo, 1B, Bishop Gorman (Las Vegas)
Gallo, who's also a bit of a prospect as a right-handed pitcher, is a big, strong left-handed hitter that stands 6-foot-5. He creates leverage and loft and has above-average present game power to support the projections of his raw-power grade. He's played some third base but likely ends up at first. At the Area Code Games last August, scouts likened him to Atlanta Braves first baseman
Freddie Freeman
in terms of potential. He's committed to LSU, but has a great chance to go in the first round if he can clean up his contact rates.
2. Trey Williams, 3B, Valencia (Calif.)
This former shortstop is a good athlete with strength and the ability to put a charge into a fastball. He has bat speed and bloodlines -- his father, Eddie, played parts of 10 seasons in the majors -- and simply has to trim off some of the problems he's had against better pitching to solidify an early selection come June. He's headed to Pepperdine if pro ball doesn't entice him to sign.
3. Rio Ruiz, 3B, Bishop Amat (La Puente, Calif.)
Ruiz is a solid hitter whose power is a bit raw, but he has strong hands and sees the ball well from the pitcher's hand to contact. He's committed to USC and has touched the low-90s on the mound, but his best chance at the big leagues is likely at the plate. There is a chance he ends up moving to first base or perhaps a corner outfield spot.
4. Carson Kelly, 3B, Westview (Portland, Ore.)
Kelly is a prospect at the plate and on the mound, sitting in the upper 80s and topping out at 92 mph with the fastball. The majority of area scouts appear to prefer him as a bat, where his swing is easy, consistent and should produce natural power. He can handle third base and could end up a candidate for left or right field if necessary. He's known to carry himself as a leader and brings plus makeup to the table. He'll head to the University of Oregon if the price isn't right on the professional front, but he could go in the top 100.
5. Corey Seager, 3B, Northwest Cabarrus (Concord, N.C.)
Seager, a shortstop in high school, is likely to slide over to third base, a move that should be smooth and seamless. He's the younger brother of Seattle Mariners infielder Kyle Seager, but is more physical with a higher ceiling. He's wiry strong and smart at the plate and keeps things simple, and as he gets stronger the power will develop. If he passes on the pro game for now, South Carolina will get a terrific player who could improve his draft stock. Like his brother, some time on Day 2 of the draft is most likely.
6. Daniel Robertson, 3B, Upland (Calif.)
Robertson doesn't look the part of a traditional, prototypical third baseman. The 6-foot, 180-pounder appears to try and compensate for the lack of natural power, which creates poor swing mechanics and an approach that needs refined. Scouts expect a more advanced plan this season and saw glimpses over the summer showcase circuit. One area scout opined that Robertson is "the new age third baseman if he can show he can hit first, hit for power second." He's signed on to play at UCLA and projects as a Day 2 selection.
7. Austin Dean, 3B, Klein Collins (Spring, Texas)
I liked Dean more than most at the Area Code Games. He showed no glaring weaknesses despite the lack of a standout tool, but the power potential is apparent and he stings the ball consistently in batting practice. He's adept at going the other way and reminds some of a young
Casey Blake
. If he shows he can stick at third, he's a Day 2 pick. Dean is committed to the University of Texas.
8. Keon Barnum, 1B, King (Tampa, Fla.)
Barnum is a man-child at 6-foot-4 and 225 pounds and generates good bat speed and big power from the left side of the plate. The swing path, which creates good loft, is natural, suggesting he'll hit for power, but he has problems making consistent contact. He's committed to Miami, but he has a chance to go in the first 100 selections to a team that believes they can teach him to hit for average.
9. Joe DeCarlo, 3B, Garnet Valley (Glen Mills, Pa.)
DeCarlo is a sturdy athlete with a decent swing and good arm strength. He signed to play at Georgia and may be better off proving himself in college as he starts the spring behind the 8-ball in terms of the draft. There's upside in the power department, however, and has does have good hands and natural instincts in the field.
10. Mitch Nay, 3B, Hamilton (Chandler, Ariz.)
Nay fits the physical profile of a third baseman as much as anyone on this list. An Arizona State commit, Nay isn't as known to scouts as some other talents, but the physical prowess is there and he'll get a chance to show off his power and arm strength all spring. The hit tool is generally the main concern with prep power bats and Nay falls into that category, too.
Jason A. Churchill covers scouting, player development and the MLB Draft for ESPN Insider, as well as Prospect Insider, where he's the founder and executive editor. You can follow him on Twitter @ProspectInsider and email him at churchill@prospectinsider.com.
December, 6, 2011
12/06/11
9:59
AM ET
By
Matthew Muench
| ESPN.com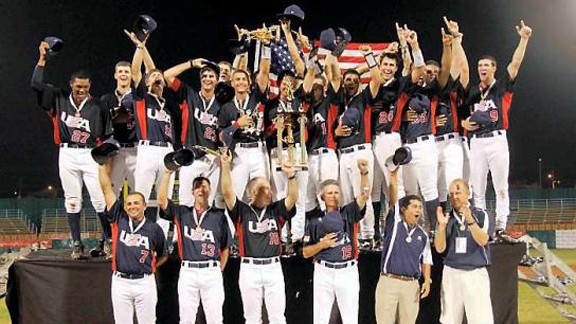 Courtesy of El UniversalThe USA Baseball 18U National Team outscored its nine opponents 88-8 en route to a gold medal at the Pan American Championships.
Gavin Cecchini
didn't mind the elbow to the face or three 180-pounders on his back.
Carson Kelly
wasn't afraid of the bodies colliding on top of him or the headlocks that followed.
The USA Baseball 18U National Team teammates will never forget this dog pile.
"When I look back 10 years from now I will remember the dog pile more than anything," said Cecchini, a senior at Barbe (Lake Charles, La.). "It was the best feeling. There is nothing like winning a gold medal."
The 20-plus person tower in the infield featured some of the best prep baseball players in the United States, and it capped a week where Team USA dominated the field at the COPABE 18U/AAA Pan American Championships in Cartagena, Colombia.
The exclamation point was a 12-2 win over Canada in the gold-medal game last week to complete a perfect 9-0 record in the tournament that featured teams from all over the world.
"It doesn't get any better than this," said Kelly, a senior at Westview (Portland, Ore.). "Every moment was incredible. It will be something I talk about for the rest of my life. I will remember it all."
It won't be hard to forget for the players and coaches who wore red, white and blue. Just check the box scores.
The American's outscored their opponents 88-8, beating four of them by way of the mercy rule. On offense they combined to hit .353, and the pitching staff finished with a 1.00 ERA.
Between the chalk, they stole 45 bases, while defensively they only committed two errors.
"We absolutely demolished teams down there," said Cecchini, an Ole Miss signee. "To tell you the truth, I thought the games would be much closer. But our hitters were awesome and our pitchers were unbelievable."
Kelly was one of those pitchers. The Oregon signee earned the win on the mound in the gold-medal game and also had the ball when USA beat host country Colombia in front of a national TV audience and a sold out stadium of more than 13,0000 fans.
"It was a blessing for me and very exciting for me to get to pitch in those two games," he said. "It's not very often you get to represent your country. So I wanted to make sure we came out on top."
Offensively, the Americans were paced by Mater Academy (Hialeah Gardens, Fla.) senior outfielder
Albert Almora
, who was named the tournament's MVP. The Miami recruit and Team USA veteran hit .421 and led the team in extra-base hits (6) and RBI (11).
Cecchini was named to the all-tournament team along with Olympia (Orlando, Fla.) senior pitcher
Jesse Winker
, Albuquerque Academy (Albuquerque, N.M.) third baseman
Alex Bregman
and Pace (Pace, Fla.) senior shortstop
Addison Russell
.
"Everyone on are team was not good — they were great," Kelly said. "I said to myself, 'Wow, these guys know how to play baseball.'"
Team USA manager and three-time World Series champion Scott Brosius said he was impressed with the focus and talent level of his team, which consisted of many projected first-round MLB draft picks.
"It was definitely exciting to watch this group," he said. "We hadn't played a lot together, so we had a few question marks heading in. So to come in and win gold in a dominating fashion felt real rewarding."
Away from the diamond, Team USA didn't have it as easy. Cecchini said fans "were brutal" and felt that "everyone was against us and tried to throw us off our game." When Team USA arrived in Colombia, they were given a different schedule that included an 8 a.m. game 12 hours after arriving in South America.
"That was just the first of many curveballs we were thrown," Brosius said. "But we prepared to expect the unexpected, so we just rolled with what was thrown at us."
The Americans were the only team who did not have a day off, Cecchini said. Plus, Team USA had to play four morning games in a row, where in some cases they were waking up at 6 a.m. to make hour-long bus trips.
"They tried everything to take us away from our game," Cecchini said. "Cold showers, wet clothes, dirty water. They tried to mess with Team USA. We got the last laugh."
And a memorable dog pile.