High-SchoolBoys-Basketball:

Quick Shots
June, 13, 2012
6/13/12
10:05
AM ET
By
Ronnie Flores
| ESPN.com
With the
roster
set for the 2012 USA Men's U18 national team and tryouts happening for the U17 unit this week, now is a perfect time to take an inside look at the relationship between USA Basketball and high school players.
High school players have a rich history of contributing to American success in international basketball competition. The contributions have primarily occurred since 1979 when the International Basketball Federation FIBA introduced its Junior World Championships. That year, a relatively unheralded high school junior named Sam Perkins of Shaker (Latham, N.Y.) helped the United States finish 8-0 and capture the gold medal in the inaugural U19 event in Salvador, Brazil, by averaging 10 points per game.
FIBA introduced the Junior World Championship qualifier in 1990 and in 2005 changed the names of its aged-based world championships to clearly indicate age requirements. Today, USA Basketball commits to national developmental teams down to U16 to prepare future USA Senior Men's National teams for Pan American, World Championship and Olympic competition.
Preps at Olympic trials
Since FIBA changed its rules in 1989 to allow NBA players to compete, the dream of an American high school player earning a spot on a USA Senior Men's National team has become far-fetched. It takes a high school player with special ability to be able to compete at that level, much less make a 12-man roster.
Before the Dream Team, the first U.S. Olympic team to feature NBA players, came along in 1992, USA Basketball held tryouts for the six Olympic Games between 1968 and 1988. In that period, seven high school standouts were given a shot at Olympic glory.
In 1968, 6-foot-5 Ralph Simpson of Pershing (Detroit) turned down an invitation. Ironically, 19-year old Spencer Haywood of Trinidad State Junior College, his former high school teammate at Pershing, led team USA to Olympic gold in Mexico City.
No high school players were among the 66 invitees in 1972, but in 1976 Darrell Griffith of Male (Louisville, Ky.) made a favorable impression. The most athletic guard at the tryouts, the 6-foot-4 jumping jack impressed Olympic coach Dean Smith (North Carolina), but an unfortunate thigh injury suffered during one of the workouts killed any real chance of him making the team.
In 1980, Earl Jones of Spingarn (Washington, D.C.) and Patrick Ewing of Rindge and Latin (Cambridge, Mass.) were the centers of attention. Neither made the cut for a team which didn't compete in Moscow because of a U.S. Olympic boycott. Jones had long been penciled in as a potential '80 Olympian since the Mount Hope, W.Va. native began dominating AAU tournaments as a 6-foot-10 eighth grader. As the only high school junior ever invited, Ewing made a favorable impression while Jones failed to lived up to his press clippings.
Four years later, Ewing (Georgetown) was able to earn an Olympic Gold Medal at the Los Angeles Olympic Games, while Jones (District of Columbia)
wasn't one of the invitees
. Guard Delray Brooks of Rogers (Michigan City, Ind.) and forward Danny Manning of Lawrence (Kansas) were among the invitees, but were a bit overwhelmed trying to earn a spot on one of the finest amateur teams ever assembled. The high school duo was among the first wave of cuts.
In 1988, Alonzo Mourning of Indian River (Chesapeake, Va.) joined Griffith and Ewing as
ESPNHS Mr. Basketball USA
honorees to earn an invite. With Morning's future college coach, John Thompson of Georgetown, guiding the '88 Olympic team, the popular thinking was Mourning didn't earn it and was invited to gain experience more than anything else. That proved false, as Mourning's shot-blocking ability and competitiveness made him arguably the most impressive high school player in American Olympic history.
Mourning was Thompson's final cut.
Walton's wild experience
The only prep player ever to make a USA Senior Men's National Basketball Team experienced crushing defeat.
In 1970, 17-year old Bill Walton was invited by coach Hal Fischer to tryouts for the U.S. team competing in the FIBA World Championships in Yugoslavia. The Helix (La Mesa, Calif.) phenom easily made the team and was one of its most talented players.
It was clear, however, that Walton wasn't going to play much regardless of how well he looked during the tryout or practices. The laid-back Walton didn't take to Fischer's militant coaching style and the team USA mentor actually allowed his bench-warmer to suit up for the host country in one game. The U.S. lost its final three games and did not medal.
Walton later pointed to that incident as making his decision to skip the 1972 Olympic tryouts that much easier.
'Dream Team' viewing
Before he leaves for Colorado Springs, Colo., on Friday for USA Basketball's U17 training camp,
Stanley Johnson
of Mater Dei (Santa Ana, Calif.) will watch "The Dream Team," a documentary set to air on NBA TV June 13. Taken primarily from footage shot in Barcelona, Spain, the doc chronicles the experiences of 1992 NCAA college player of the year Christian Laettner and the 11 future NBA Hall of Famers that made up the Dream Team.
The Dream Team, widely credited with popularizing basketball worldwide, won gold by a 43.8-point average margin of victory.
The junior-to-be from Southern California wasn't born yet when Michael Jordan and company made the Olympics more a coronation than a competition. Johnson, however, has strong feelings about the use of NBA players in international competition.
"The Olympics are supposed to be about the best players from each country, so I think it's fair that NBA players compete," Johnson said. "I want to see the best, so why should a college player like Kemba Walker at UConn represent the USA when Chris Paul is out there?"
Ronnie Flores is a senior editor for

ESPNHS

. He can be reached at
ronnie

.

flores

@

espn

.com
. Don't forget to follow him on Twitter:
@

RonFloresESPN
June, 6, 2012
6/06/12
8:00
AM ET
By
Ronnie Flores
| ESPN.com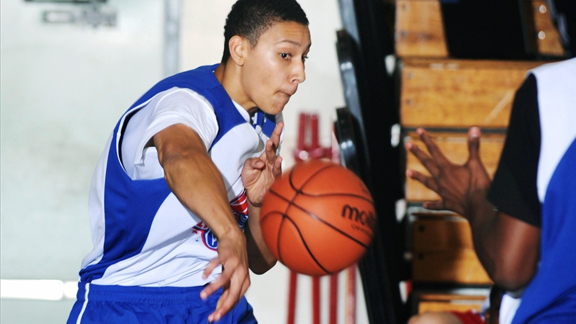 Scott KurtzPower forward Ben Simmons, a class of 2015 prospect from Australia, created some buzz at the Pangos Camp last week.
Wait 'til next year
Akoy Agau
of Omaha Central (Omaha, Neb.) wasn't getting the attention of some of the other high-major forwards at last weekend's Pangos Camp in Long Beach, Calif., but was one of the most accomplished players in attendance.
As a junior, he led Omaha Central to a 30-0 record, its third consecutive Class A state title and a No. 31 spot in the final
POWERADE FAB 50
rankings. Next season with most of the starting lineup returning intact, the Eagles stand a good chance of finishing higher than No. 31 in the FAB 50.
Last month, the Nebraska School Activities Association board
granted Omaha Central a waiver
for its Christmas moratorium to allow the highly-regarded team an opportunity to travel to Fort Myers, Fla., for the prestigious City of Palms holiday tournament. Agau added that his team is scheduled to play the FAB 50 No. 1-ranked team Oak Hill (Mouth of Wilson, Va.) next season and that they are trying to schedule a bout with Chicago's Simeon,
Jabari Parker's
team that finished No. 6 in the rankings.
For Agau and his teammates, the goal is to become the best team the state of Nebraska has ever produced. The highest FAB 50-ranked Nebraska team ever is the 2004-05 unit from Bellevue West of Bellevue, which finished No. 17.
"We have definitely talked about it and it's definitely something we're working for," Agau said about the lofty goal of finishing ranked higher than Bellevue West. "Most people don't think of Nebraska when they think of basketball, but we have the chance to achieve something special. Before last season, I was thinking of perhaps transferring to Oak Hill, but I play for a winning program already and I want to accomplish something people around the state can be proud of."
High riser from Down Under
The player who created the biggest buzz at the Pangos Camp wasn't
Cliff Alexander
, the first underclassmen ever to earn camp Most Outstanding Player honors, but 6-foot-8
Ben Simmons
, a 2015 prospect from Australia. A smooth lefty with the ability to play both forward positions, Alexander turned heads with his touch around the basket and his knack for being around the ball in the correct spots on the floor.
There is no doubt Simmons, who attends Box Hill in Melbourne, Australia, will be a high major college basketball player. The big question at camp was what American high school he'll eventually end up at. The rumors are rampant, but Simmons told ESPNHS the plan is to play one more year Down Under before heading to the states.
"The camp was good for me," Simmons said. "It was good to see where I'm at compared to the other top players. The game is more up-tempo and more athletic here. In Australia, just one or two of the players can dunk, but here even the point guards can."
As far as colleges, Simmons obviously doesn't have a list right now, but he's most familiar with Duke. He stated there are not many televised college basketball games in Australia, but mentioned the Blue Devils and Texas as the schools he's most familiar with.
Little things equal big results
At the Pangos Camp last weekend, the games were dominated by short offensive possessions and shoot-first guards. It was difficult for players who thrive off teammates' play or who do the little things to stand out.
Brandon Austin
of Imhotep (Philadelphia) was one of those players. A long and skilled guard with the ability to operate and finish with both hands, Austin was satisfied with his showing far from home.
"Coming in, I knew there was going to be a lot of competition," said Austin after scoring four points on three shot attempts in the Top 30 all-star game. "I wanted to show my talent and I think I accomplished my goals this weekend."
Austin was one of two Penn State recruits to shine at Pangos -- the other being Top 60 all-star game participant
Geno Thorpe
of Shaler (Pittsburgh).
Ballin' like I'm Rodney
You know you're big when an artist spits your name in a verse.
Well, Upper Christian (Raleigh, N.C.) guard
Rodney Purvis
must be feeling rather large these days after local rappers Woozie and JayRoc dropped a song last week paying homage to the N.C. State recruit.
The near-four minute track features a catchy hook that goes:
"They yelling, Wolfpack, Wolfpack, Wolfpack, Wolfpack. Put me in the game, 'cause I'm ballin' like I'm Rodney. Coming through the lane, and nobody can stop me."
The track can be heard here on
YouTube
and also shows some love to Brewster Academy (Brewster, N.H.) small forward
T.J. Warren
, another Wolfpack recruit.
"I actually heard it in the car with loud speakers (before it was on YouTube) so it made it that much better to me," said Purvis. "The song is nice, man. I appreciate those guys for it. It needs to get on the radio around the world."
We're not sure if the song will blow up, but we'll cosign Purvis as an instant hit once he touches down at N.C. State. The 6-foot-4 guard earned
McDonald's All-American
honors as a senior and is targeted as an impact college freshman.
David Auguste contributed to this report. Ronnie Flores is a senior editor for

ESPNHS

. He can be reached at
ronnie

.

flores

@

espn

.com
. Don't forget to follow him on Twitter:
@

RonFloresESPN
May, 30, 2012
5/30/12
11:17
AM ET
By
Ronnie Flores
| ESPN.com
LoVett Jr. makes splash for Mac Irvin
No freshman has ever scored more points in California history than
Marcus LoVett Jr.
of Providence (Burbank, Calif.). At the Oakland Nike Elite Youth Basketball League, however, he had to change his approach.
With his parents formerly residing in Indianapolis, the No. 5 player in the
ESPN 25
was eligible to play with the
Mac Irvin Fire
of Illinois and decided to play up with its 17U club. The 6-foot lefty hadn't played with any other traveling team on the circuit this year and was fired up for the opportunity to play with
ESPN 100
No. 1 recruit
Jabari Parker
.
"(Coach Mike Irvin) called my dad and asked us to play with them," said LoVett, who was named
Cal-Hi Sports
State Freshman of the Year after averaging 32.4 points per game last season. "I had been following them on YouTube and always wanted to play with the best player in the country (Jabari Parker)."
Playing with talented older players and coming off the bench, LoVett did a good job of distributing the basketball and though he didn't shoot particularly strong from the outside, he consistently broke down defenses with his quickness. Marcus LoVett Sr. is hesitant to allow his son to play on the circuit, preferring he focus on individual workouts, but both thought the Mac Irvin opportunity was a good one.
"At Providence, it's a lot different because I'm usually looking to score," LoVett Jr. said. "It's should be a good experience for me playing with so many different good players."
Boo Williams bounces back
Entering session No. 4 of the EYBL, Boo Williams Summer League (Va.) was tied for sixth place in Division D with Howard Pulley (Minn.) with a 7-7 mark. The team isn't short on talent, but didn't play well together in Minneapolis; Hampton, Va.; or Dallas during the first three sessions.
With its 72-63 victory over Baltimore Elite (Md.) on Monday, Boo Williams closed out session No. 4 with a 6-0 record to finish 13-7 and tied for fourth place with the Oakland Soldiers (Calif.). Boo Williams iced the win when
Al Freeman
(10 points) of Findlay Prep (Henderson, Nev.) converted a driving lay-up to make the score 68-60 with just under a minute remaining. The Virginians held off Baltimore Elite despite a 32-point performance from
Kameron Williams
of Mt. St. Joseph (Baltimore), the EYBL's leading scorer.
Point guard
Anthony "Cat" Barber
of Hampton (Va.) led Boo with 19 points while forward
Troy Williams
of Oak Hill (Mouth of Wilson, Va.) added 12 points. Boo also got a huge lift from forward
Rodney Bullock
of Kecoughtan (Hampton, Va.), who made 6-of-8 field goals to finish with 17 points.
"We were written off for dead before coming here, but our best three players -- Troy, Cat, and Al -- just had to learn to play together," said coach Boo Williams. "Once everyone got on the same page, nobody cared who scored or got shots."
Barber was especially impressive in Oakland with his passing skills and uncanny athleticism. With his Boo Williams affiliation, comparisons to former Hampton area products Allen Iverson and Ronald Curry, both of whom played for the flagship AAU program, were inevitable. In light of his high regard for Iverson's ability, Boo Williams is a bit cautious of comparing his former lead guards.
"Well, Allen was in another world, but Cat is a quick player who knows how to run our team."
Pinson, CP3 finish strong
The CP3 All-Stars (N.C.) lost its opening game of the EYBL's Oakland session to All Ohio Red 66-50 to fall to 9-6. If the team didn't turn it around, it would have been in serious danger of missing out on the Nike Peach Jam tournament.
The scenario was avoided when CP3 won five consecutive games in a division of the EYBL where six teams finished 13-7 or better. CP3's winning streak included three Peach Jam qualifiers: E1T1 Elite (59-47), Team Texas Titans (59-55) and Mac Irvin Fire (64-57).
Forward
Theo Pinson
of Wesleyan Christian (Greensboro, N.C.) scored 25 points in the victory over E1T1. Ten players scored against the Team Texas Titans, including a team-high 10 from two guard
Reggie Dillard
of Greensboro Day (Greensboro, N.C.). Pinson and Dillard led the way in Monday's win over Mac Irvin Fire with 14 points each. Against Mac Irvin Fire, Pinson made his presence felt by keeping plays alive on the offensive glass while Dillard's defense stood out.
"On the first night we didn't play up to par," said Pinson, ranked No. 14 in the
ESPN 60
. "Reggie really stepped up the whole weekend. He would guard the top player that was ranked on every team. He did a great job."
Field for EYBL finals set
The top five teams, based on win-loss record, in each of the EYBL's four divisions automatically qualified for the
EYBL finals
at the Peach Jam.
The four at-large teams that qualified to round out the 24-team field were E1T1 Elite (Fla.) in Division C (13-7), Baltimore Elite (Md.) in Division D (12-8), Bluff City Legends/Team Penny (Tenn.) in Division B (11-9) and Howard Pulley (Minn.) in Division D (11-9).
Parade All-Americans announced
The 2012 Parade All-American team was announced on Sunday, and as usual the list contains some of the country's biggest hoops stars. Five of the top 10 players in the ESPN 100 made the Parade team, led by No. 1
Nerlens Noel
of Tilton (N.H.). Also making the cut were No. 2
Shabazz Muhammad
, Parade's Player of the Year, No. 4
Kaleb Tarczewski
, No. 5
Kyle Anderson
and No. 9
Grant Jerrett
.
Kentucky, UCLA and Arizona lead the way with three recruits each.
Click here
to check out the full list.
Mike Grimala contributed to this report. Ronnie Flores is a senior editor for ESPNHS. He can be reached at ronnie.flores@espn.com. Don't forget to follow him on Twitter: @RonFloresESPN
May, 16, 2012
5/16/12
12:20
PM ET
By
Ronnie Flores
| ESPN.com
The last time Sports Illustrated featured a high school basketball underclassman on its cover, it was a 17-year-old prodigy from Ohio named LeBron James. Now you can add Simeon (Chicago) star
Jabari Parker
to that exclusive club, as the junior will grace the front of SI's
May 21 issue
.
Parker was the
Gatorade National Player of the Year
this season, and he's ranked
No. 1 in the class of 2013
by ESPN. Most scouts believe he's a sure thing to become an All-Star in the NBA, and SI even touts him as "the best high school basketball player since LeBron James." The smooth, 6-foot-8 forward has led Simeon to three consecutive state championships, and he's spending his summer playing with the elite
Mac Irvin Fire
AAU team.
This is a huge moment for Parker. Lots of players are ranked No. 1 at one point or another, but few reach a level where Sports Illustrated feels the need to put them on the cover. Parker will now have a ton of pressure placed upon him during his senior season, especially since he hasn't committed yet. His college decision is likely to become a huge national media story until he signs his letter of intent, and that kind of intense spotlight can have a negative effect on some players. After all, since LeBron in 2002, the only other high school baller on the cover of SI has been Sebastian Telfair (March 8, 2004), who never quite lived up to the hype.
But as the SI story points out, Parker is a humble, faith-driven kid who seems to have his head on straight. It's up to him whether he becomes the next Sebastian Telfair or the next LeBron James.
MCI drops post-grads
Maine Central Institute (Pittsfield, Maine) will drop its post-graduate basketball team, according to
The Portland Press Herald
. Last week, MCI's Board of Trustees voted to discontinue the team beginning July 1.
Post-graduate teams traditionally exist to allow student-athletes an extra year after high school to raise their academic marks in order to meet NCAA athletic eligibility standards for incoming freshmen and to further develop their basketball skills after their regular high school eligibility has expired. The school's post-graduate team produced more than 130 Division I players and 10 who eventually played in the NBA, but MCI Athletic Director Earl Anderson told the newspaper, "the post-graduate basketball program no longer fit into the vision for MCI's future."
The school opened in 1866 and the student body is made up of both boarding and local students. According to the school's website, tuition for boarding students for the 2012-13 school year is $40,850.
In year's past, prominent MCI post-graduates -- including future NBA players Erick Barkley and Caron Butler -- came under NCAA scrutiny in regards to who paid part of their tuition.
Last season, MCI's post-graduate team went 10-17 while competing in the New England Prep School Athletic Conference after winning the NEPSAC's Class AAA title in 2011. During a 10-year period in the 1990s under former coach Max Good, MCI went 275-30, won five NEPSAC titles and managed a 79-game winning streak. Good developed nine of MCI's 10 NBA players including Barkley, Butler, DerMarr Johnson and Brad Miller.
It's not clear at this time if MCI will compete only as a regular high school team in the Maine Principals' Association division of interscholastic activities.
More on post-grad front
The news about MCI dropping its post-graduate team came on the heels of The Winchendon School (Winchendon, Mass.) also leaving the NEPSAC's Class AAA ranks. The Winchendon School is looking to move down to Class C.
Despite the NEPSAC's Class AAA ranks losing two members once considered flagship programs, the news shouldn't be considered any sign of the demise of post-graduate basketball at prep schools in New England.
The NCAA's Division I Board of Directors recently implemented new eligibility requirements that will take effect in 2016 and those requirements will be tougher than ever for freshman eligibility. That will continue to make prep schools a desirable option for student-athletes looking to improve their academic marks.
Under the new NCAA academic standards, potential scholarship players must complete their required 16 core courses before their four years of high school are complete. That is likely to lead to an increased number of student-athletes leaving to a prep school prior to the completion of their senior season of high school in order to increase their chances of qualifying under the new guidelines.
NYC AAU figure passes
Ernie Lorch, the founder of the New York Riverside Church AAU program whose legacy was tarnished amid charges of sex abuse, died on May 13, according to the New York Daily News.
Lorch, who reportedly suffered from dementia and diabetes, was 80.
Lorch, a Manhattan-based lawyer, founded the Riverside Church program in 1961 as an avenue to help underprivileged New York City kids. Erick Barkley of Christ the King (Queens, N.Y.) was one of the kids he helped and the NCAA ruled Lorch paid $3,150 of Erick Barkley's tuition at Maine Central Institute for the 1997-98 school year in violation of its rules. During the NCAA's investigation of Barkley's eligibility for St. John's University, Lorch admitted to financially assisting many student-athletes over the years.
During the Riverside Church's heyday in the 1980s and 1990s, the flagship program won countless national tournaments and produced future NBA players such as Chris Mullin, Mark Jackson, Malik Sealy, Ron Artest (now Metta World Peace) and 1989 Mr. Basketball USA Kenny Anderson. The 1996 unit that included Barkley, Artest and Elton Brand, was honored in July 2007 by the Grassroots Basketball Association of America as the best Nike-sponsored AAU team ever.
Over the last decade, Lorch's legacy as an AAU pioneer was tainted by accusations of sex abuse. Because the incident was said to have occurred in the late 1970's, New York's statue of limitations laws prevented him from ever being charged. Massachusetts' statue of limitations laws are different, and Lorch was indicted in that state but never extradited to stand trial on those charges because of his dementia.
Former dropout signs with D1 school
When a 6-foot-8 junior college transfer signs with a Big Sky conference school, it usually isn't big news. When that player was a highly-regarded prospect in high school who dropped out of school before his senior season and is a main subject of a critically acclaimed book, however, it's noteworthy.
Aaron Moore, who was a freshman standout at Dominguez (Compton, Calif.) in 2005-06, signed with Portland State for the 2012-13 school year after a standout season at San Bernardino (Calif.) Junior College.
Moore's youth career and turbulent high school career was chronicled in George Dohrmann's "Play Their Hearts Out." Dohrmann, a Pulitzer Prize winner and a writer for Sports Illustrated, followed the triumphs and tragedies of a Southern California AAU team over a period of eight years. Based on the content in the book, it looked like Moore was going to be the most tragic figure among the players on the team and now he has a new chapter.
Ronnie Flores is a senior editor for ESPNHS. He can be reached at
ronnie.flores@espn.com
. Don't forget to follow him on Twitter:
@RonFloresESPN
May, 9, 2012
5/09/12
12:07
PM ET
By
Brandon Parker & Ronnie Flores
| ESPN.com
With the McDonald's All-American Game and Jordan Brand Classic now in the rear view mirror, the second annual Mary Kline Classic this past weekend offered a glimpse of tomorrow's stars.
The New Jersey-based event, which featured an underclassmen game, senior game, three-point contest and dunk contest, was organized by 17-year-old Recruit Scoop publisher Alex Kline and featured some of the best talent in the East. More importantly, $20,000 was raised toward cancer research, a cause close to Kline's heart after his mother died from brain cancer when he was 10. Here are some of the event's highlights:
Aaron Gordon injury update
Archbishop Mitty (San Jose, Calif.) forward
Aaron Gordon
may be sidelined at the moment with a broken bone in his toe, but the No. 3 player in the
ESPN 60
is adamant he'll be back to 100 percent by the end of the summer.
"I'm just gonna let it rest," said Gordon, who said surgery was unnecessary for the nagging injury. "I've been in a boot for two weeks, and I'll probably be in it for three more weeks. Then I just have to come back and knock off the rust."
The 6-foot-8 Gordon averaged 22.9 points and 12.8 rebounds while leading Archbishop Mitty to a state championship this winter. The foot had been bothering him for the better part of a year, so Gordon decided this would be the opportune time to let it heal. He figures he'll be back for most of the key AAU tournaments, and his big target is the Team USA U-17 trials.
"My goal is to be back in time for the USA Basketball tryouts in mid-June," he said. "I should be fine by then."
Future is now
College coaches' pressure to win has never been greater. The never-ending pursuit to get an edge on the competition has caused coaches and their staffs to spend more time evaluating, and in some instances offering scholarships, to players who have yet to play a high school game.
For decades, college coaches have known about the best middle school players. Nowadays, coaches are forging relationships with middle school prospects and, when permitted, spending time watching middle school games.
One of the country's top eighth graders in 6-foot-2 Eron Gordon. He is the younger brother of 2007 ESPNHS All-American Eric Gordon, who attended Indianapolis' North Central High School and currently plays for the New Orleans Hornets. This past season, Midwest colleges such as Michigan State, Butler, Indiana and Purdue watched Eron's games at Indianapolis' Westlane Middle School.
According to the
Indianapolis Star
, Indiana and Purdue have offered Eron a scholarship.
A decade ago, early offers were noteworthy when a prospect was in ninth or tenth grade, but the recruiting game is constantly changing. Some college coaches don't like watching middle school games, but it comes with the territory when coaching at a school where winning a NCAA title is the goal.
Like his older brother, Eron will also attend North Central next fall.
Love (sometimes hate) and basketball
When you're an elite hoop prospect, just about everyone shows you love -- from the coaches recruiting you to the former players and alums of those programs. Then of course, there are the die-hard fans that show up at your games, create websites and Twitter pages in your honor and send you messages about how you will achieve immortality playing at the school they religiously follow.
But when the final commitment is made and ties to those other programs are severed, things can get ugly in an instant. Scorned fans can be relentless in their attacks -- especially with the access to top recruits afforded by Twitter and Facebook -- leaving recruits to ponder what they did wrong.
This past week, Anthony Bennett of Findlay Prep (Henderson, Nev.) was the target of such an attack after he trimmed his list to UNLV and Oregon. He was met with a barrage of profane-laden tweets from Kentucky and Florida fans incensed by his decision, including several that wished injury on the No. 7 ranked player in the
ESPN 100
.
Amid the hostility, Bennett remained professional and focused on making a sound decision regarding his future. He responded to his detractors with one meaningful tweet: "… Motivation …" He is expected to make his final choice in the coming days.
David Auguste and Mike Grimala contributed to this report.
May, 2, 2012
5/02/12
11:48
AM ET
By
Ronnie Flores
| ESPN.com
Aaron Gordon
, a 6-foot-8 forward from Archbishop Mitty (San Jose, Calif.) and a third team
ESPNHS All-American
this past season, will be off the AAU circuit indefinitely because of a broken bone in his foot.
On April 24, Gordon told KOB, a television station in New Mexico, that he has a slight fracture in his toe. On May 1, his mother Shelly Davis Gordon told ESPNHS a recent MRI confirmed what the family already knew about the fracture.
"He has a fracture at the base of his toe that he played on for several months," Shelly said. "We really won't know if it will heal with time or if it has to be repaired until later this week after a CT scan. Right now, it's unclear how long he'll be out."
The No. 3 prospect in the
ESPN 60
, Gordon averaged 22.9 points, 12.8 rebounds, 2.6 assists and 2.3 blocks for the CIF Division II state champs in 2011-12 and was the first junior in 12 years to be named state player of the year by
Cal-Hi Sports
.
Hatch plans return to court
Austin Hatch
, a Canterbury (Fort Wayne, Ind.) junior who
survived a plane crash last summer
, says he still
plans to play for the Michigan Wolverines in 2013
.
Hatch's tragic story made national news in June, when a plane piloted by his father crashed while trying to make an emergency landing. Hatch's father and stepmother died in the accident, and Hatch suffered near-fatal injuries to his brain, lungs and ribs. Hatch had committed to Michigan just two weeks earlier, and Wolverines coach John Beilein will honor the scholarship.
Incredibly, it was the second plane crash Hatch has survived; in 2003, he lost his biological mother, a sister and a brother in a similar accident, which he and his father survived. Hatch is now out of the hospital, and though he hasn't played basketball and remains unsure if he'll ever regain his form, he says he's fully committed to playing for Michigan in 2013. As a sophomore, the 6-foot-6 forward hit 45 percent of his 3-point attempts.
Don't call it a comeback
After sitting out the 2011-12 season, center
Dakari Johnson
of Montverde Academy (Montverde, Fla.) is having an excellent spring so far playing for E1T1 Elite.
One of the country's few true elite pivot players is in excellent shape and has led E1T1 to a 8-1 record through two sessions of the
Nike EYBL
. Through nine games, Johnson is averaging 16.7 points and 8.6 rebounds, which is second to
Julius Randle
(9.4) of the Team Texas Titians among all EYBL participants.
The New York City native was the ESPNHS
National Freshman of the Year
in 2010-11 at St. Patrick (Elizabeth, N.Y.) before sitting out his sophomore season because of transfer rules.
Other talented prospects who college coaches and fans are eager to catch on the circuit because they missed all or portions of the 2011-12 season with injury include forward
Thomas Hamilton Jr.
of Whitney Young (Chicago, Ill.), the No. 42 prospect in the ESPN 60, and guard
Bronson Koenig
of Aquinas (La Crosse, Wis.).
Sophomore guard
James Blackmon Jr.
of Bishop Luers (Fort Wayne, Ind.) will likely miss the entire summer after tearing his ACL in early February.
Ennis the menace
Some questioned
Tyler Ennis
' selection as
Gatorade State Player of the Year
in New Jersey over
Kyle Anderson
, but the junior guard is silencing many of his critics with his play at the Nike EYBL. The 6-foot-2 Ontario native and St. Benedict's (Newark, N.J.) standout has paced CIA Bounce to a 9-0 mark at the prestigious event.
Ennis tallied a game-high 20 points to spur Bounce to a 69-55 win over the NJ Playaz during the second session in Hampton, Va. He went 8-of-15 from the field and added six boards in the victory. Ennis added 12 points and six dimes in a win over Mokan Elite and flirted with a triple double as Bounce routed The Family by 27.
David Auguste and Mike Grimala contributed to this report.
Ronnie Flores is a senior editor for ESPNHS. He can be reached at ronnie.flores@espn.com. Don't forget to follow him on Twitter: @RonFloresESPN
April, 24, 2012
4/24/12
3:55
PM ET
By
Jason Jordan & Ronnie Flores
| ESPN.com
After the first session of the prestigious Nike Elite Youth Basketball League last weekend, only six teams left Minneapolis, Minn., with unblemished records. Houston Hoops, Oakland Soldiers (Calif.), CIA Bounce (Can.), E1T1 (Fla.), California Supreme and Albany City Rocks (N.Y.) all went 4-0, and will head to Hampton, Va., this weekend for session two.
"To come out 4-0 is big time," CIA Bounce coach Mike George said. "Guys picked up right where they left off. Our goal for this year is just to take it one game and one play at a time."
Rams Run Vegas
The Florida Rams took home the adidas VIP Exclusive Run 17U title in Las Vegas on April 22 with a 77-64 win over the Garner Road Bulldogs (N.C.).
Kasey Hill
, a point guard at Montverde (Montverde, Fla.), was named MVP after dropping 16 points and dishing out eight assists in the win.
Chris Walker
, a forward at Holmes County (Bonifay, Fla.), scored 12 points and grabbed 12 rebounds and
Brannen Greene
, a shooting guard at Mary Persons (Forsyth, Ga.), added 17 points for the Rams.
Walker won the highly-anticipated individual matchup with North Carolina bound forward
Isaiah Hicks
of J.F Webb (Oxford, N.C.) by beating him on the glass, creating space in the paint and making an impact the entire contest. Hicks finished with eight points in the championship game.
Anton Gill
, a junior shooting guard at Ravenscroft (Raleigh, N.C.), led Garner Road with 17 points.
The Florida Rams also captured the 16U title with a 64-56 victory over Indiana Elite. MVP Lance Tejada of Miramar (Miramar, Fla.) finished with 16 points. The victors also got a 17-point performance from 6-foot-4
Adonys Henriquez
of Orlando Christian Prep (Orlando, Fla.).
Edwards Shines in 15s
One of the players who made the biggest impression on scouts and college coaches last weekend in Vegas was
Hyron Edwards
of Central (East Chicago, Ind.). He led the Indiana Elite to a 86-76 victory over Dream Vision (Calif.) in the adidas VIP Exclusive Run 15U title game. The 5-foot-10 freshman impressed with his feel for the game, ability as a passer and knack for making the correct play after driving the lane. Edwards, who reportedly holds offers from Indiana and Purdue, finished with a game-high 30 points.
Leading the way for Dream Vision with 22 points was 6-foot-2 freshman Stephen Thompson Jr. of Bishop Montgomery (Torrance, Calif.). He's the son of former NBA player, Syracuse star, and Crenshaw (Los Angeles) standout Stephen Thompson, who Slam Magazine named one of the 50 best dunkers of all-time in 1999. Son doesn't quite have the bounce of his father, but his shooting stroke is much more promising.
Another freshman (2015) who impressed was
Tyler Dorsey
, a 6-foot-4 combo guard at Ribet Academy (Los Angeles). Dorsey played up with Belmont Shore (Calif.) in the 17U Invitational Division at the Pangos Spring Spectacular. Belmont Shore was one of the favorites to capture the 17U title, but they were beaten by Play Hard Play Smart Elite (Calif.) in the semifinals, 84-78. That team went on to defeat the Danny Granger D1 Ambassadors Elite (N.M.) in the championship game, 94-76.
Dorsey told ESPNHS he'll likely head to another school for his sophomore season. His coach at Ribet Academy last season, William Middlebrooks, is now the coach at Cathedral (Los Angeles).
Harrell Leads U.S. to Win

Hargrave Military Academy (Chatham, Va.) forward
Montrezl Harrell
scored 24 points and snatched 12 rebounds to lead the U.S. All-Stars past the Capital All-Stars 105-93 in the Capital Classic April 21 at T.C. Williams (Alexandria, Va.).
Montrose Christian (Rockville, Md.) swingman
Justin Anderson
scored 17 points for the Capital All-Stars.
"It was a great honor for me to win MVP in that game," Harrell said. "There was a lot of talent in that game, but I had a lot of fun just playing. It was a great honor to even have been in the game."
Next year Bob Geoghan, founder of the Capital Classic, will hold the long-running all-star game for the 40th consecutive year.
Jason Jordan is the basketball editor for ESPNHS. He can be reached at
jason.x.jordan.-ND@espn.com
. Don't forget to follow him on Twitter:
@JayJayESPN
.