High-SchoolBoys-Basketball:

Who do you think you are
June, 12, 2012
6/12/12
8:00
AM ET
By
David Auguste
| ESPN.com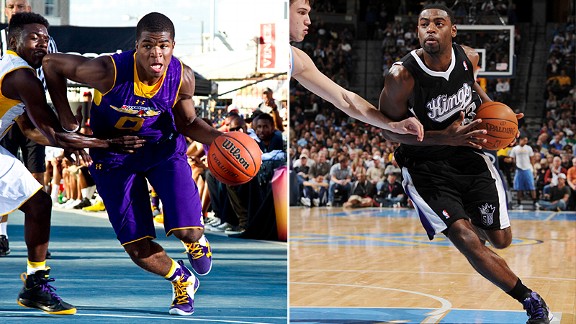 Kelly Kline and Garrett W. Ellwood/NBAE via Getty ImagesClass of 2013 No. 1 point guard Andrew Harrison likes the comparison to Kings guard Tyreke Evans.
This summer, ESPNHS will sit down with some of the nation's elite players to break down their game, talk about the inevitable comparisons to college and pro players and get their take on who they pattern their game after.
Player:
Andrew Harrison
School:
Travis (Fort Bend, Texas)
Position:
Point Guard
Height/Weight:
6-5/210
ESPN 100:
No. 3
Who is Andrew Harrison?
Harrison appears to be cut from the same cloth as the rash of scoring point guards who have popped up in recent years. The 6-foot-5, 210-pounder is the No. 3 player in the ESPN 100 and the nation's No. 1 PG. Harrison is a matchup problem for opposing floor generals, and his size, length and tight handle allow him to make a living in the paint. This past winter, he tallied 12.3 points, 6.0 dimes and 4.9 boards a contest during Travis' run to the Class 5A title game. Harrison, whose twin brother,
Aaron
, is No. 8 in the Class of 2013, holds offers from a host of hoops heavyweights, with Maryland, Baylor and national champ Kentucky vying for his services. RecruitingNation's Damon Sayles profiled the twins for an
article
on June 8.
Scouting Report
According to
ESPN RecruitingNation
, Harrison's frame, ability to change speeds in transition, deft passing and scoring punch make him one of the most dangerous players in the country. He can score in a variety of ways, killing defenders in transition or burying long-range daggers off the bounce. Harrison can get into the lane with ease to create open shots for teammates or finish via a pull-up jumper, a feathery floater or a furious dunk. Defensively, he can guard all three wing spots using his length and lateral quickness to put the cuffs on opponents.
Most frequent comparison:
Deron Williams
,
Tyreke Evans
,
Derrick Rose
, Derek Harper
ESPNHS Comparison: Deron Williams
While Harrison is built more in the mold of Tyreke Evans, his offensive creativity and ability to facilitate for others as a true point guard is more akin to that of Nets All-Star Deron Williams. And you can't discredit the Southern bloodlines, either.
Williams displayed Texas-sized talent while at The Colony (Texas), and Harrison has followed a similar blueprint to ascend to the top of the ESPN 100.
The change-of-pace factor is what sealed the deal for us. Both players can accelerate and decelerate to keep defenders off balance and boast incredible change of direction abilities, making them virtually impossible to stop in transition.
One-on-one, these two will give the business to even the staunchest defenders. Both floor generals set up opponents with the dribble before rocking them to sleep with a crossover that is simply poetry in motion. And they know what to do once they get in the lane, scoring and dishing in a variety of ways and with stunning flash. Harrison has shown an uncanny ability to finish through contact -- a staple of Williams' game.
Harrison will need to become a more consistent shooter and incorporate more of a post up arsenal to live up to the Williams' comp, but he's only a rising senior and has a solid foundation already in place.
Harrison's Comparison: Tyreke Evans
"I get the Deron Williams stuff because we can both come off of picks and pull up for threes," says Harrison. "But I first started hearing the Evans comparison in the ninth grade. I think he was still in college. I was honored to be compared to him."
Harrison is quick to note that he doesn't put much stock in player comparisons and would rather play his own brand of ball. But he doesn't shy away from the obvious similarities between himself and Evans.
"We're both big guards and we can take smaller guards off the dribble," says Harrison. "Not just with power, but speed and using the dribble."
Harrison still keeps tabs on Evans but makes a strong effort to study all of the league's elite playmakers. Games featuring Williams, Russell Westbrook and his favorite player, Derrick Rose, are on regular rotation at the Harrison house, as Andrew continues to look for new avenues for fine-tuning his game.
"I try to watch every good point guard," he says. "It's great motivation to try and catch up to those guys."
June, 5, 2012
6/05/12
10:00
AM ET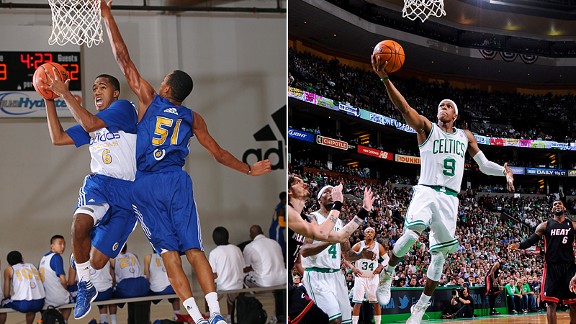 Kelly Kline/Getty Images and Brian Babineau/NBAE via Getty ImagesKasey Hill, the No. 6 player in the ESPN 100, enjoys being compared to Celtics superstar Rajon Rondo.
This summer, ESPNHS will sit down with some of the nation's elite players to break down their game, talk about the inevitable comparisons to college and pro players and get their take on who they pattern their game after.
Player:
Kasey Hill
School:
Montverde Academy (Montverde, Fla.)
Position:
Point guard
Height/weight:
6-0/170
ESPN 100:
No. 6
Who is Kasey Hill?
The term "pure point guard" is in vogue right now, and it's a label that describes Hill perfectly. A textbook floor general, Hill is always in complete command on the court. As a junior last season, he posted 15.4 points and 7.2 assists per game while guiding Montverde Academy to the finals of the
National High School Invitational
and a No. 9 ranking in the
POWERADE FAB 50
. But more impressive than the numbers is the way Hill controls the game.
"I don't get rattled under pressure," says Hill, a Florida recruit. "No matter what the defense is doing, I don't let them rush me into making decisions. I take my time and put my teammates in position to make plays."
Scouting report:
Sure, Hill can slither to the rim for lay-ups or step back and bury jumpers, but he's not a scorer -- he's a point guard first and foremost. Few high school players see the court the way Hill does, and he has the natural athleticism to make difficult passes, either on the break or in the half-court. According to
ESPN Recruiting Nation
, Hill can "get to wherever he wants on the court," combining a "tight and fluid" handle with "excellent court vision and feel for the game." His jump shot isn't perfect yet, but he shows good enough form to believe he'll eventually become a productive outside shooter. He should fit in perfectly at Florida, where coach Billy Donovan likes to run a guard-heavy spread offense.
Most frequent comparisons: Rajon Rondo, Kyrie Irving, John Wall

ESPNHS comparison: Rajon Rondo
Hill's coach at Montverde Academy, Kevin Boyle, knows a thing or two about point guards -- he also coached Kyrie Irving in high school. And some scouts see similarities between the two players, pointing to Hill as a mid-tempo point guard who can cruise into the lane at will. But we see Hill as a more natural and creative distributor, someone who can draw defenders and then whip a wraparound pass at an impossible angle and hit an open teammate in stride. Someone like Rajon Rondo, the Boston Celtics' triple-double machine. Hill can push the tempo when the opportunity is there, and his slick dribbling ability allows him to cave in defenses just like Rondo.
Kasey's comparison: Rajon Rondo
Hill says the two comparisons he hears most often are Rajon Rondo and John Wall, and he particularly enjoys the Rondo resemblance.
"People say that the way I pass is kind of like Rajon Rondo, and the way I move my feet is like John Wall," says Hill. "I love Rondo, and to say my passing is like his is like the highest level you can get. I love John Wall, too. I don't think I'm anywhere near their level yet, but I try to take things from them and put it in my game."
Follow Mike Grimala on Twitter (@MGrimalaESPN).
May, 29, 2012
5/29/12
8:00
AM ET
By
Ronnie Flores
| ESPN.com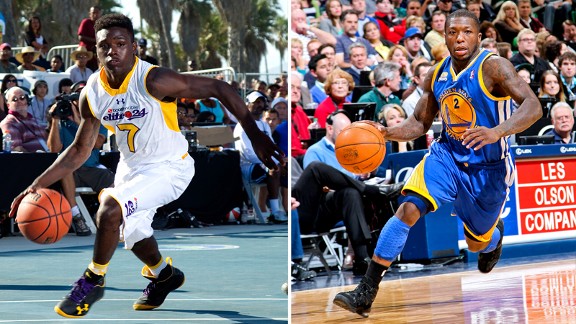 Kelly Kline, Melissa Majchrzak/NBAE via Getty ImagesPoint guard Aquille Carr, left, is happy to be compared to Golden State's Nate Robinson, who is similar in size and build.
This summer, ESPNHS will sit down with some of the nation's elite players to break down their game, talk about the inevitable comparisons to college and pro players and get their take on who they pattern their game after.
Player: Aquille Carr
School:
Patterson (Baltimore, Md.)
Position
: Point guard
Height/weight:
5-6/145
ESPN 100:
No. 78
Who is Aquille Carr?
This right-handed guard is arguably the most exciting player in high school basketball. Known for flashy offensive play, the diminutive Carr scored 1,990 points through his first three seasons of high school. As a freshman, Carr pumped in 25.5 points per game. As a sophomore, he averaged 32 points, six assists and five rebounds and led the Clippers to a 25-2 record and the Class 4A state title. Affectionately known as "The Crime Stopper" because the crime rates in Baltimore supposedly go down during Patterson games, Carr's continued improvement in translating his crowd-pleasing play into Patterson wins culminated in the state title game this year. The Seton Hall commit scored 28 points and dished out eight assists. Last summer, Carr solidified his status as one of the nation's top players by earning co-MVP honors at the Boost Mobile Elite 24 with 21 points, seven rebounds, 10 assists and four steals. He set an event record for most steals and only Brandon Jennings dished out more assists in a single game.
Scouting report
According to
ESPN RecruitingNation
, Carr's quickness, explosiveness and confidence make him an elite talent in the 2013 class. On the flip side, ESPN's scouts believe Carr's size will limit him at some point if he doesn't tone down his game, make the simple basketball play and learn to play without the ball. Many of the abilities a player his size needs at the Division I level -- quick hands and feet, compact strength, court awareness and jumping ability -- he already possesses. The abilities Carr's game lacks right now -- a jump stop to avoid charges, a pull-up to keep bigger defenders off balance and a quick catch-and-shoot to offset his height -- he can learn. If he can channel his skills on the defensive end like he does with the ball in his hands, Carr will be an impact college player.
Most frequent comparisons
:
Nate Robinson
,
Tyrone "Muggsy" Bogues
, Shawnta "Nut" Rogers
ESPNHS comparison:
Nate Robinson
There are noticeable similarities between Carr and the current Golden State Warriors guard. Obviously their height (Robinson is listed at a generous 5-foot-9) and compact bodies stand out. Both can absorb contact and finish in the key. Robinson has won the NBA's slam dunk contest three times, while "The Crime Stopper" is a
YouTube sensation
for his highlight reel dunks and acrobatic layups. Many felt Robinson had a more realistic shot at a career in the NFL rather than the NBA. He was a top 100 basketball prospect, but earned a football scholarship to Washington, where he played both sports. Carr has a football background, too, playing Pop Warner as a ninth-grader. He's expressed interest in playing for Patterson, but basketball coach Harry Martin said he'd be considered, "one of the dumbest coaches in the country" if Carr got hurt on the gridiron.
Aquille's comparison:
Nate Robinson
Carr loves the comparison to Robinson, if nothing more than to inspire improvement in his own game.
"It's a great comparison because our sizes are similar," Carr said. "He's a little stronger, but that comes from working hard."
With a unique confidence rarely seen in a player his size, Carr doesn't pattern his game after just any one player. He doesn't want to be the second anyone, just the first Aquille Carr.
Carr is also compared to a pair of Baltimore high school legends: former Dunbar sparkplug Muggsy Bouges, the shortest player ever to compete in the NBA at 5-foot-3, and playground legend Nut Rogers, the former Lake Clifton star who at 5-foot-4 was the 1999 Atlantic-10 Player of the Year for George Washington after leading the league in points, assists and steals.
"Aquille has played against Rogers and has spoken to Muggsy," Martin said. "I played against Rogers in high school and he was bigger in terms of weight and strength, but Aquille is much faster with the basketball. Muggsy was better defensively. He was phenomenal getting in and underneath his man. Aquille needs work on the defensive end, but he expends so much energy for us on offense we have him check the weaker guard. We want him to trap because he has great instincts."
If Carr improves in the areas Martin mentioned at Seton Hall, he could join Bouges (1987), Rogers (1999) and Robinson (2005) as winner of The Frances Pomeroy Naismith Award, given to the NCAA's best senior under 6-foot.
Despite his well-known bravado, Carr is savvy enough to understand that if he takes his game to the NBA level, he won't be the top scoring option for his team like he is now. Even if he doesn't want to, his game will have to pattern Robinson's.
"He's real scrappy and that's how he gets things done," Carr said.
Ronnie Flores is a senior editor for ESPNHS. He can be reached at ronnie.flores@espn.com. Don't forget to follow him on Twitter: @RonFloresESPN
May, 22, 2012
5/22/12
11:05
AM ET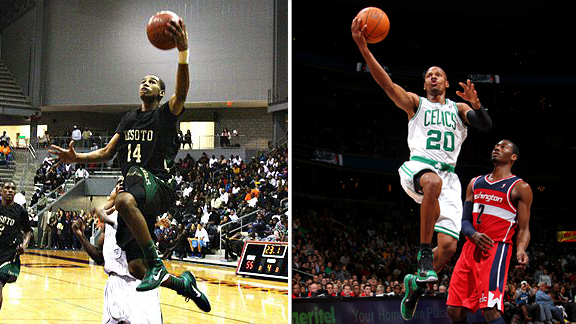 Travis L. Brown/ESPNDallas.com, Ned Dishman/NBAE via Getty ImagesDuke recruit Matt Jones, left, and NBA star Ray Allen are both prototypical shooting guards with range well past the 3-point line.
This summer, ESPNHS will sit down with some of the nation's elite players to break down their game, talk about the inevitable comparisons to college and pro players and get their take on who they pattern their game after.
Player:
Matt Jones
School:
DeSoto (Texas)
Position:
Shooting Guard
Height/Weight:
6-4/180
ESPN 60
: No. 22
Who is Matt Jones?

Rated the No. 9 shooting guard in the Class of 2013, Jones is a stone-cold assassin. His 3-point shot is already developed at an NCAA level, and he's capable of exploding at any moment. As a junior, he led DeSoto to the regional finals of the Class 5A state tournament, averaging 18.5 points, 8.5 rebounds and 3.4 assists per game. Jones has been just as good during the summer season. Going against some of the most talented AAU teams in the country during Nike Elite Youth Basketball League play, Jones is averaging 17.7 points per game and hitting 48 percent of his 3-point attempts. Jones has committed to Duke, and he seems destined to continue the Blue Devils' tradition of lights-out shooting guards (Trajan Langdon, J.J. Redick, Jon Scheyer, Austin Rivers).
Scouting Report
According to
ESPN RecruitingNation
, Jones has the prototypical build for a shooting guard. He's athletic enough to make plays in the open floor and around the rim, but his calling card is his sweet jumper. Jones might be the purest shooter in the country, with consistent catch-and-shoot range out to 20 feet.
"He's an extremely respected shooter," says Scott Pospichal, his AAU coach with the Texas Titans. "Teams know not to leave him. We run him off screens, and he's good at the pull-up, too. He can really shoot the ball."
Most frequent comparisons: Ray Allen, J.J. Redick
ESPNHS Comparison: Gordon Hayward
Jones' range and size make observers think of classic snipers like Ray Allen and J.J. Redick, but we see his game resembling that of up-and-coming Utah Jazz star Gordon Hayward. There is a size difference, as Hayward is one of the NBA's taller shooting guards at 6-foot-8, but everything else lines up. While Allen and Redick rely on deft footwork to curl around screens and pop long jumpers, Jones (like Hayward) is more of a spot-up shooter with less elevation on his release.
Jones also has enough length, athleticism and quickness to occasionally jump into passing lanes and disrupt things defensively. Gordon makes a living by deflecting passes, sneaking in for offensive putbacks and drilling 3-pointers (38.6 percent for his career), and we can see Jones evolving into the same type of player.
"I like to do a little bit of everything," says Jones. "I take pride in my defense. I can shoot off the dribble, and I have a quick first step. I try to contribute any way I can."
Matt's Comparison: Ray Allen

Jones has been hearing the Ray Allen comparisons for a long time, and he takes it as a compliment.
"A lot of people like to compare me to Ray Allen or J.J. Redick," he says. "I just feel blessed and grateful to be compared to great shooters like that. Ray Allen is one of the greatest of all-time, so that's an honor to be mentioned with him."
Jones says he is trying to get stronger over the summer, and he's also working on his ball handling. Allen was an underrated slasher in his prime, so Jones will need to continue tightening his handle if he wants to be the next "Jesus Shuttlesworth."
Mike Grimala covers high school sports for ESPNHS. Be sure to follow him on Twitter (@MGrimalaESPN).
May, 15, 2012
5/15/12
11:15
AM ET
By
David Auguste
| ESPN.com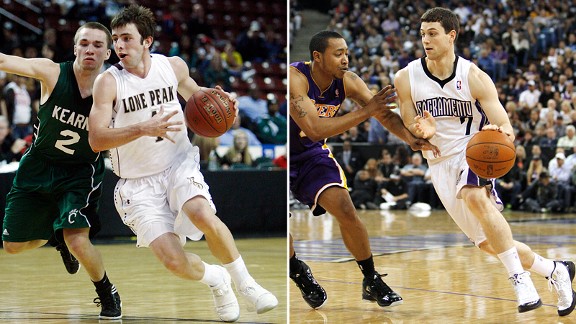 Deseret News, Scott G. Winterton and AP Photo/Rich PedroncelliBYU commit Nick Emery, left, is a 6-foot-2 guard with ridiculous scoring ability and range. It's hard not to compare him to former BYU scoring machine Jimmer Fredette.
This summer, ESPNHS will sit down with some of the nation's elite players to break down their game, talk about the inevitable comparisons to college and pro players and get their take on who they pattern their game after.
Player:
Nick Emery

School:
Lone Peak (Highland, Utah)
Position:
Combo Guard
Height/Weight:
6-2/180
ESPN 60
: No. 52
Who is Nick Emery?
Emery is a smooth-stroking lefty whose game consists of seemingly endless range on his jumper, combined with an uncanny ability to get to the rack at will. The combo guard's immense talents, non-stop motor and extreme competitiveness endears him to fans and coaches while frustrating opponents to no end. Emery pumped in 21.7 points, ripped down 4.3 boards and dished out 2.4 dimes a contest to cop Class 5A MVP honors this past winter. The BYU commit led the Knights to their second consecutive state crown in April and earned a spot on the
ESPNHS Underclass All-American
squad. He is the younger brother of former Cougar guard Jackson Emery and garnered Gatorade State Player of the Year honors as a sophomore.
Scouting Report
According to ESPN RecruitingNation, Emery is an extremely confident player who is a prolific shot-maker and can finish in the lane through contact despite not having prototypical 2-guard quickness. He is a calculated player who bides his time with the dribble before unleashing a textbook jumper and makes sagging defenders pay with his NBA range. When he's not filling up the basket, Emery is adept at creating easy buckets for teammates. His knack for burying long-range daggers helps space the floor for other wing players and could make him an instant hit whenever he lands on BYU's campus.
Most frequent comparison: Jimmer Fredette, Manu Ginobili, Jackson Emery
ESPNHS Comparison: Jimmer Fredette
Come on, a 6-foot-2 guard heading to BYU with ridiculous scoring ability and range? You know you were thinking it, too. ESPN senior analyst Dave Telep cosigns the comparison stating, "During his formative basketball years, the guy Nick saw the most was Jimmer. It's easy to say, here's a white kid from Provo, Utah, going to BYU and think Jimmer. But I think with this kid it works. Someone else could try and take some of the things Jimmer could do and it would look fake. But this guy has that game and an unwavering confidence."
Before slaying Mountain West Conference defenders to the tune of 18.7 career points, Fredette made a name for himself at Glen Falls High (N.Y.) with his scoring punch. The 6-foot-2 scoring machine kept rolling once he got to BYU, emerging as Division I's premier perimeter shooter while leading the nation in scoring as a senior (28.9 ppg).
Emery's height, ability to play either guard spot and penchant for pulling up from long distance mirrors that of Fredette's. There's no questioning either player's ability to score, but one constant knock on their game is their ability to defend at the other end. Quickness and ball handling are other areas of concerns but take a back seat to the duo's production on the offensive end.
Nick's Comparison: Fredette
Emery fully embraces the comparisons to Fredette and admits he models his game after the BYU legend.
"My brother was at BYU, so I watched Jimmer play a lot in college," Emery said. "I try and emulate the way he moves and the way he finishes around the basket.
The similarities in Emery's game can also be attributed to one-on-one sessions the two engaged in at BYU's practice facilities. There, Emery got a first-hand look at what catapulted Fredette to the 2011 AP Player of the Year.
"He likes to shoot from deep and I like to shoot from deep," Emery says. "If I feel open once I cross halfcourt, I'm shooting."
To become a more well-rounded player and a better offensive threat, Emery is looking to incorporate more of Ginobili's repertoire into his own arsenal. This summer's focus will be on honing his handle and crossover as well as fine-tuning an already potent euro step.
"I want to be a blend of those two guys and I love how crafty Manu is," Emery said. "I love winning, and being in a winning environment. Both of those guys are winners."
David Auguste covers high school sports for ESPNHS. Be sure to follow him on Twitter @DAugusteESPN or email him at David.Auguste@espn.com.
May, 8, 2012
5/08/12
10:20
AM ET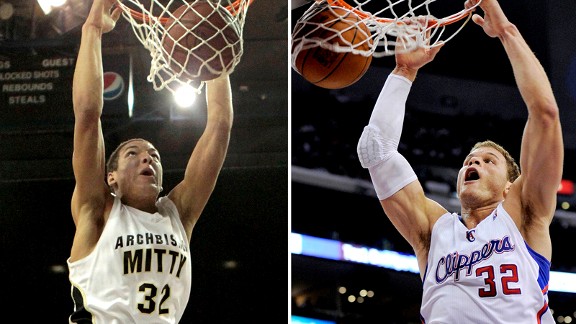 AP Photo/Rich Pedroncelli, AP Photo/Mark J. TerrillNo. 3 junior Aaron Gordon is most frequently compared to Clippers power forward Blake Griffin.
This summer, ESPNHS will sit down with some of the nation's elite players to break down their game, talk about the inevitable comparisons to college and pro players and get their take on who they pattern their game after.
Player:
Aaron Gordon
School:
Archbishop Mitty (San Jose, Calif.)
Position:
Small forward/power forward
Height/weight:
6-8/210
ESPN 60:
No. 3
Who is Aaron Gordon?
With a devastating inside-out game and elite athleticism, Gordon has been one of the top frontcourt prospects in the country for the past few years. He's led Archbishop Mitty to back-to-back state championships, posting a line of 33 points and 20 rebounds in the most recent title game win. For the 2011-12 season, Gordon averaged 22.9 points, 12.8 rebounds and 2.3 blocks per game, earning him
Cal-Hi Sports Mr. Basketball
honors. He should be on the short list for Gatorade National Player of the Year next season.
Scouting report
According to
ESPN RecruitingNation
, Gordon uses his length, athleticism and high-energy motor to dominate the paint. He does major damage on tip-ins and putbacks, relentlessly attacking the ball off the rim. He's also improving his perimeter skills, taking bigger defenders outside and driving past them with a tight handle and quick first step. Gordon is one of the top finishers in the country, easily getting above the rim and slamming the ball with authority. He's the type of recruit who can change a college program as a freshman, which is why schools like Kentucky and Arizona are going after him hard.
Most frequent comparison:
Blake Griffin
ESPNHS comparison:
Derrick Williams
The most obvious similarity between Gordon and Minnesota Timberwolves forward
Derrick Williams
is that they can both fly. At Arizona, Williams put himself on the map by viciously dunking on Duke repeatedly in the 2011 NCAA tournament, and Gordon has that type of ability. And just as the 6-foot-8 Williams is carving out a role as a swing forward in the NBA, Gordon also falls somewhere between being a classic 3 or 4. Williams shot 51 percent from 3-point range in college, so Gordon is going to have to keep working on his stroke in order to make the transition to the perimeter. He's already got good ball-handling ability and solid mechanics on his jumper.
Gordon's comparison:
Scottie Pippen
Gordon doesn't necessarily agree with the comparison he hears most often --
Blake Griffin
. "I think that's people's way of saying that I'm one-dimensional, that all I can do is dunk," says Gordon. "I think I have more perimeter skills than that."
In fact, Gordon sees himself resembling one of the most skilled small forwards of all time in former Chicago Bulls star
Scottie Pippen
. At 6-foot-8, 228 pounds, Pippen wasn't much bigger than Gordon is now. He won six NBA championships and earned a reputation as one of the most well-rounded stars in NBA history, averaging 16.1 points, 6.4 rebounds, 5.2 assists and 2.0 steals for his career. He often served as a primary ball-handler and distributor, and he was selected to the NBA's All-Defensive first team eight times.
Gordon believes he can develop that type of skill set.
"I'm definitely more of a Pippen," he says. "I think eventually I'm going to be most effective facing the basket and working out near the 3-point line. I could even develop more explosiveness and play as a really big 2."
Follow Mike Grimala on Twitter @ESPNHSGrimala.
May, 1, 2012
5/01/12
11:54
AM ET
By
Ronnie Flores
| ESPN.com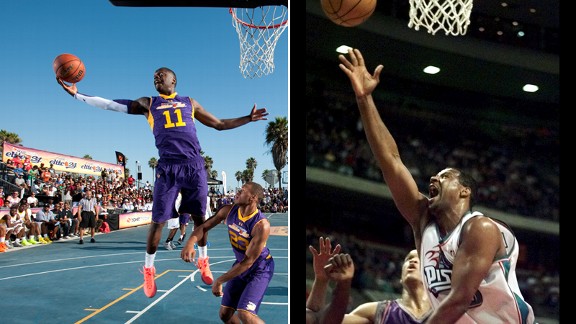 Kelly Kline and AP Photo/Duane BurlesonWe compare class of 2013 power forward Julius Randle, left, to Billy Owens, former NBA and Syracuse forward from Carlisle High School (Pa.), class of 1988.
This summer, ESPNHS will sit down with some of the nation's elite players to break down their game, talk about the inevitable comparisons to college and pro players and get their take on who they pattern their game after.
Player:
Julius Randle
School:
Prestonwood Christian (Plano, Texas)
Position:
Power forward
Height/weight:
6-9/225
ESPN 60
: No. 2
Who is Julius Randle?
The left-handed combo forward has been one of the top players nationally in the 2013 class since middle school. Randle delivers as a high school player, leading Prestonwood to consecutive Texas Association of Private and Parochial Schools Class 5A state crowns. As a junior, he put his school in the national spotlight by leading the team to the title at the prestigious City of Palms Classic, where he earned MVP honors. For the season, the second team
ESPNHS All-American
averaged 21.1 points, 9.2 rebounds and 2.7 assists a game while shooting 65.2 percent from the floor. Next season, Randle will have a good shot to become Texas' first
Mr. Basketball USA selection
since Rashard Lewis of Elsik (Houston) in 1998.
Scouting report
According to
ESPN RecruitingNation
, Randle is a pro in the making. He can drive going in either direction, has touch around the rim, but can also powerfully finish with contact. Randle has range, but is prone to being streaky from the outside. In a nutshell, he can dominate smaller players inside and is too athletic for post players to handle. When he is on, like he was during stretches of the 2011 Nike EYBL, Randle has the look of a top 10 to 15 prospect of the past decade.
Most frequent comparisons:
Marvin Williams, Caron Butler, Billy Owens
ESPNHS
comparison:
Billy Owens
There are great similarities between Randle and the former Syracuse and Carlisle (Pa.) All-American who spent 10 years in the NBA. Owens, also proficient with his left-hand, was a top 5 prospect in 1988 and led his high school team to multiple state championships. Owens was powerfully built and a huge matchup problem on the high school and college level. He wasn't nearly as powerful as Randle, but high school players 25 years ago didn't have NBA-ready bodies nearly as often as they do today. What Owens did possess was an overall feel for the game that made teammates better and passing abilities that are rare for a 6-foot-8 player. Randle won't necessarily pick up those same traits if he doesn't already have them, but if he can learn to stay locked-in for a complete game instead of stretches, the sky is the limit.
Julius'
comparison:
LeBron James
Since Billy Owens was in his prime before Randle was born, naturally he doesn't really know anything about Carlisle's most famous athlete next to Jim Thorpe. Ever the student, Randle said he's "going to look him up to see what he's about."
Randle is a classic inside-out player who national scouts love because of his ability as an offensive threat across the entire floor, so he found it difficult to compare himself to one player. He does, however, have an affinity for the current Miami Heat star.
"I don't know if I can compare my game to just one player because I think I'm a mixture of players," Randle said. "On the perimeter, I use my speed, strength and handle sort of like LeBron to get where I want on the floor. I'm also able to make plays for my teammates."
Randle knows where his "money" is, too.
"In the post, I have moves also, so I would say I'm sort of like Amar'e Stoudemire or Zach Randolph, but more explosive."
The Prestonwood Christian standout is working hard to expand his game and incorporate some of the moves of his favorite player -- Kobe Bryant.
"Right now, I'm working on being a better defender and also my in-between game like pull-ups. So I watch a lot of Melo (Carmelo Anthony) and also my favorite player Kobe to see how they create space."
Ronnie Flores is a senior editor for ESPNHS. He can be reached at ronnie.flores@espn.com. Don't forget to follow him on Twitter: @RonFloresESPN