Nerlens Noel, Tilton (Tilton, N.H.)
Maybe it's the litany of blocked shots he records every time he steps on the court. Or the multitude of opposing players who settled for a jumper rather than testing "The Eraser." Or maybe it came down to the high-top fade (don't front, y'all love the hair). Whatever the case, Noel was a hit with fans during the first round of voting. Those lucky enough to see the 6-foot-11 defensive maestro in person witnessed him open the year on a tear defensively and record a statement performance at the City of Palms Classic with averages of 19 rebounds, 8.5 points and 5.0 blocks. With wins over national powers Huntington Prep (Huntington, W.Va.) and St. Mark's (Southborough, Mass.), Noel is making a strong push to reach the finals.
Rodney Purvis, Upper Room Christian (Raleigh, N.C.)
We billed "Runnin' Rod" as a relentless scorer at the beginning of last round's voting, and the kid has held true to form by pouring in better than 25 points a contest through the first two months of the season. And Purvis has been more than just a scorer. He's also checking in at nearly seven rebounds a game and has increased his role as a facilitator with five dimes a contest. And if that's not enough to merit your vote, Purvis had the Twitterverse on lock after video surfaced of his one-handed posterization of a 7-foot defender during a holiday tourney. And did we mention a certain lightning-quick Carolinian currently shaking NBA cats in the nation's capital is also advocating for Purvis?
Discuss this matchup on Twitter #espnhsfans
Check out the players' campaign videos and see the first-round entrants on the player intro page.
---
The choice is yours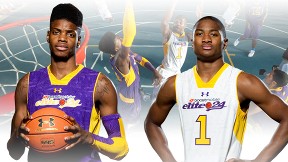 Who are you rolling with: Defensive-minded center Nerlens Noel (left) or prolific scoring shooting guard Rodney Purvis?