Back in November, we launched the first ESPNHS Fans' Choice Player of the Year award with eight of the nation's top players in the running for the honor. Well, we're down to the final two candidates, so it's time for you fans to really make your vote count.
Wolfpack nation spoke up in the semifinals to help senior Rodney Purvis coast by Nerlens Noel, while junior Julius Randle got an assist from his fans in Big D to take down Shabazz Muhammad.
We caught up with the two good friends one final time for a quick update on their seasons and to get their final campaign speeches.
Rodney Purvis, Upper Room Christian (Raleigh, N.C.)
What it would mean to be voted POY by the fans: "I just think it's different because it's based off what the fans think and the fans are what's important. I really love all of my fans. I appreciate them. All of my fans are really loyal and I really appreciate that."
Highlight of this season: "Making the Jordan and McDonald's All-American game."
Final campaign message: "I think people should vote for me because I put God first and I'm a fun kid. Also I like my fans and I just love the game of basketball. Thanks so much for all of your votes guys."
Julius Randle, Prestonwood Christian (Plano, Texas)
What it would mean to be voted POY by the fans: "It would mean a lot to me that I have support from all around the country. I'm grateful for that."
Highlight of this season: "The highlight of my current season would definitely be winning the City of Palms. Great team effort. We really came together during that time."
Final campaign message: "Fans vote for me! I've had a pretty good season, and I still have that meal to cook for one of you!"
Discuss this matchup on Twitter #espnhsfans
Check out the players' campaign videos and see the first-round entrants on the player intro page.
---
The choice is yours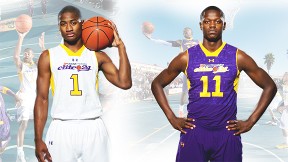 Who will be the last man standing: Rodney Purvis or Julius Randle?