Final sales pitches for McGary
November, 2, 2011
11/02/11
1:43
AM ET
By
Jason Jordan
| ESPN.com
Related Link:
McGary Blog: Ready To Decide
As the country waits to hear
Mitch McGary
announce where he's decided to play college ball, recruits who are committed to his final three schools – Michigan, Duke and Florida – have decided to take one last stab at selling McGary on their future schools.
Makes sense since McGary told
ESPNHS
that, contrary to popular belief, he's still undecided.
Here are the sales pitches: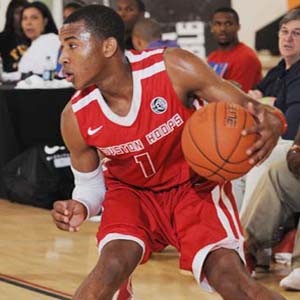 Scott Kurtz/ESPNHSDuke recruit Rasheed Sulaimon thinks the Blue Devils are a no-brainer for Mitch McGary.
"Join the Evil Empire."
Rasheed Sulaimon
, Strake Jesuit (Houston), 2012, SG
Committed to:
Duke
"Mitch, you definitely need to be a Blue Devil because you're absolutely a Duke player. You fit into our style really well and with the guys we'll have coming in we'll be able to accomplish some really big things. I think we can win a national championship our freshman year with all of the talent that we'll have on the team and compete for multiple titles after that. Also, Mitch, it doesn't get better than playing for
Coach K
(
Mike Krzyzewski
). He's the USA Basketball coach and he's linked to every great basketball player in the NBA. Plus he's about to be the all-time winningest coach in college basketball history. Who else can say that? Why wouldn't you want to play for the best coach and the best program? Plus, the social life at Duke is great. We've got the most dedicated fans in the world. What are you waiting for?"
"Bring the Wolverines back to the Fab Five days."
Glenn Robinson III
, Lake Central (St. John, Ind.), 2012, SF
Committed to:
Michigan
"Mitch, please come to Michigan man. We've been playing together for years in AAU and we've combined to do big things on that level. I know we'll only continue it in college. We'll have a top five recruiting class and we'll bring Michigan back to the Fab Five days. We'll change the whole program around and bring them back to national title contenders if you come. Plus, Michigan is one of the most fun campuses in the country. All of the students are so supportive of the basketball program. All of the students know everything about you. You'll get so much more attention here. We've got a great academic reputation, of course, and we've got some of the best looking girls in the country. Everything that you want and need is here at Michigan."
"No-brainer to be a Gator."
Braxton Ogbueze
, United Faith Christian Academy (Charlotte, N.C.), 2012, PG
Committed to:
Florida
"Mitch, Florida is where you need to be because it's a great fit for you. Coach
(Billy) Donovan
is the best coach that you can possibly be coached by. He knows how to work his guards and big men together perfectly and there's no better place than Florida. Think about it, millions of people come to Florida every year for vacation so why wouldn't you want to spend your college career here? It would be a smart decision to come here because you'll get better and you'll win and you'll be in a great location around great people. Then you've got the great weather and the young ladies here are beautiful. Second to none."
Jason Jordan is the basketball editor for ESPNHS. He can be reached at
jason.x.jordan.-ND@espn.com
. Don't forget to follow him on Twitter:
@JayJayESPN