High-SchoolBoys-Basketball:

Aaron Gordon
August, 9, 2012
8/09/12
1:42
PM ET
By
Ronnie Flores
| ESPN.com
The final 12 players selected to participate in the seventh annual Under Armour Elite 24 event at California's Venice Beach were announced on Thursday.
Featuring 24 of the nation's top high school basketball players, Under Armour Elite 24 participants are selected based on their performance during AAU tournaments and national summer camps by ESPN high school basketball experts. The
first 12 players
were announced last week.
The 2012 Under Armour Elite 24 will be held at the Venice Beach Courts in Los Angeles Aug. 24-25. The game airs live on ESPNU at 7 p.m. ET Aug. 25, while the Under Armour Slam Dunk Contest will air Aug. 24 at 7 p.m. ET on ESPNU.
Aaron Gordon
, ranked No. 6 in the
ESPN 100
, leads the class of 2013 contingent. Also included is
Jabari Bird
, ranked No. 20 in the ESPN 100 and Gordon's teammate on the Oakland Soldiers AAU club. The duo led the Oakland Soldiers to the Nike Peach Jam title last month. The Elite 24 roster includes five of the top 10 players in the ESPN 100.
Tyus Jones
, the No. 2-ranked player in the
ESPN 60
, leads the class of 2014 contingent. Three of the top six players in the ESPN 60 are on the Elite 24 roster.
Five Under Armour Elite 24 players have committed to colleges:
Nate Britt
II to North Carolina,
Aquille Carr
to Seton Hall,
Nigel Williams-Goss
to Washington, and both
Conner Frankamp
and
Brannen Greene
to Kansas.
Below is the full list of the second 12 players selected to the game. The specific team rosters and dunk contest participants will be announced prior to the event. To view the first dozen players,
CLICK HERE
.
Join
our Under Armour Elite 24 fan page on Facebook and don't forget to follow the event on twitter:
@UAElite24
May, 24, 2012
5/24/12
12:35
PM ET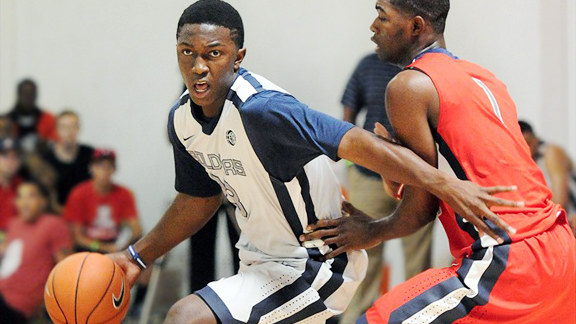 Chris Williams/Icon SMIStanley Johnson's "meat and potatoes" game has powered the Oakland Soldiers this summer.
Each week this summer leading up to the AAU National Championships in Orlando in July, ESPNHS will profile one of the nation's top AAU teams and tell you why you should be paying attention.
Team:
Oakland Soldiers

Location:
Oakland, Calif.

Coach:
Mark Olivier
What you need to know about the Oakland Soldiers:
The Oakland Soldiers are probably best known for being one of
LeBron James
' AAU teams back when the King was in high school, but the program has produced enough NBA talent in addition to James to form its own All-Star team.
Coach Mark Olivier says that's one of the reasons why the Soldiers are able to draw such elite talent, year after year.
"I think we have a history that makes kids want to play for us," says Olivier. "Guys like LeBron James played for us. And in the last couple years we've had
Nick Johnson
,
Jabari Brown
. That's a draw for kids."
The current roster is loaded with elite prospects, led by
Aaron Gordon
and
Jabari Bird
, both of whom are highly ranked in the
Class of 2013
. Gordon, a 6-foot-7 forward, can
dominate the paint and play in the open court
, while Bird is one of the nation's top scoring guards. Small forward
Stanley Johnson
is ranked No. 28 in the
Class of 2014
, with multiple Division I offers already on the table.
"We've got a really well-rounded team," says Gordon. "We don't have a lot of bigs, but we have a lot of athletes who can get out and run. We outrun other teams."
The Soldiers are currently playing without Gordon, who is resting a foot injury, and Bird has been forced to miss time with a shoulder injury. But the team has hardly missed a beat, compiling an impressive 9-5 record in Nike Elite Youth Basketball League play. Johnson has come up big, leading the team with 16.1 points per game in EYBL action.
"My role kind of changed when we had the injuries," says Johnson. "I went from basically having one-third of the scoring load to having two-thirds of the scoring load. I'm just trying to do a little bit of everything."
Key Players:
Aaron Gordon, F, 2013: Gordon is currently sitting out with a broken bone in his foot, but he's progressing nicely and expects to be back by the end of the summer. "He told me he could play right now if he had to," says Olivier. "But the foot needs rest. He'll be back at 100 percent." Gordon is No. 4 in the ESPN 100.
Jabari Bird, G/F, 2013: A 6-foot-5 swingman, Bird possesses a deadly outside shot. "I think he's the best mid-range shooter in the country," says Gordon. "I know that's a bold statement, but I really think he's the best." Bird is averaging 11.2 points per game during EYBL play. He's ranked No. 11 in the ESPN 100.
Stanley Johnson, F, 2014: A 6-foot-5 forward, Johnson has stepped up in Gordon's absence, averaging a team-high 16.1 points during EYBL play. He's also posting 6.6 rebounds per game and shooting 50 percent from the floor. "He's a meat-and-potatoes player," says Olivier. "He's just so fundamentally sound. He's the ultimate team player."
Key Dates:
EYBL Session 4: May 25-27 in Oakland, Calif.
Nike Peach Jam: July 18-22 in Augusta, S.C.
Fab 48 AAU Finals: July 22-28 in Las Vegas
The Soldiers came up short at last year's Nike Peach Jam but rebounded to take the FAB 48 title in Las Vegas. They would like to win both crowns this season, and once Gordon returns to the lineup, they may have to be considered the favorite at both events.
"When we had everybody playing, we were really good," says Johnson. "So I think as we start to get them back and the season goes on and we get more practice, I think we'll be able to compete for the final four at Peach Jam, or even win the championship."
"That's our main focus this summer," says Gordon. "We don't just want to get to Peach Jam, we want to compete and come out on top there."
Famous Alums:
LeBron James (Three-time NBA Most Valuable Player)
Kendrick Perkins
(2003 1st-round NBA Draft pick)
Chauncey Billups
(2004 NBA Finals Most Valuable Player)
Brandon Jennings
(2009 1st-round NBA Draft pick)
Follow Mike Grimala on Twitter (@MGrimalaESPN).
May, 9, 2012
5/09/12
12:07
PM ET
By
Brandon Parker & Ronnie Flores
| ESPN.com
With the McDonald's All-American Game and Jordan Brand Classic now in the rear view mirror, the second annual Mary Kline Classic this past weekend offered a glimpse of tomorrow's stars.
The New Jersey-based event, which featured an underclassmen game, senior game, three-point contest and dunk contest, was organized by 17-year-old Recruit Scoop publisher Alex Kline and featured some of the best talent in the East. More importantly, $20,000 was raised toward cancer research, a cause close to Kline's heart after his mother died from brain cancer when he was 10. Here are some of the event's highlights:
Aaron Gordon injury update
Archbishop Mitty (San Jose, Calif.) forward
Aaron Gordon
may be sidelined at the moment with a broken bone in his toe, but the No. 3 player in the
ESPN 60
is adamant he'll be back to 100 percent by the end of the summer.
"I'm just gonna let it rest," said Gordon, who said surgery was unnecessary for the nagging injury. "I've been in a boot for two weeks, and I'll probably be in it for three more weeks. Then I just have to come back and knock off the rust."
The 6-foot-8 Gordon averaged 22.9 points and 12.8 rebounds while leading Archbishop Mitty to a state championship this winter. The foot had been bothering him for the better part of a year, so Gordon decided this would be the opportune time to let it heal. He figures he'll be back for most of the key AAU tournaments, and his big target is the Team USA U-17 trials.
"My goal is to be back in time for the USA Basketball tryouts in mid-June," he said. "I should be fine by then."
Future is now
College coaches' pressure to win has never been greater. The never-ending pursuit to get an edge on the competition has caused coaches and their staffs to spend more time evaluating, and in some instances offering scholarships, to players who have yet to play a high school game.
For decades, college coaches have known about the best middle school players. Nowadays, coaches are forging relationships with middle school prospects and, when permitted, spending time watching middle school games.
One of the country's top eighth graders in 6-foot-2 Eron Gordon. He is the younger brother of 2007 ESPNHS All-American Eric Gordon, who attended Indianapolis' North Central High School and currently plays for the New Orleans Hornets. This past season, Midwest colleges such as Michigan State, Butler, Indiana and Purdue watched Eron's games at Indianapolis' Westlane Middle School.
According to the
Indianapolis Star
, Indiana and Purdue have offered Eron a scholarship.
A decade ago, early offers were noteworthy when a prospect was in ninth or tenth grade, but the recruiting game is constantly changing. Some college coaches don't like watching middle school games, but it comes with the territory when coaching at a school where winning a NCAA title is the goal.
Like his older brother, Eron will also attend North Central next fall.
Love (sometimes hate) and basketball
When you're an elite hoop prospect, just about everyone shows you love -- from the coaches recruiting you to the former players and alums of those programs. Then of course, there are the die-hard fans that show up at your games, create websites and Twitter pages in your honor and send you messages about how you will achieve immortality playing at the school they religiously follow.
But when the final commitment is made and ties to those other programs are severed, things can get ugly in an instant. Scorned fans can be relentless in their attacks -- especially with the access to top recruits afforded by Twitter and Facebook -- leaving recruits to ponder what they did wrong.
This past week, Anthony Bennett of Findlay Prep (Henderson, Nev.) was the target of such an attack after he trimmed his list to UNLV and Oregon. He was met with a barrage of profane-laden tweets from Kentucky and Florida fans incensed by his decision, including several that wished injury on the No. 7 ranked player in the
ESPN 100
.
Amid the hostility, Bennett remained professional and focused on making a sound decision regarding his future. He responded to his detractors with one meaningful tweet: "… Motivation …" He is expected to make his final choice in the coming days.
David Auguste and Mike Grimala contributed to this report.
May, 8, 2012
5/08/12
10:20
AM ET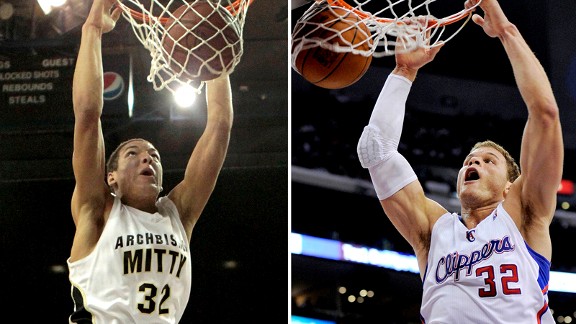 AP Photo/Rich Pedroncelli, AP Photo/Mark J. TerrillNo. 3 junior Aaron Gordon is most frequently compared to Clippers power forward Blake Griffin.
This summer, ESPNHS will sit down with some of the nation's elite players to break down their game, talk about the inevitable comparisons to college and pro players and get their take on who they pattern their game after.
Player:
Aaron Gordon
School:
Archbishop Mitty (San Jose, Calif.)
Position:
Small forward/power forward
Height/weight:
6-8/210
ESPN 60:
No. 3
Who is Aaron Gordon?
With a devastating inside-out game and elite athleticism, Gordon has been one of the top frontcourt prospects in the country for the past few years. He's led Archbishop Mitty to back-to-back state championships, posting a line of 33 points and 20 rebounds in the most recent title game win. For the 2011-12 season, Gordon averaged 22.9 points, 12.8 rebounds and 2.3 blocks per game, earning him
Cal-Hi Sports Mr. Basketball
honors. He should be on the short list for Gatorade National Player of the Year next season.
Scouting report
According to
ESPN RecruitingNation
, Gordon uses his length, athleticism and high-energy motor to dominate the paint. He does major damage on tip-ins and putbacks, relentlessly attacking the ball off the rim. He's also improving his perimeter skills, taking bigger defenders outside and driving past them with a tight handle and quick first step. Gordon is one of the top finishers in the country, easily getting above the rim and slamming the ball with authority. He's the type of recruit who can change a college program as a freshman, which is why schools like Kentucky and Arizona are going after him hard.
Most frequent comparison:
Blake Griffin
ESPNHS comparison:
Derrick Williams
The most obvious similarity between Gordon and Minnesota Timberwolves forward
Derrick Williams
is that they can both fly. At Arizona, Williams put himself on the map by viciously dunking on Duke repeatedly in the 2011 NCAA tournament, and Gordon has that type of ability. And just as the 6-foot-8 Williams is carving out a role as a swing forward in the NBA, Gordon also falls somewhere between being a classic 3 or 4. Williams shot 51 percent from 3-point range in college, so Gordon is going to have to keep working on his stroke in order to make the transition to the perimeter. He's already got good ball-handling ability and solid mechanics on his jumper.
Gordon's comparison:
Scottie Pippen
Gordon doesn't necessarily agree with the comparison he hears most often --
Blake Griffin
. "I think that's people's way of saying that I'm one-dimensional, that all I can do is dunk," says Gordon. "I think I have more perimeter skills than that."
In fact, Gordon sees himself resembling one of the most skilled small forwards of all time in former Chicago Bulls star
Scottie Pippen
. At 6-foot-8, 228 pounds, Pippen wasn't much bigger than Gordon is now. He won six NBA championships and earned a reputation as one of the most well-rounded stars in NBA history, averaging 16.1 points, 6.4 rebounds, 5.2 assists and 2.0 steals for his career. He often served as a primary ball-handler and distributor, and he was selected to the NBA's All-Defensive first team eight times.
Gordon believes he can develop that type of skill set.
"I'm definitely more of a Pippen," he says. "I think eventually I'm going to be most effective facing the basket and working out near the 3-point line. I could even develop more explosiveness and play as a really big 2."
Follow Mike Grimala on Twitter @ESPNHSGrimala.
May, 4, 2012
5/04/12
8:00
AM ET
By
Ronnie Flores
| ESPN.com
Three juniors already named
ESPNHS All-Americans
headline a group of 60 elite players selected to the 2011-12 ESPNHS Underclass All-American boys' basketball watch list.
Headlining this year's watch list heading into the intense AAU summer season are junior forwards
Jabari Parker
of Simeon (Chicago), this year's
National Junior Player of the Year
,
Julius Randle
of Prestonwood Christian (Plano, Texas) and
Aaron Gordon
of Archbishop Mitty (San Jose, Calif.).
While the trio and the 57 other honorees all had standout campaigns for their high school teams, others are sure to emerge this summer as bona fide All-America candidates heading into the 2012-13 season. Nearly every summer on the circuit, well-known players are eclipsed by lesser-known commodities, and every so often a prospect comes out of nowhere to emerge as a
Mr. Basketball USA
candidate.
The last player to make such a quantum leap was Kentucky's
Anthony Davis
, who attended Perspectives Charter (Chicago). In the spring of 2010, he was a virtual unknown on the high school basketball scene. Two years later, he's the likely No. 1 pick of the 2012 NBA draft.
Parker and Randle were Mr. Basketball USA candidates as juniors, and Sophomore Player of the Year
Andrew Wiggins
of Huntington Prep (Huntington, W.Va.) will likely be in the same situation next season. The 6-foot-7 wing averaged 24.2 points and 8.5 rebounds for a 28-2 team and his play so far this spring has put him in the conversation as the best player in the country, regardless of class.
Wiggins just missed making the ESPNHS All-America team, while guard
Tyus Jones
of Apple Valley (Minn.) just missed selection to the 30-player honorable mention list. Jones' play so far in the Nike EYBL puts him right on par with any underclass guard in the country, including
honorable mention
pick
Kasey Hill
of Montverde Academy (Montverde, Fla.). The
Minnesota Gatorade State Player of the Year
is the EYBL's third-leading scorer (20.8) and is leading in assists (6.5) through the first two sessions.
2011-12 Underclass All-American watch list
Juniors to watch (2013)
C --
BeeJay Anya
, DeMatha Catholic (Hyattsville, Md.) 6-9
G --
Anthony Barber
, Hampton (Va.) 6-2
F --
Jabari Bird
, Salesian (Richmond, Calif.) 6-5
F --
Brian Bridgewater
, Episcopal (Baton Rouge, La.) 6-6
G --
Aquille Carr
, Patterson (Baltimore, Md.) 5-6
G --
Stephen Clark
, Douglass (Oklahoma City, Okla.) 5-10
G --
Nick Emery
, Lone Peak (Highland, Utah) 6-1
G --
Tyler Ennis
, St. Benedict's Prep (Newark, N.J.) 6-3
G --
Conner Frankamp
, North (Wichita, Kan.) 6-1
G --
Keith Frazier
, Kimball (Dallas) 6-5
F --
Aaron Gordon
, Archbishop Mitty (San Jose, Calif.) 6-8
G --
Isaac Hamilton
, St. John Bosco (Bellflower, Calif.) 6-5
G --
Aaron Harrison
, Fort Bend Travis (Richmond, Texas) 6-4
G --
Andrew Harrison
, Fort Bend Travis (Richmond, Texas) 6-4
F --
Isaiah Hicks
, Oxford (Oxford, N.C.), 6-9
G --
Kasey Hill
, Montverde Academy (Montverde, Fla.) 6-1
F --
Rondae Jefferson
, Chester (Chester, Pa.) 6-7
F --
Kris Jenkins
, Gonzaga (Washington, D.C.) 6-6
G --
JaJuan Johnson
, Southwind (Memphis, Tenn.) 6-5
G --
Matt Jones
, DeSoto (DeSoto, Texas) 6-4
F --
Nick King
, East (Memphis, Tenn.) 6-7
F --
Jabari Parker
, Simeon (Chicago) 6-8
G --
Juwan Parker
, Booker T. Washington (Tulsa, Okla.) 6-4
F --
Bobby Portis
, Hall (Little Rock, Ark.) 6-9
F --
Roschon Prince
, Poly (Long Beach, Calif.) 6-6
F --
Julius Randle
, Prestonwood Christian (Plano, Texas) 6-9
G --
Tahj Shamsid-Deen
, Columbia (Decatur, Ga.) 5-10
C --
Chris Walker
, Holmes County (Bonifay, Fla.) 6-9
C --
Jonathan Williams III
, Southwind (Memphis, Tenn.) 6-9
G --
Nigel Williams-Goss
, Findlay Prep (Henderson, Nev.) 6-3
2012 Junior of the Year:
Jabari Parker
Sophomores to watch (2014)
C --
Cliff Alexander
, Curie (Chicago) 6-9
F --
Evan Bailey
, Jackson (Massillon, Ohio) 6-5
G --
Casey Benson
, Corona del Sol (Tempe, Ariz.) 6-2
G --
Joel Berry
, Lake Highland Prep (Orlando, Fla.) 6-1
F --
Trevon Bluiett
, Park Tudor (Indianapolis) 6-5
G --
Parker Jackson-Cartwright
, Loyola (Los Angeles) 5-9
G --
T.J. Haws
, Lone Peak (Highland, Utah) 6-2
G --
Tadric Jackson
, Tift County (Tifton, Ga.) 6-2
F --
Stanley Johnson
, Mater Dei (Santa Ana, Calif.) 6-6
G --
Tyus Jones
, Apple Valley (Minn.) 6-1
F --
Jalen Lindsey
, Christ Presbyterian Academy (Nashville, Tenn.) 6-6
F --
Kevon Looney
, Hamilton (Milwaukee, Wis.) 6-7
F --
Trey Lyles
, Arsenal Tech (Indianapolis, Ind.) 6-8
F --
Ja'Quon Newton
, Neumann Goretti (Philadelphia) 6-3
C --
Jahlil Okafor
, Whitney Young (Chicago) 6-9
F --
L.J. Peak
, Gaffney (Gaffney, S.C.) 6-4
F --
Wayne Seldon
, Tilton School (Tilton, N.H.) 6-5
G --
Romelo Trimble
, Bishop O'Connell (Arlington, Va.) 6-2
G --
Isaiah Whitehead
, Lincoln (Brooklyn, N.Y.) 6-4
F --
Andrew Wiggins
, Huntington Prep (Huntington, W.Va.) 6-7
2012 Sophomore of the Year:
Andrew Wiggins
Freshmen to watch (2015)
G --
Tyler Dorsey
, Ribet Academy (Los Angeles) 6-4
G --
Isaiah Briscoe
, St. Benedict's Prep (Newark, N.J.) 6-2
C --
Marcus Derrickson
, Paul VI (Fairfax, Va.) 6-7
G --
Hyron Edwards
, Central (East Chicago, Ind.) 6-0
F --
K.J. Lawson
, East (Memphis, Tenn.) 6-5
G --
Marcus LoVett Jr.
, Providence (Burbank, Calif.) 5-11
F --
Mickey Mitchell
, Prestonwood Christian (Plano, Texas) 6-6
G --
Malik Newman
, Callaway (Jackson, Miss.) 6-2
C --
Diamond Stone
, Dominican (Whitefish Bay, Wis.) 6-9
F --
Karl Towns
, St. Joseph (Metuchen, N.J.) 6-11
2012 Freshman Player of the Year:
Malik Newman
Note: All selections based on high school accomplishment. Similar to the Mr. Basketball USA honor, those ineligible due to age or academics are not eligible for this honor.
Ronnie Flores is a senior editor for ESPNHS. He can be reached at ronnie.flores@espn.com. Don't forget to follow him on Twitter: @RonFloresESPN
May, 2, 2012
5/02/12
11:48
AM ET
By
Ronnie Flores
| ESPN.com
Aaron Gordon
, a 6-foot-8 forward from Archbishop Mitty (San Jose, Calif.) and a third team
ESPNHS All-American
this past season, will be off the AAU circuit indefinitely because of a broken bone in his foot.
On April 24, Gordon told KOB, a television station in New Mexico, that he has a slight fracture in his toe. On May 1, his mother Shelly Davis Gordon told ESPNHS a recent MRI confirmed what the family already knew about the fracture.
"He has a fracture at the base of his toe that he played on for several months," Shelly said. "We really won't know if it will heal with time or if it has to be repaired until later this week after a CT scan. Right now, it's unclear how long he'll be out."
The No. 3 prospect in the
ESPN 60
, Gordon averaged 22.9 points, 12.8 rebounds, 2.6 assists and 2.3 blocks for the CIF Division II state champs in 2011-12 and was the first junior in 12 years to be named state player of the year by
Cal-Hi Sports
.
Hatch plans return to court
Austin Hatch
, a Canterbury (Fort Wayne, Ind.) junior who
survived a plane crash last summer
, says he still
plans to play for the Michigan Wolverines in 2013
.
Hatch's tragic story made national news in June, when a plane piloted by his father crashed while trying to make an emergency landing. Hatch's father and stepmother died in the accident, and Hatch suffered near-fatal injuries to his brain, lungs and ribs. Hatch had committed to Michigan just two weeks earlier, and Wolverines coach John Beilein will honor the scholarship.
Incredibly, it was the second plane crash Hatch has survived; in 2003, he lost his biological mother, a sister and a brother in a similar accident, which he and his father survived. Hatch is now out of the hospital, and though he hasn't played basketball and remains unsure if he'll ever regain his form, he says he's fully committed to playing for Michigan in 2013. As a sophomore, the 6-foot-6 forward hit 45 percent of his 3-point attempts.
Don't call it a comeback
After sitting out the 2011-12 season, center
Dakari Johnson
of Montverde Academy (Montverde, Fla.) is having an excellent spring so far playing for E1T1 Elite.
One of the country's few true elite pivot players is in excellent shape and has led E1T1 to a 8-1 record through two sessions of the
Nike EYBL
. Through nine games, Johnson is averaging 16.7 points and 8.6 rebounds, which is second to
Julius Randle
(9.4) of the Team Texas Titians among all EYBL participants.
The New York City native was the ESPNHS
National Freshman of the Year
in 2010-11 at St. Patrick (Elizabeth, N.Y.) before sitting out his sophomore season because of transfer rules.
Other talented prospects who college coaches and fans are eager to catch on the circuit because they missed all or portions of the 2011-12 season with injury include forward
Thomas Hamilton Jr.
of Whitney Young (Chicago, Ill.), the No. 42 prospect in the ESPN 60, and guard
Bronson Koenig
of Aquinas (La Crosse, Wis.).
Sophomore guard
James Blackmon Jr.
of Bishop Luers (Fort Wayne, Ind.) will likely miss the entire summer after tearing his ACL in early February.
Ennis the menace
Some questioned
Tyler Ennis
' selection as
Gatorade State Player of the Year
in New Jersey over
Kyle Anderson
, but the junior guard is silencing many of his critics with his play at the Nike EYBL. The 6-foot-2 Ontario native and St. Benedict's (Newark, N.J.) standout has paced CIA Bounce to a 9-0 mark at the prestigious event.
Ennis tallied a game-high 20 points to spur Bounce to a 69-55 win over the NJ Playaz during the second session in Hampton, Va. He went 8-of-15 from the field and added six boards in the victory. Ennis added 12 points and six dimes in a win over Mokan Elite and flirted with a triple double as Bounce routed The Family by 27.
David Auguste and Mike Grimala contributed to this report.
Ronnie Flores is a senior editor for ESPNHS. He can be reached at ronnie.flores@espn.com. Don't forget to follow him on Twitter: @RonFloresESPN
February, 22, 2012
2/22/12
11:44
AM ET
By
Mark Tennis & Doug Huff
| ESPN.com
This week's highest-ranked newcomer to the
FAB 50
is No. 32 La Lumiere (La Porte, Ind.).
The Lakers created national headlines on Dec. 29 when they defeated current FAB 50 No. 2 Findlay Prep (Henderson, Nev.) 67-66 at the Mike Miller Classic event in Sioux Falls, S.D.
Since the 200-student, 47-year-old private co-ed boarding school had no previous comparable wins over an elite prep program, observers couldn't help but wonder if the northern Indiana school was a "one-hit wonder."
After that holiday contest, neither team has lost a game.
Findlay has won 13 in a row, including wins over three top-ranked foes -- No. 5 Marcus (Flower Mound, Texas), No. 6 Simeon (Chicago) and No. 15 Bishop Gorman (Las Vegas) -- and it is a solid No. 2 in the FAB 50 behind unbeaten Oak Hill Academy (Mouth of Wilson, Va.). The Lakers, meanwhile, are now riding an 18-game win streak with a 24-2 overall record and moved into the FAB 50 for the first time.
To be eligible for the FAB 50, schools must not accept post-graduates and confirm they are allowed to participate against member schools that belong to the state high school association where the program resides. Once the Indiana State High School Association confirmed the Lakers met those requirements, the only reason they wouldn't be ranked was if their on-the-court resume was not strong enough.
Until a few years ago, La Lumiere was noted mostly for its academics and college prep curriculum. With graduates like Supreme Court Chief Justice John Roberts, the reputation was well-earned.
In 2005, the school, in an effort to improve its athletic program, hired former Indiana high school basketball All-American Delray Brooks as basketball coach. The Lakers improved their talent level under Brooks before he departed after a five-year stint.
Enter current coach Alan Huss in 2010, who had coached at Culver Academics (Culver, Ind.). Beefing up the schedule and talent base even more, the Lakers currently have five college scholarship players on the roster, including 6-foot-5 Raphael Davis (Purdue), 6-foot-8 Hanner Perea (Indiana) and point guard Andre Drummond (Southern Illinois). A touted sophomore is 6-foot-10 Johnathon Wilkins.
Newcomer Mitty familiar with Jeremy Lin
This week's other newcomer to the FAB 50 is No. 50 Archbishop Mitty (San Jose, Calif.). And since Jeremy Lin connections are sought wherever possible, we can bring it to the FAB 50 through the Monarchs.
When Lin was a senior at Palo Alto (Calif.) in the 2006 season, Archbishop Mitty stood in the way of Lin's team as it was going for the CIF Division II state title. Palo Alto had to beat Mitty to win the Central Coast Section crown and then had to get past the Monarchs again in the Northern California championship. Palo Alto won both times (the second time it took a last-second 3-pointer by one of Lin's teammates) and eventually won the state title.
Mitty's team that season was led by sophomore Drew Gordon, the older brother of current Monarchs' sensation Aaron Gordon. Drew is now starring at the University of New Mexico. Aaron still has one more year left of high school.
It's more of a reach, but two other current FAB 50 schools with ties to Lin would be No. 1 Oak Hill Academy (Mouth of Wilson, Va.) and No. 17 St. Benedict's (Newark, N.J.). Oak Hill is the alma-mater of Lin's New York teammate, Carmelo Anthony, while St. Benedict's is the alma-mater of another teammate, the newly acquired J.R. Smith.
FAB 50 Spotlight Player of the Week
Cleveland "Pancake" Thomas, Scotlandville (Baton Rouge, La.)
The 6-foot-3 senior guard helped the Hornets advance to last year's Class 5A state title game before they lost to St. Augustine (New Orleans).
This year, the Louisiana-Lafayette Ragin' Cajun recruit wants to close the deal as his team has been seeded No. 1 in the state playoffs that start this week.
Earlier in the season, Thomas led the Hornets to a 54-53 revenge win over St. Augustine.
Last week, in a tune-up game for the playoffs, Thomas scored a game-high 28 points to pace the Hornets to an 86-41 victory over Walker (La.) and push the team's record to 31-2 and up to No. 18 in the FAB 50.
At Louisiana-Lafayette, Thomas will join brother J.J. on the Ragin' Cajun roster.
Looking Ahead: Bishop Gorman season to end
Several teams in this week's rankings have just two weeks left before hopefully wrapping up their seasons with a state championship.
For No. 15 Bishop Gorman (Las Vegas), though, its attempt at finishing off its year with a state crown will take place this weekend.
The Gaels, led by
Mr. Basketball USA front-runner Shabazz Muhammad
, open the Class 4A state tourney Friday night at the Lawlor Events Center in Reno against Douglas (Minden, Nev.).
If Bishop Gorman wins, its state championship opponent will be either Proctor Hug (Reno, Nev.) or Green Valley (Henderson, Nev.).
Last year, just like this year, the Gaels (26-4) were a huge favorite to win their state title, but they were upset in the semifinals by Bishop Manogue (Reno, Nev.).
Of the teams potentially finishing in two weeks, No. 36 Wayne County (Waynesboro, Miss.) already knows it will be in the Class 5A state semifinals on Feb. 28 with a matchup against Starkville (Miss.). The War Eagles are the defending champions and have won 62 of their last 63 games.
January, 3, 2012
1/03/12
6:00
AM ET
By
Jason Jordan
and
Ronnie Flores
| ESPN.com
From
Mitch McGary
picking Michigan over Duke to Montrose Christian (Rockville, Md.) winning a double-overtime thriller over Oak Hill Academy (Mouth of Wilson, Va.) at the ESPNHS National High School Invitational, 2011 had lots of memorable moments.
Our guess is that 2012 won't be any different.
Here are 12 bold predictions for the new year.
1. Phoebus' (Hampton, Va.)
Troy Williams
, who is ranked No. 8 in the
ESPNU 60
, will become the most famous basketball player in his family after a show-stopping performance on the summer circuit. Right now that honor belongs to his uncle,
Boo Williams
.
When Boo, a 6-foot-7 forward, graduated from Phoebus in 1977, he was an all-state selection and went on play at St. Joseph's University. Of course, he's most famous for his tireless contributions to the explosion of AAU basketball in the South with his flagship program, the Boo Williams Summer League. Regardless of how good a player Troy becomes, uncle Boo can always tease Troy that he wore his uncle's retired jersey No. 5.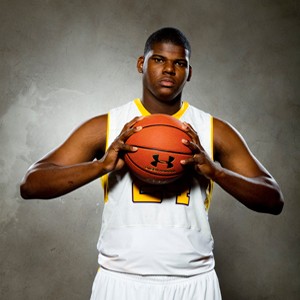 Kelly Kline/ESPNHSWe predict that Tony Parker will be anchoring the paint for the Buckeyes come November.
2.
Tony Parker
will pick Ohio State. Parker, a senior forward at Miller Grove (Lithonia, Ga.) who is ranked No. 31 in the
ESPNU 100
, won't be able to resist the draw of becoming the next
Jared Sullinger
and opt for the Buckeyes over Duke, Memphis, Kansas and UCLA.
3.
Julius Randle
will pick Duke. This is sure to rattle a few fan bases' feathers, but Randle, a junior forward at Prestonwood Christian (Plano, Texas) who is ranked No. 3 in the ESPNU 60, will take his five official visits then sign on to join college basketball's Evil Empire because of his relationships with
Mike Krzyzewski
and his close friend and Texas Titans AAU teammate Matt Jones, who recently committed to Duke.
4.
Nerlens Noel
will lead BABC (Boston) to repeat as champs of the Nike Elite Youth Basketball League this summer. The trio of Noel, a junior center at Tilton (Tilton, N.H.) who is ranked No. 2 in the ESPNU 60;
Jaylen Brantley
, a junior point guard at Wilbraham Monson (Wilbraham, Mass.); and
Wayne Selden
, a sophomore shooting guard at Tilton who is ranked No. 10 in the
ESPNU 25
, will be too much for teams to handle.
5. The Harrison twins,
Aaron
and
Andrew
, will lead the Houston Defenders (Texas) to the ESPNHS Super Showcase title again this July. Last year the junior tandem, which leads a talented Travis (Travis, Texas) team, handily beat BABC and will prove to be too much for teams on the AAU circuit again come spring. Andrew is ranked No. 4 in the ESPNU 60 and Aaron checks in at No. 7.
6.
Damon Harge Jr.
will lead the North Carolina Rising Prospects to the 13-and-under AAU national title. Coach Kendrick Williams' talented young bunch already took home the King James Classic title and finished No. 18 in the nation last summer with
Jordan Riley
anchoring the paint.
Add Harge,
the country's top sixth-grader
, at the point, and the Prospects will be a problem. Harge is currently running the point for Williams on Christian Faith Center Academy's (Creedmoor, N.C.) varsity team, and the last time he played 13- and 14-year-olds he averaged 35 points per game. The Prospects could go undefeated.
7. Brewster Academy (Wolfeboro, N.H.) forward
Mitch McGary
, who is ranked No. 2 in the ESPNU 100, will take home MVP honors at the Jordan Brand Classic. Much like
James McAdoo
last season, McGary -- a senior who is signed to
Michigan
-- will clean up the misses from guards who are trying to do too much in the all-star setting.
8. Mitty's (San Jose, Calif.)
Aaron Gordon
, the No. 6 recruit in the ESPNU 60, will become the first underclassman to win Cal-Hi Sports Mr. Basketball honors since 2000. That year, 7-footer
Tyson Chandler
led Dominguez (Compton, Calif.) to the FAB 50 national title and was named national junior player of the year by ESPNHS.
9. Findlay Prep (Henderson, Nev.) forward
Anthony Bennett
will win MVP honors at the 2012 McDonald's All-American Game in Chicago on March 28 and challenge Shabazz Muhammad and junior
Jabari Parker
of Simeon (Chicago) for 2011-12 ESPNHS Mr. Basketball USA honors.
10.
Harrison Barnes
will become the third consecutive Boost Mobile Elite 24 alumnus to earn NCAA tournament most outstanding player honors. That obviously means we're predicting North Carolina to win its third NCAA title in the past eight seasons. Barnes will follow 2011 MOP
Kemba Walker
of Connecticut (2007 game) and
Kyle Singler
of Duke (2006).
11. Oak Hill Academy will finish No. 1 in the final
POWERADE FAB 50
national rankings. It will be the seventh mythical national title under veteran coach
Steve Smith
. The Warriors finished No. 1 in the FAB 50/National Prep Poll in 1993, 1994, 1999, 2001, 2004 and 2007.
12. Bishop Gorman (Las Vegas) swingman
Shabazz Muhammad
, the No. 1 recruit in the ESPNU 100, will make fans in his hometown rejoice by choosing to stay home and play college basketball for the University of Nevada, Las Vegas.
He will be UNLV's most important recruit since forward
Larry Johnson
picked the Runnin' Rebels in 1989 out of Odessa Junior College in Texas. Johnson originally signed with SMU out of high school but was a non-qualifier and led the Runnin' Rebels to their only NCAA title in his first season.
December, 29, 2011
12/29/11
3:34
AM ET
By
Ronnie Flores
| ESPN.com
Related:
Quicks Shots Day 1
|
Quick Shots Day 2
SAN DIEGO -- After a disappointing third-place finish last week at its own tournament, Windward (Los Angeles) knew it was a better team than the 5-4 record it brought to the Torrey Pines Holiday Classic National Division.
Before the tourney began, the Wildcats weren't yet clicking on all cylinders as junior guard
Charles Dawson
was returning from football and a couple of key contributors were nursing injuries.
But on Wednesday it all came together for Windward, who rode a big performance from
Jordan Wilson
to upset
POWERADE FAB 50
No. 16 Mitty (San Jose, Calif.) in overtime 73-71.
Windward head coach
Miguel Villegas
called the victory the biggest in school history for a non-championship game. The National Division quarterfinal game was a matchup of defending CIF state champions.
Windward (7-4), last year's Division IV champ, led 50-41 entering the fourth quarter before Mitty (6-1) cut the deficit by using standout 6-foot-8 junior forward
Aaron Gordon
at point guard to initiate offense. The defending Division II champs had trouble finding Gordon underneath during the first three quarters, but he scored eight consecutive points to cut Windward's lead to a single point (55-54) with 3:18 remaining in the game.
Mitty eventually took the lead with just under three minutes remaining and the teams went back and forth until
Thomas Peters
gave Mitty a 64-61 lead by canning two free throws with 8.8 seconds remaining.
That's when Wilson, a junior guard, took over.
He banked in a straightaway 3-pointer with less than a second remaining to send the game into overtime. In overtime, Wilson sealed the game with his penetration and his teammates did their job from the free throw line.
With under a minute remaining in the extra period, Wilson sliced two defenders, including Gordon, and converted a jack knife lay-up to give his team a 71-68 lead. Gordon then made one of two free throws, but Wilson sealed the game with an uncontested lay-up with less than 10 seconds remaining.
"When we lost the lead I was thinking, 'not again,"' said Wilson, who finished with 20 points. "I decided to take the game into my hands. I trust my teammates and I didn't want to lose this game."
Windward forward
Nick Stover
, a LMU recruit, led all scorers with 23 points, including nine-of-11 free throws.
Gordon finished with 20 points, but made only two on nine free throws. As a team, Mitty made six of 14. Windward canned 17 of 26 from the charity stripe.
"Our game plan was to contain their shooters, not so much Gordon," Villegas said. "We just wanted to keep a body on Gordon and limit him on the boards. If you look at it, they got back into the game with their shooting."
Windward will take on Taft (Woodland Hills, Calif.) in a Thursday night semifinal contest. The Toreadors advanced with a 56-39 quarterfinal victory over host Torrey Pines as forwards
Anthony "Dinnertime" January
and
Brandon Perry
combined for 39 points.
The other semifinal will pit FAB 50 No. 10 DeMatha (Hyattsville, Md.) against upset-minded Newark Memorial (Newark, Calif.).
The Cougars from Northern California are decided underdogs against the famed program from Maryland. Two years ago, Newark Memorial pulled off a string of upsets to make the National Division final against a St. Patrick (Elizabeth, N.J.) team led by
Kyrie Irving
(Cleveland Cavaliers) and
Michael Kidd-Gilchrist
(Kentucky).
Winning time at Windward
Villegas got an early Christmas gift when former Wildcats guard
Darius Morris
made the opening day roster of his hometown Los Angeles Lakers.
It was a proud moment for the school, but the basketball program had "arrived" earlier this year when the Wildcats upset FAB 50-ranked Salesian (Richmond, Calif.) to capture the California Interscholastic Federation (CIF) Div. IV state title. It was Windward's second title in three seasons, as they won the 2009 Div. V title with the 6-foot-4 Morris leading the way.
"The first one was expected, that's the big difference," said Villegas, now in his ninth season. "The second one opened everyone's eyes to what we're doing. We've been sending a lot of kids to the next level, too."
So how has winning changed the former Dominican College point guard out of South Gate (South Gate, Calif.) since he began to build his program eight years ago?
"Well, you get a lot more, 'Hey coach, how's it going?' lines and more people know who we are," said Villegas, whose team will battle Taft (Woodland Hills, Calif.) in a National Division semifinal with another highly-ranked FAB 50 team likely awaiting the winner in Friday's title game. "The expectations are what has changed. The thing with the community is, they now expect us to be in championship games.
"I'm still the same coach, I haven't changed, but it does feel good that people have recognized what you have done."
Ronnie Flores is a senior editor for ESPNHS. He can be reached at
ronnie.flores@espn.com
. Don't forget to follow him on Twitter:
@RonFloresESPN
December, 28, 2011
12/28/11
5:25
PM ET
By
Mark Tennis & Doug Huff
| ESPN.com
(After games of Dec. 27)
Here are this week's high school boys basketball Players of the Week. One player is chosen from each region of the country. The only other criteria is that no player will be chosen more than once during a season.
EAST
Raheem Harvey, Glen Mills (Concordville, Pa.)
The 6-foot-9, 225-pound senior power forward was a one-player wrecking crew on both ends of the floor in a 68-63 victory over Bensalem (Bensalem, Pa.). Harvey, who survived a serious automobile accident in 2009, led the Battlin' Bulls with a triple-double of 22 points, 28 rebounds and 10 blocked shots. He also was charted with five defensive steals for the 3-3 record team.
SOUTHEAST
Matt Pond, Centennial (Franklin, Tenn.)
This rising 6-foot-5 junior small forward has been consistently scoring in the 25- to 30-point range and had a great start in this week's Father Ryan tourney in Nashville. Pond scored 33 points in Centennial's 60-58 triumph against LaVergne (LaVergne, Tenn.) and gave his team the lead with 4.5 seconds left by canning a pair of free throws.
MIDWEST
Adam Botts, Muncie Central (Muncie, Ind.)
The 6-foot senior point guard was almost perfect from the floor in the first three quarters before converting all eight of his fourth-quarter free throws in a 58-33 victory over Jay County (Portland, Ind.). Botts attempted all eight of his shots, connecting on six, in the first three quarters. Included were five on 3-pointers. In the final period, Botts made all eight of his free throw attempts to finish with 25 points for the 7-0 Bearcats, who began this week ranked No. 1 in Indiana and No. 48 in the
POWERADE FAB 50
.
MIDLANDS
Collin Hart, San Marcos (San Marcos, Texas)
Perhaps the main reason for San Marcos entering a tournament this week with a 14-3 record has been the play of Hart, a 5-foot-9 senior point guard. In his last two games before the Christmas break, Hart led the Rattlers to wins of 93-67 against Killeen (Killeen, Texas) and 64-59 against Smithson Valley (Spring Branch, Texas). Hart had 37 points and six assists and 34 points with four assists in the two respective outings. He has been averaging 27.2 points per game.
WEST
Aaron Gordon, Archbishop Mitty (San Jose, Calif.)
A leading candidate to be Mr. Basketball State Player of the Year in California as a junior, Gordon isn't known for explosive scoring, but in a 80-70 win last week against San Leandro (San Leandro, Calif.) the 6-foot-8 power forward poured in 40 points to go with 16 rebounds. After handing San Leandro its first loss, Gordon's team (5-0) moved up to No. 16 in this week's
POWERADE FAB 50
. Gordon, No. 6 in the ESPNU Super 60 in what is shaping up to be a spectacular Class of 2013, led the USA U16 national team to the FIBA Americas championship last summer with team-best averages of 17 points, 11.2 rebounds and 3.2 blocks per game. He also led Mitty last season to its first CIF Division II state championship.