High-SchoolBoys-Basketball:

Aaron Harrison
July, 31, 2012
7/31/12
1:00
PM ET
By
Ronnie Flores
| ESPN.com
The first 12 players selected to participate in the seventh annual Under Armour Elite 24 event have been announced.
Featuring 24 of the top high school basketball players from across the nation, the Under Armour Elite 24 participants are selected based on their performance during AAU tournaments and national summer camps by ESPN high school basketball experts.
The 2012 Under Armour Elite 24 will be held at the Venice Beach Courts in Los Angeles Aug. 24-25. The game airs live on ESPNU at 7 p.m. ET Aug. 25, while the slam dunk contest will air Aug. 24 at 7 p.m. ET on ESPNU.
Forward and 2011 event alum Julius Randle, ranked No. 3 in the ESPN 100, headlines the list along with first-time participant Andrew Wiggins, ranked No. 1 in the ESPN 60. Randle, of Prestonwood Christian Academy (Plano, Texas) and the Team Texas Titans AAU program, is a top 2012-13 national player of the year candidate. Wiggins, who played at Huntington Prep (Huntington, W.Va.) last season and recently led CIA Bounce to the Nike Peach Jam finals, is a native of Canada.
Other event veterans include Nate Britt II, who participates in AAU ball with the D.C. Assault and will spend his senior season at Oak Hill Academy (Mouth of Wilson, Va.); twin brothers Andrew and Aaron Harrison of Travis (Richmond, Texas) and the Houston Defenders AAU club; and Aquille Carr, who preps at Patterson (Baltimore, Md.) and was a standout this summer for B'more Finest.
Britt had six points and two steals for the victorious Marques Johnson club last year. The Harrisons twins combined for 22 points and eight assists for Marques Johnson, while Carr was co-MVP for the Raymond Lewis club with 21 points, seven rebounds, 10 assists and an event-record four steals.
The second dozen players, roster of teams and dunk contest participants will be announced in early August.
Join our Under Armour Elite 24 fan page on Facebook and don't forget to follow the event on twitter: @UAElite24
January, 3, 2012
1/03/12
6:00
AM ET
By
Jason Jordan
and
Ronnie Flores
| ESPN.com
From
Mitch McGary
picking Michigan over Duke to Montrose Christian (Rockville, Md.) winning a double-overtime thriller over Oak Hill Academy (Mouth of Wilson, Va.) at the ESPNHS National High School Invitational, 2011 had lots of memorable moments.
Our guess is that 2012 won't be any different.
Here are 12 bold predictions for the new year.
1. Phoebus' (Hampton, Va.)
Troy Williams
, who is ranked No. 8 in the
ESPNU 60
, will become the most famous basketball player in his family after a show-stopping performance on the summer circuit. Right now that honor belongs to his uncle,
Boo Williams
.
When Boo, a 6-foot-7 forward, graduated from Phoebus in 1977, he was an all-state selection and went on play at St. Joseph's University. Of course, he's most famous for his tireless contributions to the explosion of AAU basketball in the South with his flagship program, the Boo Williams Summer League. Regardless of how good a player Troy becomes, uncle Boo can always tease Troy that he wore his uncle's retired jersey No. 5.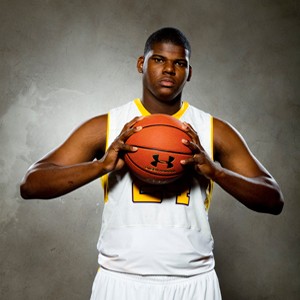 Kelly Kline/ESPNHSWe predict that Tony Parker will be anchoring the paint for the Buckeyes come November.
2.
Tony Parker
will pick Ohio State. Parker, a senior forward at Miller Grove (Lithonia, Ga.) who is ranked No. 31 in the
ESPNU 100
, won't be able to resist the draw of becoming the next
Jared Sullinger
and opt for the Buckeyes over Duke, Memphis, Kansas and UCLA.
3.
Julius Randle
will pick Duke. This is sure to rattle a few fan bases' feathers, but Randle, a junior forward at Prestonwood Christian (Plano, Texas) who is ranked No. 3 in the ESPNU 60, will take his five official visits then sign on to join college basketball's Evil Empire because of his relationships with
Mike Krzyzewski
and his close friend and Texas Titans AAU teammate Matt Jones, who recently committed to Duke.
4.
Nerlens Noel
will lead BABC (Boston) to repeat as champs of the Nike Elite Youth Basketball League this summer. The trio of Noel, a junior center at Tilton (Tilton, N.H.) who is ranked No. 2 in the ESPNU 60;
Jaylen Brantley
, a junior point guard at Wilbraham Monson (Wilbraham, Mass.); and
Wayne Selden
, a sophomore shooting guard at Tilton who is ranked No. 10 in the
ESPNU 25
, will be too much for teams to handle.
5. The Harrison twins,
Aaron
and
Andrew
, will lead the Houston Defenders (Texas) to the ESPNHS Super Showcase title again this July. Last year the junior tandem, which leads a talented Travis (Travis, Texas) team, handily beat BABC and will prove to be too much for teams on the AAU circuit again come spring. Andrew is ranked No. 4 in the ESPNU 60 and Aaron checks in at No. 7.
6.
Damon Harge Jr.
will lead the North Carolina Rising Prospects to the 13-and-under AAU national title. Coach Kendrick Williams' talented young bunch already took home the King James Classic title and finished No. 18 in the nation last summer with
Jordan Riley
anchoring the paint.
Add Harge,
the country's top sixth-grader
, at the point, and the Prospects will be a problem. Harge is currently running the point for Williams on Christian Faith Center Academy's (Creedmoor, N.C.) varsity team, and the last time he played 13- and 14-year-olds he averaged 35 points per game. The Prospects could go undefeated.
7. Brewster Academy (Wolfeboro, N.H.) forward
Mitch McGary
, who is ranked No. 2 in the ESPNU 100, will take home MVP honors at the Jordan Brand Classic. Much like
James McAdoo
last season, McGary -- a senior who is signed to
Michigan
-- will clean up the misses from guards who are trying to do too much in the all-star setting.
8. Mitty's (San Jose, Calif.)
Aaron Gordon
, the No. 6 recruit in the ESPNU 60, will become the first underclassman to win Cal-Hi Sports Mr. Basketball honors since 2000. That year, 7-footer
Tyson Chandler
led Dominguez (Compton, Calif.) to the FAB 50 national title and was named national junior player of the year by ESPNHS.
9. Findlay Prep (Henderson, Nev.) forward
Anthony Bennett
will win MVP honors at the 2012 McDonald's All-American Game in Chicago on March 28 and challenge Shabazz Muhammad and junior
Jabari Parker
of Simeon (Chicago) for 2011-12 ESPNHS Mr. Basketball USA honors.
10.
Harrison Barnes
will become the third consecutive Boost Mobile Elite 24 alumnus to earn NCAA tournament most outstanding player honors. That obviously means we're predicting North Carolina to win its third NCAA title in the past eight seasons. Barnes will follow 2011 MOP
Kemba Walker
of Connecticut (2007 game) and
Kyle Singler
of Duke (2006).
11. Oak Hill Academy will finish No. 1 in the final
POWERADE FAB 50
national rankings. It will be the seventh mythical national title under veteran coach
Steve Smith
. The Warriors finished No. 1 in the FAB 50/National Prep Poll in 1993, 1994, 1999, 2001, 2004 and 2007.
12. Bishop Gorman (Las Vegas) swingman
Shabazz Muhammad
, the No. 1 recruit in the ESPNU 100, will make fans in his hometown rejoice by choosing to stay home and play college basketball for the University of Nevada, Las Vegas.
He will be UNLV's most important recruit since forward
Larry Johnson
picked the Runnin' Rebels in 1989 out of Odessa Junior College in Texas. Johnson originally signed with SMU out of high school but was a non-qualifier and led the Runnin' Rebels to their only NCAA title in his first season.
September, 21, 2011
9/21/11
3:32
PM ET
By
Ronnie Flores
| ESPN.com
At this year's
Boost Mobile Elite 24
, the
Marques Johnson
squad rolled to a 142-132 victory over the
Raymond Lewis
squad behind the play of Virginia recruit
Justin Anderson
of Montrose Christian (Rockville, Md.) and recent UCLA commit
Kyle Anderson
of defending
POWERADE FAB 50
mythical national champion St. Anthony (Jersey City, N.J.).
Nobody will remember the score as time passes, but besides the
broken backboard
caused by
Mitch McGary
of Brewster Academy (Wolfeboro, Mass.) in pre-game warm ups, the most memorable aspect of the event is, an will continue to be, the streetball nicknames earned by the players.
This year's streetball handles were given out by
Duke Tango
, the original voice of the The Entertainers Basketball Classic (EBC) held at Harlem's Rucker Park, and streetball entrepreneur
Bobbito Garcia
.
Outside of the nicknames game MVP's
Justin Anderson
aka "Slow-Mo" and
Aquille Carr
aka "The Crime Stopper" came to Venice Beach with, below are the nicknames handed out by Tango and Garcia, with a couple thrown in by the ESPNHS basketball staff!
2011 Boost Mobile Elite 24 Nicknames
Justin Anderson
aka "The Prime Objective" aka "Sinista"
Kyle Anderson
aka "Sinatra"
Brandon Ashley
aka "East Bay Funk"
Anthony Bennett
aka "The Barbarian"
Nate Britt
aka "Nate the Skate"
Savon Goodman
aka "The Rule Breaker" aka "Go Get It"
Rodney Purvis
aka "Runnin' Rod"
Aquille Carr
aka "Calling All Cars"
Robert Carter
aka "The Animal"
DaJuan Coleman
aka "Upstate" aka "Big Baby"
Aaron Harrison
aka "Ice"
Andrew Harrison
aka "Magic" aka "The Table Setter"
Grant Jerrett
aka "G"
Mitch McGary
aka "White Thunder" aka "Show stopper" aka "Unbreakable" aka "Full Metal Jacket"
Nerlens Noel
aka "Eraserhead" aka "The Eraser" aka "The 7-foot Leprechaun" aka "No No No No No"
Shabazz Muhammad
aka "The Real Deal" aka "Nice And Nasty Bazz"
Julius Randle
aka "The Jewels" aka "Much To Handle"
Rasheed Sulaimon
aka "Sheeeeeed"
Gabe York
aka "Yo Yo"
Some of the nicknames handed out by Tango are already the handle of well known players. There is no need to explain the origins of "Magic" and "Big Baby," but below are the original names behind some of the handles given out this year:
"Prime Objective" Lonnie Harrel
l -- The former Eastern (Washington, D.C.) standout is a 6-foot-7 guard who earned a scholarship to play for John Thompson at Georgetown. He finished his eligibility at Northeastern and has made stops in the ABA, USBL, IBL, and NBDL.
"Animal" Richie Adams
-- From now defunct basketball factory Ben Franklin (Harlem, N.Y.), Adams was one of two bookend high school All-Americans for a 1979-80 Franklin team (the other was Gary Springer) that spent a majority of that season ranked No. 1 in the country by Basketball Weekly. They were shocked by Stevenson (Bronx, N.Y.) in overtime of the PSAL semifinals, 65-63. Adams got his equivalency degree and matriculated to a junior college in Massachusetts before finishing his college career at UNLV. The 6-foot-9 left-handed shot-blocking phenom was twice named conference player of the year for the Runnin' Rebels, but a severe drug problem ruined not only is career, but his life.
"Ice" Jerry Reynolds
-- A 1980-81 prep All-American at Alexander Hamilton (Brooklyn, N.Y,), Reynolds was a 6-foot-8 wing who earned a scholarship to play for Dale Brown at LSU. He first attended Madison Tech Junior College in Wisconsin and developed into the No. 22 pick of the 1985 NBA Draft by the Milwaukee Bucks. He spent eight years in the NBA and is semi-famous for being the beneficiary of Scott Skiles' record-breaking 30th assist in a single game during the 1990-91 season and for coining the term "24/7" (as his jump shot was good "24/7").
"The Skate" Nate Archibald
-- In the NBA, the DeWitt Clinton (Bronx, N.Y.) product was known as "Tiny," the man who ran the point for the 1981 NBA champ Celtics and the only player to lead the league in points and assists in the same season. On the playgrounds, Archibald was known as "The Skate," the man who returned to Rucker Park (the original home of the Boost Mobile Elite 24) every summer even after he made it to the big-time. Archibald almost never made it, as academic troubles nearly derailed his prep career. He straightened things out by his senior season, when he was named all-city for a 21-0 team that won a mythical national championship. Archibald went the JUCO route and kept improving his game to the point where he was named one of the NBA's 50 Greatest Players in 1996.
Don't forget to follow Ronnie Flores on Twitter: @RonFloresESPN
September, 8, 2011
9/08/11
11:40
PM ET
By
Jason Jordan
| ESPN.com
From A-List star power to rim-rocking dunks to sick crossover dribbles the 2011
Boost Mobile Elite 24
had all the makings of an instant classic.
Check out the video to relive some of the exceptional highlights.