High-SchoolBoys-Basketball:

Alex Poythress
April, 13, 2012
4/13/12
9:00
AM ET
By
Jason Jordan
| ESPN.com
CHARLOTTE, N.C. -- Brandon Ashley is finally ready to reveal a few universal secrets about the recruiting process, secrets that are so exclusive he can only tell you at the end of his senior season.
"Hey, I mean, this is the last event of the year and, either way, I'm headed to Arizona. Why not?" said Ashley, who will suit up for the West in the Jordan Brand Classic on Saturday night at Time Warner Cable Arena in Charlotte, N.C. (7 p.m. ET on ESPN).
That's why his cunning grin said it all when he was posed with the first question: Do recruits
really
have a list of five to seven schools that they're considering?
"To be honest, no," Ashley said with a laugh. "That's just something we put out there to keep it exciting. We put it out there in the media to build that suspense, but in our minds it's like, 'I'm not going there.' It's usually just two schools in the end."
Rodney Purvis concurred.
He said that after a while, players get tired of the "same old boring questions that media guys ask" and decide to spice things up and make it fun.
"I would go on Twitter sometimes and say something like, 'It's time to get away from my family and grow up,' and people would panic and say I was headed to UConn," said Purvis, who will suit up for the East on Saturday. "I know for a fact that most of us do things like that, but Brandon's right, it typically comes down to just two schools in the end."
The operative questions are: Who came in second? And how close did it really come between the final two?
"Whoa, man, that's some heavy stuff right there," said Rasheed Sulaimon, who will suit up for the West. "That's top-secret info right there. You sure you wanna know that?"
Oh indeed we do.
We caught up with a handful of Jordan Brand All-Americans and had them reveal which school they almost signed with.
Brandon Ashley

Findlay Prep (Henderson, Nev.), F
Signed to: Arizona
The school that came in second for me was …

"Oregon. I just had a great relationship with them and I just loved everything about that school. That said, I can honestly say that they weren't anywhere close to Arizona for me. I don't care what I said during the recruiting process. When I went on my visit to Arizona it was over."
Rodney Purvis

Upper Room Christian Academy (Raleigh, N.C.), SG
Signed to: NC State
The school that came in second for me was …

"UConn. I gotta keep it real, it was super close. When I came back home from visiting there I said, 'I'm going to UConn.' Then I talked to my mom and she said to wait it out a little longer. The more I thought about it I knew that it was NC State. They were just in my heart. Coach [Mark] Gottfried did a great job recruiting me and every time I would shoot around at State it felt right. I remember when I was at UConn after we played pickup, I went back to the gym alone just to shoot around to see what feeling I got and it wasn't the same. I didn't sense that it was the right place for me."
Rasheed Sulaimon

Strake Jesuit (Houston), SG
Signed to: Duke
The school that came in second for me was …

"North Carolina. I know I may lose cool points with my Duke fam for this one, but we're keepin' it real tonight. Of the two schools, North Carolina recruited me first. I grew up a Duke fan, but at the same time when those letters come in you just get excited about who's on you. North Carolina was leading for me. Then Duke came in and the separation was when I talked to Coach [Mike] Krzyzewski. We just got close really quick and built a strong relationship. I guess you could say Duke stole me away from North Carolina."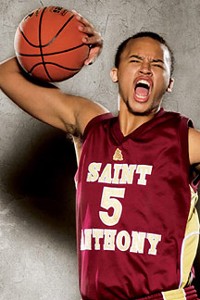 Kelly Kline/ESPNHSKyle Anderson said that if UCLA didn't exist he'd be a Seton Hall Pirate.
Kyle Anderson

St. Anthony (Jersey City, N.J.), G/F
Signed to: UCLA
The school that came in second for me was …

"Seton Hall. I've never told anyone this, but this is crazy. Exactly a week before I chose UCLA I had decided that I was going to Seton Hall. It was a done deal. Then I had another talk with my family the next day and I felt like it was UCLA. If UCLA didn't exist I'd be at Seton Hall, no question. I just couldn't turn down [UCLA], the tradition, the weather, the beach, all the pros that play there in the summer. Plus I'm cool with
Russell Westbrook
and
Kevin Love
, just everything about it. And I mean, c'mon, it's L.A.!"
Shabazz Muhammad

Bishop Gorman (Las Vegas), SF
Signed to: UCLA
The school that came in second for me was …

"I'm not just making this up either, but I promise you it could've gone either way between Duke and Kentucky. I promise. It was so tough saying 'thanks but no thanks' to those schools. With Duke, they needed a scorer and I knew if I added myself to that team it would really be successful with the guys they had coming back. Then with Kentucky, you've got Archie [Goodwin], Alex [Poythress] and Nerlens [Noel] coming in, and if I joined them I know we could've done big things. I'm telling you it was just crazy tough. UCLA was just the best fit for me in the end."
Archie Goodwin

Sylvan Hills (Little Rock, Ark.), SG
Signed to: Kentucky
The school that came in second for me was …

"Kansas. I love coach Bill Self and I loved Kansas. The school was great, the fans were great and they did a great job recruiting me, but, honestly, there wasn't anything they could've done to get me. I had been saying since the ninth grade that I wanted to play for Coach [John] Calipari. I tried to give everyone a chance, but I never got the same feeling I did with Coach Cal."
Alex Poythress
Northeast (Clarksville, Tenn.), SF
Signed to: Kentucky
The school that came in second for me was …

"Vanderbilt. It was so close. They were recruiting me for the longest and I honestly had the best feel for that school. But in the end I just had to go with my gut feeling. But it was
close
."
J.P. Tokoto
Menomonee Falls (Menomonee Falls, Wis.), SF
Signed to: North Carolina
The school that came in second for me was …

"Wisconsin. It was home and it felt right, but once I visited North Carolina and talked to the players and guys that were coming in, it was a no-brainer."
Nerlens Noel
Tilton School (Tilton, N.H.), C
Signed to: Kentucky
The school that came in second for me was …

"Georgetown. My mom really liked them a lot. She was sold on them. She loved how family-oriented they were and,
like I said in my blog
, my mom's opinion was what mattered most to me. We had to sit down and talk and I had to really get her to take a longer look at Kentucky. Then when she did she started to like them a lot, too. But it was pretty close, man. It was pretty close."
Jason Jordan is the basketball editor for ESPNHS. He can be reached at
jason.x.jordan.-ND@espn.com
. Don't forget to follow him on Twitter:
@JayJayESPN
.
April, 11, 2012
4/11/12
9:51
PM ET
By
Jason Jordan
| ESPN.com
CHARLOTTE, N.C. -- The second
Nerlens Noel
spun around and showed the letters "UK" meticulously cut into the back of his head live on ESPNU Wednesday night, the lofty expectations were all over cyberspace before he could step out of the studio.
Noel picked the Kentucky over Georgetown and Syracuse.
"I know my Twitter is nuts right now," said Noel, a senior center at Tilton School (Tilton, N.H.). "That's just how Kentucky's fans are, or should I say that's how our fans are. I love it all."
Even the inevitable expectation of a back-to-back title run?
On April 2, Kentucky held on to beat Kansas 67-59 and claim its first national title in 14 years. The last team to claim back-to-back titles was Florida in 2006 and 2007.
"I hope that Kentucky fans are expecting us to go back-to-back because that's what I expect," said Noel. "It's championship or bust there, and I'm OK with that."
Noel knows that most expect him to have an
Anthony Davis
-like impact as a freshman.
It's relative.
Davis, a freshman who led Kentucky in the title game with six points, 16 rebounds, five assists, six blocks and three steals, was the top-ranked player in 2011. Noel is the top-ranked player in 2012. They're both 6-foot-10 centers that have the innate ability to spike shots like volleyballs and make even the most gifted slashers think twice before coming into the lane.
But is it fair to compare a high school senior to the Wooden Player of the Year and the national title game's Most Outstanding Player?
"He's got the same abilities," said
Archie Goodwin
, a senior shooting guard at Sylvan Hills (Little Rock, Ark.) who will join Noel at Kentucky next season. "I feel like Nerlens could have a year just like Anthony so I'm excited to have him. With Nerlens in the lineup I'm OK with those expectations from fans."
Alex Poythress
concurred.
He said that having a player on the backline protecting the basket changes the complexion of the game "on a lot of different levels."
"You can't play the way you normally would with him down there and that's great for us next year," said Poythress, a senior swingman at Northeast (Clarksville, Tenn.) who will join Goodwin and Noel at Kentucky next season. "With Nerlens on board now I think my expectations may be even higher than the fans."
Ditto for Noel.
"We're competitors so of course we want to win it all," Noel said. "That's why I came here; I plan to win a national title so I'm good with our fans expecting it. They should. I know I do."
Jason Jordan is the basketball editor for ESPNHS. He can be reached at
jason.x.jordan.-ND@espn.com
. Don't forget to follow him on Twitter:
@JayJayESPN
.
March, 27, 2012
3/27/12
7:36
PM ET
By
Ronnie Flores & Jason Jordan
| ESPN.com
CHICAGO -- There is no doubt all 24 boys' basketball players set to take the floor Wednesday at the United Center for the 35th McDonald's All-American Game (9:30 p.m. ET, ESPN) are among the nation's best.
The question is whether the East team can keep up with the scoring prowess of West ringleaders
Shabazz Muhammad
of Bishop Gorman (Las Vegas),
Archie Goodwin
of Sylvan Hills (Little Rock, Ark.) and
Marcus Smart
of Marcus (Flower Mound, Texas).
Muhammad set the pace at the McDonald's practices with his work ethic, and many of his West teammates rose to the occasion as well. Smart in particular has been lauded for his ability to score in a variety of ways.
His physical presence at 6-foot-3, 200 pounds gives coach Gordon Kerkman of West Aurora (Aurora, Ill.) multiple lineup options. Smart can run the lead guard but will likely play on the wing on Wednesday, which should open up Goodwin for scoring opportunities. Goodwin is a volume shooter, so if gets hot the West should be in good shape.
The East team, coached by Billy Hicks of Scott County (Georgetown, Ky.), counters with a team that can pound it inside. The team will be extremely dangerous if the players stick to the team concept and balance the floor -- something easier said than done in all-star settings.
Alex Poythress
of Northeast (Clarksville, Tenn.) will be a load for the West team to handle with his combination of size and athleticism around the basket. National scouts and even some NBA brass in attendance have been impressed with the 6-foot-7 Kentucky recruit in practice.
DaJuan Coleman
of Jamesville-DeWitt (DeWitt, N.Y.) also has a strength advantage down low on the West's pivots, so the amount of touches he receives could be key.
Winning Time
The East counters Smart's versatility with
Kyle Anderson
of defending POWERADE FAB 50 national champion St. Anthony (Jersey City, N.J.). The 6-foot-8 point guard is a huge matchup problem for any team he's up against and is the key to distributing the ball for the East. His unique feel for the game allows him to know when and where a teammate needs the ball and who hasn't gotten into the flow.
Anderson isn't used to losing. The UCLA pledge led St. Anthony to a 32-0 season and its 12th New Jersey Tournament of Champions title one week ago. He did not lose a game in his St. Anthony career, going 65-0. Counting his sophomore year at now-defunct Patterson Catholic (Patterson, N.J.), Anderson is 94-1, and he has no intention of losing Wednesday's game.
"Our coaches let us know right away they didn't intend to lose this game," Anderson said. "I want to win this game, but everybody else has got to take it just as seriously."
The West team's practices have been more intense with a focus on scrimmaging, while the East has focused on footwork and fundamentals in drills. The West was getting after it so hard on Tuesday that forward
Devonta Pollard
of Kemper County (Porterville, Miss.) took a hard blow to his head and guard
Yogi Ferrell
of Park Tudor (Indianapolis) took a hard spill and crashed into a cameraman.
The intensity level is something Anderson and his teammates didn't see, but definitely heard about.
"I was talking to (East teammates)
Tony Parker
and
Rodney Purvis
about what they were reading on blogs how the West was playing hard and they were going to kill us," Anderson said. "So we're going to shock the world a bit and sweep them off their feet."
He likes what he sees in his backcourt partner
Tyler Lewis
of Oak Hill Academy (Mouth of Wilson, Va.). Anderson feels the combination of their abilities should create positive momentum for the East team.
"Myself and Tyler are working well together," Anderson said. "Both of us are unselfish and will get the ball to the right people who will score."
Tough and Toothless
Lewis may have won the
POWERADE Jam Fest skills competition
title Monday night, but even more impressive was the toughness he showed just being on the court after having a tooth knocked loose during Monday's practice.
During a live scrimmage, Anderson did a reverse dribble and caught Lewis right in his front tooth with an elbow.
"I knew it was loose enough that it was gonna have to come out," Lewis said. "I knew it."
After practice, Lewis went to a local dentist and had a false tooth put in.
"I've actually had that happen before to that same tooth," Lewis said. "It hurt pretty bad when it happened, but I wasn't gonna let it get me down. I'm having too much fun."
When asked if he planned on wearing a mouthpiece from now on, Lewis replied, "No way. I'm a point guard and it's hard to talk with a mouthpiece in my mouth."
Practice Makes McPerfect?
On Tuesday morning, the East club went live for approximately 10 minutes in practice to conserve energy for Tuesday afternoon's scrimmage against the West. The West went live for roughly the same amount of time in each of the last two practices.
The performance in those scrimmages would point to the West club being a prohibitive favorite for Wednesday's game. At prior McDonald's Games, however, there have been instances when the apparent underdog has rallied to win after being inspired by talk of poor practices or after losing the official scrimmage.
Free McDonald's?
When
Tony Parker
learned he'd been selected for the 2012 McDonald's All-American Game, he remembered something his friend
Quinn Cook
had told him after his McDonald's All-American experience in 2011.
"Quinn said we get free McDonald's for a year," said Parker. "Is that true?"
When told he'd been duped by the current Duke freshman, Parker laughed and said, "Are you serious? He got me, he got me."
February, 15, 2012
2/15/12
10:07
AM ET
Here are this week's high school boys' basketball Players of the Week. One player is chosen from each region of the country. No player will be chosen more than once during a season.
(After games of Sunday, Feb. 12)
EAST
Nigel Johnson, Broad Run (Ashburn, Va.)

The 6-foot-1 junior point guard highlighted a 110-point, three-game week with a career-high 55 points in a 109-104 overtime loss to Osbourn (Manassas, Va.). Johnson converted 20 of 22 free throws and cashed in five shots from 3-point land in the outburst, which was witnessed by several college coaches. Johnson has nine 30-point games this season with a low of 19 points. He leads Virginia's Class AAA in scoring at 29.2 points per game and also sports averages of 8.5 assists and 4.6 rebounds. Johnson scored 34 and 21 points in his other two contests last week.
SOUTHEAST
Alex Poythress, Northeast Clarksville (Clarksville, Tenn.)

After being selected to the
2012 McDonald's All-American Game
last week, Poythress celebrated by scoring a career-high 48 points to lead Northeast Clarksville past Dickson County (Dickson, Tenn.) 68-60. The 6-foot-9 Kentucky recruit also hauled in 22 rebounds. He surpassed his previous career bests of 46 and 47 established earlier this season. Poythress is averaging better than 31 points per game, well above the 22.3 mark he turned in last winter. In addition to scoring, rebounding and leading his team to a 25-2 record, Poythress also boasts a 3.9 GPA.
MIDWEST
Connar Tava, Warren De La Salle (Warren, Mich.)

The 6-foot-6, 230-pound senior forward had a monster game in a 72-53 Detroit Catholic League Central Division win over U-D Jesuit. The Western Michigan recruit scored 43 points and collected 22 rebounds to lead the Pilots, who are favored to win the Catholic League playoffs for the fourth straight year, something that hasn't been done since 1952. In avenging the team's only league loss, Tava scored 29 of his points in the second half while connecting on 14 of 17 shots from the floor as the Pilots claimed their fifth straight Central Division crown.
MIDLANDS
Justise Winslow, St. John's (Houston)

Following a 31-point outing from the previous week, Winslow came through for two more all-around top-notch efforts that lifted his team to the Southwest Preparatory Conference Division I championship. Winslow, a 6-foot-6 sophomore forward ranked No. 15 in the ESPNU 25, had 27 points, eight rebounds and three blocks in a 49-46 triumph against Episcopal (Dallas) and then put up 25 points with 10 rebounds and eight assists as St. John's beat Kinkaid (Houston) 70-60 in the final. Winslow averages 22.5 points per game.
WEST
Nick Stover, Windward (Los Angeles)

A 6-foot-5 senior on his way to Loyola Marymount, Stover collected 65 points in two wins last week to help the Wildcats vault back into the top 20 of the
Cal-Hi Sports
state rankings. Stover, who is averaging 21.7 points per game this season, had 33 points in a 77-71 triumph over Campbell Hall (North Hollywood, Calif.). He then hit for 32, including the game-tying free throws with 1.5 seconds remaining in regulation, in a 75-71 overtime win over state-ranked Pacific Hills (Los Angeles). Earlier this season, Stover had 23 points as Windward beat defending CIF Division II state champion Archbishop Mitty (San Jose, Calif.). He was a major contributor last year, leading the Wildcats to the CIF Division IV state crown.
November, 23, 2011
11/23/11
5:00
AM ET
By
Jason Jordan
| ESPN.com
Before diets give way to hefty portions of pumpkin pie, gravy drenched turkey, mouthwatering mac and cheese and succulent candied yams we figured we'd have a handful of elite players reflect on what basketball skill they're most thankful to have in their repertoire.
Here's what they came up with.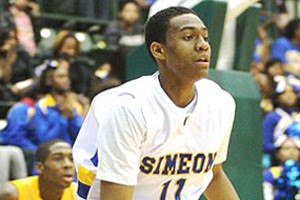 Scott Kurtz/ESPNHSJabari Parker said Simeon would have to keep Tony Parker in check to have the best chance to win.
Jabari Parker
, Simeon (Chicago), SF, 2013
Uncommitted
The hoops skill I'm most thankful for is…

"My versatility. That helps me to be able to play all of the different positions on the floor. It's definitely the skill I'm most thankful for."
Alex Poythress
, Northeast (Clarksville, Tenn.), F, 2012
Signed to: Kentucky
The hoops skill I'm most thankful for is…

"My height. I know that's not really a skill, but it's such a blessing because most people aren't 6-foot-8. It's helped me a lot in this game. It makes me more versatile, it forces teams to put bigger slower people on me and it allows me to shoot over smaller players. I'm very thankful for my height."
Julius Randle
, Prestonwood Christian (Plano, Texas), F, 2013
Uncommitted
The hoops skill I'm most thankful for is…

"My ball handling ability. Most guys my height (6-foot-10) can't really handle the ball too well, but it's just always come really natural to me. I'm blessed to have that ability."
Tony Parker
, Miller Grove (Lithonia, Ga.), F, 2012
Uncommitted
The hoops skill I'm most thankful for is…

"My basketball IQ. I feel like it's pretty high and it's one of the best skills to have because, think about it, no one can take that away from you. They can block your shot, overpower you in the paint or be faster than you, but as long as you have a high IQ you can have an impact on the game. I'm most thankful that I've got that."
Rodney Purvis
, Upper Room Christian Academy (Raleigh, N.C.), G, 2012
Signed to: North Carolina State
The hoops skill I'm most thankful for is…

"My dribbling ability. That allows me to create for myself and my teammates so that's definitely the skill that I'm most thankful to have."
Jason Jordan is the basketball editor for ESPNHS. He can be reached at
jason.x.jordan.-ND@espn.com
. Don't forget to follow him on Twitter:
@JayJayESPN