High-SchoolBoys-Basketball:

Archbishop Mitty
May, 8, 2012
5/08/12
10:20
AM ET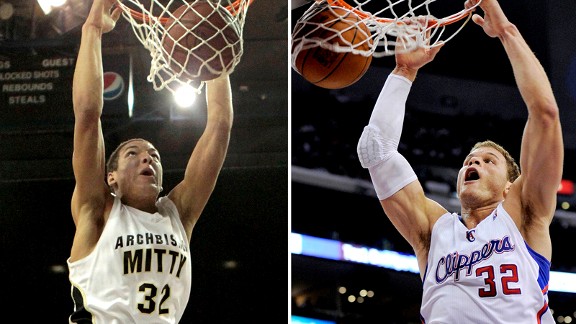 AP Photo/Rich Pedroncelli, AP Photo/Mark J. TerrillNo. 3 junior Aaron Gordon is most frequently compared to Clippers power forward Blake Griffin.
This summer, ESPNHS will sit down with some of the nation's elite players to break down their game, talk about the inevitable comparisons to college and pro players and get their take on who they pattern their game after.
Player:
Aaron Gordon
School:
Archbishop Mitty (San Jose, Calif.)
Position:
Small forward/power forward
Height/weight:
6-8/210
ESPN 60:
No. 3
Who is Aaron Gordon?
With a devastating inside-out game and elite athleticism, Gordon has been one of the top frontcourt prospects in the country for the past few years. He's led Archbishop Mitty to back-to-back state championships, posting a line of 33 points and 20 rebounds in the most recent title game win. For the 2011-12 season, Gordon averaged 22.9 points, 12.8 rebounds and 2.3 blocks per game, earning him
Cal-Hi Sports Mr. Basketball
honors. He should be on the short list for Gatorade National Player of the Year next season.
Scouting report
According to
ESPN RecruitingNation
, Gordon uses his length, athleticism and high-energy motor to dominate the paint. He does major damage on tip-ins and putbacks, relentlessly attacking the ball off the rim. He's also improving his perimeter skills, taking bigger defenders outside and driving past them with a tight handle and quick first step. Gordon is one of the top finishers in the country, easily getting above the rim and slamming the ball with authority. He's the type of recruit who can change a college program as a freshman, which is why schools like Kentucky and Arizona are going after him hard.
Most frequent comparison:
Blake Griffin
ESPNHS comparison:
Derrick Williams
The most obvious similarity between Gordon and Minnesota Timberwolves forward
Derrick Williams
is that they can both fly. At Arizona, Williams put himself on the map by viciously dunking on Duke repeatedly in the 2011 NCAA tournament, and Gordon has that type of ability. And just as the 6-foot-8 Williams is carving out a role as a swing forward in the NBA, Gordon also falls somewhere between being a classic 3 or 4. Williams shot 51 percent from 3-point range in college, so Gordon is going to have to keep working on his stroke in order to make the transition to the perimeter. He's already got good ball-handling ability and solid mechanics on his jumper.
Gordon's comparison:
Scottie Pippen
Gordon doesn't necessarily agree with the comparison he hears most often --
Blake Griffin
. "I think that's people's way of saying that I'm one-dimensional, that all I can do is dunk," says Gordon. "I think I have more perimeter skills than that."
In fact, Gordon sees himself resembling one of the most skilled small forwards of all time in former Chicago Bulls star
Scottie Pippen
. At 6-foot-8, 228 pounds, Pippen wasn't much bigger than Gordon is now. He won six NBA championships and earned a reputation as one of the most well-rounded stars in NBA history, averaging 16.1 points, 6.4 rebounds, 5.2 assists and 2.0 steals for his career. He often served as a primary ball-handler and distributor, and he was selected to the NBA's All-Defensive first team eight times.
Gordon believes he can develop that type of skill set.
"I'm definitely more of a Pippen," he says. "I think eventually I'm going to be most effective facing the basket and working out near the 3-point line. I could even develop more explosiveness and play as a really big 2."
Follow Mike Grimala on Twitter @ESPNHSGrimala.
February, 22, 2012
2/22/12
11:44
AM ET
By
Mark Tennis & Doug Huff
| ESPN.com
This week's highest-ranked newcomer to the
FAB 50
is No. 32 La Lumiere (La Porte, Ind.).
The Lakers created national headlines on Dec. 29 when they defeated current FAB 50 No. 2 Findlay Prep (Henderson, Nev.) 67-66 at the Mike Miller Classic event in Sioux Falls, S.D.
Since the 200-student, 47-year-old private co-ed boarding school had no previous comparable wins over an elite prep program, observers couldn't help but wonder if the northern Indiana school was a "one-hit wonder."
After that holiday contest, neither team has lost a game.
Findlay has won 13 in a row, including wins over three top-ranked foes -- No. 5 Marcus (Flower Mound, Texas), No. 6 Simeon (Chicago) and No. 15 Bishop Gorman (Las Vegas) -- and it is a solid No. 2 in the FAB 50 behind unbeaten Oak Hill Academy (Mouth of Wilson, Va.). The Lakers, meanwhile, are now riding an 18-game win streak with a 24-2 overall record and moved into the FAB 50 for the first time.
To be eligible for the FAB 50, schools must not accept post-graduates and confirm they are allowed to participate against member schools that belong to the state high school association where the program resides. Once the Indiana State High School Association confirmed the Lakers met those requirements, the only reason they wouldn't be ranked was if their on-the-court resume was not strong enough.
Until a few years ago, La Lumiere was noted mostly for its academics and college prep curriculum. With graduates like Supreme Court Chief Justice John Roberts, the reputation was well-earned.
In 2005, the school, in an effort to improve its athletic program, hired former Indiana high school basketball All-American Delray Brooks as basketball coach. The Lakers improved their talent level under Brooks before he departed after a five-year stint.
Enter current coach Alan Huss in 2010, who had coached at Culver Academics (Culver, Ind.). Beefing up the schedule and talent base even more, the Lakers currently have five college scholarship players on the roster, including 6-foot-5 Raphael Davis (Purdue), 6-foot-8 Hanner Perea (Indiana) and point guard Andre Drummond (Southern Illinois). A touted sophomore is 6-foot-10 Johnathon Wilkins.
Newcomer Mitty familiar with Jeremy Lin
This week's other newcomer to the FAB 50 is No. 50 Archbishop Mitty (San Jose, Calif.). And since Jeremy Lin connections are sought wherever possible, we can bring it to the FAB 50 through the Monarchs.
When Lin was a senior at Palo Alto (Calif.) in the 2006 season, Archbishop Mitty stood in the way of Lin's team as it was going for the CIF Division II state title. Palo Alto had to beat Mitty to win the Central Coast Section crown and then had to get past the Monarchs again in the Northern California championship. Palo Alto won both times (the second time it took a last-second 3-pointer by one of Lin's teammates) and eventually won the state title.
Mitty's team that season was led by sophomore Drew Gordon, the older brother of current Monarchs' sensation Aaron Gordon. Drew is now starring at the University of New Mexico. Aaron still has one more year left of high school.
It's more of a reach, but two other current FAB 50 schools with ties to Lin would be No. 1 Oak Hill Academy (Mouth of Wilson, Va.) and No. 17 St. Benedict's (Newark, N.J.). Oak Hill is the alma-mater of Lin's New York teammate, Carmelo Anthony, while St. Benedict's is the alma-mater of another teammate, the newly acquired J.R. Smith.
FAB 50 Spotlight Player of the Week
Cleveland "Pancake" Thomas, Scotlandville (Baton Rouge, La.)
The 6-foot-3 senior guard helped the Hornets advance to last year's Class 5A state title game before they lost to St. Augustine (New Orleans).
This year, the Louisiana-Lafayette Ragin' Cajun recruit wants to close the deal as his team has been seeded No. 1 in the state playoffs that start this week.
Earlier in the season, Thomas led the Hornets to a 54-53 revenge win over St. Augustine.
Last week, in a tune-up game for the playoffs, Thomas scored a game-high 28 points to pace the Hornets to an 86-41 victory over Walker (La.) and push the team's record to 31-2 and up to No. 18 in the FAB 50.
At Louisiana-Lafayette, Thomas will join brother J.J. on the Ragin' Cajun roster.
Looking Ahead: Bishop Gorman season to end
Several teams in this week's rankings have just two weeks left before hopefully wrapping up their seasons with a state championship.
For No. 15 Bishop Gorman (Las Vegas), though, its attempt at finishing off its year with a state crown will take place this weekend.
The Gaels, led by
Mr. Basketball USA front-runner Shabazz Muhammad
, open the Class 4A state tourney Friday night at the Lawlor Events Center in Reno against Douglas (Minden, Nev.).
If Bishop Gorman wins, its state championship opponent will be either Proctor Hug (Reno, Nev.) or Green Valley (Henderson, Nev.).
Last year, just like this year, the Gaels (26-4) were a huge favorite to win their state title, but they were upset in the semifinals by Bishop Manogue (Reno, Nev.).
Of the teams potentially finishing in two weeks, No. 36 Wayne County (Waynesboro, Miss.) already knows it will be in the Class 5A state semifinals on Feb. 28 with a matchup against Starkville (Miss.). The War Eagles are the defending champions and have won 62 of their last 63 games.
December, 28, 2011
12/28/11
5:25
PM ET
By
Mark Tennis & Doug Huff
| ESPN.com
(After games of Dec. 27)
Here are this week's high school boys basketball Players of the Week. One player is chosen from each region of the country. The only other criteria is that no player will be chosen more than once during a season.
EAST
Raheem Harvey, Glen Mills (Concordville, Pa.)
The 6-foot-9, 225-pound senior power forward was a one-player wrecking crew on both ends of the floor in a 68-63 victory over Bensalem (Bensalem, Pa.). Harvey, who survived a serious automobile accident in 2009, led the Battlin' Bulls with a triple-double of 22 points, 28 rebounds and 10 blocked shots. He also was charted with five defensive steals for the 3-3 record team.
SOUTHEAST
Matt Pond, Centennial (Franklin, Tenn.)
This rising 6-foot-5 junior small forward has been consistently scoring in the 25- to 30-point range and had a great start in this week's Father Ryan tourney in Nashville. Pond scored 33 points in Centennial's 60-58 triumph against LaVergne (LaVergne, Tenn.) and gave his team the lead with 4.5 seconds left by canning a pair of free throws.
MIDWEST
Adam Botts, Muncie Central (Muncie, Ind.)
The 6-foot senior point guard was almost perfect from the floor in the first three quarters before converting all eight of his fourth-quarter free throws in a 58-33 victory over Jay County (Portland, Ind.). Botts attempted all eight of his shots, connecting on six, in the first three quarters. Included were five on 3-pointers. In the final period, Botts made all eight of his free throw attempts to finish with 25 points for the 7-0 Bearcats, who began this week ranked No. 1 in Indiana and No. 48 in the
POWERADE FAB 50
.
MIDLANDS
Collin Hart, San Marcos (San Marcos, Texas)
Perhaps the main reason for San Marcos entering a tournament this week with a 14-3 record has been the play of Hart, a 5-foot-9 senior point guard. In his last two games before the Christmas break, Hart led the Rattlers to wins of 93-67 against Killeen (Killeen, Texas) and 64-59 against Smithson Valley (Spring Branch, Texas). Hart had 37 points and six assists and 34 points with four assists in the two respective outings. He has been averaging 27.2 points per game.
WEST
Aaron Gordon, Archbishop Mitty (San Jose, Calif.)
A leading candidate to be Mr. Basketball State Player of the Year in California as a junior, Gordon isn't known for explosive scoring, but in a 80-70 win last week against San Leandro (San Leandro, Calif.) the 6-foot-8 power forward poured in 40 points to go with 16 rebounds. After handing San Leandro its first loss, Gordon's team (5-0) moved up to No. 16 in this week's
POWERADE FAB 50
. Gordon, No. 6 in the ESPNU Super 60 in what is shaping up to be a spectacular Class of 2013, led the USA U16 national team to the FIBA Americas championship last summer with team-best averages of 17 points, 11.2 rebounds and 3.2 blocks per game. He also led Mitty last season to its first CIF Division II state championship.