High-SchoolBoys-Basketball:

Arizona Wildcats
May, 18, 2012
5/18/12
9:00
AM ET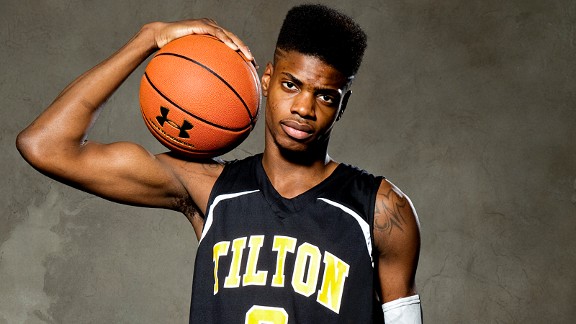 Kelly KlineWe think UK recruit Nerlens Noel is headed toward a bright future both on and off the court.
With graduation right around the corner, it's almost time to bid adieu to the class of 2012. Before the veteran ballers flip that tassel, we're going to bless them with some last-second love and immortalize them in the form of senior superlatives. We'll gaze into our crystal ball to make a few predictions as well as reflect on the myriad achievements of this talented crew.
These are our picks, but feel free to chime in with your selections on Twitter
@espnhs
.
Most important commitment
Kyle Anderson, St. Anthony (Jersey City, N.J.)
Sure, Anderson's commitment to UCLA might have been overshadowed by the subsequent pledges of Shabazz Muhammad and Tony Parker. But who knows if the Bruins would've landed those two prized recruits had it not been for Anderson -- the ultimate team-first guy and winner -- jumping on board first. Anderson's versatility will be valuable as the heralded class looks to restore UCLA's lore after a tumultuous last few years.
Runner-up: Baylor lands Isaiah Austin, Grace Prep (Arlington, Texas)
Most likely to succeed in the NBA
Shabazz Muhammad, Bishop Gorman (Las Vegas)
We're not the only ones envisioning Muhammad going toe-to-toe with Bron Bron and the rest of the league's heavyweights. The consensus among pro scouts at the Nike Hoop Summit was that 'Bazz was the most pro-ready domestic prospect in the class. His Kobe-like demeanor and ability to get buckets in a variety of ways should bode well for whatever squad scoops him up in the Association.
Runner-up: Anthony Bennett, Findlay Prep (Henderson, Nev.)
Most likely to land an acting role
Nerlens Noel, Tilton (Tilton, N.H.)
The high top fade alone should be enough to land this menacing shot blocker in the reboot of "The Fresh Prince of Bel-Air" or if they ever recast Kid or Play for the next "House Party." Combine his tight 'do with his affable personality and his ability to take over defensively on the hardwood, and we could be looking at a star both on and off the court.
Runner-up: Justin Anderson, Montrose Christian (Rockville, Md.)
November, 16, 2011
11/16/11
1:12
PM ET
Gabe York, Orange Lutheran (Orange, Calif.)

No. 36 in the ESPNU 100
@gabeyork1
Few shooting guards can fill up the stat sheet with as much style as this Arizona recruit. Off the dribble or with his feet set, York has video-game range from the perimeter, which has helped him earn praise as one of the nation's elite marksmen. Play him for the shot at your own peril because York has a quick first step, insane hops and a mean floater that would make Spurs guard Tony Parker proud.
Julius Randle, Prestonwood Christian (Plano, Texas)

No. 3 in the ESPNU 60
@J30_Randle
Randle might be the baller best suited to star in his own TV show. Kid's certainly got talent, as evidenced by his gaudy 24.6 points and 12.7 rebounds per game as a sophomore, and he has a multitude of offers from college hoops royalty. Randle won't be hurting for cameos, either, not with NBA superstar Kevin Durant lobbying the junior to play at Texas and fellow Texan Jamie Foxx showing him love during August's Boost Mobile Elite 24.
Discuss this matchup on Twitter
#espnhsfans
.
Meet the other candidates on the
player intro page
.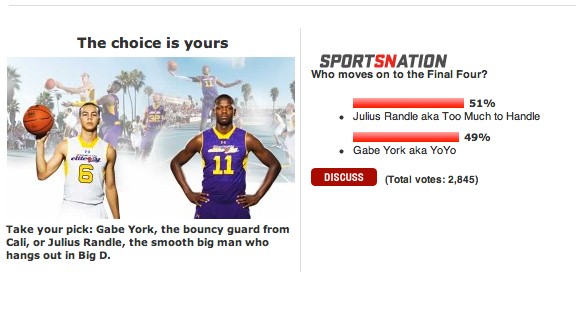 ESPNHSJulius Randle outlasted Gabe York in a tight first round matchup. His reward is a matchup with Shabazz Muhammad, the nation's No. 1 player.
November, 16, 2011
11/16/11
1:08
PM ET
Shabazz Muhammad, Bishop Gorman (Las Vegas)

No. 1 in the ESPNU 100
@Phenom15Balla
The consensus No. 1 player in the country, Muhammad boasts a superior skill set that has made him the target of nearly every elite collegiate program with national title aspirations. He is one part smooth-stroking lefty and one part ferocious finisher mixed in with a tireless work ethic and a killer instinct in the clutch. Last year, Muhammad tallied 25.1 points and 7.7 boards a contest to cop ESPNHS All-American first-team honors.
Brandon Ashley, Findlay Prep (Henderson, Nev.)
No. 4 in the ESPNU 100
@Easy_Bo
Planning on shutting down Ashley? You better come with a Plan B and C because this 6-foot-8 Arizona commit is among the nation's most versatile scorers. Big men need to be cognizant of his guard skills and handle, while smaller defenders are going to need to hit the weight room to deal with his deceptive strength on the block. Ashley transferred to national power Findlay after averaging 15 points and 10 boards last winter at two-time Cali champ Bishop O'Dowd.
Discuss this matchup on Twitter
#espnhsfans
.
Meet the other candidates on the
player intro page
.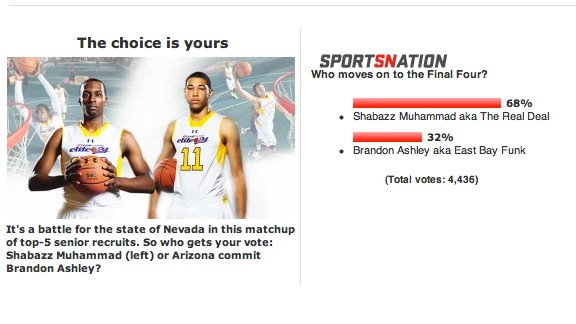 ESPNHSShabazz Muhammad won his in-state showdown against Brandon Ashley, and now he moves on to face Julius Randle.